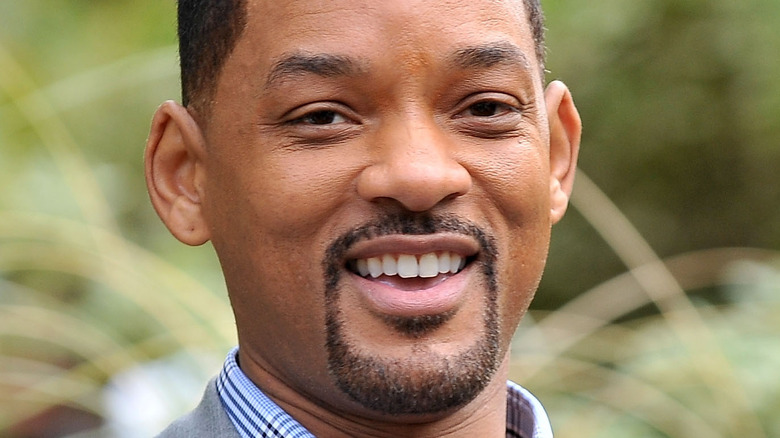 Will Smith is one of the most famous and widely-liked performers, if not public figures and celebrities, on the planet. He's nothing less than a cultural icon, skilled and successful in prestigious projects like "Ali," "Concussion," and "King Richard," kid stuff including "Aladdin" and "Shark Tale," and massive blockbusters such as "Men in Black," "Independence Day," and the "Suicide Squad." What's especially remarkable about Smith's domination of mainstream movies is that he's been one of the biggest names in Hollywood for more than 25 years, and he got there on a path nobody else took. Before he was "Will Smith, movie star," he was the Fresh Prince, one-half of the storytelling pop-rap duo DJ Jazzy Jeff and the Fresh Prince, and the star of the early '90s fish-out-of-water sitcom "The Fresh Prince of Bel-Air."
Here's an in-depth look at how Smith's life got flipped turned upside down. So take a minute, sit right there, and learn how Will Smith became the prince of a town called Hollywood.
The real reason why Will Smith doesn't swear in his music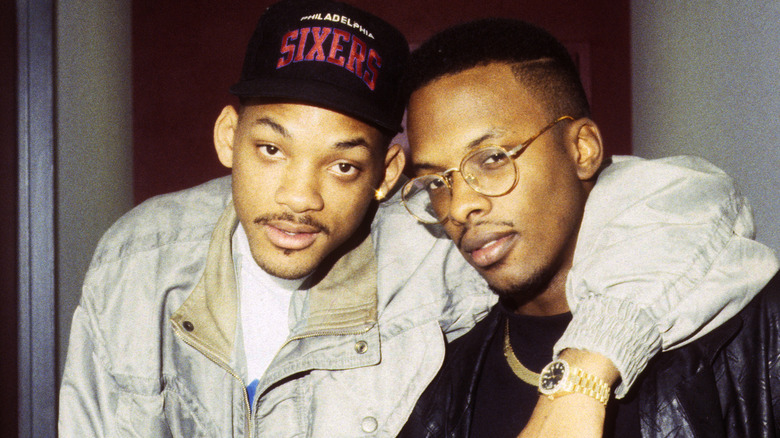 In his 2000 hit "The Real Slim Shady," Eminem called out Will Smith in a profane couplet that seemed to speak to widespread resentment of the rapper-actor in the hip-hop community, where coarse lyrical content is equated with artistic merit and adhering to the genre's truth-telling aims. "Will Smith don't gotta cuss in his raps to sell records," Eminem rapped. "Well, I do, so f*** him, and f*** you, too."
Smith, in his Fresh Prince days, got substantial airplay because his material was relatively harmless and thus more approachable and playable under FCC restrictions. And he almost never uttered a bad word in his early songs. But he had a reason.
"I started writing my raps when I was about 12," Smith said on "The Graham Norton Show." One day his grandmother found the notebook where he kept all of his song ideas and snippets. "And I had all my curse words and my four-letter words and everything in there." Instead of lecturing him, Smith said, she scribbled a note in the back of the book. "She wrote, 'Dear Willard … truly intelligent people do not have to use words like this to express themselves. Please show the world that you're as smart as we think you are." And so, he kept it light and clean, except for his 1991 track "You Saw My Blinker," a dark, cuss-laced violent fantasy about exacting revenge on a bad driver.
Will Smith led a Grammys boycott
As one of the biggest movie stars on the planet, Will Smith enjoys tremendous power in the entertainment industry. He wasn't at that level back in early 1989, when he was a 20-year-old rapper with only two albums to his name. Despite that lack of status, Smith sent a powerful message to the music industry establishment in 1989 when he led a boycott of the 31st Grammy Awards.
According to The Hollywood Reporter, that ceremony marked the first time that the National Academy of Recording Arts and Sciences would award a Grammy for Best Rap Performance. Among the nominees: DJ Jazzy Jeff and the Fresh Prince for "Parents Just Don't Understand." The duo actually won, but they did not accept their award in person. For while the Grammys got with the times and recognized rap, it didn't plan to hand out that particular award during the broadcast. "They said there wasn't enough time," DJ Jazzy Jeff told Entertainment Tonight. "They televised 16 categories and from record sales, from the Billboard charts, from the overall public's view, there's no way you can tell me that out of 16 categories, that rap isn't in the top 16."
The duo was joined in skipping the Grammys by Salt-N-Pepa and LL Cool J. "We don't have the problem with the Grammy as an award or the Grammys as an institution, we just have a problem with the 1989 design of the awards show," Smith said at the time.
How Will Smith found his throne as the prince of Bel-Air
A talented, engaging, and successful actor, Will Smith only took up the craft because he was broke. According to Time, his second DJ Jazzy Jeff and the Fresh Prince album "He's the DJ, I'm the Rapper" went triple-platinum and generated the big hits "Parents Just Don't Understand" and "Nightmare on My Street." Young and abnormally flush with cash, according to Smith's YouTube series "STORYTIME," Smith blew through his fortune on cars and designer clothes. But then, the money basically ran out because the next Fresh Prince album, "And in This Corner," sold poorly, according to CNBC.
During his initial period of wealth, Smith had declined to pay his taxes. The IRS seized his pricey luxuries, and as quickly as he'd become rich, Smith was suddenly broke and in debt. Understandably in a bad mood over his situation, his girlfriend at the time suggested he go hang out at a taping of "The Arsenio Hall Show," which is where he met music executive Benny Medina, who told Smith he wanted to make a show about his teen years, when he moved out his dangerous East Los Angeles neighborhood and next to a wealthy family friend in Beverly Hills. Not long after, Medina took him to a party at the home of entertainment mogul Quincy Jones, and the three guys re-worked Medina's pitch into a show that Jones produced called "The Fresh Prince of Bel-Air," which easily kept Smith financially afloat.
Will Smith feuded with his TV aunt for years
On "The Fresh Prince of Bel-Air," Will Smith cut his acting chops portraying a teenager sent away from his tough West Philadelphia neighborhood to live in California with his Uncle Phil and Aunt Vivian, the latter played by Janet Hubert … for three seasons. For the final three years of the show, Daphne Maxwell-Reid inherited the role. The reason for the switch, according to Smith — Hubert's ego and resentful feelings. "Janet Hubert wanted the show to be 'The Aunt Viv of Bel-Air Show,'" he told an Atlanta radio station (via E! News), adding, "She said once, 'I've been in the business for 10 years and this snotty-nosed punk comes along and gets a show.'"
The feud continued for years. In 2011, Smith put up a photo of a "Fresh Prince" cast reunion dinner (per TMZ), in which Hubert wasn't present. Huber then told TMZ that she believed Smith got her fired from their sitcom. "He is still an egomaniac and has not grown up," she said, adding that any full reunion "will never ever happen in my lifetime unless there is an apology, which he doesn't know the word."
Smith apparently learned the word, because Hubert was present at a 2020 "Fresh Prince" reunion for HBO Max where the former co-stars patched things up, per Variety.
Will Smith couldn't handle his first same-sex screen kiss
After a few well-received seasons of "The Fresh Prince of Bel-Air," Will Smith had proved to be a decent actor, and he started to appear in movies. One of his first was the 1993 film adaptation of John Guare's Tony Award-nominated play "Six Degrees of Separation." In his most complex work to that point, Smith played a young man named Paul, who claims to be the son of famed actor Sidney Poitier and a college friend of the Harvard-educated children of two wealthy New Yorkers (Stockard Channing and Donald Sutherland) — whom he scams.
Paul is a gay character, and Smith had difficulty with that element. When it came time to film a scene in which Paul briefly kisses a man played by Anthony Michael Hall, Smith refused, according to Entertainment Weekly. Director Fred Schepisi brought in a stand-in for Smith, and shot him from behind. Months after the incident, when "Six Degrees of Separation" hit theaters, Smith was embarrassed about his behavior. "It was very immature on my part," he said. "I was thinking, 'How are my friends in Philly going to think about this?' I wasn't emotionally stable enough to artistically commit to that aspect of the film."
Meanwhile, co-star Ian McKellen made sure Smith smooched a man. At "an early preview" of the film, McKellen told The Independent, "I met him in public outside the cinema and gave him a great big kiss on the lips."
Will Smith didn't want to play Superman
Will Smith was such a popular, bankable actor that he could help break down long-entrenched racial divides and opinions in Hollywood. His accession to the A-list for headlining a string of blockbusters in the mid-1990s — including "Bad Boys," "Independence Day," "Men in Black," and "Enemy of the State" — showed that the world wanted and welcomed action movies that didn't star white people, and he supplanted the likes of Arnold Schwarzenegger, Jean-Claude Van Damme, and Mel Gibson as a top draw. Black actors headlining superhero movies still took a while — Wesley Snipes starred in "Blade" in 1998 and Chadwick Boseman played the title role in 2018's "Black Panther," but Smith could have had the distinction of being the first Black performer to play a major comic book superhero, if not the biggest superhero of all time.
"The last 'Superman' I got offered," Smith told MTV News in 2008, referring to "Superman Returns" starring Brandon Routh. "The script came, and I was like, 'There is no way I'm playing Superman!'" The reason: He'd previously taken over a role once played by a white actor — Jim West in "Wild Wild West," based on the '60s TV show starring Robert Conrad. "You can't be messing up white people's heroes in Hollywood!" Smith added. Instead of Superman, Smith played another superpowered person — the title role in "Hancock."
How race is a factor in what movies Will Smith decides to make
While Will Smith showed that a Black man could appeal to huge audiences of any race, his racial identity often played into what roles he chose. According to the podcast "On One With Angela Rye" (via Billboard), he purposely avoided roles explicitly written for a Black character or that were about the Black cultural or historical experience, aiming to appear in movies that were seemingly above and beyond the issue of race — both to set an, and lead by, example. "I needed to be as high, and fly as high, as I could possibly fly so that young Black kids would see — and really all kids — could see that type of flying as not something that only white movie stars could do." He wanted the public image of Will Smith to be one that Black children "could aspire to," in other words.
That mindset changed, or at least adopted another layer, in 2020. After the murder of George Floyd by Minneapolis police in May 2020, and the worldwide groundswell for the Black Lives Matter and anti-police brutality movements that followed, he signed on to star in "Emancipation," his first film about slavery. "The reason I chose 'Emancipation' now is more than ever, we have to understand the reality of where we came from," he shared.
Will Smith passed on The Matrix, among other movies
In terms of box office, Will Smith is one of the most successful actors of all time. Seven Smith films have earned $500 million in their theatrical runs. Not on that list: "The Matrix," which earned over $463 million and almost starred Will Smith. Rather than film that pioneering sci-fi franchise-starter, Smith made "Wild Wild West," a big-screen reimagining of a 1960s TV series. Budgeted at an astronomical $170 million, "Wild Wild West" broke Smith's string of blockbusters, taking in just $222 million worldwide and the savage ire of critics.
In a 2019 video on his YouTube channel, Smith admitted that mistakes were made. "I probably would have messed 'The Matrix' up. I would have ruined it," he said, adding that he was so supremely confident in himself at the time that he thought any movie he made would be a hit. "So I made 'Wild Wild West,'" Smith admitted. "I'm not proud of it."
Other big movies Smith passed on include "Django Unchained" (he told The Hollywood Reporter that he disagreed with director Quentin Tarantino's "creative direction of the story") and "Independence Day: Resurgence," the 2016 sequel that launched his action star career. "I had the two screenplays in front of me for 'Independence Day 2' and for 'Suicide Squad.' I had to choose," Smith said at a Facebook talk (via EW). He chose "Suicide Squad" because he wanted "to go forward versus clinging and clawing backwards."
Will Smith's name came up in a Sony Pictures email hack
In 2014, according to Vox, Sony Pictures planned to release its big-budget comedy "The Interview," about a journalist and his producer who venture to North Korea to interview and take out the country's hardline leader, Kim Jong Un. Seeking a canceled release of the movie, a hacking collective called the Guardians of Peace broke into Sony's servers and then stole and leaked countless emails, many of which contained embarrassing conversations about A-list actors like Ryan Gosling and Leonardo DiCaprio.
It would seem that not everybody likes Will Smith, or at least his two children, Jaden and Willow. In 2014, the home-schooled celebrity offspring were profiled by T Magazine, and they came across as, well, idiosyncratic. "Time for me, I can make it go slow or fast, however I please, and that's how I know it doesn't exist," said Willow. Jaden, meanwhile, professed to "have a goal to be just the most craziest person of all time." According to The Daily Beast, Tom Rothman, an executive at Sony subsidiary TriStar productions, forwarded a link to the interview to Sony Pictures co-chair Amy Pascal. "1. Read this. 2. they r home schooled: don't let this family date your movies!!!"
Will Smith brushed the whole affair aside. "Everybody disses my kids," he told Variety. "And somebody's email is private, you know? So I would never hold anybody responsible for something they said in a private email."
Will Smith's marriage to Jada Pinkett Smith is complicated
According to Brides, Will Smith met Jada Pinkett when she unsuccessfully auditioned for a role on "The Fresh Prince of Bel-Air." A few years later, they started dating and got married in December 1997. They're still together after more than 20 years (and two children) together, but the union hasn't been without drama and quirks. In 2013, Pinkett Smith told "HuffPost Live" that their marriage was an open one. "I've always told Will, 'You can do whatever you want as long as you can look at yourself in the mirror and be okay,'" she said. "Will is his own man. I'm here as his partner, but he is his own man."
On a 2020 episode of her Facebook Watch series "Red Table Talk" (via UPI), Pinkett Smith revealed that she and her husband had split up for a spell in the mid-2010s, during which time she dated singer August Alsina. The Smiths obviously got back together, but in another 2020 episode of "Red Table Talk," Pinkett Smith implied that she and her husband were doing a lot of work on their marriage, and that they had a long way to go. "Will and I are in the process of him taking the time to learn to love himself, me taking the time to learn to love myself, right, and us building a friendship along the way."
Fatherhood is tricky for Will Smith
Will Smith seems to enjoy being a parent. "From the time I was 6 years old, I wanted to be a father," Smith said on a Father's Day edition of "Red Table Talk" (via CheatSheet). Professionally, Smith has touted paternal effort, in his top 20 hit "Just the Two of Us," a remake of Bill Withers and Grover Washington Jr.'s classic but with rap lyrics about his bond with his son, and in the 2019 Apple TV+ documentary "Dads."
In his personal life, however, Smith has experienced some dad-related hardships. He was once estranged from Trey, his son with first spouse Sheree Zampino, according to Today. "We struggled for years after my divorce from his mother," Smith captioned an Instagram post of himself and his son in 2018. "He felt betrayed and abandoned," adding that they reconciled and that Trey now considers his father his best friend.
With second wife Jada Pinkett Smith, Smith has two kids, actor Jaden Smith and musician Willow Smith. In 2014, according to the New York Daily News, the Los Angeles County Department of Children and Family Services launched an investigation of the Smith parents after 20-year-old actor Moses Arias posted to Instagram a photo of himself lying shirtless in bed with Willow Smith, who was 13 years old at the time. Authorities cleared the elder Smiths, who asserted that Willow was old enough and smart enough to make her own decisions, of any wrongdoing or endangerment.
Will Smith is an aggressive trendsetter
As half of the duo DJ Jazzy Jeff and the Fresh Prince, Will Smith helped popularize and mainstream rap music and hip-hop culture. Ever since, he's been highly influential in starting or spreading trends. His 1997 "Gettin' Jiggy Wit It" proved so popular that "jiggy" briefly became a ubiquitous slang term. According to the Orlando Sentinel, it means "wonderful and exciting," and was added to the Random House Webster's College Dictionary in 2000. "He didn't make it up, but he popularized it," said Random House editor Carol Braham.
With more than 50 million followers on Instagram, Smith is a de facto influencer, and in 2018, he gave a huge popularity and visibility boost to a burgeoning and possibly dangerous fad called The Kiki Challenge, according to Firstpost. Participants filmed themselves getting out of a moving car and dancing to Drake's "In My Feelings" while the vehicle continued moving. Smith took the Instagram challenge by dancing precariously atop a bridge in Budapest.
What is Will Smith's net worth?
Since the mid-1990s, studios have paid Will Smith a fortune when they want him to star in a movie. According to Complex, "Bad Boys" netted him $2 million in 1995, and "Independence Day" brought a $5 million paycheck. By 1998's "Enemy of the State," his asking price was $14 million. In 2002, Smith earned $100 million for "Men in Black 3," including salary and a cut of box office revenues, per The Hollywood Reporter. As of 2019, his baseline acting fee stood at $20 million, per THR, although he took cuts to $12.5 million each for "Aladdin" and "Gemini Man," and bumps for "Bright" and a sequel, collecting $27 million and $35 million, respectively, per Variety.
Smith has other money channels, too. "The Fresh Prince of Bel-Air" reruns still air in syndication in nearly 200 countries around the world, and with those come big royalty payments. In 2019, Fast Company estimated the market valuation of Just Water, the packaged water company he started with his son Jaden, at $100 million. He also expanded beyond his TV and film production company into new media and technology with a holding company called Westbrook Inc. And years ago, Smith put a large sum of cash into a venture capital fund that received a windfall because it was one of the first inventors in Uber.
Altogether, and as of 2021, Will Smith's net worth, per Celebrity Net Worth, stands at $350 million.