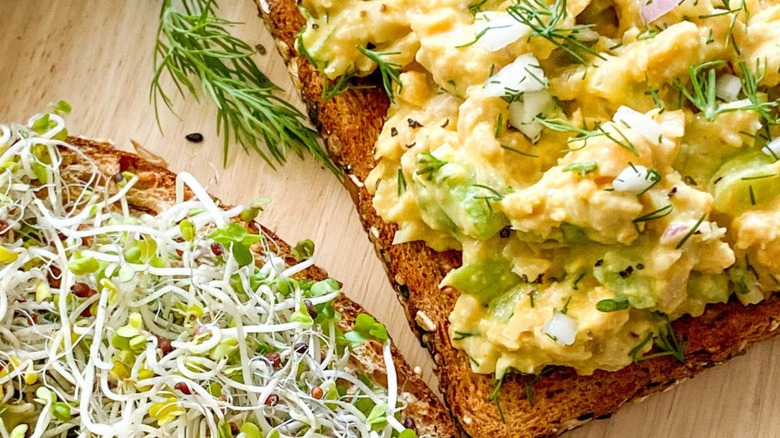 We love classic, crowd-pleasing egg salad, both for its tasty, satisfying simplicity and for all of the ways that egg salad can be easily upgraded into something impressively novel. That said, it's not necessarily a dish that those watching their calories, cholesterol, or fat intake would necessarily want to be eating on a regular basis. Although eggs have rightfully earned their reputation as the "perfect protein," once you add the mayonnaise that makes the eggs a "salad," you're staring down 260 calories, 23 grams of fat — of which five are saturated — and 130 milligrams of cholesterol on average for a half-cup serving (via Fitbit). In part, that's because mayonnaise itself is made from eggs. It's also emulsified with oil, which ups the fat and cholesterol content without adding anything in the way of protein to help keep you satisfied in the hours before your next meal.
Fortunately, recipe developer and wellness coach Miriam Hahn has come up with this recipe for egg-free "egg salad" made with canned chickpeas and vegan mayonnaise. Substituting chickpeas for eggs and vegan mayonnaise for regular mayo is a game-changer in terms of cholesterol, according to Hahn. The result is a hearty, protein-packed "egg" salad that doesn't contain anywhere near the fat or cholesterol content of actual egg salad. As an added bonus, this recipe is also lower in calories than regular egg salad, Hahn told Health Digest.
Gather your ingredients for this vegan chickpea "egg" salad sandwich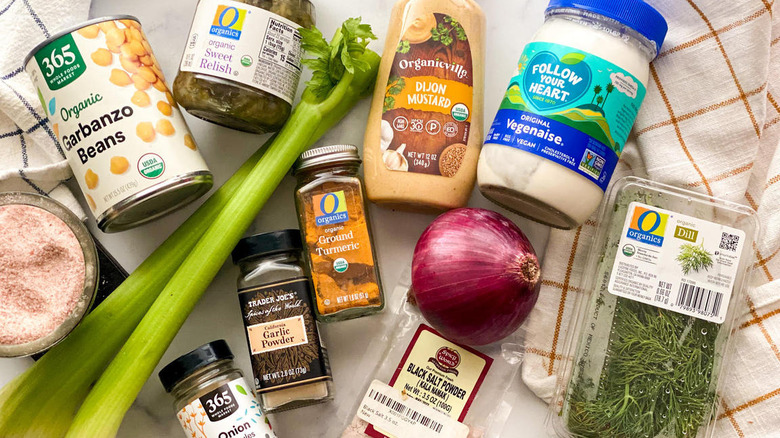 To make Hahn's vegan chickpea egg salad recipe, you'll need one can of organic chickpeas (aka garbanzo beans). You'll also need a quarter cup of diced red onion, a half cup of diced celery (this will be the equivalent of about one stalk), one tablespoon of organic sweet relish (or dill relish, if you prefer), one tablespoon of chopped fresh dill (and a little more for garnish), a quarter cup of vegan mayonnaise, one tablespoon of Dijon mustard, a teaspoon of black salt (aka kala namak, which you can purchase on Amazon or at many Indian groceries), a half teaspoon of garlic powder or granules, a half teaspoon of onion powder or granules, a half teaspoon of pink Himalayan salt, and a quarter teaspoon of turmeric powder.
You might also want some optional sandwich fixings — e.g. bread, sprouts, sliced tomatoes, or pickles — or pita chips or crackers for dipping.
Chop the chickpeas in a food processor
To prep the chickpeas for this vegan chickpea "egg' salad, first, open and empty the can into a colander. Rinse the beans with cool water, and drain them. Place the drained chickpeas into a food processor or a food chopper, and carefully pulse to get the chickpeas to a chunky texture. Don't fully blend the chickpeas or you'll end up with puree, Hahn pointed out.
If you don't have a food processor, you can simply use a fork or potato masher to get the chickpeas to the cooked egg-like texture you'll want for this recipe.
Add the chopped veggies, relish, mustard, and seasonings
In this step, we are going to add all the flavors and textures you'll need to transform ordinary mashed chickpeas into a delicious, flavorful chickpea "egg" salad.
Transfer the chickpeas to a large bowl and add the diced red onion, the diced celery, the relish, the chopped dill, and all of the seasonings and spices to the chickpeas. No need to stir because you're going to be doing that in the next step — and it's already time to move on to that.
Fold in the mustard and the vegan mayonnaise to complete your vegan chickpea "egg" salad
And finally, for the coup de grace, it is time to transform your seasoned chickpeas and veggies into "egg salad" with a dollop of dressing. In this vegan chickpea version of egg salad, that means mustard and vegan mayonnaise.
Add your mustard and vegan mayonnaise to the bowl, and stir everything to combine well. And now you're ready to serve, garnished with more chopped dill — on a sandwich, on top of a salad, or as a dip, Hahn suggests. If you're not ready to serve just yet, it will keep for up to four days in the refrigerator.