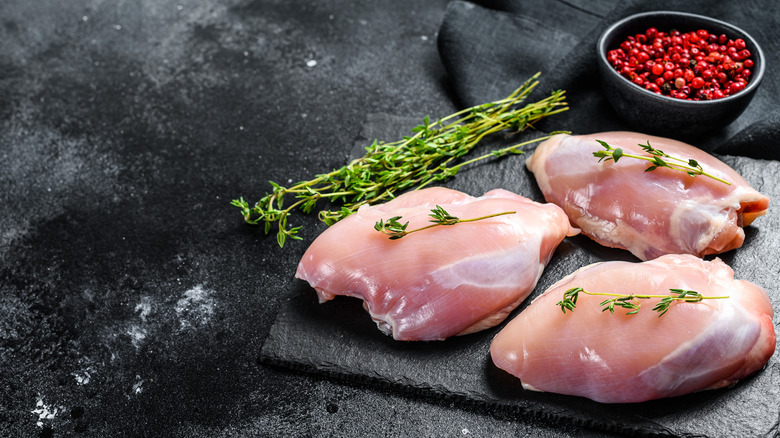 Chicken thighs may be one of the most underrated cuts of meat. While there are about a zillion recipes out there calling for chicken breasts, thighs are actually just as versatile, equally nutritious, and have the advantage in that they're often quite a bit cheaper than their lighter-colored counterparts. What's more, chicken thighs are easier to debone, although you can also buy ready-to-cook boneless, skinless thighs. As a final argument to get you to switch over to the dark side (of the chicken), thighs are also much, much easier to cook. Unlike breasts, thighs are unlikely to dry out or grow tough if you let them stay in the oven for a few extra minutes.
Some of these chicken thigh recipes are quick and easy, perfect for a busy weeknight dinner, while others are a bit more elaborate. They also run the gamut from Asian to Mexican to Italian to all-American comfort food, but you're sure to find plenty of ideas that will make you want to "eat more chikin."
Cornflake Chicken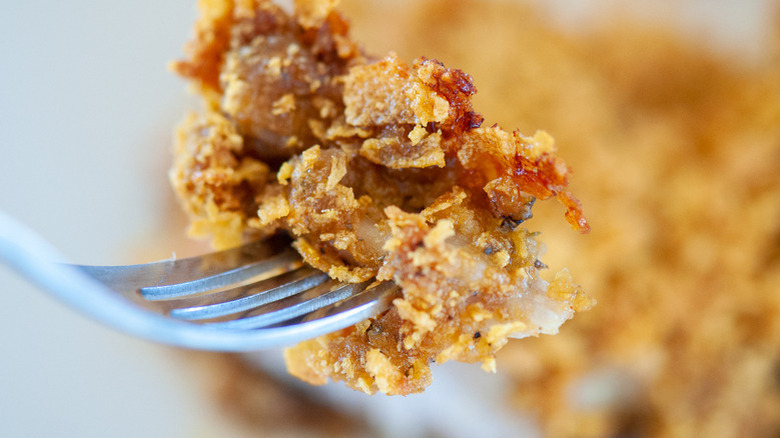 If you think of cornflakes as being strictly a breakfast-only food, you're missing out on a whole world of culinary possibilities. Cornflakes can be used to make cookies, candies, pie crusts, and are great anywhere you need a crunchy crumb coating.
In this recipe, cornflakes are used in lieu of breadcrumbs to coat tasty, oven-fried chicken thighs. Not only do they make this chicken extra-crunchy, but they also provide a little sweetness, not to mention bringing all those extra vitamins and minerals that make for a healthy breakfast –- or dinner.
Greek Chicken Souvlaki
Admit it: Everybody loves meat on a stick. While eat-on-the-go food is seemingly made for fairs and festivals, there's no reason you can't enjoy it at home as well. This chicken souvlaki recipe is ridiculously easy to make, and the chicken thighs give it a nice flavor that complements the mildly tangy tzatziki sauce that is used as both a marinade and a dipping sauce. Accompany the souvlaki with pita bread and a fresh cucumber-tomato salad for a light summertime meal.
Chicken And Dumplings
Chicken and dumplings is the OG (original grandma) comfort food. You don't have to be a grandma yourself to master this old-school dish, but you do need to know one important secret: it's best made with chicken thighs. Not only do thighs add a bit of flavor to what could otherwise be a kind of bland stew, but they also take longer to cook than do chicken breasts. The reason why this important here is because if you use breasts, they might be overcooked and dry by the time the dumplings are done. Thighs, on the other hand, will still be tender, juicy, and delicious.
Easy Oven-Baked Chicken Thighs
For those times you don't feel like spending too much time in the kitchen, it always helps to have a few go-to dishes that require very little in the way of prep work, make use of ingredients you'll already have on hand, and yet are tasty, satisfying, complete meals that can be on the table in just about half an hour. Promise much? Well, this sheet pan chicken recipe actually delivers. All you need to do is slice up some potatoes, then toss potatoes and thighs with seasoned oil, arrange on a sheet pan, and let your oven take it from there.
One-Pot Chicken Teriyaki
If the thought of chicken teriyaki conjures up visions of a dish smothered in a dark, sugary sauce from a bottle, you owe it to yourself to try teriyaki as it should be. This one-pot recipe calls for just 7 ingredients, and you can always cut down on the amount of sugar if you prefer a less sweet dish. While this chicken teriyaki can be made with chicken breasts, thighs make for a richer, more flavorful, and more authentically Asian-style dish.
Mochiko Chicken
Mochiko chicken is a yummy Japanese fried chicken dish that gets both flavor and crunch from mochiko, which is sweet rice flour. Our version of mochiko chicken, however, is oven-baked, something that makes it easier, healthier, and a lot less messy than the traditional deep-fried version. The most difficult part of this mochiko chicken will be sourcing the ingredients as you may need to visit an Asian grocery or shop online to find the mochiko and mirin necessary to make this recipe.
Copycat Chipotle Chicken
What makes Chipotle so successful? All they're doing, after all, is filling a gigantic tortilla with a huge heaping of rice, then ladling on some type of seasoned protein. A simple formula, and yet people line up to buy their burritos (and even spend extra for guac). If you're a fan of Chipotle's chicken, though, you know there's just something about that flavor…
Well, there's no need to stand in line at Chipotle to satisfy your chicken burrito craving, since we think we nailed their secret recipe for delicious chicken. Not only does this recipe supply a pretty darn good copycat version of Chipotle's signature spice blend, but it also makes use of chicken thighs (as does the restaurant chain) to ensure that the meat stays juicy.
One-Pot Chicken And Rice
Chicken and rice, isn't it nice? Well, yes, but it's even nicer if it's cooked all in one pot. Our version even includes spices, veggies, and cheese to make it into a super-flavorful, nutritious meal that's ready to serve in under an hour. While this recipe serves 6, leftovers keep in the fridge for a few days. You can also freeze single servings of it for later reheating in the microwave.
20-Minute Sesame Chicken
Sesame chicken is one of those American-Chinese dishes that may not be authentic, but it sure is tasty, and it remains a popular takeout staple year after year. Our kind of copycat-ish dish recreates the taste of your favorite restaurant order, but it's a lot simpler to make. Instead of deep-frying, our chicken is pan-fried, which cuts down on the oil, the calories, and the mess. Enjoy it over rice or try it in a taco for a delicious Chinese-American/Mexican mashup.
Instant Pot Chicken
If you have an Instant Pot, chances are you've already fallen in love with its convenience. How else can you make dinners that taste slow-simmered in a matter of minutes through the magic of pressure cooking? Here's another great way to cut out a step of dinner prep: having pre-cooked shredded chicken on hand in your fridge or freezer for tacos, quesadilla, chicken salad, and any other dishes you can dream up.
While the recipe here calls for chicken breasts, it can easily be adapted to use with chicken thighs. All you need to do is add a few more minutes to the cooking time, and you'll have delicious dark meat that's recipe-ready.
Slow Cooker Butter Chicken
Butter chicken is one of those dishes with a deceptively simple name. Far from being a simple dish of chicken cooked in butter, instead this Indian restaurant favorite involves a mixture of tomatoes, cream, garlic, onions, and a blend of spices as well as butter and, of course, chicken.
While the dish might seem like a fairly complex one, our butter chicken recipe doesn't call for any ingredients that can't easily be found on any supermarket shelf. It only requires 10 minutes of prep time, too, then the slow cooker takes over and does all the rest of the work.
Crispy Air Fryer Pretzel Chicken Fries
Plagued by unwanted pretzels? It could happen. Perhaps you bought a jumbo-sized bag on sale, then grew tired of chomping on crunchy, salty sticks. Don't just throw out the rest of the bag, though! Instead, fight food waste by putting those leftover pretzels to good use as a coating for these air fryer chicken fries.
While this recipe calls for using chicken breasts, you can easily sub in boneless, skinless thighs for a cheaper, more flavorful version. These chicken fries will be ready in just a few minutes, and you won't believe how good repurposed pretzels can taste!
Recipe: Crispy Air Fryer Pretzel Chicken Fries Recipe Makes Good Use Of Leftover Pretzels
Easy Oyakodon
Oyakodon is a traditional Japanese dish whose name translates to the rather heartwarming "parent and child rice-bowl." While this is a dish you could happily share with your own children and/or parents, this isn't exactly what the name means. Instead, it refers to the parent/child combo of a chicken and an egg, though which one is the parent and which the child is a classic conundrum yet to be solved.
All philosophical musing aside, this is a delicious dish that may require a few special ingredients you may not have on hand –- sake, mirin, and dashi mix -– but the actual prep time is only 10 minutes, plus another 15 minutes to cook. Once you're done, you have a delicious, protein-rich meal in a bowl.
Slow Cooker Chicken Cacciatore
Most Italian pasta dishes make use of meats like pork or beef that stand up well to hours-long simmering as they lend their flavor to the pasta sauce. This chicken cacciatore recipe, however, uses chicken thighs, so you can cook them all day in the slow cooker without them drying out, as chicken breasts are prone to do.
This chicken cacciatore isn't exactly a one-pot recipe, since you still have to cook the pasta separately. You can still do about 90% of the cooking in advance, though, then have a quick, easy dinner in only as long as it takes you to boil a pot of spaghetti.
Recipe: Slow Cooker Chicken Cacciatore Recipe Is What You Want To Come Home To
Sweet Bourbon Chicken
In spite of its name, Bourbon chicken frequently doesn't contain a single drop of whiskey, or any type of booze, for that matter. Instead, this chicken dish was named after New Orleans' legendary Bourbon Street, although it's not really a Cajun dish either. Instead, it seems to fall under the category of "mall food court Chinese." No matter its provenance, though, this sticky-sweet dish is still pretty yummy. If you make your Bourbon chicken at home, not only are you spared a trip to the mall, but you can even sneak some extra veggies past your picky eaters.
Tteokbokki (Spicy Rice Cake)
Tteokbokki is a traditional Korean dish packed with flavor, texture, and spice. It might be hard to spell if you're not used to Korean words, but luckily eating it doesn't involve any spelling. Even if you aren't familiar with it, tteokbokki is well worth seeking out if you live near a Korean restaurant. If there's no takeout tteokbokki to be had in your area, though, this doesn't mean you'll never get to try it. As long as you can get your hands on a package of Korean rice cakes — which are much different than the crisp snacks Americans know as rice cakes — it's surprisingly easy to make this dish of spicy rice cakes and chicken thighs in your own kitchen.
Instant Pot Thai Fried Rice
While fried rice can be kind of a ho-hum side dish, something that's often thrown in for free with your order from any Chinese takeout along with an egg roll or two, this fried rice amps up the old standby by adding ginger, cashews, and Sriracha for more of a Thai-ish flavor profile. Our recipe also turns fried rice into a one-pot meal by using juicy chicken thighs. Although this fried rice recipe is made in an Instant Pot, you could easily adapt it for use in a slow cooker or else just cook the rice and the other ingredients on the stovetop.
Spicy Chicken Soup
Chicken soup, as we know, is "grandma's penicillin," something that's said to cure whatever ails you (as long as it's nothing more serious than a mild cold). If there's anything better than plain chicken soup, though, that would have to be a nice sinus-clearing spicy soup.
In addition to the chopped jalapeno, powdered chiles, and enchilada sauce called for in the recipe, this spicy chicken soup gets plenty of flavor from some unexpected ingredients including cinnamon, red wine vinegar, and honey. As a bonus, this soup is also packed with healthy veggies.
Omurice
Omurice is a dish that's Japanese in origin, but not exactly in name. The word is actually a portmanteau of two English-language ingredients: omelet and rice. So yes, as the name implies, this is an omelet filled with rice. Fried rice, to be exact, which is cooked with chicken thighs and flavored with soy sauce and ketchup. With so many mouthwatering flavors (and the potential to create cute designs with the rice), this Japanese egg dish falls firmly into "try it, you'll love it" territory.
Chicken Vindaloo
If you like super-spicy food, chances are your go-to order at any Indian restaurant may be a vindaloo dish. While Indian food often seems like it would be too complicated to prepare at home, that isn't always the case. This chicken vindaloo recipe calls for a number of different spices, but none of them are anything you can't easily buy at your local grocery store. In fact, you've probably used all of these ingredients before, but when you blend everything together and throw it in the crockpot, that's when the magic happens.
Karaage
Fried chicken is a common and delicious dish in Japan, and there are a number of different Japanese methods for preparing this dish. Chicken cooked karaage-style consists of boneless, bite-sized pieces with a light, crispy coating. This recipe is made from chicken thighs that are marinated in sherry and soy sauce flavored with garlic and ginger. The chicken is then coated with cornstarch and rice flour before being quickly deep fried. As a finishing touch, the tasty nuggets are served with a delicious dipping sauce made from mayonnaise, lemon juice, and rice vinegar.
Tandoori Chicken
While tandoori chicken takes its name from the special type of oven in which it's traditionally cooked, you do not actually need this oven to make a reasonable facsimile of the dish at home. Our tandoor-less tandoori chicken gets its distinctive deep-red color from being marinated in yogurt mixed with a blend of spices. While this recipe does take a few hours to prepare, most of this time involves the chicken soaking up the marinade. In fact, you can even prep the marinade ahead of time and let the chicken soak up the seasonings overnight to make it extra flavorful.
Easy Chicken Shawarma
Shawarma is a Middle Eastern street food favorite, something that's equally delicious on a bed of rice or a salad as it is tucked into a pita. Shawarma can be made with lamb or beef, but chicken thighs are also traditional and make for a delicious, affordable meal.
What makes this recipe so easy? After the chicken thighs have marinated in a tasty blend of seasonings, they cook in just minutes in the Instant Pot! If you don't have an Instant Pot, though, you don't have to pass on this recipe, since you can simply bake the chicken in the oven instead.
General Tso's Chicken
Okay, so General Tso's chicken isn't the most authentically Chinese dish out there, nor is it all that healthy if you order it from your local Chinese takeout. It is pretty darn delicious, though, what with its mild, sweet heat. If you want a healthier version of your go-to order, you can always make General Tso's chicken at home. Not only can you cut down on the fat and calories, you also won't have to pay a delivery fee!
Drunken Noodles
While drunken noodles may sound like the kind of nasty mess you get when you try to cook up a box of Kraft's finest after a night on the tiles, it's actually the name of a delicious Thai dish that deserves to be enjoyed when you're in shape to appreciate it. As a matter of fact, no one's actually sure why these noodles are described as "drunken," anyway, since while they do contain a smidgen of dry sherry, this very minimal alcohol will likely cook off.
While the mingling of different flavors in these drunken noodles is as complex as Thai dishes tend to be, including fish sauce, chiles, garlic, ginger, soy sauce, and brown sugar in addition to the sherry, the dish itself isn't too difficult to prepare. In just half an hour, you'll have a delicious meal that tastes just as good, or maybe even better, than anything you could order from a restaurant.
Sesame Chicken
Sesame chicken is one of those Chinese-American takeout classics, something that just about everyone seems to love. While this dish is a little more complicated that a simple stir-fry, still, it's something that can be prepared at home without too much difficulty. Making it yourself even allows you to control the ingredients, perhaps making it a little less sweet, if you prefer, or adding some dried chiles if you want to amp up the heat. Bonus: you also skip all the fuss (and the fees!) of ordering delivery.
Spicy Noodles
One food trend we totally approve of is that of souped-up (so to speak) ramen noodles. While ramen noodle hacks can be as simple as adding an egg or just a squirt of sriracha, other recipes start with the humble noodle and elevate it to something almost unrecognizable.
This recipe for spicy noodles falls into the latter category. The ramen noodles themselves are just a blank canvas on which to create this masterpiece of veggies, bite-sized chunks of chicken, and Asian condiments and spices.
Simple Chicken Tikka Masala
Chicken tikka masala may be Indian in origin, or at least Indian-inspired, but it is a dish so beloved in the U.K. that it ranks right up there alongside fish and chips and bangers and mash in the pantheon of all-time favorite pub foods. While tikka masala isn't the simplest of dishes, requiring a long list of different spices and flavorings, it's something that is not out of reach of the average home cook. Serve it over rice with a side of naan and you'll have a dish that's as tasty as anything you'd find in an Indian restaurant –- or a British pub.
Butter Chicken
Butter chicken is an amazing Indian comfort food. While it's actually a modern creation rather than something with centuries of tradition behind it, there's no rule that says comfort foods need to date back to Great-grandmother's (or Parnaanii's) time.
This super-easy version doesn't call for any ingredient more exotic than garam masala, a spice blend that's readily available on store shelves these days. This spice is mixed with other seasonings to spice up a yogurt marinade. After soaking in these spices, the chicken is then cooked in a tomato sauce and finished off with cream for a rich, robust flavor you'll find yourself craving at any time of year,