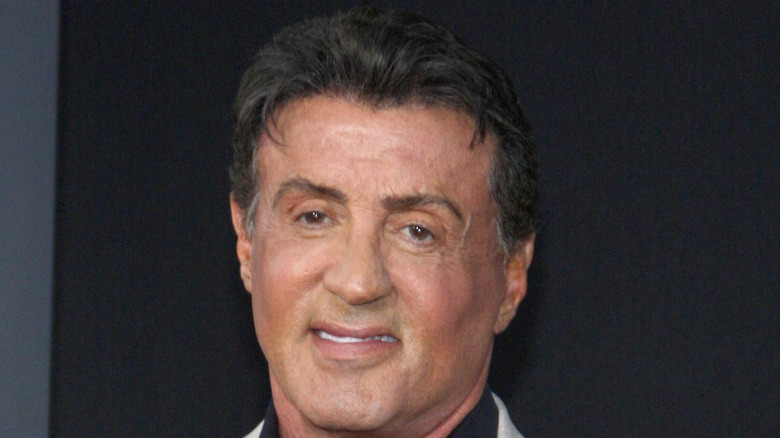 From stunt coordinators to riggings to safety protocols, the entertainment industry goes out of its way to make heart-pounding action sequences and physical comedy moments look as good as possible on camera. But even the best planning is not always enough to avoid accidents on the set.
Take, for example, Sylvester Stallone, who wanted to make his Rocky character's fight with Ivan Drago (played by Dolph Lundgren) in "Rocky IV" a real showstopper (via Hollywood Reporter). Stallone told Lundgren not to do the choreographed fight (as was the original plan). Instead, he said he wanted Lundgren to "Just go out there and try to clock me." Well, Lundgren apparently took direction very well, and he wound up knocking Stallone's ribs against his heart, sending him to the hospital for nine days.
While it's not surprising that a movie about boxing resulted in a real injury, mishaps can happen in any kind of a production. As we'll see, something as simple as crossing a bridge, slamming your hand down against a table, or cutting your foot can all result in serious medical problems. Yes, unfortunately, Stallone is just one of many actors who have wound up in the hospital because of a freak accident on set. Let's take a look at some of the other notable celebrities who were hurt on the job.
Tom Hanks almost died from an infection while filming "Cast Away"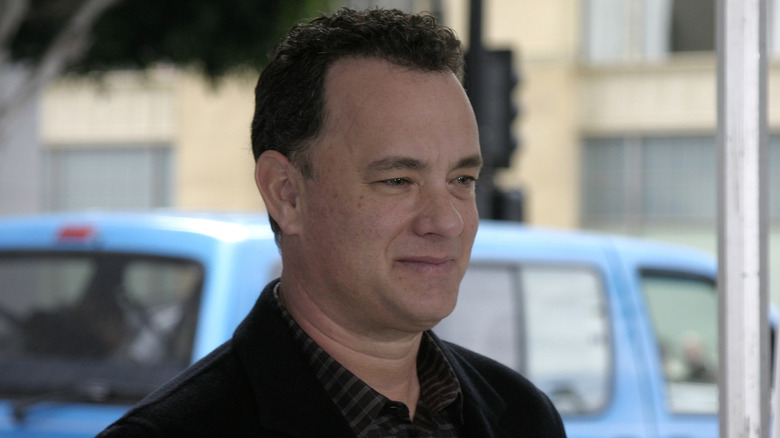 Chuck Noland, the lead role in "Cast Away," is not an easy character to bring to life. For one, Chuck was stranded alone on an island for the majority of the movie, giving actor Tom Hanks no one to interact with (except for an inanimate volleyball). For another, Hanks needed to look like a castaway, which meant gaining 50 pounds for Chuck's pre-island appearance, and then losing 55 pounds to show how surviving on his own affected Chuck physically (via Hollywood Reporter). But while Hanks gaining and dropping weight might have contributed to his Type 2 diabetes, it wasn't what nearly ended his life on set.
"[Cast Away] put me in the hospital," Hanks told BBC's Radio 1 (via Digital Spy). "I got an infection from a cut and it was eating its way through my leg." What Hanks mistook for just a sore turned out to be staph infection (via Hollywood Reporter). Fortunately, as Hanks recalled, a doctor examined him and made the call to have him taken to a hospital before the infection "poisons your blood and you die."
Despite this close call, "Cast Away" was a critical and box office success, earning Hanks a nomination for Best Actor in a Leading Role. And although Russell Crowe took home the Oscar for his role in "Gladiator," Chuck Noland remains one of Hanks' most iconic roles (via Hollywood Reporter).
George Clooney injured his spine during "Syriana"
Before Dr. Derek "McDreamy" Shepherd on "Grey's Anatomy," there was George Clooney's Dr. Doug Ross on "ER" (via Internet Movie Database). But while Clooney pretended to help patients in pain, a role in the movie "Syriana" left him severely injured and contemplating suicide.
Cast as CIA agent Bob Barnes, Clooney had to do a stunt where the chair he was sitting in was kicked over (via Internet Movie Database, Hollywood Reporter, and Hola!). While this may not sound very dangerous, Clooney wound up in tremendous pain with a severely injured spine. How severely? As Gentlemen's Quarterly reports, spinal fluid was coming out of Clooney's nose. In an interview with Rolling Stone, Clooney recalled thinking about sitting in his running car and letting the carbon monoxide overwhelm him. "I was at a point where I thought, 'I can't exist like this. I can't actually live,'" Clooney said.
Although Clooney did not take his life, figuring out how to live with the ongoing pain from his injury was challenging. According to the Hollywood Reporter, he tried alcohol to manage his pain. Hola! reports that for a few months he was "really laying into pain killers." Eventually, Clooney found help with a "pain guy" who taught him how to change his mindset when it came to pain. "Basically, the idea is, you try to reset your pain threshold," Clooney said. "Because a lot of times what happens with pain is you're constantly mourning for how it used to feel."
Harrison Ford's "Indiana Jones" and "Star Wars" battle scars
There are parallels between two of Harrison Ford's most iconic characters: Han Solo and Indiana Jones. Both have done questionable things in their past. Both have had tumultuous romances where their love interests struggle with whether to slap them or kiss them. And stepping into these roles meant injury after injury for Ford.
According to Empire, Ford was injured in three different installments of the Indiana Jones franchise (via Newsweek), starting with the original "Raiders of the Lost Ark" film where he tore his ACL, a ligament in the knee (via Mayo Clinic). Plus, the memorable scene where Dr. Jones is dragged behind a truck wound up bruising Ford's ribs. Then, The New York Times reported that while filming "Indiana Jones and the Temple of Doom," Ford developed a herniated disc from riding elephants and performing stunts (via Newsweek). He eventually went to the hospital, temporarily halting production. And accord to a release from Disney, Ford injured his shoulder "In the course of rehearsing for a fight scene" for the upcoming fifth Indiana Jones film.
As for his work as Han Solo, Ford broke his ankle while filming "Star Wars: The Force Awakens" when the door of the spaceship the Millennium Falcon fell on him (via Newsweek). As a result, he needed two months to recover from his injury before he could return to the set.
Tom Cruise broke his ankle on the set of "Mission Impossible: Fallout"
It's not surprising that Tom Cruise made this list. After all, this is the actor who held onto the side of a plane while it took off for a movie (via YouTube). Yes, you read that right. That scene from "Mission Impossible: Rogue Nation" is not CGI or special effects, nor is that a stuntman stepping in for Cruise. But while his luck held out for that death-defying stunt, the next "Mission Impossible" movie was another story.
As Cruise reported on The Graham Norton Show, while filming "Mission Impossible: Fallout," he broke his ankle during a chase scene (via Entertainment Weekly). His character, Ethan Hunt, was running and sliding along rooftops to catch up with a CIA agent-turned-villain (played by Henry Cavill) when Cruise leapt from one building to the next and broke his ankle. Although Cruise said he knew right away about the fracture, he continued the scene, managing to run despite his injury. Production on the film was shut down until Cruise could return to set. He explained on The Graham Norton Show that his ankle was "not fully healed, but we're still shooting." As for the moment of the injury, it was captured by multiple cameras and made it into the final cut of the film.
Jennifer Lawrence got hit in the face with glass while filming "Don't Look Up"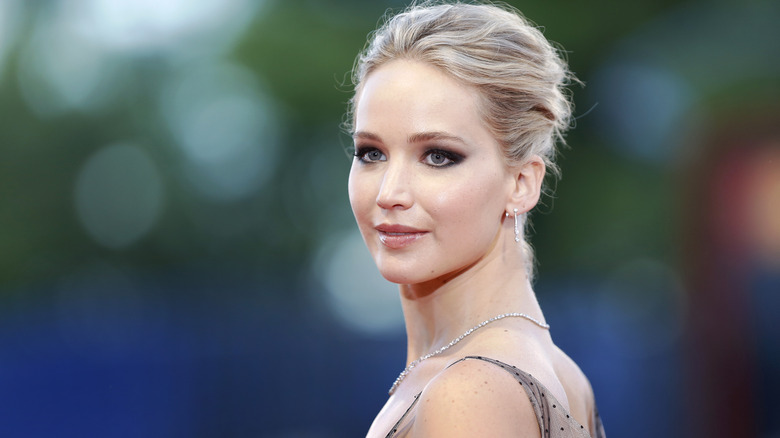 While injuries are expected to happen on the set of an action or adventure movie, that doesn't mean actors in other film genres can't get hurt or have close calls. Just ask Jennifer Lawrence, who found this out the hard way while on the set of an upcoming Netflix comedy.
Aptly named "Don't Look Up," the film is about an asteroid hurtling towards Earth, yet warnings about this potentially planet-ending event are largely ignored (via Us Magazine and Boston Globe). Lawrence, who plays an astronomer trying to sound the alarm, needed to be rushed off the set when a planned explosion sent shattered glass flying into her face. Initially, it was difficult to tell how badly Lawrence was injured, and there were concerns that glass may have gotten into her eye. Despite the close call, Lawrence is expected to fully recover from her injuries.
Unfortunately for Lawrence, this is hardly her first or only injury on a movie set. According to Us Weekly, her role as Katniss Everdeen in "The Hunger Games: Catching Fire" temporarily damaged her hearing. "I went deaf in one ear for months," she said during a panel discussion. " … I got all of these ear infections from the diving and the water and all of that stuff. And then a jet from one of the cornucopia scenes punctured my eardrum."
Blake Lively shattered her hand on the set of "Rhythm Section"
Sometimes a good sense of humor is the only way to get through a bad situation. Just ask Blake Lively. While playing Stephanie Patrick, the protagonist of the mystery drama "Rhythm Section," Lively learned firsthand that even if the weapons in a scene are fake, the injuries can be very real and very serious (via United Press International).
As she recounted on Good Morning America, Lively's mishap occurred during a fight scene with her co-star Jude Law (via United Press International). Although she was wielding a Hollywood prop knife made of rubber, her hand was badly injured when it smashed into Law's elbow, sending her to the hospital. "My hand basically turned to feta cheese," she recalled. "… I broke some things and dislocated some things and severed a ligament."
Although Lively needed surgery and production on the film shut down for six months while she recovered, the actress used Instagram Stories to joke about her condition (via United Press International and People). She posted a clip of herself in the hospital with her injured arm, along with the following: "Literally 4 weeks after I said, 'I'd give my right hand to be in this movie!' (Good thing no one told me to 'break a leg')." She also used Instagram to praise her husband Ryan Reynolds for playing Tone Loc's song "Wild Thing" to help her wake up after surgery.
Halle Berry was injured on the sets of five different movies
Some actors are fortunate enough to go through their careers without getting hurt on the set. Unfortunately, Halle Berry is not one of them. Whether she's playing a Bond girl, a legendary comic book character, or a 911 operator, Berry seems to have bad luck when it comes to injuries during filming.
Playing opposite Pierce Brosnan's James Bond, Berry lived up to her character's name, Jinx, when she had an eye injury while filming "Die Another Day" (via Los Angeles Times). The next year, her bad luck continued with the movie "Gothika" when she fractured her arm on the set. As reported by the Vancouver Province, stepping into the role of Catwoman resulted in a head injury (via Entertainment Weekly). And per The Los Angeles Times, the mystery drama "Cloud Atlas" left her with a broken foot and needing crutches (and unable to attend the Academy Awards ceremony).
And as if that wasn't enough accidents for any one person to have to deal with, Berry was taken by ambulance to the hospital for a possible concussion that occurred while filming a fight scene for the movie "The Call," originally titled "The Hive" (via Los Angeles Times). In the movie, Berry plays a 911 operator who is haunted by a previous call involving a child's abduction — and then later gets caught up trying to rescue a teenage girl who is also taken (via CBS Philly). In the case of this last injury, Berry was given a clean bill of health and able to return to set.
Nick Jonas fractured his ribs on the set of the special "Olympic Dreams"
It's not just movie shoots that can lead to stars getting injured. Nick Jonas learned the hard lesson that TV specials can be just as dangerous as the action stunts performed on a Hollywood soundstage.
As USA Today reports, Nick and his brothers Joe and Kevin were the stars of the NBC special "Olympic Dreams Featuring Jonas Brothers," which pitted the three against each other in a series of competitions. One of them was a BMX race in which Nick seemed poised to be the winner—until his bike slid, sending him falling hard onto his side. Immediately, Jonas said he thought both his back and his ribs had been damaged by the fall. With his brothers by his side, medics were on the scene and soon had Jonas in an ambulance. "I always give 110%, and sometimes that gets you the gold," Jonas said during a mock press conference connected to the special. "In this case, it got me a fractured rib, a bruised tailbone, and a hospital dinner."
Besides his BMX injuries, Jonas also skinned his knee during the hurdle race. As for his brothers, although Kevin and Joe also fell during the BMX race as they tried to avoid falling on their injured brother, neither one of them sustained any major injuries as a result of the Olympic special.
Jane Seymour fractured her knee on the set of "Harry Wild"
Sometimes a seemingly simple scene can lead to a big injury. Case in point, Jane Seymour experienced multiple hairline fractures in her knee while filming an action sequence for the TV show "Harry Wild" (via People). However, a type of dance helped her keep the production on schedule in spite of her injuries. "I was on the set the other day, and I had to run across a bridge and look for a guy that was being tortured, and I fell," Seymour posted on Instagram, adding that she needs both crutches and leg brace while she recovers (via People). Although she was able to continue working on the show, she did have to stay off her leg for a few weeks. However, she explained that she had someone stand in for any shots involving her knee or lower leg while she still could do shots where her knee was off camera.
In addition to shot-planning, Seymour explained in a later Instagram post that she was able to stick to the show's production schedule in large part because of ballet (via People). "Thankfully ballet has enabled me to almost not limp on set," she wrote, although she added that she is still in pain through it's diminishing daily. Almost not limping on the set, however, did earn her the affectionate nickname "Hop Along."
Jeremy Renner broke both his arms the second day of filming "Tag"
Marvel fans will instantly recognize Jeremy Renner as the actor who brought the superhero archer Hawkeye to life on the silver screen. But an accident on the set of a comedy could have left Renner unable to wield a bow and arrow.
The film where Renner was injured is about five friends playing a 30-year-long tag game. Aptly named "Tag," the movie involves quite a bit of action as Renner, Hannibal Buress, Jon Hamm, Ed Helms, and Jake Johnson go to great lengths to avoid being "it" (via Entertainment Weekly). Unfortunately for Brenner, a stunt where he climbed a roughly 20-foot stack of chairs went wrong when the chairs' rigging broke, sending Brenner crashing to the ground. Although he didn't realize it at first, he'd broken both his arms.
While this could have halted production, Brenner returned to work immediately on "Tag" and used splints and therapy to continue performing stunts while avoiding pain medication, so he wouldn't worsen his injuries. When "Tag" finished shooting, Renner was off to be Hawkeye even though his arms were not fully healed. "What else do you do, you just stop and cry and everyone go home?" Brenner said. "You know what I mean? I'd be like, 'sorry guys, I'm not going to use a bow and arrow now in Avengers,' it's silly, so I have to kind of push through so that you can perform for everyone."
Charlize Theron severely injured her hand on the set of "The Old Guard"
Charlize Theron probably wished she had the ability to heal quickly like her character from the Netflix movie "The Old Guard" (via Yahoo). This action-packed film required Theron to take part in some difficult fight sequences that involved a two-handed battle ax, as well as other large weapons. So, it's not surprising that, as she described on Jimmy Kimmel Live, she "tore the ligament off the bone" of her thumb (via Hollywood Reporter).
"I definitely cried quite a bit," she told Entertainment Weekly. "Everybody kept saying, 'This is probably serious,' and I was like, 'We can't talk about that right now.'" As Theron explained, there were still three more weeks left before shooting finished for "The Old Guard." However, it would be two months before she had her hand examined by a doctor (via Hollywood Reporter). As she explained on Jimmy Kimmel Live, she didn't realize the extent of her injury. "And then I was told by a doctor that it [the ligament] was basically just floating around and I was like, 'Oh, that's interesting. That's why I've only been using these four fingers,'" she told Kimmel.
Once she was diagnosed, Theron began wearing a special glove to help her hand heal. Despite the severity of her injury, she joked with Kimmel that she was now "a professional bowler" with a bowling hand guard.
Jackie Chan almost died while filming "Armor of God"
While Jackie Chan is no stranger to getting injured (he claims he's broken every bone in his body), it was a fall while filming "Armor of God" that almost cost him his life (via Biography and Yahoo). The action and comedy star told Yahoo Entertainment's Role Recall that he had to drink beer on camera and then "jumped through a tree." More specifically, he had to jump from the top of a building to the tree, a stunt that would mean a more than a 40-foot drop if something went wrong.
Unfortunately for Chan, while the first take went well, the second one was another story (via Yahoo). After drinking more beer, he made his jump, but the tree's branches broke, and Chan fell, fracturing his skull. "My whole body was numb," Chan recalled. He was immediately taken to the hospital where surgeons saw that bone from his skull had punctured his brain, almost killing him.
Today, Chan is not only known for his stunts but also for founding the Jackie Chan Stuntmen Association, which offers medical coverage and training for individuals following in Chan's footsteps (via Biography). And as for why Chan needed to drink actual beer during the filming of "Armor of God," Chan reported that it was simply so when he popped open the can, it made a fizzy sound (via Yahoo). Chan says, however, if the film was made today, in all likelihood they would have used water instead.
Priyanka Chopra Jonas got a concussion on the set of "Quantico"
For Priyanka Chopra Jonas, the phrase "a series of unfortunate events" is more than just a Netflix series based on a 13-part book series. It's how she describes what led to her getting injured on the set of the ABC series "Quantico" (via People).
"It was raining and the roads were wet and I was in rubber boots and we were running out of time," she explained to People. Unfortunately, these events helped to create the perfect storm for a mishap, and Jonas fell, hitting her head against a car's bumper (via Vanity Fair). She was taken to a hospital right away where tests revealed she had a concussion and whiplash. Under doctor's orders, Jonas rested for a few days before returning to the "Quantico" set to resume shooting. Fortunately, there were no additional stunts to film for that particular episode, giving her time to heal before needing to do more physically demanding scenes.
Besides home rest, the doctors also wanted Jonas to wear a neck brace, something she told People she did not wear in public because she "couldn't make it pretty at all." She also wore high heels the night of the People's Choice Awards, a move she admits that her doctor might have advised against. "…I don't know how he'll feel about that," she said on camera to People Now, adding "though he knows now."
Leonardo DiCaprio slashed his hand in "Django Unchained"
They say someone who is dedicated to their craft puts their blood, sweat, and tears into it. Leonardo DiCaprio certainly covered the blood part of this phrase while filming a scene for "Django Unchained" (via Yahoo). In the historical drama, DiCaprio plays a plantation owner who owns slaves, including one played by Kerry Washington. During a confrontational scene involving Django (played by Jaime Foxx), DiCaprio slams his hand against a table. Unfortunately, he didn't look where he was bringing down his hand and wound up hitting a crystal cordial glass instead of just the tabletop. The glass broke, gashing the actor.
"Blood was dripping down his hand," Stacey Sher, producer on "Django Unchained," told Variety, and she confirmed that he later needed stitches. Now, this could have been the perfect moment to yell "cut" and rush DiCaprio to the hospital, but instead DiCaprio continued the scene, incorporating the injury into the moment. He even went so far as to rub his bloody hand all over Washington's face. "He never broke character," Sher said. "He kept going. He was in such a zone. It was very intense."
Despite buzz that DiCaprio might win an Oscar for his performance, he did not receive a nomination (via Yahoo and Oscars database). However, one of his co-stars on the film, Christoph Waltz — who was also in the "bloody hand" scene — took home the golden statuette for Best Performance by an Actor in a Supporting Role for his work in "Django Unchained."