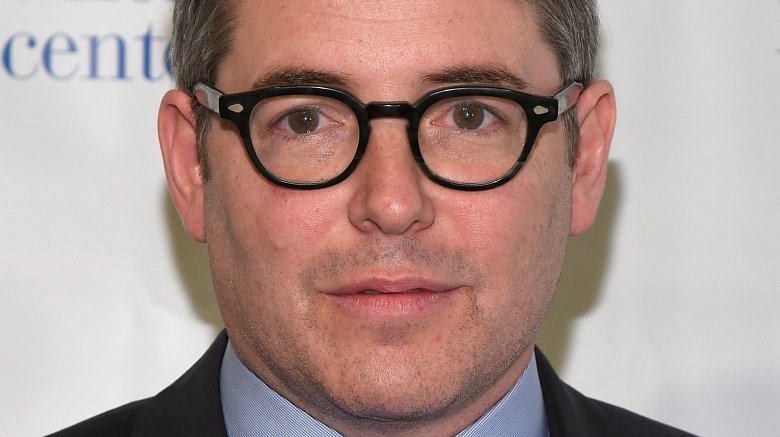 Celebrities lead lives of which most of us could only dream. While their wealth and power position them in the lap of luxury, when it comes to something as serious as murder, no amount of fame is enough to escape the criminal justice system. Sure, some have gotten away with it and some have served time, but they all had to face the music at some point.
The deaths caused by the celebs on this list are the result of everything from tragic accidents to grisly premeditated murders. One of them even occurred live at a televised sporting event, with the clip being passed around the internet like so many other viral videos. Amazingly, only two of the famous folks on this list are still in jail, as of this writing, but regardless, they all share the same dark, common bond. These are the celebs who reportedly killed people in real life.
Michael Jace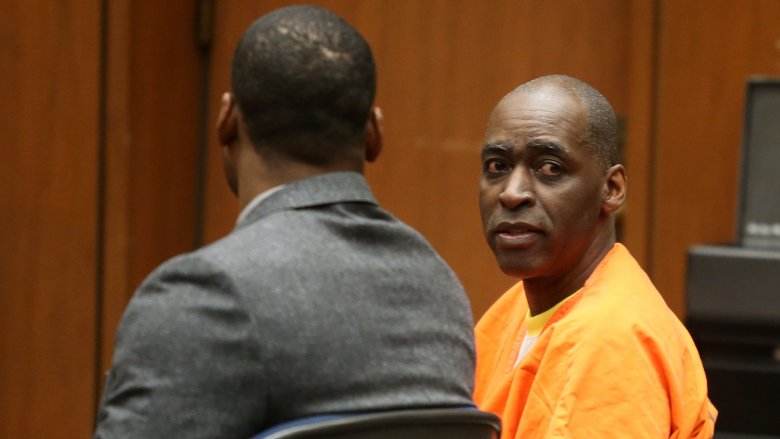 In May 2016, a Los Angeles jury convicted actor Michael Jace of second-degree murder in the fatal shooting of his wife, April, in May 2014. Michael Jace was previously best known for playing police officer Julian Lowe on the crime series The Shield (2002-2008). According to Us Weekly, he told detectives he never intended to kill his wife — only injure her. The murder occurred at Michael and April's home in front of their two sons, who were ages 5 and 8 at the time. The elder son told the court that before his dad shot his mom three times, his dad allegedly told her, "If you like running, then run to heaven." Jace then called 911 after the shooting and told the operator what he'd done.
Michael appeared to be under severe financial strain in the years before his 2014 arrest, according to court documents obtained by CNN. He filed for Chapter 13 bankruptcy in March 2011, citing $500,000 in debts and an annual income of around $80,000 from residuals from his TV and film work. He had defaulted on the $411,000 mortgage on his home. According to CBS News, April told her husband she wanted a divorce the day of the shooting.
"I just ruined lives," he reportedly told detectives detectives after the incident, adding, "You could put the needle in my arm right now and be done. I'm fine with that." ABC7 reports that Jace was sentenced to 40 years to life in prison.
Chris Benoit
In a horrific murder/suicide, wrestling star Chris Benoit reportedly strangled his wife, smothered his 7-year-old son, and placed Bibles at their sides before hanging himself from the pulley of a weight machine in June 2007, according to Fox News. There was rampant speculation about Benoit abusing steroids, but a report published by the Sports Legacy Institute (via Science Daily) indicated that years of head trauma likely resulted in the kind of brain damage necessary to drive someone to commit such a heinous act.
Don King
Don King is probably one of the most notorious figures associated with sports, particularly boxing. This guy has been implicated and indicted countless times, but none of his professional malfeasances have been a surprise to those who know his history. Before he promoted his first fight, King reportedly killed not one, but two people.
According to ESPN, "He [shot and] killed a man who tried to rob one of his gambling houses" in 1954. "The shooting was ruled a justifiable homicide, sparing King a prison sentence." While this first death was ruled as a case of self-defense, King was later convicted of second-degree manslaughter after he reportedly "stomped a man to death" over an alleged $600 gambling debt in 1976. According to Complex, "King received a pardon from the Ohio Governor after doing almost four years in prison."
Matthew Broderick
Fresh off filming Ferris Bueller's Day Off (1986), Matthew Broderick and his co-star, Jennifer Grey, took a trip to Northern Ireland in 1987. However, the vacation was tragically cut short when Broderick failed to keep his rental car in the proper lane and collided head-on with a car being driven by a mother and daughter, killing them both instantly. Broderick was badly injured, but Grey escaped relatively unscathed — although according to People, she was traumatized into quasi-retirement. Meanwhile, Broderick was reportedly charged with careless driving and fined $175, reported the New York Post.
Sid Vicious
Legendary punk rocker, heroin addict, and all-around maniac Sid Vicious lived up to his foreboding name in 1978 when he allegedly stabbed his girlfriend, Nancy Spungen, to death in their Chelsea Hotel room. According to the police report, published online by The Smoking Gun, Sid Vicious was reportedly under the influence of drugs and couldn't remember the details of the alleged incident. While out on bail and awaiting his trial for the charge of second-degree murder, Vicious overdosed and died at a friend's house.
Vince Neil
All the members of Mötley Crüe are known for leading lives of excess, but singer Vince Neil's past includes a particularly dark chapter. According to MTV News, Neil (real name Vincent Neil Wharton) reportedly spent a day drinking with Hanoi Rocks drummer Nicholas "Razzle" Dingley in December 1984, then got behind the wheel and raced off to a liquor store for more booze with Dingley. Neil reportedly lost control of his vehicle and collided head-on with another car, killing Dingley and severely injuring the two passengers in the other vehicle. Though he paid out millions to his victims' families, he served very little time.
The notion that he got off easy wasn't lost on Neil. In a 2005 interview with Blender, he said, "I wrote a $2.5 million check for vehicular manslaughter when Razzle died. I should have gone to prison. I definitely deserved to go to prison" (via Opposing Views). "But I did 30 days in jail and got laid and drank beer, because that's the power of cash. That's f**ked up."
Phil Spector
In 2003, after a night of drinking, followed by a romantic rejection, record producer Phil Spector allegedly put a gun in actress Lana Clarkson's mouth and pulled the trigger. He then walked outside and reportedly told his chauffeur, "I think I killed somebody" — or so the prosecution in his murder trial would have the jury believe.
His defense, according to The New York Times, alleged that Spector's non-native English speaking driver misheard Spector's pleas to "call someone" on account of some gurgling noises from a nearby fountain coupled with the driver's "fatigue and hunger from working all night." The jury didn't buy it, and in 2009, Spector was convicted of second-degree murder and sentenced to 19 years to life.
Tony Stewart
Nobody ever said auto racing was safe, yet while accidents routinely occur during the sport, deaths are relatively rare. Sadly, this was not the case when Tony Stewart struck and killed Kevin Ward during a dirt-track race at the Canandaigua Motorsports Park in New York in 2014.
Controversy swirled over whether or not Stewart intentionally struck Ward, as well as why Ward climbed out of the safety of his vehicle in the first place and decided to walk onto the track during an active race. According to CBS Sports, a grand jury cleared Stewart of wrongdoing and also discovered that Ward had been under the influence of marijuana the night he died.
Ward's family sued, alleging Stewart could have easily avoided hitting Ward. Stewart and the Ward family eventually settled out of court for an undisclosed amount of money, although Ward's mother, Pamela, told USA Today that the family "felt like we were being forced to settle," after their law firm refused to take the case to trial just weeks ahead of their court date. "We wanted (Stewart) to be held accountable in front of a jury of his peers," Pamela Ward continued. "He was not held accountable in a criminal case. He basically has never been held responsible at any point."
Charles S. Dutton
Before taking an interest in acting, Charles S. Dutton had a pretty rough life. According to the Chicago Tribune, the name of his 1990s Fox sitcom, Roc, came from his real-life nickname, which he earned through his frequent participation in rock-throwing fights as a kid. "I liked getting in trouble," he said (via NPR). "I enjoyed getting in fights. I enjoyed the challenge of battle."
This penchant for violence allegedly escalated. At age 17, he reportedly killed a man, and though Dutton claimed he was defending himself from an attack, the incident resulted in a manslaughter conviction and a 5-year sentence. According to NPR, "Even in prison, though, he continued his fighting ways, assaulting a guard and getting eight years added to his sentence. A decade or so later, he was on his way to 'the hole' for solitary confinement when he picked up a book of plays sent to him by a girlfriend. It ended up changing his life. As he puts it, he found what he was 'born to do.'" Dutton petitioned the warden to start a prison drama group.
Upon his release, Dutton earned a master's degree in acting from the Yale School of Drama and became an Emmy-winning actor and advocate through his "From Jail to Yale" stage performance.
Rebecca Gayheart
In June 2001, actress Rebecca Gayheart was driving her friend's car in Los Angeles when she hit 9-year-old Jorge Cruz Jr. "as he jaywalked across the street," according to E! News. Cruz survived the initial strike, but died of his injuries a day later at L.A. Children's Hospital. Eyewitnesses said that after several cars stopped to let Cruz cross, Gayheart allegedly "swerved around the traffic and into a two-way left-turn lane, hitting the boy."
Gayheart, who police said was not intoxicated at the time of the accident, pleaded no contest to misdemeanor vehicular manslaughter. She was sentenced to "three years' probation, a one-year suspension of her license, a $2,800 fine," and "750 hours of community service," reported E! News. Though she's rarely spoken publicly about the details of the accident, on the day of her sentencing, Gayheart's lawyer said, "It was the worst thing that could ever have happened to her, killing a child. She feels terrible." Gayheart also settled a wrongful death civil suit filed against her by the Cruz family for an undisclosed amount.
In May 2005, the former "Noxema girl" told People that it took her years to cope with that tragic day. She claimed she "couldn't really function for a while" and eventually turned to therapy to try to rebuild her life. "I don't think anyone could sit and say they got over something like this," Gayheart said. "I just don't think that's possible. It hasn't been for me."
Keith Moon
The Who drummer Keith Moon reportedly ran his Bentley over his chauffeur, Neil Boland, while allegedly trying to escape from a pack of skinheads in January 1970, reported Rolling Stone. The rock star was charged with drunk driving, driving without a license, and driving without insurance, but those charges were later dropped. According to the media outlet, "Under the circumstances, the judge told Moon, 'You had no choice but to act the way you did and no moral culpability is attached to you.'"
Gig Young
On the screen, actor Gig Young was a consummate performer, but his personal life seemed like a photo negative of his professional one. He was nominated for an Academy Award three times and won for best supporting actor in 1970 for his role in They Shoot Horses, Don't They? Off screen, however, Young become an alcoholic and saw three marriages end in divorce, according to Entertainment Weekly. (He also lost his second wife, Sophie Rosenstein, to cancer.)
In 1973, Young blew one of the biggest leading man opportunities he would ever get when he was fired from Blazing Saddles after being incapable of performing due to severe withdrawal symptoms. He was replaced with Gene Wilder. Young developed a reputation for being unreliable and was even said to be suffering from the "Curse of the Oscar." His troubles came to a head five years later, when, just three weeks after marrying German actress Kim Schmidt, he shot and killed her then turned the gun on himself, according to The Hollywood Reporter. Longtime agent and friend Martin Baum, to whom Young willed almost his entire estate, said, "He seemed like a man who had everything going for him. How little we know."
Michael Massee
Rising action star Brandon Lee died in March 1993 on the set of The Crow after being shot with an ill-prepared prop gun. In what is perhaps the ultimate irony, he passed away while filming his character's death scene, which, according to The Telegraph, fueled a number of wild conspiracy theories. But there was another victim that day as well: Lee's co-star, Michael Massee.
Massee is the actor who played the villain, Funboy, and he was the unlucky one who pulled the trigger, discharging what was eventually revealed to be a fragment of a "dummy bullet" accidentally left in the chamber after the gun was used to shoot close-ups earlier in the day. According to People, the fragment came to rest near Lee's spine and caused so much damage that doctors were unable to save his life.
Massee, who died of cancer in 2016 at the age of 64, reportedly only spoke publicly about the tragic accident one time, in a 2005 Extra interview. He said Lee's death affected him so deeply that he immediately took an entire year off to do nothing but stick close to family and friends. When asked if he'd "gotten over it," Massee said, "I don't think you ever get over something like that. No, I've gone through it a lot and things keep changing … You just keep on going. Life is extraordinary and very resilient, you know? And you take the good where you see it, and that's how I have."
Lillo Brancato
Best known for his roles as Calogero or "C" in A Bronx Tale (1993) and Matt Bevilaqua on The Sopranos (1999-2007), Lillo Brancato threw his already spiraling career down the drain when he was involved in an attempted burglary gone horribly wrong in 2005.
According to The New York Times, Brancato, who was a self-proclaimed drug addict, along with an associate, Steven Armento, attempted to break into the house of someone Brancato knew who was "a friend who had provided him with drugs many times." After hearing them break a window, an off-duty NYPD officer and neighbor, Daniel Enchautegui, called 911 and then went outside to investigate. While confronting the men, Armento shot and killed the officer.
The New York Daily News reports that "Brancato, shot twice by the dying cop, beat a charge of felony murder in the case. He was sentenced to 10 years in prison for a burglary conviction." Meanwhile, Armento was sentenced to life in prison. After his parole, Brancato told ABC7 that he takes "full responsibility" for decisions he made that "contributed to the death of that heroic police officer."
Lane Garrison
In 2006, actor Lane Garrison's career prospects were looking good. He had a recurring role on Prison Break as David "Tweener" Apolskis (2005-07) as well as a small part in the Mark Wahlberg action blockbuster Shooter (2007). But on Dec. 2, 2006, the 26-year-old star decided to party with some teens he met in a grocery store parking lot, and everything went sideways.
According to People, Garrison went to a party with the teens and was "driving them back to the store" when he lost control of his Land Rover and hit a tree. Seventeen-year-old passenger Vahagn Setian was rushed to the hospital but did not survive. An unidentified 15-year-old female passenger suffered "a fractured pelvis and shattered arm," and another 15-year-old female passenger was "not seriously injured." At the time of the crash, People reported that Garrison's blood alcohol level was .20 and police reported that he had "an undisclosed amount of cocaine his system, according to a blood test."
Garrison pleaded guilty to "vehicular manslaughter without gross negligence and two other alcohol-related charges," according to People. He was sentenced to 40 months in prison. After serving his time, Garrison told the Today show that it was difficult for him to not be able to reach out to the Setian family on account of a court order barring him from contacting them. "There's a family that doesn't have their son," he said. "The least of my worries was doing jail time. The whole notion that I was responsible for someone losing their life, that's what really ate me up inside. This is something that I am never going to get over, they're never going to get over."
Brandy
In December 2006, R&B singer Brandy (full name Brandy Norwood) rear-ended another motorist, Awatef Aboudihaj, which caused a chain reaction involving four cars. Aboudihaj died as a result of "major injuries" sustained during the crash, reported People. After a year-long investigation, prosecutors determined "there was insufficient evidence" to charge Brandy with vehicular manslaughter. However, the "Have You Ever" singer did settle various lawsuits with the other motorists, including one with Aboudihaj's husband for an undisclosed amount. She also reportedly agreed to pay $300,000 each to Aboudihaj's two sons, who were in the vehicle with their mom at the time of the accident.
Speaking with Oprah Winfrey in 2014 (via HuffPost), Brandy said the tragedy renewed her faith in God because she had "no one else to turn to." She also echoed the sentiments of others on this list, describing the lasting toll of this terrible turn of events. "Being involved in something that tragic … I couldn't believe it," Brandy continued. "I don't think that's something I could ever get over or ever truly understand, but that was one of the worst times in my life."