Jon Favreau has been a multi-talented Swiss Army Knife for his whole career, even if most know him only as a comedic actor. He started in the improvisation and comedy clubs of Chicago before finding his big break in Los Angeles. His first screenplay was for the movie "Swingers," which came out in 1996 and was a big success; Favreau also starred in the film, and it's on that set that he met his long-time friend Vince Vaughn, with whom he went on to collaborate frequently. He's also known for playing Happy Hogan in the Marvel Cinematic Universe, a role he took on in 2008's "Iron Man" and still plays to this day.
But Favreau has had the biggest impact on Hollywood as a director. He made his directorial debut in 2001, and has since established himself as a pioneer in digital filmmaking technologies, always pushing the envelope further with special effects, CGI, and virtual filmmaking. He's also distinguished himself with his storytelling: He's an accomplished screenwriter and is known for witty, quotable dialogue, relatable characters, and a penchant for rich, impressive visuals. Finally, Favreau is an executive producer on many Disney production, including the "Avengers" and various pieces of the Star Wars expanded universe.
Honorable Mention: The Mandalorian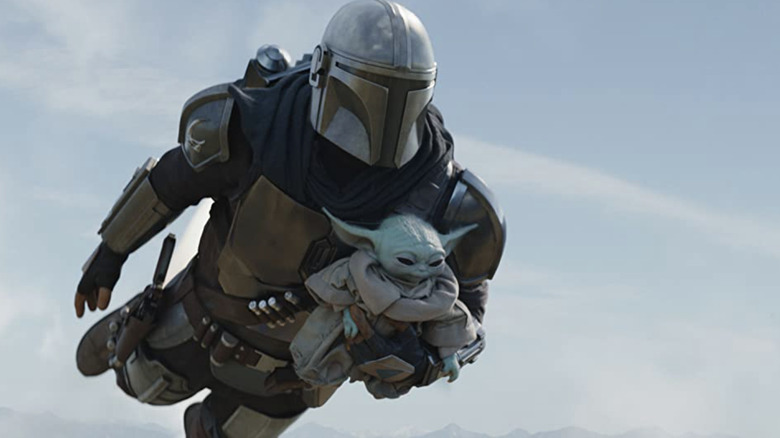 "The Mandalorian" is not a movie but a series, so it doesn't really qualify for this ranking, but we'd be remiss if we didn't mention it in light of Favreau's directorial career. The first live-action Star Wars show was a passion project for Favreau, and he was dedicated to making it happen in spite of any reservations Disney had; he wrote four full episodes before Disney greenlit the show. He also served as executive producer, writer, and showrunner on the first season, although not as director, because he was still busy with his remake of "The Lion King"; he jumped aboard as a director during the second season.
The impact "The Mandalorian" has had on the Star Wars universe cannot be overstated. The show went on to win several awards, and was a huge part of the successful launch of Disney+. From a technological perspective, "The Mandalorian" has also had a great impact on the world of filmmaking: "The Mandalorian" is filmed using "Stagecraft," which consists of giant screen on which virtual environments are projected, making for an almost seamless shooting experience that's being touted as a game-changer in the industry.
9. Cowboys & Aliens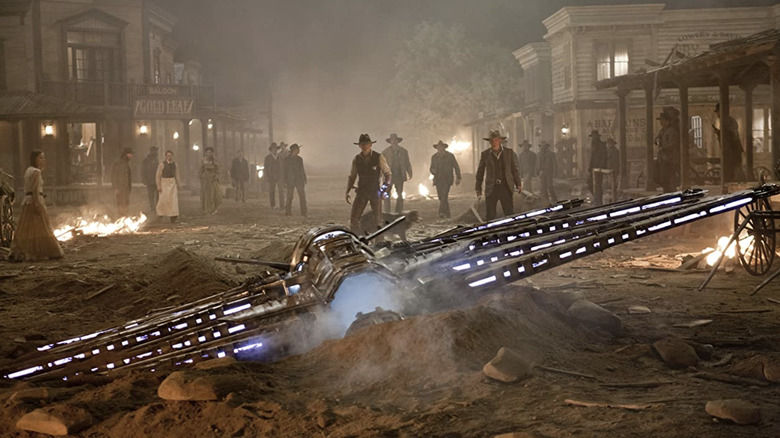 Fresh off his success with both "Iron Man" movies, Favreau moved on to another ambitious genre project, 2011's "Cowboys & Aliens." Based on a comic book, the film was both a box-office bomb and a critical flop: producer Brian Grazer even went on to say he regretted making the film. For all these reasons, "Cowboys & Aliens" deserves the last place in this ranking, making it Favreau's worst film.
The movie opens on outlaw Jake Lonergan (Daniel Craig) waking up in the middle of the desert. He's lost all of his memories, and has a weird bracelet on his arm. He finds his way to the nearest town, where he's arrested and then sent off to Santa Fe to stand trial. There, Lonergan meets Woodrow Dolarhyde (Harrison Ford), a cattleman baron with whom he butts heads. Then, aliens attack! As it turns out, they've been kidnapping townspeople, and Lonergan's bracelet is the only weapon that can help the cowboys against the aliens. The film also stars Olivia Wilde, Paul Dano, and Sam Rockwell.
Both Craig and Ford's performances are lackluster and stoic, and the plot is convoluted and not especially interesting. Its only redeeming quality is that, as a genre mash-up, it looks really good; Favreau's visual signature is easily recognizable.
8. The Lion King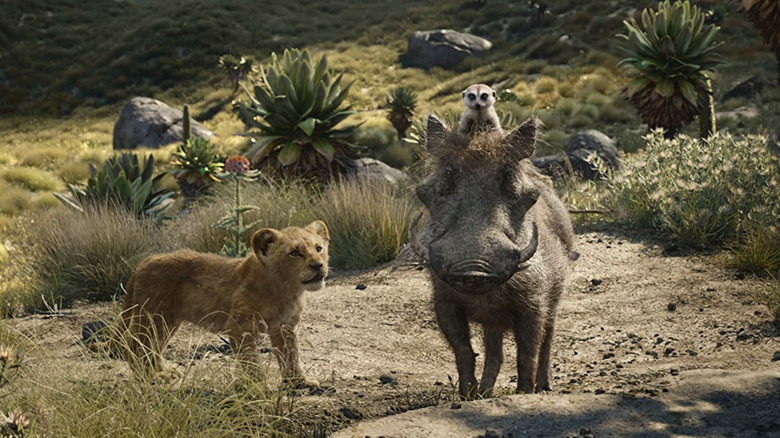 A weird in-between of live-action and animation, "The Lion King" is Favreau's 2019 remake of the classic 1994 Disney animated musical of the same name. It follows the exact same story, almost scene for scene, apart from the musical aspect of the original: The CGI animals do not dance in Favreau's version. It has a star-studded cast, including Donald Glover as Simba, Beyoncé as Nala, Chiwetel Ejiofor as Scar, Seth Rogen as Pumba, Billy Eichner as Timon, and James Earl Jones reprising his original role of Mufasa.
While "The Lion King" was definitely not a box-office flop, it garnered mixed reviews: It lacks the original's charm and humor and its tone is flatter, with the CGI animals being limited in their emoting capabilities. The movie attracted harsh criticism from the original animated movie's animators, who accused Favreau of recreating the original almost shot for shot in certain scenes. What saves "The Lion King" from getting the very last spot on this list is the admittedly impressive use of technology, which makes the computer-created animals and scenery look real, if ultimately soulless.
7. Iron Man 2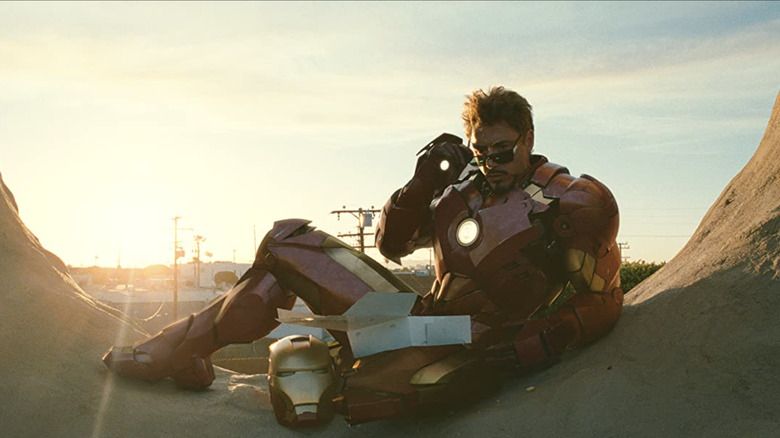 While it builds on the original, "Iron Man 2" doesn't quite live up to the first movie. It's still a fine sequel that cemented Tony Stark's character, introduced Black Widow (Scarlett Johansson), and effectively kickstarted the Avengers' team-up in the Marvel Cinematic Universe. Robert Downey Jr. reprises the role of egotistical billionaire Tony Stark and turns in his usual quirky performance, while Stark's sidekick James "Rhodey" Rhodes has been recast as an older, more experienced Don Cheadle.
Stark faces two evils in this second instalment: the classic Marvel villains, and himself. In "Iron Man 2," Tony has a lot to deal with — his mechanical heart is gradually poisoning him while a competitor, Justin Hammer (Sam Rockwell), has teamed up with the son of his father's old rival, Ivan Vanko (Mickey Rourke), to bring him down. Most of its ideas in terms of mortality, legacy, and the strained relationship between the military and superheroes are better explored in the MCU's later films, but "Iron Man 2" still plants the seeds of those conflicts to create a thrilling comic book movie. This film was the last one that Favreau directed for Marvel Studios, though he remained involved with the MCU as an executive producer and an actor in Sony and Marvel's "Spider-Man" team-ups.
6. Made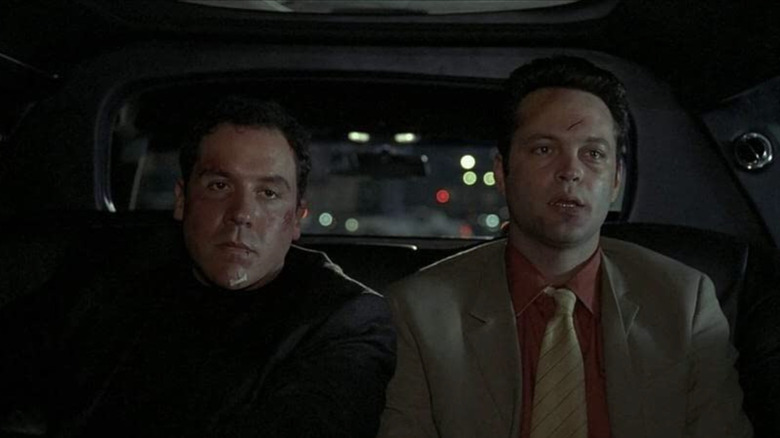 Jon Favreau's directorial debut "Made" was released in 2001 and informed much of his style going forward, including his witty, fast-paced writing and directing. Favreau stars alongside long-time friend Vince Vaughn, with a cast that also includes Peter Falk, Sean Combs, and Famke Janssen. The movie is often likened to "Swingers," which Favreau and Vaughn also starred in; "Swingers" has a similar sense of humor, but Favreau really makes "Made" his own with his hilarious and loose dialogue.
The comedy is centered around two aspiring boxers, Bobby and Ricky (Favreau and Vaughn) who become involved in money-laundering and organized crime after Bobby picks up a fight with one of his stripper girlfriend's clients. His boss Max (Falk) ends up cleaning up his mess, and tasks him with making an important delivery to New York City, to which Bobby insists on taking Ricky. There, they meet up with mob boss Ruiz (Combs) and get in big trouble because of Ricky's antics. As crime comedies go, "Made" doesn't reinvent the wheel, but it's not meant to; "Made" is the kind of movie that leans heavily on tone and dialogue, and Vaughn delivers with his clueless goofball performance as Ricky.
5. Zathura: A Space Adventure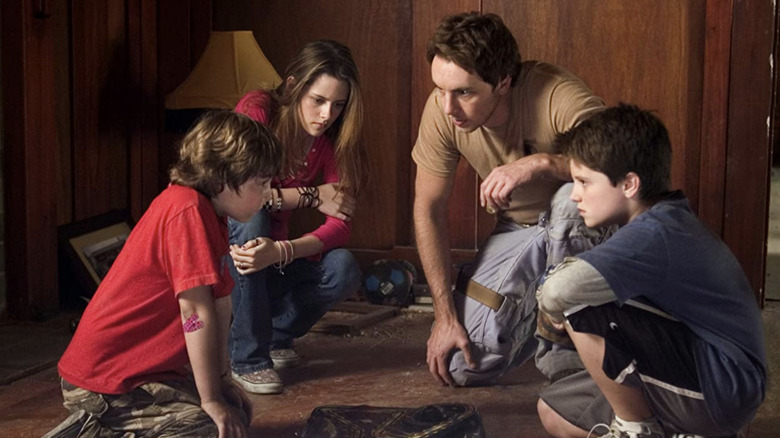 "Zathura: A Space Adventure" is the sequel to 1995's "Jumanji," both based on children's books by Chris Van Allsburg (although, in all honesty, Van Allsburg and the central conceit — a board game that leads to a wild adventure — are all that the two books really have in common). "Zathura" follows the adventures of two brothers, Walter (Josh Hutcherson) and Danny (Jonah Bobo) who discover a board game titled Zathura in their basement on a boring day spent (mostly) alone at home. Their big sister Lisa (Kristen Stewart) is baby-sitting from her bed upstairs, mostly uninterested in the boys' antics.
Much like "Jumanji," the board game comes to life: It transports the house into orbit, where it's attacked by meteor showers, alien lizards, a terrifying robot, and more. Luckily, an astronaut (Dax Sheppard) joins them to help them overcome the board game's challenges. "Zathura" is Favreau's third film, and his first foray into heavy special effects — it might very well be the movie that started the director's affection for and research into effects technology. As a children's movie, "Zathura" holds up really well, and it solidifies Favreau's storytelling style. Similarities with his previous movie, "Elf," as well as his next adventure, "Iron Man," can easily be spotted.
4. Iron Man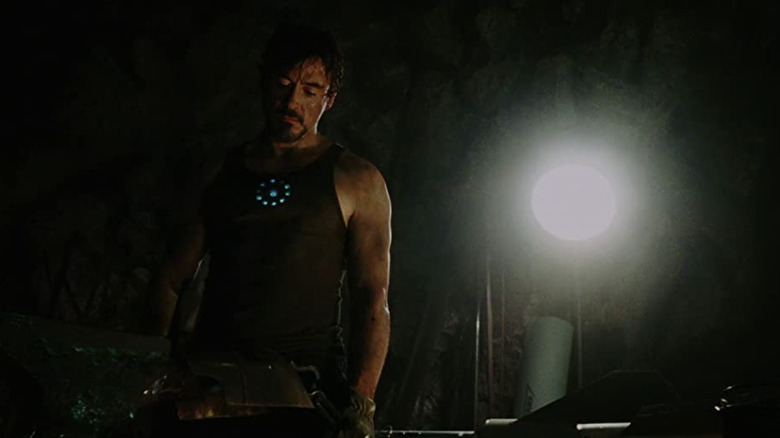 2008 was an important year for the Marvel Cinematic Universe: That year, the very first movie of what would become a 25-film series (so far) was released. Favreau became involved in "Iron Man" after having a role in 2003's "Daredevil" as lawyer Foggy Nelson, and fought Marvel Studios hard to have Robert Downey Jr. cast in the role of Tony Stark. The result, as we know, was well worth the fight; the quirky billionaire playboy-turned-superhero wouldn't be who he is without Downey Jr.'s superb performance.
Favreau's usual looseness around dialogue enabled Downey Jr. and the rest of the cast, which includes Gwyneth Paltrow, Terrence Howard, and Jeff Bridges, to improvise a lot. The plot follows Stark as he visits Afghanistan to demonstrate Stark Industries' latest missile. The compound is attacked, and Stark is wounded and captured by terrorists. Another scientist, who has also been kidnapped, saves his life and helps Stark create his first mechanical suit. Thanks to Favreau's touch, "Iron Man" had ground-breaking special effects and helped set the witty tone that would make the MCU such a big hit.
3. Elf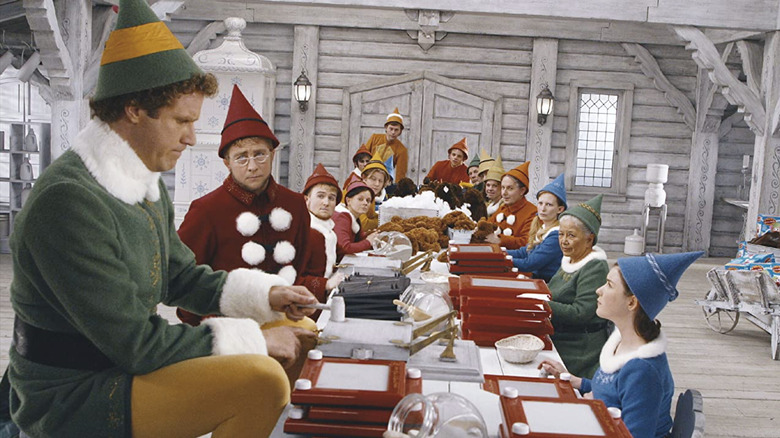 "Elf" has been a holiday classic ever since it came out in 2003. It's only Favreau's second film, and it still holds up as one of his best (and possibly weirdest). It stars Will Ferrell as Buddy, a human who was abandoned as a baby and brought up by some of Santa's elves. He grows up believing that he's an elf until he's sent back, as an adult, to his birth father (James Caan) in New York City. The transition is drastic and quite difficult for Buddy; from finding a job, navigating the harsh realities of the world, and being accepted by his dad, he gets into the most ridiculous situations.
The movie works for multiple reasons. With a premise that could easily have fallen into creepy or overly cheesy territory, Favreau's earnest Christmas movie is actually charming. Ferrell's physicality lends itself perfectly to Buddy's character, and the rest of the cast, which includes Zooey Deschanel, Peter Dinklage, and Bob Newhart, make for a great ensemble. It's a departure from Favreau's first film, "Made," and it clearly paves the way for the rest of his career, from "Iron Man" to "The Jungle Book."
2. Chef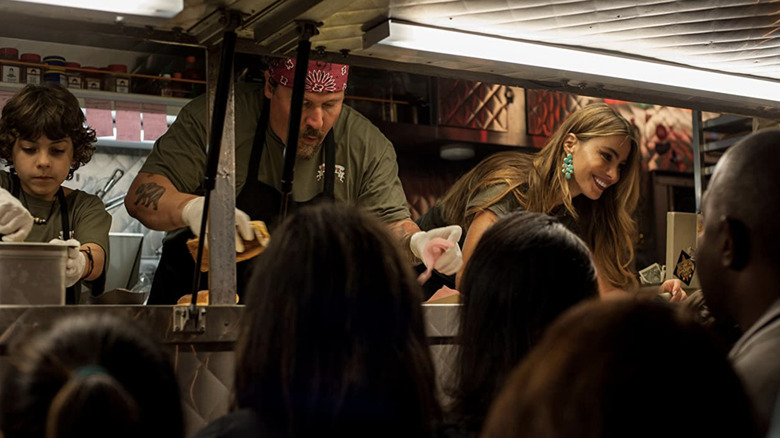 After the science-fiction and comic book adventures of "Zathura" and "Iron Man," Favreau returned his comedy roots with 2014 foodie dramedy "Chef." He wrote, directed, and starred in this movie about a chef named Carl Casper, who loses his job at a high-end restaurant after an altercation with a food critic and the restaurant's owner. He joins his ex-wife Inez (Sofia Vergara) and tween son Percy (Emjay Anthony) in Miami and decides to pursue his dreams by acquiring a food truck from Inez's other ex-husband, Marvin (Robert Downey Jr.). The star-studded cast also includes Dustin Hoffman, Scarlett Johansson, and John Leguizamo.
"Chef" is many things. It's a father-and-son bonding story, a redemption tale, a story about following your passion, and a food extravaganza. The food cooked in the movie was so mouth-watering that Favreau even considered opening a restaurant with Roy Choi, the chef who created the movie's dishes. "Chef" is an under-the-radar gem, and certainly Favreau's most personal movie, both dark and humorous in Favreau's signature storytelling style.
1. The Jungle Book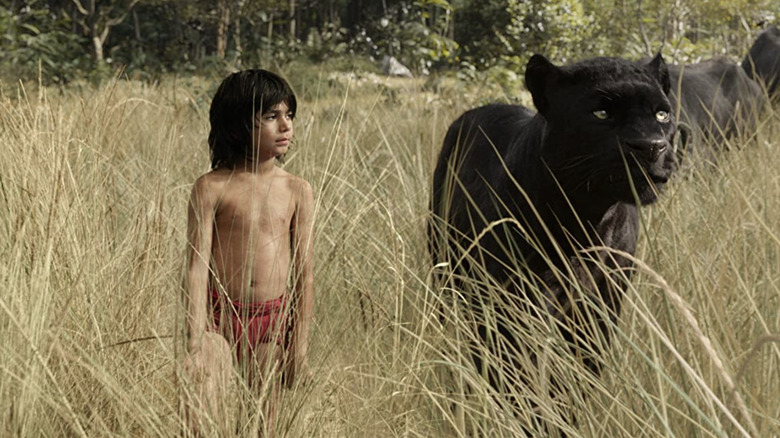 The first of Favreau's classic Disney remakes, 2016's "The Jungle Book" is not only the better of the two but also overall his best movie. An adaptation of the 1967 animated movie based on Rudyard Kipling's novel of the same name, "The Jungle Book" not only wows in the special effects department, it also has a lot of heart and showcases Favreau's storytelling chops. For "The Jungle Book," Favreau was inspired by movies like "Avatar" and "Life of Pi," giving "The Jungle Book" a CGI-heavy photo-real look; Favreau again pioneered new technology in the making of this film, which was filmed entirely in digital environments.
"The Jungle Book" follows the original movie's plot, with a few differences. It's about Mowgli (Neel Sethi), a human child raised by the wolves Raksha (Lupita Nyong'o) and Akela (Giancarlo Esposito), as he's forced to journey back to his village when the fearsome tiger Shere Khan (Idris Elba) threatens his pack. The rest of the cast includes Bill Murray as Baloo, Ben Kingsley as Bagheera, Scarlett Johansson as Kaa, and Christopher Walken as King Louie. Mowgli's heart-wrenching story, and the presence of a real human among all the CGI, may be why "The Jungle Book" hits differently than "The Lion King"; the film's visual achievements are on the same level as the emotional coming-of-age story.