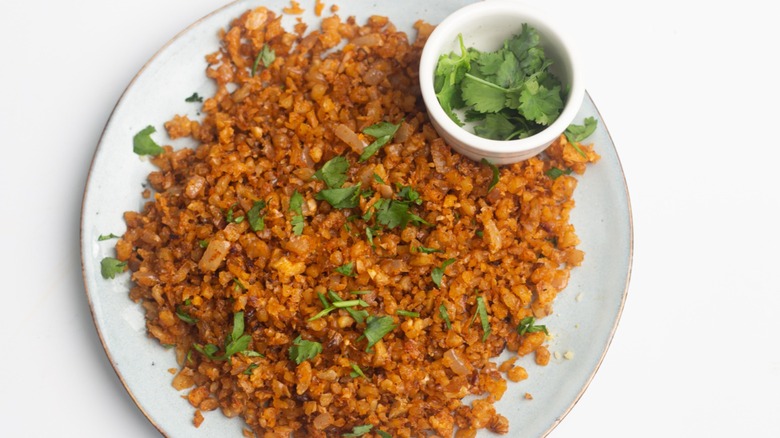 Taco meat can be one of those recipes that is hard to get right when you are aiming for a vegan version. It's a texture thing, if you ask us. And, of course, plant-based eaters still crave that meaty taste, which can be difficult to find in vegan fare.
Thankfully, Susan Olayinka is here with the best vegan taco meat recipe. What makes it the best? "I think the simplicity in the way that it is made," she told Health Digest. Indeed, this versatile recipe comes together with less than ten ingredients, and most of them are seasonings. Once you stock up on the spices, you can make this vegan taco meat again and again, which you will want to do — trust us. "The taste is amazing in terms of the spices used," Olayinka assured us. She added that the texture is also on point.
We asked Olayinka how she likes to enjoy the dish, and she told us, "This serves absolutely wonderfully with a taco bowl, with guacamole, quinoa, and salsa. Or put it in a taco, and it will do really well with similar condiments." How about over lettuce, in an enchilada casserole, or with rice? The options are seriously endless once you master the simple recipe.
Vegan taco meat is made with two main ingredients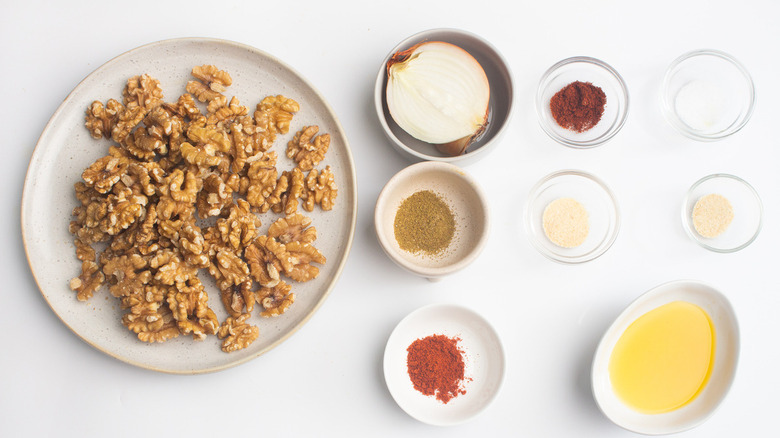 Vegan taco meat is mainly made of walnuts and onion, with a delicious smattering of spices mixed in. For this recipe, you will need two cups of walnuts and half of an onion. Then, stock up on the following spices — or take inventory of your spice drawer and pull out: garlic powder, onion powder, paprika, cumin, salt, and chili powder.
Those are a lot of spices in this recipe, so how hot is this dish? "I would say the spiciness is about one out of five," Olayinka told Health Digest. "It's not very spicy because I use quite a mild chili powder, but home cooks are free to use a spicier version."
The final ingredient needed to turn out tasty taco meat that's completely meat-free is your favorite extra virgin olive oil. As far as special equipment needed, a blender or food processor is required.
Soak the walnuts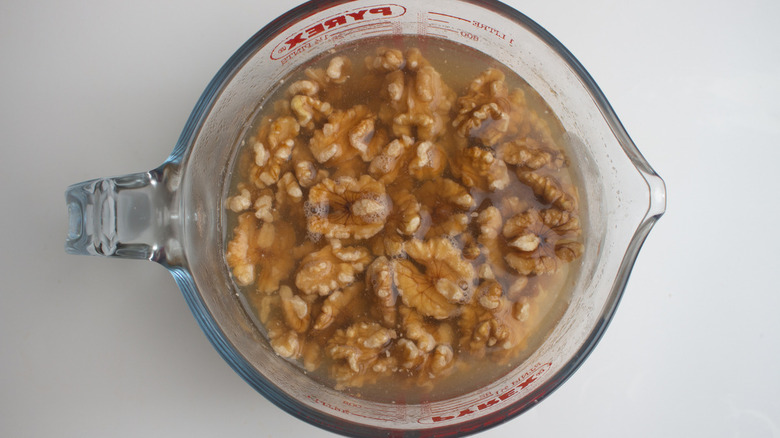 The first step in this recipe cannot be skipped. You will soak your walnuts in hot water for 30 minutes. Seriously, don't bypass the soaking, with Olayinka explaining to Health Digest, "Soaking the walnuts is mainly for a texture reason. It breaks downs much easier, and also, the soaking helps the dish to resemble taco meat more."
Ultimately, soaking the walnuts makes them softer instead of crunchy, which taco meat is not. But there is another rationale for why this step is a necessity. Olayinka notes, "The soaking also allows for spices to cling to the nuts more easily."
Note that after this step, the rest of the recipe takes mere moments to complete.
Blend the walnuts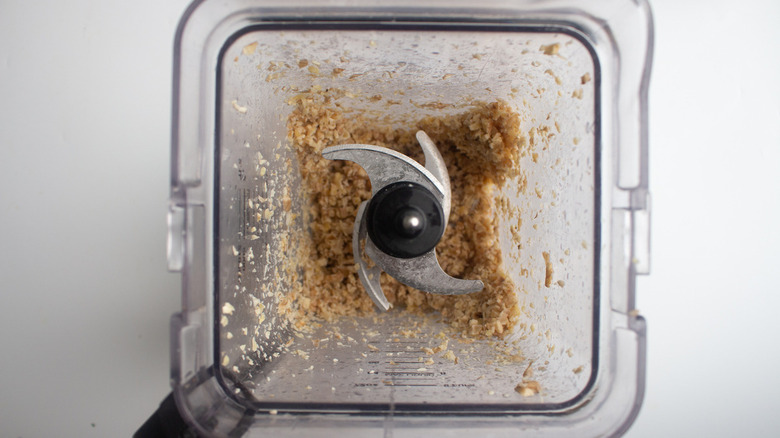 Your next step is to drain the walnuts and place them in a blender. You will pulse the blades around six to seven times, with the goal of breaking down the nuts until they resemble ground beef. Now, set the blender aside for a moment to prep the onion for the dish.
Here, you may want to experiment with which variety of onion to use. White onion is pretty mild and will work well in this recipe given that you're going to add so many spices. Yellow onion is a common onion for cooking, and it has a sweet note you may enjoy. Red onion is also a great choice since you find this variety in many Mexican dishes, and it will pair well with a taco or taco bowl.
Add the walnuts and onion to a saucepan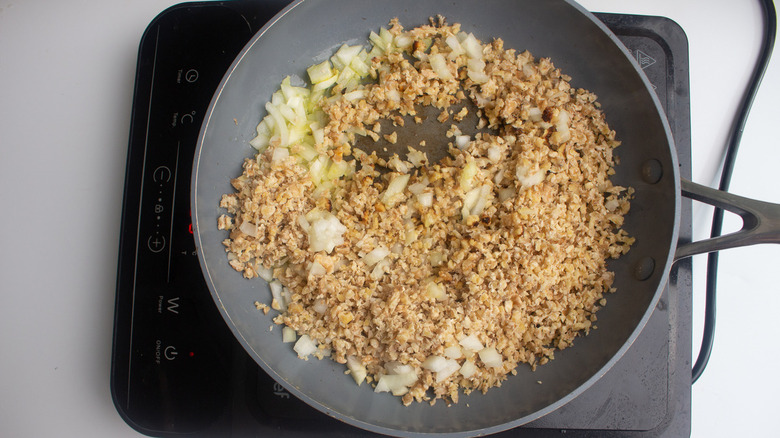 Once you pick your onion, you'll want to dice half of it into half-inch pieces.
Now, grab a frying pan, placing it over medium to high heat. Add your extra virgin olive oil, and then scrape the walnuts out of the blender using a spatula. Add the nuts and onion to the pan, stirring the mixture for about a minute. You are just heating the ingredients here.
Finally, measure out your spices, and remember, a hotter chili powder will amp up the heat, or you can add more than the quarter teaspoon the recipe calls for — that is, if heat is your thing. If not, proceed!
Add spices and serve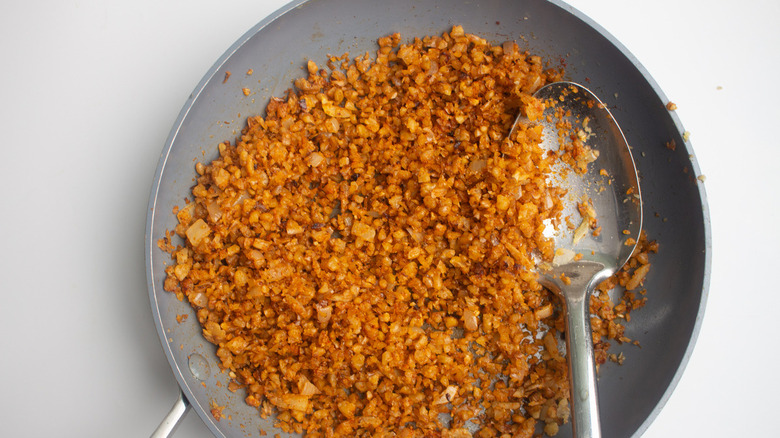 So, after about a minute, you will add the garlic powder, onion powder, paprika, salt, cumin, and chili powder. Simply stir the mixture to coat the walnuts and onion in the spices. The taco meat will take on a bright color, and your kitchen will likely smell totally tantalizing.
Olayinka recommends transferring the vegan taco meat to a serving dish and enjoying it immediately while hot. However, she also told Health Digest, "Leftovers keep for about two to three days in an airtight container."
That's great news since we can see how this dish would work in a new, delicious way for several nights out of the week. Taco Tuesday? Check. Er, Taco Salad Wednesday? Hey, it could be a thing, as could Tostada Thursday. Right?
2 cups walnuts
½ onion
2 tablespoons extra virgin olive oil
¼ teaspoon garlic powder
¼ teaspoon onion powder
¼ teaspoon paprika
¼ teaspoon salt
¼ teaspoon cumin
¼ teaspoon chili powder
Soak the walnuts in hot water for 30 minutes.
After 30 minutes, drain and rinse the walnuts and place them into a blender.
Pulse the blender around 6 to 7 times so that the walnuts break down and resemble ground meat.
Dice the onions so they are sized around half an inch.
Get a frying pan and turn the heat on to medium-high heat. Place into it the extra virgin olive oil followed by the walnuts and the onions. Stir for a minute.
After a minute, add the garlic powder, onion powder, paprika, salt, cumin, and chili powder. Stir the mixture together until the nuts are coated in the spices.
Transfer to a serving dish and serve immediately.