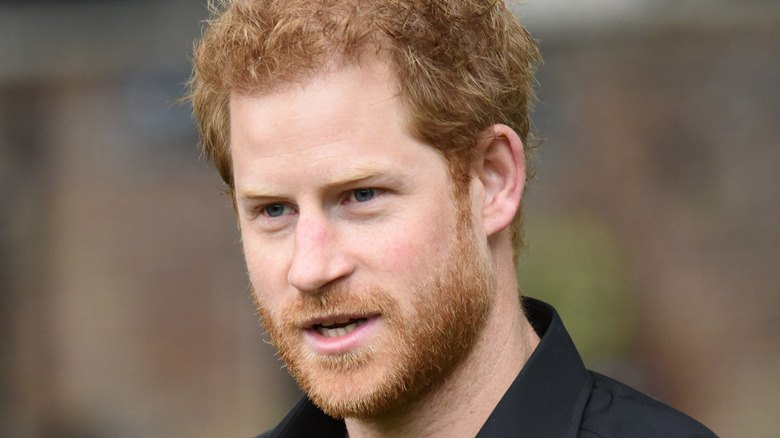 The royal family is somehow both always in our faces all of the time and a total mystery that we can't help but want to figure out. The royals complete literally hundreds of public engagements every year and use their very famous faces to bring attention to a lot of great causes, but they're also experts at keeping their personal opinions tight-lipped. It's actually policy, at least when it comes to politically charged issues, for the queen to never share her opinions with the rest of the globe. That's why it's such a huge deal when a member of the royal family does decide to break convention and speak out about, well, anything personal really (see Prince Harry and Meghan Markle's Oprah interview and Princess Diana's 1995 BBC sit-down).
Even though there are occasional moments when the royals get candid, those are definitely major exceptions to the rule. Still, there are some intimate royal conversations that go down in public — as the royals are whispering to each other on balconies or while walking to an engagement — when there are no microphones or reporters near enough to pick up what they're saying. That's where professional lip readers come in, analyzing footage of the royals' private-in-public chats to reveal what they appear to be saying. Here, we've rounded up some of the most scandalous royal secrets lip readers have revealed over the years.
Gotta hand it to Prince William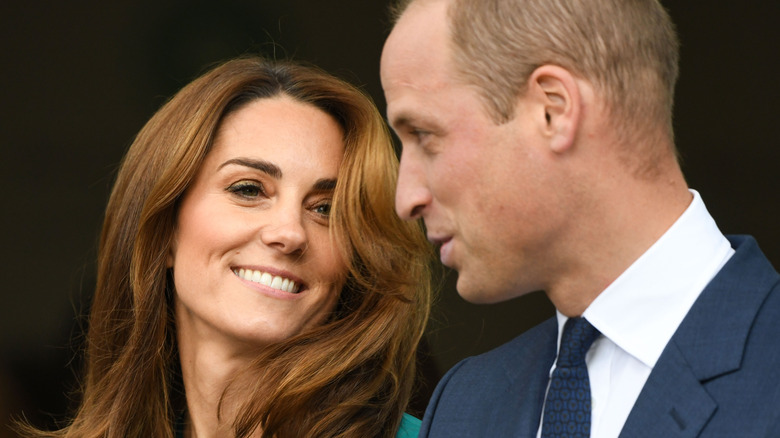 In March 2020, Prince Harry and Meghan Markle carried out their final round of engagements as working royals ahead of their royal exit. During their very last engagement — attending the annual Commonwealth Service at Westminster Abbey alongside other senior royals — lip readers watched for anything the other royals might have been saying about the Sussexes' farewell tour.
In his book "Battle of Brothers," royal historian Robert Lacey reported that the "longest coherent sentence" the lip readers were able to figure out was spoken from Prince William to his wife, Kate Middleton. But here's where things will really throw you for a loop: The random sentence wasn't even about Harry and Meghan. And while it may not be the most scandalous thing ever uttered, it's shocking because, again, it's not about Harry and Meghan.
"This whole handshaking thing is weird," William said (via The Sun). "We're going to have to put a load of hand gel on after this." While sanitizing after any physical contact has become the norm, this engagement happened in early March 2020, just before places like the United Kingdom and United States implemented coronavirus pandemic restrictions.
What did the Fab Four say after trading pleasantries at the Commonwealth Service?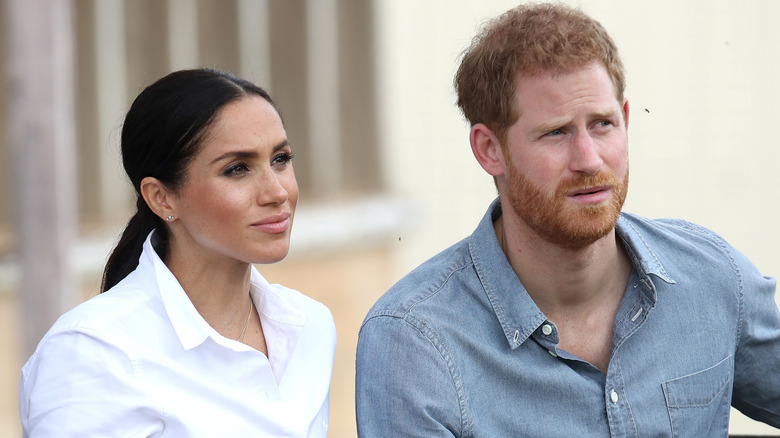 Lip readers were on full alert during Prince Harry and Meghan Markle's final royal engagement in March 2020. The Duke and Duchess of Sussex attended the annual Commonwealth Service at Westminster Abbey along with a who's who list of the royal family's VIPs. After exchanging some pleasantries with Prince William and Kate Middleton, Harry had a pretty scathing comment to make to his wife, according to professional lip reader Jeremy Freeman.
Freeman told the Daily Star that the brothers and their wives shared some very quick hellos and then, when Wills and Kate had turned away, Harry turned to Meghan and appeared to say, "At least they acknowledged unlike last time." According to the Daily Star's report about the Sussexes' last official royal hurrah, Meghan responded to Harry's lip-read comment with a "gentle smile" and a nod. Around the same time, Freeman said William (who was seated in front of Harry and Meghan) turned to Kate and said, "That was executed well." Of course, it's impossible to know if William was referring to the encounter with Harry and Meghan or, say, the route they ended up taking to the church.
Prince Harry couldn't believe how little someone had to say to him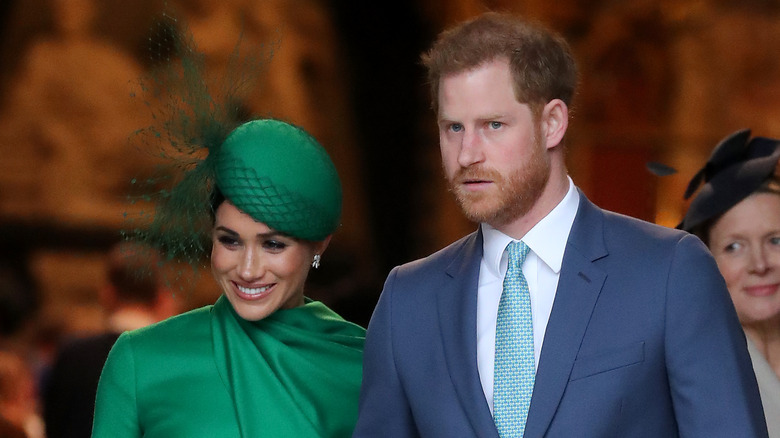 Apparently, Prince Harry and Meghan Markle's final royal engagement was one of the most lip-read royal events in recent history; yes, we are about to get into yet another supposedly scandalous tidbit from the event, courtesy of a lip reader. This one came to light in a report from the Telegraph, in which a lip reader revealed another secret from a private royal conversation, sharing something Harry reportedly said to Meghan during the March 2020 Commonwealth Service at Westminster Abbey.
According to the lip reader, Harry evidently told Meghan, "He literally said: 'Hello, Harry' and that was it and he didn't say anything more than that." The lip reader did stress, however, that they couldn't be totally sure about who Harry was talking about. The most scandalous option (and the one that a lot of royal followers probably think of first) would be Harry's estranged brother, Prince William, but Harry could have been commenting on one of the many other people he greeted that day. "When Harry sit down he says to Meghan, 'He just said Hello Harry to me and that was it' and Meghan smiles," Royal commentator Camilla Tominey explained on ITV's "This Morning" (via Express). "We don't know whether he was referring to William or dignitaries he had just been getting, including Boris Johnson."
Prince William made a cryptic comment about 'holding things back'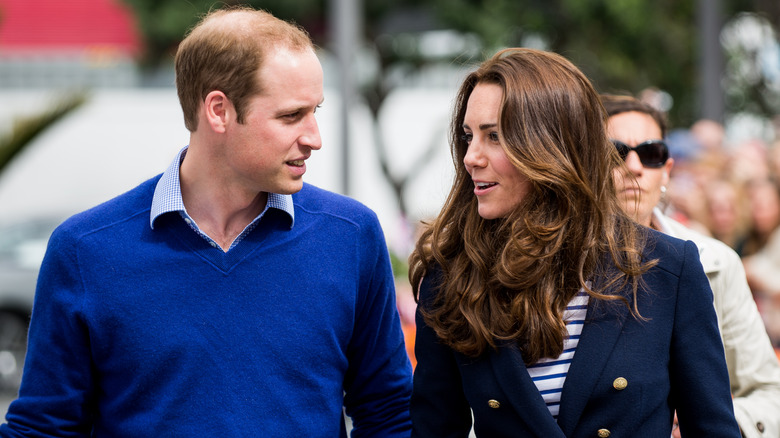 As you might've figured out by now, lip readers were laser focused on everything the royals formerly known as the Fab Four said during Prince Harry and Meghan Markle's final royal engagement in March 2020. In yet another private moment deciphered by a lip reader, Prince William was reportedly seen spilling some tea with his wife, Kate Middleton, at the highly-scrutinized event at Westminster Abbey.
According to the Daily Star, William's intriguing comment came after he and Kate had said hi to Harry and Meghan at the event. After exchanging a quick hello with his brother and sister-in-law, William appeared to say to Kate, "It's quite good to connect instead of holding things back like always." According to the Daily Star's report, Kate had her back turned when she responded, so it really is anyone's guess as to what she did or did not say to her husband in that moment. Next, the Daily Star's lip reading expert said William shrugged and replied, "I know it's bad. I ought to have words with him." Now, one may be tempted to immediately assume he was referring to his younger brother at that moment, but that would just be speculation. For all any of us know, he could be talking about a rabbit that was picking off the flowers in the garden at Kensington Palace.
The queen shared her thoughts on William and Kate's wedding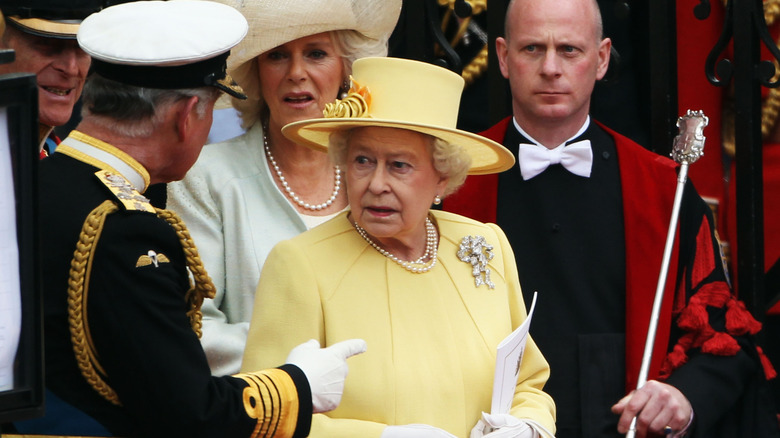 Not every scandalous royal lip read went down in March 2020, of course. As proof, let's flashback to April 2011 and revisit Prince William and Kate Middleton's royal wedding. The nuptials were, as we all certainly recall, a worldwide event. Not only was the wedding day a national holiday in the United Kingdom, but as the Westminster Abbey website noted, there were about a billion people watching. To many of those viewers watching at home (or crowded in the streets hoping for an IRL glimpse of the happy couple), every single thing about the big day seemed, well, like a perfect fairytale. Not everyone in the royal inner circle was such a fan, however. In fact, Queen Elizabeth herself apparently had at least one complaint about her grandson's wedding.
Being the incredibly classy lady she is, the queen only voiced this opinion to her husband, Prince Philip, but the alleged complaint was made public by a lip reader analyzing footage of the day, who played interpreter. According to The Mirror, the queen chatted with Philip about the event as the ceremony finished up, evidently saying that "it was excellent," but that there was one thing she would have changed. "I wanted them to take the smaller carriage," she reportedly said. Guess you can't please everyone, even if you're literal royalty.
The queen isn't too polite to call something 'awkward'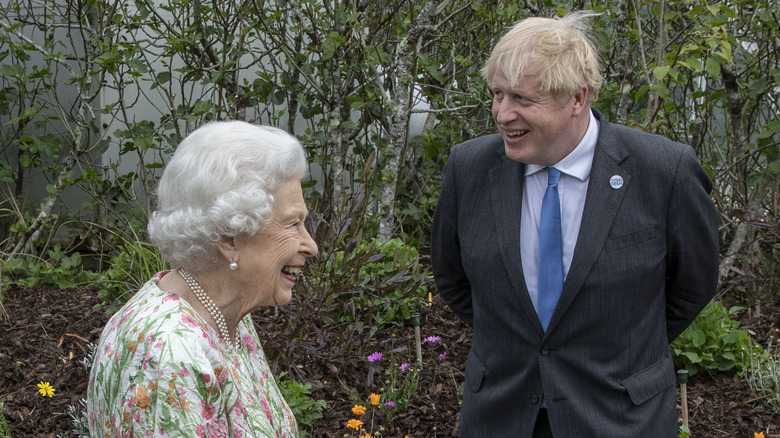 At the 2021 G7 Summit, leaders from seven countries met at ​The Eden Project in Cornwall. Per the BBC, the guest list included Joe Biden, British Prime Minister Boris Johnson, Canadian Prime Minister Justin Trudeau, Japan's Yoshihide Suga, German Chancellor Angela Merkel, Italy's Mario Draghi, French President Emmanuel Macron, and President of the European Commission Ursula von der Leyen, as well as several members of the royal family. The queen, Prince Charles, Duchess Camilla, Prince William, and Kate Middleton were all there to represent Kensington Palace, per People.
According to Wales Online, a lip reader deciphered a conversation that went down between the British Prime Minister and the monarch. When Johnson asked the queen how she was doing, she seemingly replied with a brutally honest take: "It's very awkward isn't it?" It wasn't the only hilariously candid moment from the queen during the G7 Summit.
While taking photos with the other world leaders in attendance, Reuters reported that the Queen got a good reaction from the crowd when she quipped, "Are you supposed to be looking as if you're enjoying yourselves?" Johnson also engaged with the Queen during that more public moment, answering, "Yes. We have been enjoying ourselves in spite of appearances." Aw, isn't that nice.
Did Zara Tindall shade Prince Harry about his own wedding?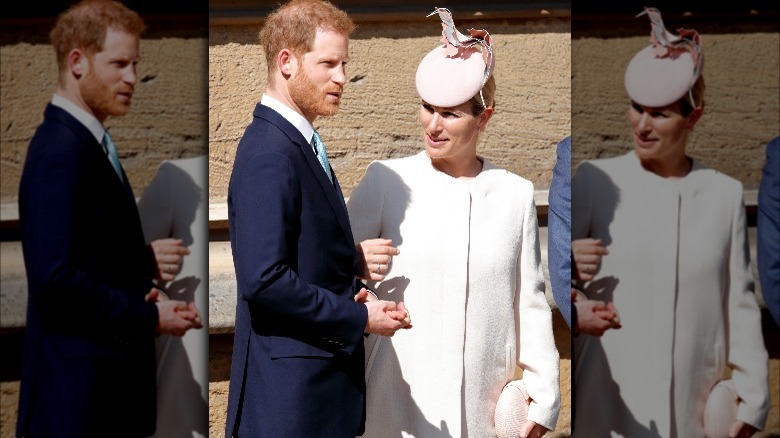 Prince Harry and Meghan Markle's royal wedding in May 2018 was a huge occasion. Not only did the couple invite 600 guests to the ceremony at St. George's Hall, but more than 100,000 royal fans lined the streets in Windsor to see the newlyweds make their carriage ride in the procession. In October 2018, Harry's cousin Princess Eugenie tied the knot at the same location. Her wedding was reportedly over-the-top and had more guests (800), but drew a much smaller crowd of onlookers (closer to 3,000).
Apparently one of Harry's other cousins, Zara Tindall, felt the need to comment on the different vibe to Harry when they were both at Eugenie's wedding. According to a lip reader working for The Mirror, Zara turned to Harry at one point during the event and apparently said, "It's very quiet compared to the screaming at your wedding." Harry seemed pretty confused by the comment and reportedly replied, "Mine?" Perhaps he was just working on his impression of the seagulls from "Finding Nemo."
Prince Harry was ready to wet his whistle at his wedding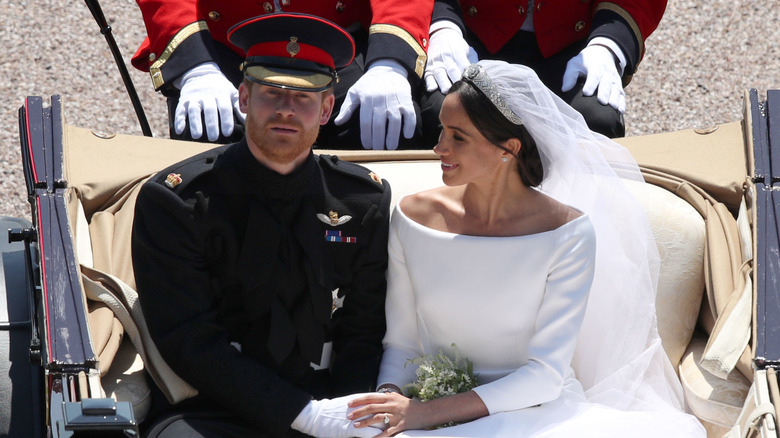 Even a normal wedding is stressful for the bride and groom, but Prince Harry and Meghan Markle's royal wedding was next level. The huge event drew a sea of people who camped out on the streets in Windsor in hopes of getting at least a look at the Duke and Duchess of Sussex on their big day. The bride and groom were all smiles throughout the happy event, but as things drew to an end, Harry needed a drink, apparently.
According to the Daily Mail, lip reader Terry Ruane said that Harry quipped, "I'm ready for a drink now," as his and Meghan's carriage ride after the ceremony came to an end. It wasn't the only alcohol-related quip Ruane caught during the May 2018 royal wedding. Ruane told the Daily Mail that a woman who attended with Tom Parker Bowles was reportedly spotted on her phone, saying, "I am not hungover today, so that's really good." Truer words.
Observations about Princess Eugenie's wedding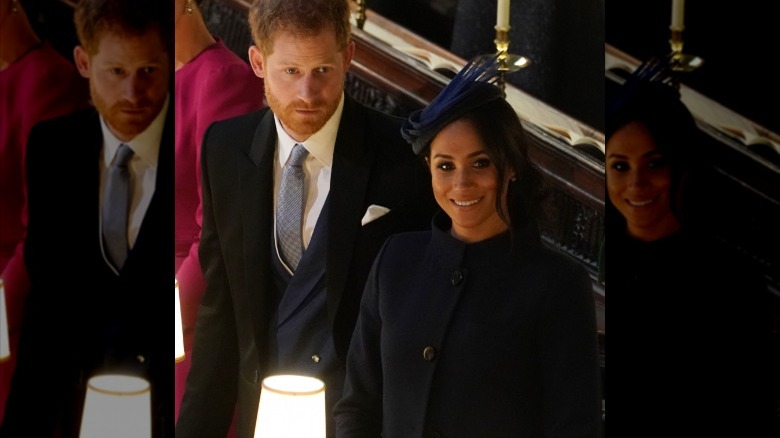 Prince Harry and Meghan Markle attended Princess Eugenie's wedding to Jack Brooksbank at St. George's Chapel in Windsor just five months after they said "I do" in the same venue, so it should not come as too major of a surprise that the slightly less new newlyweds apparently had thoughts about how Eugenie's wedding compared to their own. Sure, they're royals, but they are also humans.
According to the Mirror, a lip reader revealed that Harry appeared to have turned to Meghan in the chapel and said, "Everything's different." Meghan reportedly replied, "Yes, of course, that's the way." Meghan's next comment was hard to decipher exactly, but the Mirror reports that it seemed to be about how packed the venue was because her sentence ended with, "…fill up as much." It would make sense that Meghan was commenting on how full the chapel was; while her and Harry's wedding drew significantly bigger crowds outside in the streets of Windsor, Eugenie reportedly had 200 more official invitees. That said, Eugenie's significantly larger guest list didn't even reach the venue's capacity: St. George's can seat a whopping 800 people.