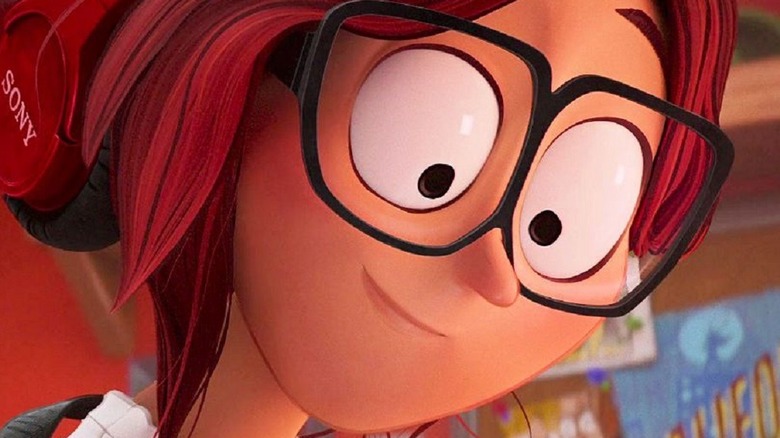 With streaming services like Netflix filling our homes with endless amounts of content on a weekly basis, it can sometimes be a chore to even find what you want to watch at any given moment. So when you're in the mood to move away from the "real world" and immerse yourself in a film filled with imaginative, visual splendor, where can you turn? What can you do? What possible options do you have?
Well, never fear because we've got you covered on all the best animated feature films that are waiting for you on Netflix! From family favorites and adult masterpieces to television adaptations and original stories crafted for the silver screen, the world of feature animation is rich and varied. And compiled for your viewing pleasure, here are the best of the best for your perusal on Netflix at this very moment!
Updated on August 27, 2021: Because Netflix is constantly updating their expansive catalog, we'll be refreshing this list each month with new animated flicks for your enjoyment. So whether you're looking for a cartoon that's for the whole family or a film that's a little more grown-up, we'll keep things current each month with new selections.
Kung Fu Panda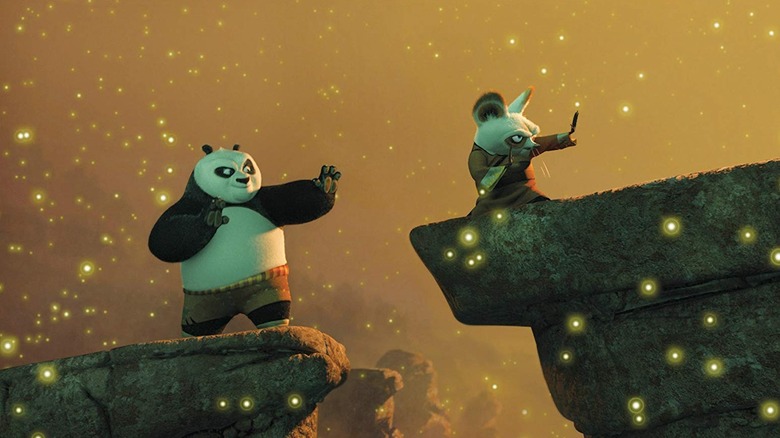 Of all the creatures in Ancient China, no one would've ever suspected that Po — a lovable but decidedly unathletic panda — would be the hero the world was looking for, especially when a villainous martial arts master breaks out of prison and comes looking for vengeance. Mixing glorious martial arts visuals with slapstick humor, "Kung Fu Panda" is one of Dreamworks Animations' more noteworthy entries, the beginning of a saga filled with brilliantly crafted wuxia action sequences alongside silly jokes about a giant panda. What's not to love?
Starring: Jack Black, Dustin Hoffman, Angelina Jolie
Directors: John Stevenson and Mark Osborne
Year: 2008
Runtime: 94 minutes
Rating: PG
Kung Fu Panda 2
After a sterling initial entry, the world needed more of Po the panda and his kung fu adventures, and that's just what they got with this second entry in the "Kung Fu Panda" franchise. With a brand new villain — the deadly peacock Lord Shen, voiced by Gary Oldman — and a deeper exploration into the past life of Po, "Kung Fu Panda 2" is that rare sequel that takes the opportunity to dig deeper into its franchise, and it's all the richer for it.
Starring: Jack Black, Angelina Jolie, Gary Oldman
Director: Jennifer Yuh Nelson
Year: 2011
Runtime: 92 minutes
Rating: PG
Klaus
Barely two years old and already an instant holiday classic, "Klaus" puts a new spin on the origin story of old Saint Nick himself, taking us along on the journey of a selfish postman named Jesper, whose blooming friendship with a reclusive toymaker — the titular Klaus — becomes the basis for Christmas traditions across the globe. With gorgeous hand-drawn animation, fun character design, and a heart of gold, "Klaus" is that perfect film to give you the Christmas spirit at any time of the year.
Starring: Jason Schwartzman, J.K. Simmons, Rashida Jones
Director: Sergio Pablos
Year: 2019
Runtime: 98 minutes
Rating: PG
The Castle of Cagliostro
Long before he crafted such masterpieces as "Spirited Away" and "My Neighbor Totoro," acclaimed director Hayao Miyazaki made his feature film debut with the ridiculous and frenzied "The Castle of Cagliostro," bringing the exceedingly popular character of Lupin III to the big screen in this madcap adventure. No prior knowledge of the Lupin character is needed, as the film firmly establishes his cunning as a master thief whose escapades get him sucked into a mystical world in the long-lost world of Cagliostro. Even in such an early adventure, Miyazaki's sense of play and visual storytelling are on full display for all to enjoy.
Starring: Yasuo Yamada, Kiyoshi Kobayashi, Eiko Masuyama
Director: Hayao Miyazaki
Year: 1979
Runtime: 99 minutes
Rating: PG-13
Rango
It's not often that you get an animated family film that gets as heady and existential as "Rango," but lo and behold, this Academy Award-winning marvel of genre filmmaking from director Gore Verbinski is one of the most eclectic animated films out there. Johnny Depp plays our hero chameleon, who finds himself the new sheriff of a desert town smackdab in the middle of a life-threatening water shortage. Juggling an expert comedy Western with an existential meditation on identity and performance, "Rango" is that rare film that makes you laugh and makes you think.
Starring: Johnny Depp, Isla Fisher, Abigail Breslin
Director: Gore Verbinski
Year: 2011
Runtime: 109 minutes
Rating: PG
Over the Moon
From legendary animator Glen Keane, this film — initially inspired by the Chinese myth of Chang'e — tells the story of young Fei Fei and her quest to prove her worth to her family by traveling to the moon. While the film finds itself in wonderfully fantastical settings, it's all based in an overwhelming emotional core, and it never forgets that. From the moment Fei Fei launches her rocket into orbit, you know you're in for the adventure of a lifetime.
Starring: Cathy Ang, Phillipa Soo, Ken Jeong
Director: Glen Keane
Year: 2020
Runtime: 100 minutes
Rating: PG
Arlo the Alligator Boy
Though this new direct-to-Netflix release may have gone fairly under the radar, it's absolutely worth seeking out the darling musical adventures of "Arlo the Alligator Boy." Arlo's just your typical half-human, half-alligator kid, yearning to find where he came from. And just his luck, on his 15th birthday, he learns the truth of who his father might be. So off we go on a magical, singing adventure, and with a cast of fun-loving characters and wonderful lessons to be learned along the way about accepting who you really are, "Arlo the Alligator Boy" is the earnest, joyful new movie you've been looking for.
Starring: Michael J. Woodard, Mary Lambert, Jonathan Van Ness
Director: Ryan Crego
Year: 2021
Runtime: 92 minutes
Rating: TV-Y7
ParaNorman
From the stop-motion geniuses over at Laika comes "ParaNorman," the spooky tale of a young boy named Norman who's been gifted (or cursed) with the ability to see and hear ghosts wherever he goes. Although this power has made him the laughing stock of his hometown, it may just end up being the thing that saves the lives of everyone he knows when a witch's curse starts to bring some terrifying Puritan zombies into the mix. With an emotionally resonant climax and top-notch animation to boot, "ParaNorman" is that perfect family film with enough scares, laughs, and tears to go around.
Starring: Kodi Smit-McPhee, Anna Kendrick, Christopher Mintz-Plasse
Directors: Sam Fell and Chris Butler
Year: 2012
Runtime: 92 minutes
Rating: PG
A Shaun the Sheep Movie: Farmageddon
Shaun the Sheep — the lovable wooly critter introduced in Wallace and Gromit's "A Close Shave" – is back on the big screen after his wildly popular first cinematic outing "The Shaun the Sheep Movie." Naturally, things have taken a turn for the extraterrestrial here in "A Shaun the Sheep Movie: Farmageddon" as Shaun and his animal pals must help their new alien friend, Lu-La, return home and avoid getting in the hands of nefarious forces. As is typical with the "Shaun the Sheep" franchise, this is a film filled with hilarious slapstick humor, charming stop-motion animation, and all the heart you can expect from a lovable sheep named Shaun.
Starring: Justin Fletcher, John Sparkes, Kate Harbour
Directors: Richard Phelan & Will Becher
Year: 2019
Runtime: 86 minutes
Rating: G
Monster House
In this creepy motion-capture adventure, three kids find themselves entangled in the disastrous machinations of a house down the road that seems to have a spooky mind of its own, not to mention a backstory filled with tragedy and pathos of the highest order. With an imaginative motion-capture-based animation style and an atmosphere that goes even darker than the average children's film, "Monster House" is something of an underseen animation horror gem, but it might just be the movie you've always been looking for.
Starring: Mitchel Musso, Steve Buscemi, Maggie Gyllenhaal
Director: Gil Kenan
Year: 2006
Runtime: 90 minutes
Rating: PG
I Lost My Body
An Academy Award-nominated piece of gorgeous and electrifying animation, "I Lost My Body" is the surreal story of young Naoufel and his severed hand (it's a long story). The film charmingly tracks these two in tandem — Naoufel and his life leading up to the moment he lost his hand and the present-day hand journeying across France to reunite with his body. As surreal as it is painfully down-to-earth, "I Lost My Body" is a perfect piece of adult animation that's both visually and emotionally compelling.
Starring: Hakim Faris, Victoire Du Bois, Patrick d'Assumcao
Director: Jeremy Clapin
Year: 2019
Runtime: 81 minutes
Rating: TV-MA
Funan
Too often, animation is waved off as nothing more than a children's medium, but that's honestly the farthest thing from the truth. Like any art form, animation is just the medium for artistic expression and can tell stories about any subject under the sun. Nowhere is that clearer than the tragically epic "Funan," chronicling the story of Chou, a woman desperate to find her son after he was taken from her during the Khmer Rouge revolution of 1975. With vivid 2D-animation crafting masterful images, "Funan" is just the film for those looking to see how the world of animation can tell more adult, serious stories.
Starring: Berenice Bejo, Louis Garrel, Colette Kiefer
Director: Denis Do
Year: 2019
Runtime: 87 minutes
Rating: TV-MA
Cloudy with a Chance of Meatballs 2
After Phil Lord and Chris Miller took a bizarre children's book and turned it into an animation success, the sequel door opened wide for "Cloudy with a Chance of Meatballs 2." After turning his home island into a giant food depository, inventor Flint Lockwood learns that his food-generating device is creating sentient food creatures, and he must journey back to the island to halt even further impending doom. Mixing the heightened action of a "Jurassic Park" film with the delightful puns you might find on an episode of "Veggie Tales," this delicious sequel is able to heighten the absurdity of its predecessor to mouth-watering results.
Starring: Bill Hader, Anna Faris, Will Forte
Directors: Cody Cameron and Kris Pearn
Year: 2013
Runtime: 94 minutes
Rating: PG
How to Train Your Dragon 2
Another action-packed installment in the world of Dreamworks Animation, "How to Train Your Dragon 2" continues the adventures of Hiccup and his daring dragon companion Toothless as they enter a new world where humans and dragons have finally made peace with one another. But peace doesn't last long as the treacherous warlord Drago (Djimon Hounsou) bursts onto the scene with a mission to enslave all the dragons as his own personal army for world domination. Now it's up to Hiccup, Toothless, and the rest of their Viking clan to defeat Drago and retain peace in the land.
Starring: Jay Baruchel, America Ferrera, Cate Blanchett
Director: Dean DeBlois
Year: 2014
Runtime: 102 minutes
Rating: PG
Trollhunters: Rise of the Titans
From the staggering imagination of Guillermo del Toro, "Trollhunters: Rise of the Titans" hit Netflix in 2021, bringing the epic "Tales of Arcadia" saga to a satisfying conclusion. Granted, you'll have to be familiar with the TV series "Trollhunters," "3Below," and "Wizards" to truly appreciate this gem, but once you're up to speed, you'll be sitting on the edge of your seat as all your favorite heroes take on the Arcane Order and try to save the world from the — you guessed it — rise of the titans. With voice work from beloved figures like Steven Yeun, Nick Offerman, Tatiana Maslany, Kelsey Grammer, and Diego Luna, this is a truly magical adventure for the whole family.
Starring: Emile Hirsch, Lexi Medrano, Charlie Saxton
Directors: Johane Matte, Andrew L. Schmidt, Francisco Ruiz Velaco
Year: 2021
Runtime: 106 minutes
Rating: TV-Y7
The Willoughbys
A charmingly bizarre Netflix film that may have gone under the radar for some, "The Willoughbys," based on the book of the same name by Lois Lowry, follows four wayward children and the parents who would give anything to have a life without them. In an effort to rid themselves of their vicious parents, the Willoughby children arrange to send them on a "dream vacation" to the most dangerous destinations on the planet where nothing but hilarity ensues. Crafted with a gorgeous and fun animation style, and filled to the brim with memorable voice performances, "The Willoughbys" is a delightful and deadly journey worth taking.
Starring: Will Forte, Maya Rudolph, Alessia Cara
Director: Kris Pearn
Year: 2020
Runtime: 92 minutes
Rating: PG
The Rugrats Movie
Making the jump to the big screen, "The Rugrats Movie" is a joyful success at not only transplanting everyone's favorite television babies into a whole new medium — with epic adventure sequences, guest cameos, and even musical numbers to boot — but to also bring new characters into the lives of these lovable characters. With Tommy Pickles now introduced to his new baby brother, Dil, it's up to the diaper-wearing gang to try and learn how to cope with a new pint-sized member of their toddler team, all while avoiding the dangers of a runaway monkey circus.
Starring: E.G. Daily, Tara Strong, Christine Cavanaugh
Directors: Igor Kovalyov and Norton Virgien
Year: 1998
Runtime: 80 minutes
Rating: G
Rugrats in Paris
If you still can't get enough of Tommy, Chuckie, and the gang, then you're in luck because only two years after their debut feature, the Rugrats returned to the big screen! And this time, they went international with "Rugrats in Paris." After the first film's focus on Tommy and his family, the sequel shifts the story to Chuckie and his lovelorn single father. But a new scheming wife-to-be based in Paris brings the babies to Europe in a high-stakes adventure filled with love, friendship, and a chaotic finale with the babies operating a giant robot Reptar.
Starring: E.G. Daily, Christine Cavanaugh, Susan Sarandon
Directors: Stig Bergqvist and Paul Demeyer
Year: 2000
Runtime: 79 minutes
Rating: G
The Wild Thornberrys Movie
"The Wild Thornberrys Movie" takes the adventures of Eliza Thornberry — friend to animals big and small — to brand new heights as she brings her nature-loving family along on an adventure to stop nefarious poachers (voiced by Rupert Everett and Marisa Tomei) from kidnapping innocent animals from their natural habitats. Trapped between trying to keep her secret ability to talk to animals and her love for her family, Eliza's emotional journey goes to perilous depths in this charming big-screen adaptation of another Nickelodeon hit.
Starring: Lacey Chabert, Tim Curry, Lynn Redgrave
Directors: Cathy Malkasian and Jeff McGrath
Year: 2002
Runtime: 85 minutes
Rating: PG
Mirai
For good reason, it can often feel like the most mature expressions of filmmaking in the medium of animation are coming outside of the United States, and Mamoru Hosada's "Mirai" is a perfect example of how non-American animators are using the world of animation to explore characters and themes in far richer terms than just churning out plot machines. With "Mirai," Hosoda's simple story of a young boy learning to accept his newborn baby sister is told through mystical and surreal means, but the plot plays second fiddle to the brilliant atmosphere and lush visual storytelling of Hosoda's altogether breathtaking piece of animation.
Starring: Tasuku Hatanaka, Haru Kuroki, Gen Hoshino
Director: Mamoru Hosoda
Year: 2018
Runtime: 98 minutes
Rating: PG
Jimmy Neutron: Boy Genius
Before his zany inventions and brain blasts invaded television screens everywhere, the big-haired genius that is Jimmy Neutron made his start in his very own Academy Award-nominated motion picture! "Jimmy Neutron: Boy Genius" provides our hero with the perfect feature-length adventure, working together with the kids in his town to save their parents after their abduction by a villainous race of egg-shaped aliens (their ruler voiced by the genius Patrick Stewart). For those who grew up with the "Jimmy Neutron" series or for those looking to see what all the fuss is about, this is the perfect place to get a dose of what this boy genius is all about.
Starring: Debi Derryberry, Patrick Stewart, Martin Short
Director: John A. Davis
Year: 2001
Runtime: 83 minutes
Rating: G
Puss in Boots
Antonio Banderas' singular take on the two-booted cat in the "Shrek" films was such a runaway success that, of course, the logical next step was to give the furry warrior his own movie. No longer tied down to his ogre and donkey companions, "Puss in Boots" finds our hero still entangled in the fairy tale world, teamed up with Humpty Dumpty (a marvelous Zach Galifianakis) in a quest to find the magic beans that will lead him on a literal goose chase up the famous beanstalk from "Jack and the Beanstalk." "Puss in Boots" refreshingly keeps the humor of the "Shrek" franchise while providing even more showcases for brilliant action-packed adventure.
Starring: Antonio Bandera, Zach Galifianakis, Salma Hayek
Director: Chris Miller
Year: 2011
Runtime: 92 minutes
Rating: PG
Invader Zim: Enter the Florpus
Invader Zim can sometimes feel like the neglected stepchild of the Nicktoons family. Embraced by many long after its cancelation, this idiosyncratic piece of outsider animation finally got turned into a Netflix-exclusive, feature-length adventure, with the chaotic, invasion-craving alien Zim and his trusty manic robot sidekick, GIR, on the verge of finally taking over the planet Earth, despite the best intentions of skeptical Earth-child Dib. Featuring the gorgeously jarring humor and art style of series creator Jhonen Vasquez, "Invader Zim: Enter the Florpus" is a welcome return to the screen for one of Nickelodeon's most mind-bending animated creations.
Starring: Richard Horvitz, Rosearik Rikki Simons, Kevin McDonald
Directors: Hae Young Jung, Young Kyun Park, Jhonen Vasquez
Year: 2019
Runtime: 71 minutes
Rating: TV-Y7
Rotten Tomatoes Score: 100%
Wish Dragon
Sony Pictures Animation is having a rather busy 2021, with "The Mitchells vs. the Machines" already wowing audiences earlier this year and another "Hotel Transylvania" film ready to delight audiences in theaters in just a few months. Not to be forgotten, though, is "Wish Dragon," a charming new film about a young man who finds a dragon in a teapot and has three wishes all to himself. Even if you think the whole three wishes story device isn't so fresh anymore, the film's take on the "genie" legend — mixed with a lush, rich color palette — provides some much needed new perspectives in this not-to-be-missed animated adventure.
Starring: Jimmy Wong, John Cho, Constance Wu
Director: Chris Appelhans
Year: 2021
Runtime: 102 minutes
Rating: PG
Madagascar: Escape 2 Africa
After the smash success of the first "Madagascar," it was only natural that Alex the lion, Marty the zebra, Melman the giraffe, and Gloria the hippo would find themselves in another adventure, even one that doesn't even technically take place in Madagascar. But "Madagascar: Escape 2 Africa" trades in accuracy for character development as Alex is reunited with his family and learns a little more about his own lion heritage. If you loved the ridiculous animal antics of the first "Madagascar," then you're going to be handsomely rewarded with this delightful second entry in the franchise.
Starring: Ben Stiller, Chris Rock, Jada Pinkett Smith
Directors: Eric Darnell and Tom McGrath
Year: 2008
Runtime: 91 minutes
Rating: PG
Madagascar 3: Europe's Most Wanted
The final — as of this writing — entry in the primary "Madagascar" franchise, our favorite foursome of castaway zoo animals continue their journey away from the island that provides this series its name, finding themselves in the midst of a madcap chase across Europe, with a dastardly detective (Frances McDormand) on their tail. With a screenplay inexplicably co-penned by indie darling Noah Baumbach and featuring as much zany animation as ever, "Madagascar 3: Europe's Most Wanted" is another worthy entry and the perfect film to cap off the franchise.
Starring: Ben Stiller, Chris Rock, Jada Pinkett Smith
Directors: Eric Darnell, Conrad Vernon, Tom McGrath
Year: 2012
Runtime: 95 minutes
Rating: PG
The Mitchells vs. the Machines
One of 2021's most genuinely surprising comedy hits, "The Mitchells vs. the Machines" is a jam-packed, utterly hysterical film from Sony Pictures Animation that's not only one of the best animated movies of the year but one of the best movies, period. In a last ditch effort to bond with his college-bound daughter, Rick Mitchell tosses his family's plane tickets and trades them in for a cross-country road trip, which just so happens to coincide with a robot apocalypse uprising. Together, it's up to the Mitchell family to save the planet while also learning to be a great family.
Starring: Abbi Jacobson, Danny McBride, Maya Rudolph
Director: Michael Rianda
Year: 2021
Runtime: 114 minutes
Rating: PG
Beowulf
It's hard to believe that until 2007, "Beowulf" — the ancient epic poem that stands as one of the earliest artifacts of action storytelling in the world — hadn't seen a major Hollywood adaptation. But Robert Zemeckis, technical wizard that he is, came along to right that wrong with this motion-capture, gory retelling of the ancient saga of the great hero Beowulf taking on the hideous creature Grendel (played by Crispin Glover in a career-best performance). Though a lot of the visuals may appear clunky by today's standards, there's something delightful about an animated film so devoted to visceral scenes of nightmarish action, and "Beowulf," standing as one of the few adult-oriented animated blockbusters out there, is well worth seeking out.
Starring: Ray Winstone, Anthony Hopkins, Angelina Jolie

Director: Robert Zemeckis

Year: 2007

Runtime: 114 minutes

Rating: PG-13
Vivo
Lin-Manuel Miranda is having one heck of a 2021. Between the marvelous film adaptation of his stage musical "In the Heights," his latest song contributions to the upcoming Disney feature "Encanto," and his feature directorial debut "Tick, Tick… Boom!," the multi-award-winning composer/performer is inescapable in his artistic pursuits. Now, you can add "Vivo" to that list — a charming new animated feature from Sony Pictures Animation about the titular kinkajou (voiced by Miranda), a musical mammal prodigy who must travel from the streets of Havana to the heart of Miami, Florida. With songs penned by Miranda himself and featuring a supporting cast including Zoe Saldana, Brian Tyree Henry, and Gloria Estefan, "Vivo" is another delightful entry in the remarkable year of Lin-Manuel Miranda.
Vivo hits Netflix on August 6th
Starring: Lin-Manuel Miranda, Zoe Saldana, Brian Tyree Henry

Director: Kirk DeMicco

Year: 2021

Runtime: 95 minutes

Rating: PG

Rotten Tomatoes Score: TBD
The Loud House Movie
For those looking for a newer Nickelodeon TV show-to-film adaptation, you're in luck with "The Loud House Movie," the feature film extension of the wildly popular cartoon show about Lincoln Loud, a young boy growing up in a family with 10 sisters. As if that premise wasn't wild enough, the film takes the Loud family to Scotland, where they discover that young Lincoln is the new duke of Loch Loud. With a zany and irreverent animation style and a new adventure that throws castles, dragons, and ghosts into the mix, "The Loud House Movie" is a surefire delight for kids of all ages.
The Loud House Movie hits Netflix on August 20th.
Starring: David Tennant, Grey Griffin, Michelle Gomez

Director: Dave Needham

Year: 2021

Runtime: 83 minutes

Rating: TV-Y7

Rotten Tomatoes Score: TBD