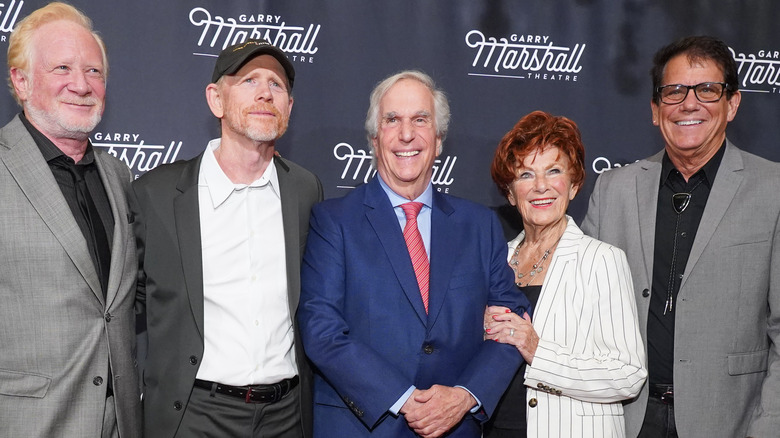 For 10 memorable years, "Happy Days" ruled the airwaves, and anyone who watched it can still hum both of its theme songs (yes, there were two!). The sitcom chronicled the lives of a middle-class Milwaukee family in the 1950s (via IMDb), and its romanticized nostalgia hit home with audiences still reeling from the Nixon era. It featured both established actors — such as Ron Howard, who'd played little Opie in "The Andy Griffith Show" — and unknowns like Henry Winkler, who stole the show as lovable greaser Arthur "The Fonz" Fonzarelli.
Following the show's finale in 1984, the cast went on to other projects, and Howard became an acclaimed director. But the actors still remember the series fondly, and many remain close friends to this day, particularly Donny Most and Anson Williams, who played Richie Cunningham's pals Ralph and Potsie (via MeTV). Howard says that Winkler, nearly 10 years his senior, has been like a brother to him.
Sadly, a number of cast members have died in the years since the show went off the air. Although their presence will be missed in future "Happy Days" reunions (2024 will mark the 50th anniversary of the show), their performances live on.
Tom Bosley was the family's anchor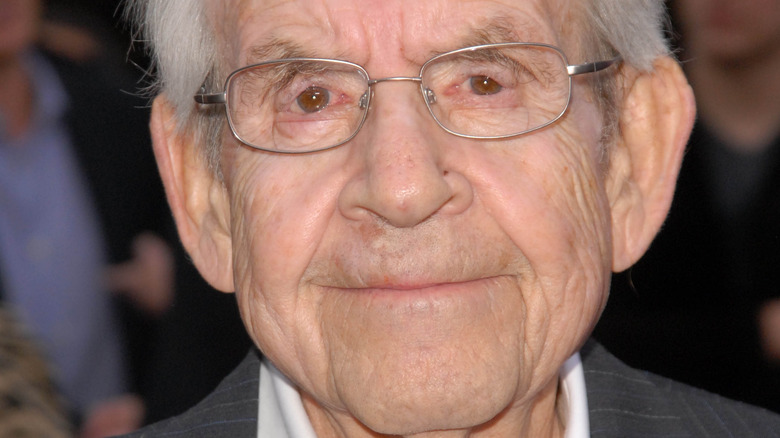 The core family of "Happy Days" was anchored by father Howard Cunningham. The down-to-earth, hardworking hardware-store owner could always be relied on to keep his head in the midst of chaos. And though conservative Howard had little in common with cool, motorcycle-riding Fonzie, he came to welcome him as a member of the family.
Howard Cunningham was played by Tom Bosley, best known at the time as a Tony-winning Broadway star (for "Fiorello!") and a featured player in films such as "Yours, Mine and Ours." Following his successful run in "Happy Days," he returned to the stage as another famous dad — Belle's father, Maurice — in "Beauty and the Beast." The Chicago-born actor also found success in other TV series like "Murder, She Wrote" and "The Father Dowling Mysteries," in which the Jewish actor played against type as a Catholic priest (via Los Angeles Times)
Bosley died in 2010 from lung cancer. His former co-stars lovingly recalled the man they considered a member of their family. "A great father and husband, and a wonderful artist, Tom led by example, and made us all laugh while he was doing it," Ron Howard said (via Los Angeles Times). "My last conversations with Tom reflected the love of life and peace of mind that he always maintained throughout his full and rewarding life. I miss him already."
Erin Moran starred in her own sitcom
Child star Erin Moran played Joanie Cunningham, Richie's wisecracking younger sister. Over the show's decade-long run, viewers watched as Joanie grew up and became more prominent in the storylines. She eventually fell for Fonzie's cousin, Chachi Arcola (played by Scott Baio), and the two got their own sitcom, "Joanie Loves Chachi." The spin-off saw the couple moving to Chicago to start a music career. It never found a following, however, and after two seasons, it was canceled. Moran and Baio returned to "Happy Days" for its final season, and the series ended with the couple marrying and presumably going off to live happily ever after.
Moran's off-screen life was less than fairy-tale. Though she appeared on a handful of other TV shows after "Happy Days" ended, she suffered from crippling depression that kept her from getting steadier work (via The Mercury News). Financial woes led her and her second husband to move in with her mother in an Indiana trailer park, only to be thrown out after an alcohol-fueled fight. In April 2017, first responders answering a call found Moran dead. Shortly after, it was revealed that the actress had been suffering stage 4 throat cancer, which had left her unable to speak. It was a secret she shared only with close friends, like her former co-star Anson Williams. "Even though she's gone, she will always be on that TV making someone smile," Williams told People. "She does leave a legacy of good feelings and light for anyone that watches her."
Pat Morita is also known for playing a karate teacher
Under the stage name "Pat," Noriyuki Morita played Arnold Takahashi, the proprietor of Arnold's Drive-In. The diner hangout was where Richie, Potsie, Ralph, and their friends and girlfriends would go for a milkshake and a heart-to-heart. (Fonzie also held court in the boys' room.) Arnold was a constant presence, offering advice along with his burgers.
Morita overcame a number of challenges early in life, including a childhood battle with spinal tuberculosis that left him immobilized in the hospital for years. By the time he was well enough to be released, World War II was underway, and distrust of Japanese Americans ran high. Morita and his family spent time in internment camps until the war ended. After working in data processing for a number of years, Morita decided to try his hand at acting, and landed roles in movies and TV series such as "Sanford and Son" and "M*A*S*H" prior to joining the "Happy Days" crew (via Yahoo).
The actor went on to even greater fame as the wise karate teacher Mr. Miyagi in the original 1984 "The Karate Kid." The role earned him an Oscar nomination, but it also marked the peak of his career. Morita made appearances in various movies and TV shows ("Mulan," "Robot Chicken"), but the lack of representation of Asian actors in Hollywood limited his opportunities. Sadly, so did his alcoholism. The actor's struggles and eventual death from liver failure in 2005 were the subject of a documentary called "More Than Miyagi: The Pat Morita Story" (via Yahoo).
Al Molinaro was the other Arnold
Al Molinaro received a promotion of sorts during his "Happy Days" years. First appearing as a cook at Arnold's Drive-In during the show's second season, Molinaro replaced Pat Morita as the diner's owner in Season 4 (via MeTV). As Al Delvecchio, his hangdog expression and signature sigh ("Yup-yup-yup-yup") endeared him to viewers. He married Chachi's mother, Louisa, later in the run, making him and Fonzie in-laws of a sort.
Molinaro was already an established character actor when he joined the show; among his most popular roles was as Murray the Cop in "The Odd Couple," the 1970s TV version of the hit movie. He got the parts courtesy of his acting school classmate, Penny Marshall, who introduced him to her producer brother, Garry (via The Guardian). The Wisconsin native appreciated being on a show set in Milwaukee, and rejected critics who thought of "Happy Days" as a "bubble-gum show." He once said (via MeTV), "To the public in America, 'Happy Days' was an important show, and I think it was and I think it still is."
Following the show's finale, Molinaro made various appearances in sitcoms and commercials, finally retiring from acting in the early '90s. He and Anson Williams launched a chain of Big Al's restaurants in the Midwest, but apart from that venture, the actor opted to live a quiet family life. He died in 2015 at age 96 from complications related to gallstones (via People).
Robin Williams was an out-of-this-world Happy Days character
Even faithful fans of "Happy Days" have to admit that not every episode was a winner. Sometimes the writers resorted to outrageous plots to retain audience interest, such as the infamous episode in which Fonzie soars on waterskis over a certain dangerous sea creature. Even today, this blatant gimmickry in TV shows is known as "jumping the shark" (via Rolling Stone). Still, one unlikely plot point turned out to be a blessing for a then-unknown comedian.
The episode "My Favorite Orkan" featured Robin Williams as a man from a distant planet who lands on Earth and unsuccessfully urges Richie Cunningham to come back to Ork with him (via E! Online). But when Richie tries to share the news with his family and friends, they dismiss it as nonsense (via IMDb). The ratings for the episode were so good that producers decided to create a vehicle just for Williams. The result: "Mork and Mindy," a spin-off show that lasted four seasons and made Williams a household name.
Williams went on to many celebrated roles in films such as "Good Will Hunting," "Dead Poets Society," "Mrs. Doubtfire," "Jumanji," "Night at the Museum," and the animated film "Aladdin." Tragically, the actor was diagnosed in midlife with Parkinson's disease, which took a serious toll on both his mind and body (via Vanity Fair). He died by suicide in August 2014 at age 63.
If you or anyone you know is having suicidal thoughts, please call the National Suicide Prevention Lifeline​ at​ 1-800-273-TALK (8255)​.