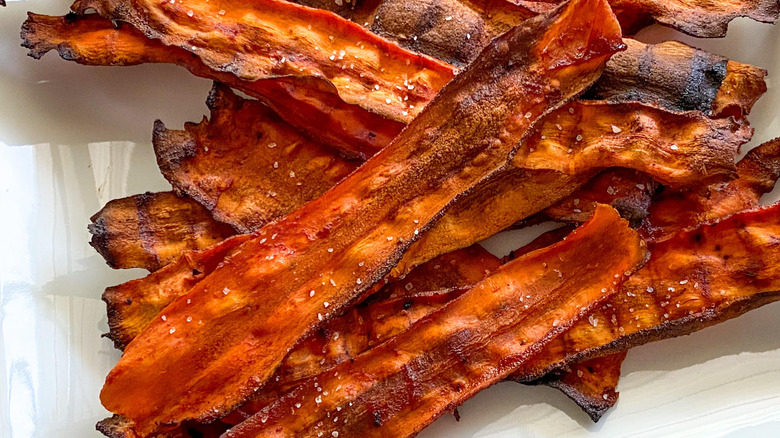 With apologies to our porcine friends, bacon is absolutely delicious. It's great with fried eggs and hash browns. It crumbles over baked potatoes, soups, and nachos. It's the main player in a BLT sandwich. But of course, despite the wonderful flavor and texture of a perfect piece of bacon, many people will never touch the stuff because they can't stomach the thought of eating meat. Does that mean relegation to a world without fully-loaded potato skins, chowder without the savory grace note, and never a bacon lettuce tomato sandwich to be had?
Not at all! Just follow the steps laid out here by chef and recipe developer Miriam Hahn of YouCare-Selfcare and make your own vegan carrot bacon. Yes, that's right, carrot bacon. And no, it doesn't taste (or crunch) like carrots. "The final flavor is bacon-y for sure," Hahn says. "The flavors in the marinade give it that smoky bacon taste, and the consistency is thin like bacon and very similar in texture. You won't 100% fool someone, but this can help give a bacon lover the flavor they are after."
And not only does it mean no harm to pigs, but it can also mean more benefit for your health. "Bacon is one of the first things I ask clients to give up since in 2015 it was labeled by the World Health Organization as a [Group 1] carcinogen," Hahn explains. Food for thought!
Gather your ingredients for carrot bacon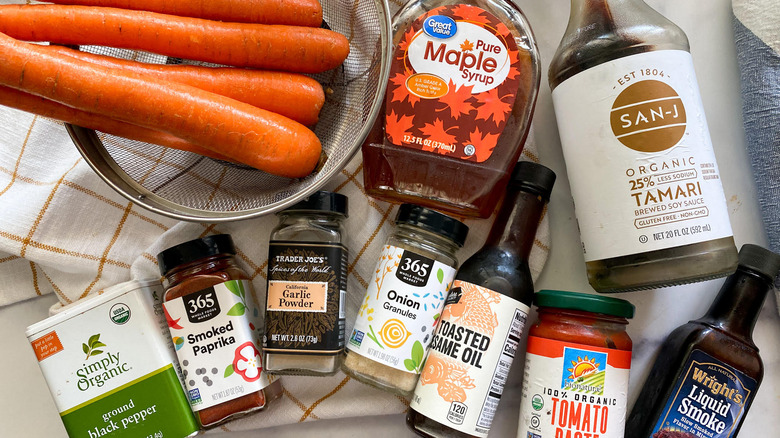 Carrots may be the crux of the matter here, but the flavor comes thanks to a lot of carefully combined ingredients. All told, beyond a few good, stout carrots (thicker carrots will yield strips closer to a rasher of bacon than thinner), you'll need soy sauce, sesame oil, tomato paste, liquid smoke, maple syrup, smoked paprika, garlic powder, onion powder, pepper, and some salt for finishing, if desired.
Since the carrots shrink when cooked, "You want the slices to start out as big as possible," Hahn says. "I usually buy carrots from the loose bin instead of the packages. That way I can handpick the ones I want. Sometimes you can find really large ones."
Peel the carrots into a bacon shape
Start things off by preheating your oven to 400 F, and use the convection setting if you have it.
Next, wash the carrots, trim off the end where the stalks grew as well as the thin tips, and then gently peel them.
Now using a wide peeler, peel long strips from each carrot, pressing down with enough firmness to shave away pieces as thick as rashers of bacon. The first few will be too thin to use, but as you get deeper into the carrot, the pieces will grow wider and will resemble the size of bacon.
Marinate the carrot strips
In a small bowl, mix the rest of the ingredients (except the finishing salt) to make the marinade. Stir well until everything is fully combined. Now lay the carrot strips in a glass dish and pour the marinade over, using a pastry brush to cover each piece. Let the carrots sit there for at least 15 minutes, but of course marinating for longer is fine.
Now lay out each piece on a baking rack that sits over a baking tray. If you don't have a wire baking rack, just lay the slices on a parchment-lined baking tray.
Bake the carrots into bacon and enjoy
Pop the carrot strips into the warmed oven and cook them for four minutes, then flip each strip over and bake for an additional three to five minutes. "There is a very short window of time between perfectly done and burnt, so be careful and watch closely after you flip the slices!" Hahn says. When done, they will be wavy and browned. Note that if you are not using the convection setting, the cook time may be a little longer, so just watch closely.
Now take the "bacon" out of the oven and cool the strips on a cooling rack. They will crisp up as they cool. Sprinkle with salt if desired, then serve as a breakfast food, chopped on soup, in sandwiches, or however you like.
Made extra? Hahn says, "You can keep it for well over a week in your fridge. If it has lost its crispness you can just stick it in under the broiler and it will crisp up. Or use the air fryer if you have one."