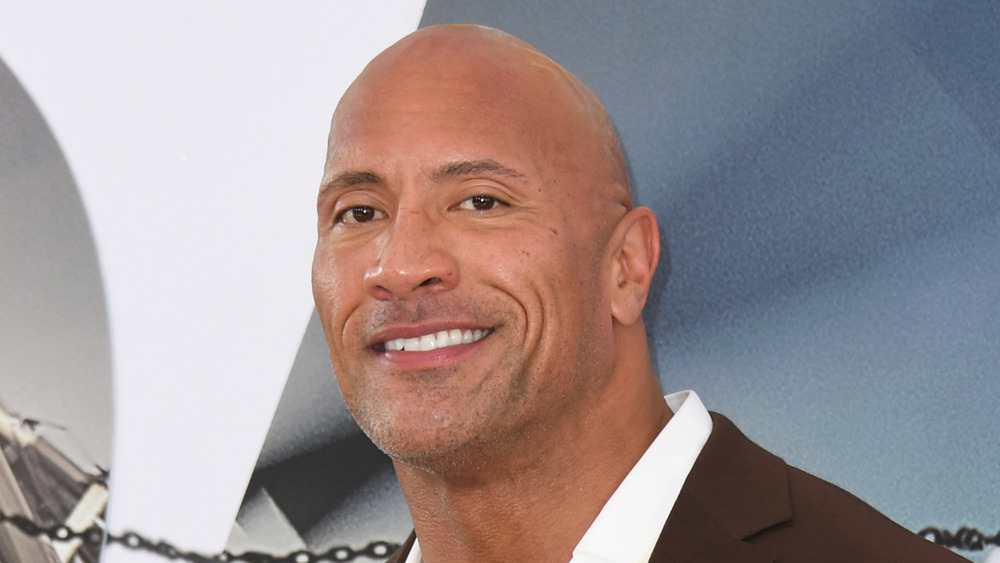 Everyone has that co-worker who they can't stand and just cannot get along with. It's true of any workplace that certain personalities simply don't click when they're thrown together. However, film and television sets tend to make this tension ten times worse. Trying to act alongside someone who is not a friend can be a challenge, especially when trapped together on set for up to 12 hours a day for the sake of entertainment.
People can reach their breaking point, and it often shows in the final product. When there is tension between the performers, the end result can be just as painful to watch as it was to film. These Hollywood actors and actresses all reached their point of no return and simply refused to work anymore with whoever was rubbing them the wrong way. Read on to see which actors and actress refused to shoot scenes together in both film and television projects.
Julianna Margulies and Archie Panjabi avoided each other for multiple seasons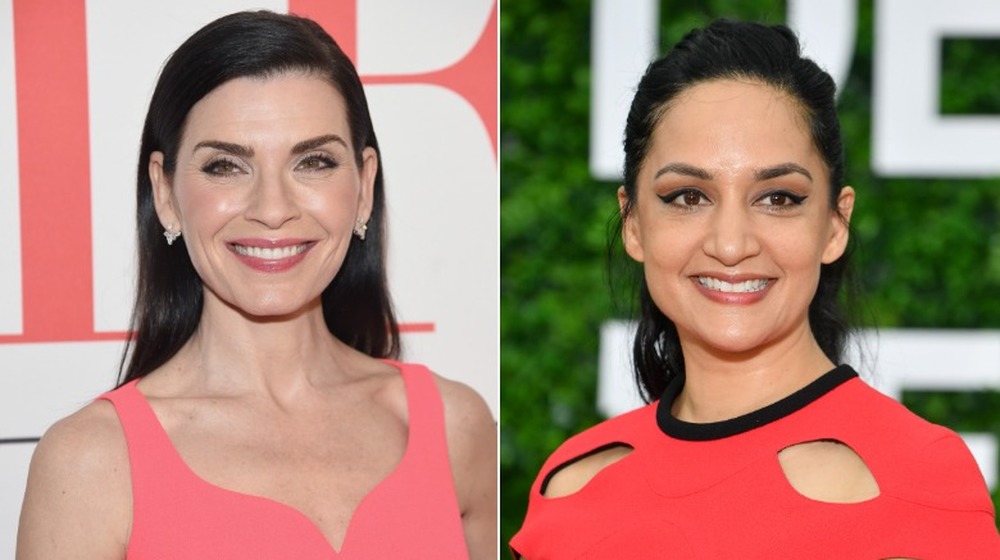 While Julianna Margulies and Archie Panjabi played friends on the legal television drama The Good Wife, the same did not seem to be true off-camera. After a falling out between their characters and a strained friendship depicted onscreen (via Vogue), fans suspected that something happened behind the scenes. At one point, BuzzFeed reported they had not appeared in a scene together for 30 episodes. The show's creator, Robert King, addressed this, telling E! News, "First of all, I was surprised people are keeping track. Second of all, part of that has been intentional, which is to try and show this relationship, which was a friendship so strong, is now so worse."
When their characters reunited in a farewell scene for Panjabi, who was leaving the show, fans rejoiced, but they were in for a world of disappointment. After the scene aired in the sixth season's finale, news broke that the actors filmed separately, using stand-ins (via TV Line). Panjabi provided a cagey answer when asked about it. "You know, I can't answer that. … As much as I want to. But those decisions are made by the producers," Panjabi told Us Weekly.
Actors Nick Nolte and Julia Roberts struggled with their onscreen romance
I Love Trouble, the 1994 film starring Nick Nolte and Julia Roberts, had more truth behind its name than anyone knew. It seems that there was indeed nothing but trouble between the two co-stars. While they were meant to play lovebirds, Roberts and Nolte could not convey that onscreen. They reportedly disliked each other too much to film together! Apparently, their animosity towards one another was so strong that they acted more with their stand-ins than with each other, according to the Los Angeles Times.
Roberts told The New York Times, "From the moment I met him we sort of gave each other a hard time, and naturally we get on each other's nerves." She noted that while he's sometimes "charming," he's "also completely disgusting." Nolte responded in kind, noting that, "She's not a nice person. Everyone knows that."
Even though Roberts and Nolte spent most of the movie filming with stand-ins, the actors' intense dislike of each other still translated onto the big screen. I Love Trouble performed terribly when it premiered, with most critics noting the lackluster chemistry between the two leads.
Dwayne Johnson and Vin Diesel were two alpha males on set
Dwayne Johnson and Vin Diesel reportedly butted heads while filming the Fast & Furious franchise's eighth installment. Their tension seemed to be about each other's work ethic, as noted by People, but the exact source of frustration wasn't confirmed. Johnson shared a since-deleted Instagram post about his cast members. Discussing his male co-stars, he wrote, "Some conduct themselves as stand up men and true professionals, while others don't," adding, "The ones that don't are too chicken s**t to do anything about it anyway. Candy a**es."
Fans concluded that Johnson was referring to Diesel after noticing that they didn't seem to share any scenes together in the film. "That is correct," Johnson told Rolling Stone. "We were not in any scenes together."
Johnson didn't rejoin the cast for the ninth film that is due to be released in 2021, and he instead starred in a spinoff, Hobbs & Shaw, with Jason Statham. However, Johnson and Diesel have since seemed to make amends with each other and say there is no longer any bad blood between them.
There was no love lost between actors Lena Headey and Jerome Flynn
Lena Headey and Jerome Flynn, two actors on the hit television series Game of Thrones, seemed to have a major falling out before filming for the popular drama. While the two played characters on the show that would logically have crossed paths on screen, that didn't really happen. Flynn's character was a friend to both brothers of Headey's character, and yet they never appeared together in the same scene, as noted by NME – save for a brief moment in Season 3. The explanation for this blatant avoidance of one another is a bad breakup.
Headey and Flynn had dated prior to their casting for Game of Thrones, but it seemed that it wasn't meant to be. As a result of their breakup, the two actors reportedly refused to work together. "Lena and Jerome have not filmed together due to a bad break-up. They kept the full extent of it secret, but it was a very turbulent relationship, and it has been very awkward on set," a source told The Sun.
Helen Hunt and Bill Paxton reportedly could not be in the same room together
Helen Hunt has talked openly about the hazards of filming Twister and how traumatic the time spent making the movie was. Fortunately, everyone's hard work paid off! The film was a massive success when it premiered in 1996. It beat out Mission: Impossible at the box office and made almost half a billion dollars worldwide (roughly $750 million today), according to Screen Crush, but there was no continuation of the story with a sequel.
The reason why that never happened may be due to the incredibly fraught production, but it may also be because of the two lead actors. Prior to Bill Paxton's death in 2017, there could have been a chance for a sequel, but it was highly unlikely. Hunt and Paxton were rumored to have disliked each other so much that they reportedly refused to appear in anything else together once filming wrapped, according to Screen Crush. This included their appearances in Twister… Ride It Out, an attraction that opened at Universal Studios Florida in 1998 and has since been removed. They filmed their scenes separately on different sets that were then shown on side-by-side TVs as they talked back and forth to each other.
Emma Watson was reportedly too upset by Channing Tatum to film together
This Is the End featured plenty of familiar faces from Hollywood, all playing exaggerated versions of themselves navigating what to do in the middle of an apocalypse. Chaos, of course, ensued. With the movie billed as a comedy, the cast spent plenty of time poking fun at themselves and at each other. The comedy definitely leaned towards the raunchy side, and, as such, there was a chance of upsetting those involved with making it, which apparently did occur.
Emma Watson, who's had a stunning transformation since her Harry Potter days, made a cameo that was originally meant to be a bit longer and involve alternate scenes. However, according to the account of an extra who was on set that day, as reported by Pop Focal, Watson stormed off after seeing Channing Tatum's performance. The extra recounted that Watson was upset by Tatum's behavior, which involved him dancing provocatively in a thong. She returned to set, only to soon leave again and call it quits. Her scene with Tatum was never completed, and she was featured in different scenes that involved no dancing or semi-nudity of any kind.
Wesley Snipes is said to have barely appeared on the set of Blade: Trinity
Wesley Snipes is reported to have pulled a quintessential Hollywood diva act on the set of Blade: Trinity. According to Patton Oswalt in an interview with The AV Club, Snipes refused to leave his trailer for much of the time while they were filming. He would only come to set to film his close-ups. "Everything else was done by his stand-in. I only did one scene with him," Oswalt told The AV Club.
Oswalt went on to give an account of an argument between Snipes and the director, David Goyer. Snipes reportedly told Goyer that he should quit the project, as he was "detrimental" to the making of the movie. According to Oswalt, Goyer shot back to Snipes, "Why don't you quit? We've got all your close-ups, and we could shoot the rest with your stand-in." The tension on set seemed palpable to critics, who did not think highly of the third film in the Blade franchise.