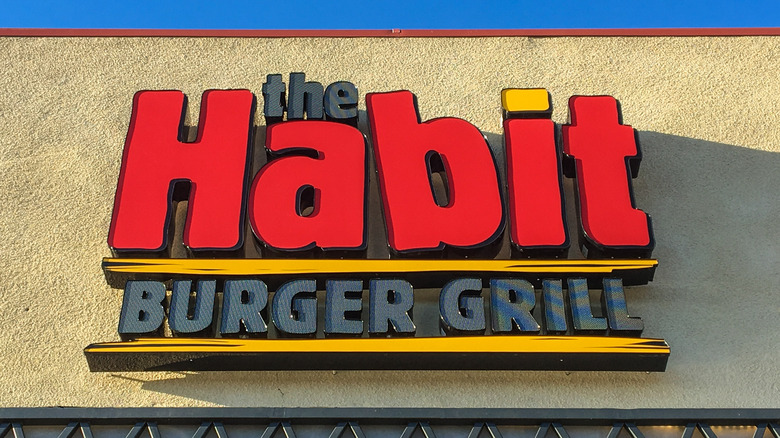 When you think of West Coast food, burgers aren't probably the first thing that comes to mind. Instead, you probably think about $10 smoothies, vegan quinoa bowls, and fancy avocado toast. But what if you could blend those two ideas together? That's just what's happening at The Habit Burger Grill. This Santa Barbara-based burger chain is known for its tasty burgers, scrumptious salads, and indulgent desserts that always keep you coming back for more.
If you're lucky enough to live in California, you've probably visited this regional chain at least once. If you're not from the area, though, you may only get the chance to try it out when you take a trip to the best coast. Before you get there, though, it helps to know what on the menu is actually worth your time and money. Therefore, you should take a look at our ranking of some of the most popular items on the menu. We'll start with the worst and make our way to the best, so make sure you read all the way to the bottom. Happy feasting!
24. Strawberry Malt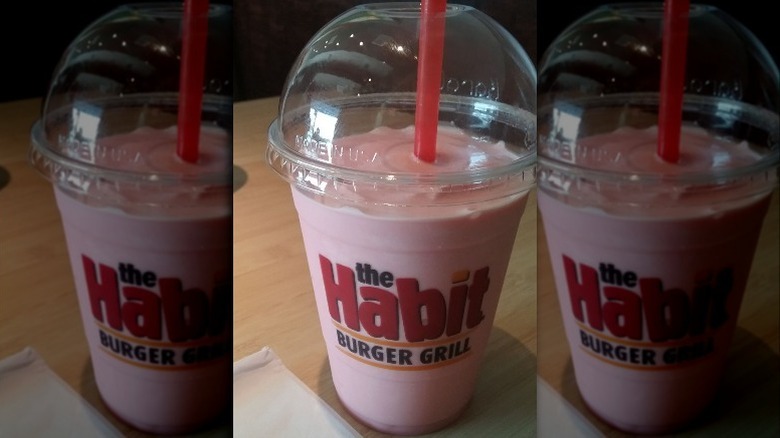 After eating a big, juicy burger, you'll probably want something nice and sweet to finish off your meal. Luckily, there are plenty of dessert options at The Habit Burger Grill, so you won't have to leave feeling disappointed. However, there are some incredible desserts on the menu, and there are some others you'll want to avoid with a 10-foot pole. One of those desserts? The strawberry malt. Malts are similar to milkshakes, but they also contain malted milk powder for some extra flavor. You're not going to want any extra of this flavor, though.
As you know, strawberry-flavored desserts can be really hit or miss, and we think that this one is a total miss. It doesn't really taste like strawberry at all — in fact, it almost has a hint of artificiality to it. It's also really strong, and you're not likely to be able to finish it all. With so many other, tastier desserts on the menu, this one is a waste of time.
23. Garden Salad
Look, we love an easy-to-grab fast food salad, and you won't find us bashing you for choosing one when you go to a burger place like The Habit Burger Grill. But if you decide to order a salad, just make sure you don't grab the garden salad from this joint — or at least, don't order it plain. It comes with a ton of veggies, including a variety of lettuce, cucumbers, Roma tomatoes, red onions, and carrots. You'll even get a generous serving of croutons. But that's it. It doesn't actually come with any real protein source on top. If you're a veggie-exclusive person, that might seem like a good option. But still, this salad probably isn't going to fill you up.
You can add ahi tuna or tenderloin to this salad at an additional cost, but it really seems like an afterthought. If you are going to go for it, we recommend the tuna.
22. Sweet Potato Fries
A delicious burger is great and all, but without an appropriate and appetizing side, it's really not all that special. At The Habit Burger Grill, you can always snag some regular fries, but it being California, sweet potato fries are also available. You may think that sounds like a tasty alternative option, but we're here to tell you that you should just stick with the traditional fries.
These things are not good. They're overcooked, and they come out way too salty. It's hard to mess up an order of fries, but as soon as you see this side dish, you'll feel sad you didn't order something else. While it may not be the worst side dish in the world, you can get better sweet potato fries at so many other establishments. Our advice? Don't try your luck with these things — just stick to the original, and you'll be safe.
21. Southwest BBQ Chicken Salad
Here's another salad that just doesn't make the cut for us. It's the Southwest BBQ chicken salad, and we're not big fans. We like that they tried to do something different and unique here to provide their customers with more salad options, but we don't think that this idea was much of a success. This salad, as you've likely already guessed, features BBQ chicken prominently. This is where most of the problem comes in. The chicken is dry and rather flavorless, leaving you with an unappetizing topping for your salad.
We could also pass on the dressing. It's an ancho chili BBQ sauce, and while that sounds promising, it completely covers up all the other flavors in the salad. It will taste more like you're eating something straight off the grill than getting your veggies in. And if you're the kind of person who orders a salad at a place like this, you probably legitimately want a quality salad where you can actually taste the veggies.
20. Hershey's Chocolate Sundae
We're not going to say that the Hershey's chocolate sundae offered at The Habit Burger Grill is bad, because that's just not the case. At the same time, though, we would never recommend it. Why? Because it's about as basic a dessert as you can get. Haven't you had a sundae with Hersey's syrup at tons of other restaurants across the country? It's one of those dishes that just pops up everywhere. And because of that, it just doesn't feel too special.
Don't get us wrong: This is a great option for little ones who want something simple or really picky eaters who prefer blander, more familiar flavors. But for the rest of us, there are much better dessert options out there that are actually new and more exciting than this one. You should definitely give them a try before you go for something that's just a standby, like this dessert.
19. Grilled Chicken Salad
If you want a salad that's slightly better than the Southwest BBQ chicken salad but still doesn't make the cut in our book, you can always opt for the grilled chicken salad. As you can probably guess by the name, there is nothing even remotely exciting about this salad. In fact, it's so boring that you might fall asleep while you're eating it. That's mostly because the grilled chicken breast that comes on top is largely flavorless. There's nothing exciting going on there, and you might even feel like you want to pick around it.
The rest of the salad isn't bad, you'll enjoy a variety of fresh veggies — in fact, all the same ones you'd find in the garden salad. But because that combination is kind of bland itself, the whole salad falls flat. It doesn't taste bad, and if you're looking for something simple and fresh, it might fit the bill. But there are much, much better items on the menu, in our humble opinion.
18. Veggie Burger
A few years ago, it felt nearly impossible to find a decent veggie option at a fast food or fast casual restaurant. Most of the time, you could order a side salad and some fries, and that was about it. Obviously, that's not the ideal situation for someone who doesn't eat meat. But now, times have changed, and it's now easier than ever to grab a veggie option from a variety of chains. Wondering about the veggie burger at The Habit Burger Grill? If you think it's going to be one of the best items on the menu, we're sad to inform you that you should think again.
There's nothing exciting about this vegan patty. It's rather tasteless, and it's definitely not something you would go back for. While it's an okay option if all of your friends are getting a burger and you need a meal without meat, we wouldn't go out of our way just to get this burger.
17. Onion Rings
While there are some really tasty sides at The Habit Burger Grill, the onion rings are one that we'd be okay forgetting all about. When you order fast food onion rings, you're expecting a crispy, flavorful accompaniment to your meal. Instead, with these onion rings, you're going to get more of a greasy mess than the crispy side dish of your dreams. These onion rings seem alright at first, but they very quickly get sad and soggy, leaving you with a mess of onion and breading on your plate. If you let them sit for too long, you're just going to want to throw them out.
The flavor itself isn't bad — it's more of a texture problem here. However, just because they taste good doesn't mean they're worth your time or money, especially when there are some really standout sides on the menu (we'll get to those shortly). Forget about the onion rings and opt for an alternate side.
16. Grilled Chicken Caesar
Now, we've already told you our opinion on the grilled chicken that appears on the salads at The Habit Burger Grill. Sure, they might be healthier than your average chunk of fried chicken patty, but when it comes to flavor? It's just not there. That's why the grilled chicken Caesar didn't end up higher on our ranking. However, when it comes to the rest of the salad, you are going to get a tasty meal when you order this salad from the burger chain.
Of course, this salad comes with a generous serving of greens, and it also features a hearty sprinkling of Parmesan cheese on top. This cheese plays a huge role in the dish, as it adds an umami element that you'll love. The croutons lend some much-needed crunch to the situation — who doesn't like bread in their salad? But the real success here is the Caesar dressing. It takes this salad from so-so to solidly delicious.
15. BBQ Bacon Charburger
When you're looking for a super-hearty sandwich to dig your teeth into the next time you're at The Habit Burger Grill, you should look no further than the BBQ bacon charburger. The charburger is The Habit Burger Grill's speciality, and this is one of the heavier iterations of it. As you guessed, this sandwich comes topped with plenty of bacon and is imbued with a decent BBQ flavor. If you love rich, hearty meals with tons of meat that are sure to fill you up, we can pretty much guarantee that this burger is going to be a hit.
However, just because you want to order a burger doesn't mean you want a massive meal that's going to make you too full by the time you're ready to pull away from the restaurant. Therefore, some people might find this sandwich too heavy. With the addition of the bacon, this burger certainly feels over the top if you're not really, really hungry to begin with. It's something to keep in mind before you order.
14. Teriyaki Charburger
Those who want something different and a little creative when they go out to eat are probably going to like what the teriyaki charburger has to offer. It's one of the more unusual items on the menu, and you'll definitely be able to see the California influence here. This burger is topped with most of the standard accoutrements, like lettuce, tomato, pickle, and mayo. The caramelized onions add a touch of richness and sweetness we love.
But here comes the wild part: There's actually a slice of grilled pineapple on top of this burger. It's paired with a sweet teriyaki sauce, and we have to admit, it's something special. We'll warn you: This burger is definitely on the sweeter side, so if you don't like fruit and meat combined, we'll totally understand if you want to pass this up. However, we have to give The Habit Burger Grill credit for coming up with such a unique idea. It's worth a try if you're feeling adventurous!
13. Oreo Cookie Shake
There are some foods that just about everyone likes. We know that there are some exceptions out there, but Oreos seem to be one of those foods. Who doesn't like a good mix of creamy filling and chocolate cookies? And when you put that kind of cookie into a shake, good things are bound to happen. That's just what you're going to get with the Oreo cookie shake from The Habit Burger Grill.
Now, is this the most creative dessert this restaurant could've come up with? No. It's something you've likely seen in all kinds of establishments. That's why it didn't rank higher on our list — if we can get it everywhere, it definitely has less appeal than if it were a menu item that was specific to this brand. But that doesn't mean that it's not still amazing and worth a try if you're a diehard fan of Oreos.
12. Chicken Club Sandwich
When you visit a burger joint, you're probably not expecting a lot of fresh, light options. As you can already tell considering the number of salads on this list, The Habit Burger Grill is not that kind of burger establishment. However, just because you want something on the lighter side doesn't necessarily mean that you always want a salad. If you're looking for something a bit different, the chicken club sandwich might just be up your alley. The marinated chicken itself tastes great, and it's paired with green leaf lettuce, tomatoes, mayo, and avocado.
There's a surprise hidden in those layers of chicken and veggies, though: bacon! The bacon gives this sandwich a little bit of crunch and a lot of flavor in what would otherwise be a very light meal. This is a delicious sandwich with a lot going on, and if you're not looking for a burger, it's a tasty alternative.
11. Santa Barbara Cobb
Are you the kind of person who falls head over heels for a flavorful salad? If that's the case, the Santa Barbara cobb should be on your list of salads to try. It all starts with the shredded iceberg and romaine lettuce. Then comes the tomato and avocados. The avocados add a nice creaminess to the salad that you wouldn't get otherwise. You can't forget about the bacon and egg, which both pack a healthy dose of protein into this otherwise light meal. While the grilled chicken breast in this salad isn't our favorite, the other flavors seem to cover up its lack of flavor well.
The best part, though, all comes down to the dressing. The red wine vinaigrette is amazing, and it adds a tang to the whole salad that you won't be able to get enough of. It's so good, we wish it came on more salads that The Habit Burger Grill serves.
10. Tenderloin Steak Sandwich
If you love beef, you can always find a decent burger. It's one of those foods that's pretty common most places you go in the U.S. But beef lovers don't have to stick with the burgers if they don't want to and The Habit Burger Grill offers a tenderloin steak sandwich. When you choose this option, you're going to get a marinated filet of beef on your sandwich, so it's more of a steak experience and less of a burger situation.
This sandwich also comes with green leaf lettuce, tomatoes, and mayo. You can choose from either teriyaki or BBQ sauce here. Our choice? We think the teriyaki sauce at this restaurant is better than the BBQ, but choose whatever sounds best to you. It's all placed onto an artisan ciabatta that's surprisingly tasty. This sandwich may not be what you think about when you go to a burger place, but that's just part of the reason we love it. It's a great option if you're looking for something that's just a little bit different.
9. Santa Barbara Char
Want to know what takes a classic burger from basic to the essential west coast meal? Avocado. The freshness and creaminess of avocado has made it a hit everywhere, but if it's known for being associated with one place in the country, California is definitely it. So, what should you order if you want to dig into a burger but still want to celebrate Californian food and culture? The Santa Barbara char, of course.
While this burger may sound fancy, it's anything but. Instead, it's basically just a slightly updated version of a classic. It's a double char (which means you're getting more meat), but it's also paired with cheese and — you guessed it — avocado. It's all placed on soft sourdough bread.
While you have a lot of fattiness from the beef, the extra fat from the avocado isn't too much here. That's because it offers a freshness to the sandwich that you won't find on many other items on the menu. It's not the best charburger out there, but it's definitely one you should try at some point.
8. Mocha Malt
As we've mentioned before, there are a lot of different desserts you can choose from on The Habit Burger Grill menu. But there is one that rises above all the others. That dessert is the mocha malt, and we're here to tell you that you should order it the next time you make your way to this regional West Coast chain. The malts are all really flavorful to begin with, but we think that this one really takes things to the next level.
The chocolate malt is a classic, and it's something that just about everyone will love. The coffee malt is a bit out of the ordinary, and it's a good option if you want to try something completely new. But if you're looking for the best of both worlds, the mocha malt is where it's at. You'll get the sweetness you crave from the chocolate and the hint of bitterness and nuttiness you love about coffee.
7. Crispy Chicken Sandwich
Going to The Habit Burger Grill, you know what you're getting yourself into. It's a burger place, so it seems like the most logical order would include a burger. However, you may not always be feeling a burger. That doesn't mean you can't still visit this restaurant, though, especially when you can choose from menu items like the crispy chicken sandwich. Believe it or not, it's actually one of the best sandwiches on the entire menu. The breading on the chicken really is super crispy, and it's made with the restaurant's signature spices, so you know you're going to get a lot of flavor.
It's not just the breading that's good, though: There's also the chicken itself. We were surprised at how tender and juicy it was. It makes this sandwich really easy to eat. In fact, order one, and you might start to crave another after you're done. Some of the burgers on the menu are still better than the crispy chicken sandwich, but it's 100% worth a try.
6. Super Food Salad
Who knew that a salad would make it to this point on our list — especially a salad from a burger place? Well, try to hide your surprise because the super food salad really is one of our favorite meals from The Habit Burger Grill. We love that this salad starts out with a garden salad mix instead of the standard iceberg lettuce like a lot of other salads on the menu. There's also the unexpected addition of quinoa, which will help fill you up and give you the energy you need to take on your day.
Then, craisins, carrots, cucumbers, diced tomatoes, and feta cheese are added into the mix. This combination offers a lot of amazing flavors, and we especially love the touch of sweetness you get from the craisins. It's all finished off with a kale pesto vinaigrette that adds just the right amount of tanginess. Grilled chicken appears on top. While we don't necessarily love this chicken, we do think it's a lot better when it's covered with that kale pesto.
If you're looking for the ultimate salad from The Habit Burger Grill, the super food salad should definitely be your order.
5. Charburger
Now we come to the most iconic item on the entire menu: the charburger. This is the burger that the restaurant is known for, and with good reason. As the name suggests, the beef patty in this burger is cooked over an open flame, resulting in a smoky flavor that you won't be able to get enough of. And while those same patties are used in the restaurant's other burgers, this one is the original.
The burger itself tastes great. It's got just the right amount of richness, and it's incredibly juicy. It's blessed with tomatoes, pickles, and lettuce, but the real topping that makes us drool is the caramelized onions. You may not think that they're too much different from a raw onion, but you couldn't be more wrong. When they're caramelized, they lend a lovely sweetness to the flavor of the burger.
Add some mayo and cheese on top for just the right amount of creaminess, and serve it on a grilled bun. See why it's one of our favorites?
4. Ahi Tuna Filet
When it comes to fast food fish sandwiches, there are some less-than-desirable options out there. Take, for example, the Filet-o-Fish from McDonald's. No hate if it's your go-to order, but you can pretty much assume that you're not going to be getting a high-quality fish dish when you order it. However, at The Habit Burger Grill, they do things a bit differently, and that's why you may want to check out the ahi tuna filet.
It's actually made with sushi-grade tuna, so you know you're getting the best of the best when it comes to quality. The teriyaki glaze gives it some sweetness but also a touch of savory flavor that complements the fish really well. Lettuce and tomato add a touch of freshness that offsets that sauce. But the best part is the tartar sauce. It's essential with any fish sandwich, and this one is no exception.
If you love seafood, this is definitely a sandwich you're going to want to order.
3. Portabella Charburger
Look, we know that not everyone is a fan of mushrooms. They have a texture that not everybody can get down with, and we totally understand that. But whether you like mushrooms or not, once you give it a try, you're probably going to admit that the portabella charburger is one of the best items on the entire menu. It starts off with the same flame-grilled burger you love, but it also comes with portabella mushrooms. These mushrooms add a lot in terms of texture (don't worry, they're not weird and rubbery), but they also have a meatiness to them in terms of flavor that really brings the rest of the sandwich to life.
The melted white American cheese is something different in this burger, and we think it plays really well with those mushrooms. But don't think it's all rich and hearty — it's also piled high with tomatoes, lettuce, pickles, and caramelized onions. The roasted garlic aioli really brings this burger over the top.
If you've been looking for a way to learn to love mushrooms, we think we have just the answer for you.
2. Tempura Green Beans
When it comes to side dishes, most burger joints are pretty limited in your options. You'll probably have the choice between fries, sweet potato fries, tater tots, or onion rings. Beyond that, you're not going to find much. But that's not going to be the case when you take a trip to The Habit Burger Grill. Why? Because they also sell tempura green beans.
Now, even if you don't normally enjoy your veggies, you're going to want to order this side dish. You won't believe how crispy they are — they're even crispier than the fries. The tempura coating is flavorful and offers a lot of texture, so it makes these green beans downright addictive. We're going to warn you now: If you order these, you're going to be begging for tempura veggies at every establishment you go to from now on. They're that good! Try them on their own, or ask for a dipping sauce on the side. Either way, you're not going to be disappointed.
1. Double Charburger
You already know we love everything about the charburger. In fact, the only thing you could do to make a charburger better is to make it even bigger. Alas, that's just what The Habit Burger Grill decided to do with their Double Charburger. As you may have guessed, this is just your typical Charburger, but instead of one beef patty, you're going to get two. That's twice the flame-grilled deliciousness in your sandwich — and what could be wrong with that?
Worried that two patties are going to be too much? In terms of flavor, definitely not. While the single Charburger is delicious, we think that extra bit of meat makes this burger way, way more flavorful. Since it's still packed with veggies, it's not too heavy or indulgent. However, this sandwich is definitely really filling, so if you can't finish it all, you may have to save it for later. You won't hear us complaining about leftovers of something this tasty!