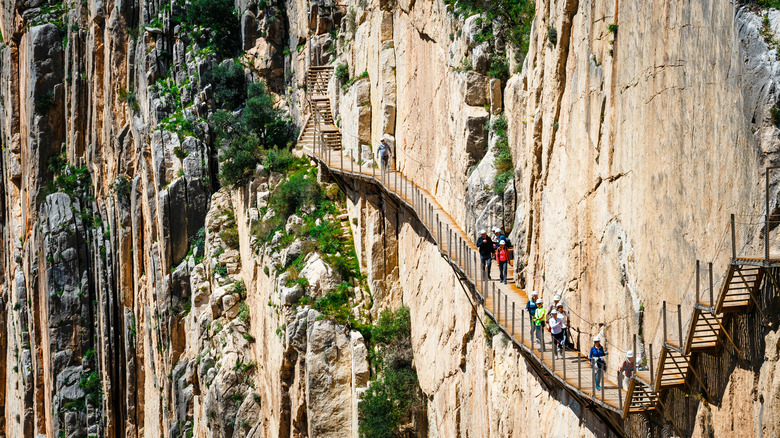 In the book, "Trail Mix: Wit and Wisdom From the Outdoors" there is a popular quotation attributed to the author Mary Davis. It reads: "To walk in nature is to witness a thousand miracles." Ms. Davis surely was contemplating the natural cycle of life and how the breathtaking beauty of hiking in the wild can facilitate your oneness with nature. But what Ms. Davis definitely did not have in mind were body-burying landslides, predatory bears, cardiac arrest, bone-breaking falls, and heart-chilling hypothermia. Hikes can be very dangerous.
Take for example El Caminito del Rey in Malaga, Spain. This Spanish trail was originally constructed by hydroelectric plant workers as an access path which consisted of flimsy wooden walkways creeping along a gorge wall. It was called the "most dangerous path in the world." Five deaths in a two-year period resulted in the path's closure from 2001 to 2015 as reported by Conde Nast Traveler. The walkways were rebuilt with steel bolts and poles, and visitors are now required to wear hardhats. Its track record of deaths has improved immensely so that it is no longer the most dangerous path in the world with only one death reported by Euroweekly News since it reopened. Maybe it is better just to stick with the Google maps virtual tour.
Safety improvements are great, but there are still many hikes around the world where safety does not seem to be the number one concern. Here are some of the most dangerous hikes around the world.
Mount Hua Shan Plank Walk, China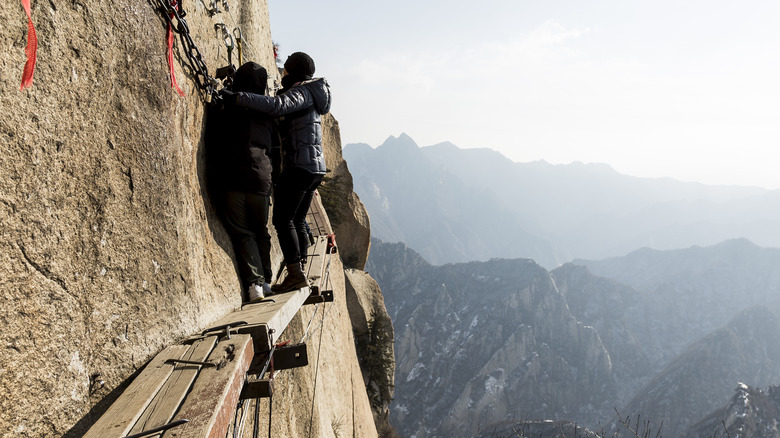 Mount Huashan in China is sacred in the Daoist religious tradition but is now one of China's most popular, and dangerous, tourist attractions. NPR reports that a small Daoist temple was built at the base of the mountain in the second century B.C.E. Eventually, a shrine was built at the top which offered meditation and tea to those who could get there. And to get there you had to follow a wicked and winding path up into the five-peaked mountain. This eventually evolved into a thin plank walk system that spins up into the mountain offering an astounding view of the plain below. The way involves clinging at times onto the mountain and spidering along chains. Although hikers are required to wear harnesses, Travel China Guide reports that there are rumors of 100 deaths per year. There are no official statistics.
So maybe these rumors just give a brighter burnish to the plank walk's allure since many thrill seekers from around the world still want to go. And that seems to be the problem. Unfortunately, if you think you'll be able to awaken your Daoist sensibilities and oneness with nature through this hike, you are wrong. As reported by Business Insider, the plank walk is almost always jammed with people. The constant jostling no doubt makes it even scarier and more dangerous.
West Coast Trail, Vancouver Island, Canada
Canada's Vancouver Island hosts the 47-mile West Coast Trail that takes hikers through some gorgeous scenery along the Strait of Juan de Fuca. Parks Canada notes the trail's toughness: "Hikers climb more than 100 ladders with a heavy pack, trudge through deep mud, wade through mountain-fed rivers in fast-flowing hip-deep waters, and push through whatever weather the wild West Coast delivers — often driving wind and rain."
The trail is no joke. The CBC reported rising incidents of people needing to be evacuated from the trail. One issue hikers may have is that they are not quite prepared for the cold, wet weather and succumb to hypothermia. Others have run-ins with bears, wolves, and cougars — roughly 40 per year. Then of course there is injury, which is the main reason for evacuation. Slips and falls are common, which is exacerbated by the jutting rocks all about the trail. One veteran hiker reported in Backpacking Light that due to an injury on the first part of the trail, she suffered permanent nerve damage.
So what did that hiker do? She went back nine years later to complete it.
Inca Trail from Machu Picchu to Huayna Picchu, Peru
One of the most iconic sites in South America is the Incan ruins of Machu Picchu in Peru. It is relatively easy to access the ruins, but many tourists decide on a whim to try the Incan trail that goes up to Huayna Picchu, which overlooks the ancient citadel. The full trail, as noted by The Only Peru Guide, requires hikers to scale up one story ladders, ascend steep stairs, and use their hands. Obviously, Peru's version of OSHA did not design this trail. Outside reports that this path is known as the "Hike of Death." If you don't die by an accident, it might very well be from cardiac arrest, which happens often enough. The Incan stairs climb 1,000 feet in under a mile.
There have been a number of deaths at Machu Picchu. For example, as reported by the Washington Post, in 1997, an American tourist fell to her death. Then in 2004, a Russian tourist was struck by lightning. In more recent incidents, in 2013 a rock fall killed a German tourist and three more that year expired from heart attacks. It was so bad that the Peruvian government limited visitors to 2,500 per day for safety and to preserve the ruins.
GR20, Corsica
Considered Europe's toughest hiking trail, GR20 in Corsica takes trekkers through the spine of this Mediterranean island in a two-week escapade. The GR20 is a hiker's Everest. As Paddy Dillon explains in "The GR20 Corsica," "Its reputation precedes it, and most who trek the route describe it afterward as one of the toughest they have ever completed. Others find they are unable to complete it, having seriously underestimated its nature." Even statistically it looks daunting. According to Expedition Wildlife, the route is 112 miles long with an elevation gain of over 41,000 feet, often on narrow ledges. Still, some 30,000 people a year try the route.
Deaths are frequent on this hike. One of the worst tragedies occurred in 2015 when, as reported by A Hikers Tale blog, seven trekkers were dragged down to their deaths in a landslide in the perilous Cirque de la Solitude. This section of the trail entails climbing down and then up a steep rock wall. Apparently these deaths may have been avoidable, but the chains, ladders, and ropes which had helped hikers in the past had been removed.
Cascade Saddle Route, South Island, New Zealand
If you have ever fantasized about questing in Middle Earth then you should try out the Cascade Saddle Route in New Zealand where scenes from Peter Jackson's adaptation of The Lord of the Rings were filmed. And just like Frodo and Sam, you may be placing yourself in mortal peril.
According to New Zealand's Department of Conservation, this backcountry, alpine trek on the country's South Island runs through Mt. Aspiring National Park. According to the route brochure, the entire journey is just 25 kilometers (15.5 miles), but it is so grueling that hikers will find themselves on a multi-day expedition with limited facilities throughout.
Deaths on the Cascade Saddle Route due to accidents are frequent. According to a 2020 report by Stuff, which commented on two hikers who were likely killed in a river crossing, between 2007 and 2019, 65 hikers died on the route. The dangers of this hike have been and are well known. In 2013, the Otago Daily Times quoted a local coroner who commented on the trail, "If this were a highway and there were this number of fatalities on it, the road controlling authority would be looking at it very closely. … I just wonder if it gets to a point … if it can't be engineered to make it safe … would there be a consideration to close that track because too many people have died on it?"
Half Dome Trail, California
One of the most dramatic icons of the American West is Half Dome, found in Yosemite National Park. At nearly 5,000 feet, with sheer cliffs, it was first hiked in 1875 by George Anderson, who laid the groundwork for what is today a cable trail to the top.
The path to the top is between 14 to 16 miles and you need to be physically fit to make it. The way includes a very well-known and difficult cable ladder system which allows hikers to ascend the final 400 feet to the top without the need for technical mountaineering equipment. What makes the trek to Half Dome particularly treacherous is that it takes a long time to get to the top, and when you get there, the weather can turn suddenly. Then you are faced with being exposed to the elements on top of the rock or trying to make a dangerous descent. Also, there is just the sheer steepness, even in good conditions.
SFgate, for example, reported on a 2019 death in which a 29-year-old woman slipped beneath the cable handrails. Fellow hikers watched in horror as she slid down to her death. With that in mind, there have been relatively few deaths over the years but many injuries. Since 2005, there have been at least 13 deaths, 140 search and rescues operations, and 291 accidents.
Drakensberg Grand Traverse, South Africa
South Africa's Natal National Park is home to one of the wildest hikes in the world, the Drakensberg Grand Traverse. As described by Hiking South Africa, this nearly 143 mile, 10-day route passes through true wilderness filled with all the regular hazards of steep mountainous terrain plus the threat of animal attack. To make things more interesting, there are neither trail markers nor facilities. It is a combination of following cattle trails and going cross country. In fact, to do this trail properly you need solid navigation skills and a GPS device. Perhaps the toughest day is the first one, since it entails climbing vertical ladders up an escarpment.
As might be imagined, under such circumstances, things can go horribly wrong. And they do. For example, News24 reported hikers missing on the trail and the remains of another being found. Outlook India noted that up to 1985, 55 people had died on the trail. After that, they stopped counting.
Kokoda Track, Papua New Guinea
The Kokoda Track in New Guinea is not just a dangerous hike, but it also has historical significance. According to the New York Times, this 60-mile trail that takes you through the jungles and mountains of Papua New Guinea was also used by Australian troops during World War II to fight a rearguard action against a larger Japanese force, finally halting them before Port Moresby.
The trail is not for the faint of heart. Filled with steep inclines and muddy bogs, the trek is a slog even though there are amenities along it and the jungle scenery is astounding. Still, it is clear you need to be physically fit to cut it since there have been multiple deaths due to heart attacks along the track. Even getting there can be hazardous. Thirteen people died in a plane crash in 2009 while en route to the trailhead. There are also other dangers. The Australian Broadcasting Corporation reported in 2016 that a British male and an American female were assaulted by local men on the trail. The man was beaten and the woman raped before they managed to escape. In 2013, two porters who were servicing an expedition were hacked to death by robbers.
Rover's Run Trail, Alaska
Rover's Run, also called Mellen's Way, is a pleasant 3,700-foot-long trail outside of Anchorage, Alaska. It, according to the Anchorage Park Foundation, runs along Campbell Creek as part of the Far North Bicentennial Park Trail System and is used for mountain biking and hiking. The trail is neither particularly steep nor does it present any unusual meteorological conditions. The danger of Rover's Run is that you have about as good a chance of enjoying the Alaskan woods as you do getting mauled by a bear. That is you have about an even chance.
Campbell Creek is prime feeding habitat for brown bears during the salmon spawning season and the trail is used, in effect, as a highway for hungry bears looking for a meal. According to Alaska News Source there have been several maulings over the years, prompting officials to close the trail and detour traffic well away from the bears during salmon season. Currently there are plans to reroute the trail permanently.
Mount Washington, New Hampshire
One would think that a small mountain in New Hampshire would not present a dangerous hike, but Mount Washington has claimed many lives over the years. According to New Hampshire Magazine, as of 2019 there had been 161 known deaths on the trails around the mountain since they started counting in 1849. Aside from the usual falls and heart attacks, hikers who try to reach the top of this mountain often are not prepared for the sudden changes in weather and temperature.
As Outside explains, this 6,288 foot mountain can have wind chills that drop to -100 degrees. The Mount Washington Observatory recorded a wind gust of 231 miles per hour on the mountain in 1934, a record that wasn't broken until 1996. Meteorologists have determined that the mountain sits at the crossroads of the jet stream and north to south storm tracks. Also, the mountain's geography lends itself to becoming a natural wind funnel. The summit of the mountain is bare, leaving inexperienced hikers exposed to the elements. Then to top it all, the whole area is full of boulders and rocks, making it a minefield of trip hazards. What makes the dangers of Mount Washington even more frustrating is that many hikers do not take it seriously. People come as part of day trips, ill equipped (flip flops) and poorly clothed (t-shirts), thus inviting the worst upon them.
Kalalau Trail, Hawaii
One scenic hike that may be your last is the Kalalau Trail, found on the island of Kauai in the state of Hawaii. This mountain forest path offers superb vistas of the Pacific and satisfying access to lonely beaches. According to Hawaii's Division of State Parks, the 22-mile hike (out and back) will take a full day, but it can be broken out into two beautiful days.
The tradeoff is that you will put yourself at risk. The Division of State Parks warns that there is no cell phone service on the trail, there are no emergency services, and if you get into trouble you have to hike out for help or signal a helicopter or boat. Also, much of the volcanic substrate that you may walk on is constantly in danger of crumbling. And if you think about taking a dip in the ocean which you're constantly viewing? Consider again, since the rip tides are powerful and just as likely to cause your untimely demise as falling down the cliffs. As noted by The Garden Island, deaths by drowning, heart attack, and falling, or any combination thereof are possible. The hiking blog Down the Trail cites that there are at least 85 deaths to over 100 on this trail.
Aonach Eagach, Scotland
Aonach Eagach takes you through the very heart of the Scottish Highlands by going over their very top. As explained in "Landscapes of the Scottish Highlands and the Isle of Skye," Aonach Eagach runs along the ridges of the mountains, offering constant scrambles. Wired for Adventure describes how even though the hike itself is rather short at six miles, you are constantly scrambling and crawling in exposed conditions. This walk has seen its fair share of tragedy over the years with people falling off the ridge. One particularly troubling spot is the Clachaig Gully which, according to Walkhighlands, has led to multiple fatalities due to its eroded and precarious nature.
Then there are the meteorological conditions. In 2021, the Daily Record reported that a husband and wife who were hiking the ridge got lost in a sudden fog. He fell 33 feet and was injured. Meanwhile, the wife had dropped her phone. However, after the couple did not check in, a search was started. A friend activated the woman's location finder on the cell phone. This allowed the rescue team to locate the phone, and then they were able to track down the couple who were wet and cold. They were successfully evacuated by helicopter.