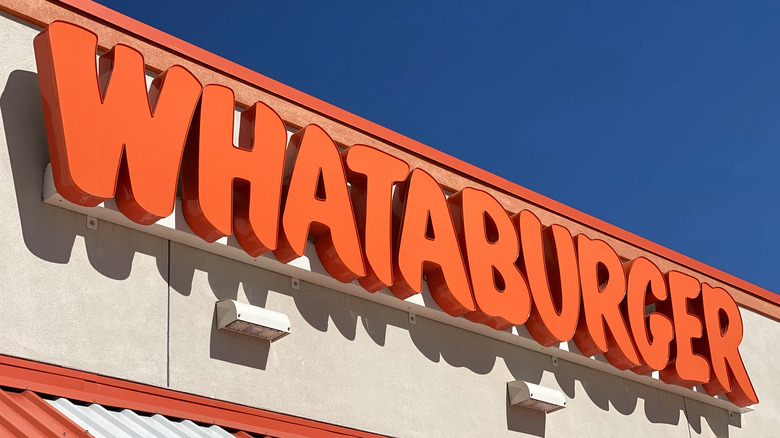 Despite only having locations in ten states, Whataburger sells more food than all but 21 fast food chains (via QSR). How is that even mathematically possible? Well, it helps that the entire state of Texas is captivated by Whataburger. Ask a Texan about their favorite fast food restaurant and you'll likely hear endless talk about this fabled burger chain and all the deliciousness that can be found on itsmenu.
The first Whataburger was born more than 70 years ago in Corpus Christi, Texas, with the goal of impressing hungry customers with their large, tasty burgers made with only pure beef (via Whataburger). Through the years, the chain has added more than burgers to their menu while keeping their standards high and their customers enthralled.
While you won't find every single Whataburger menu item on this list, all of the popular choices have been included. These are Whataburger's most popular items, ranked in order from the worst to the very best.
25. Grilled Chicken Sandwich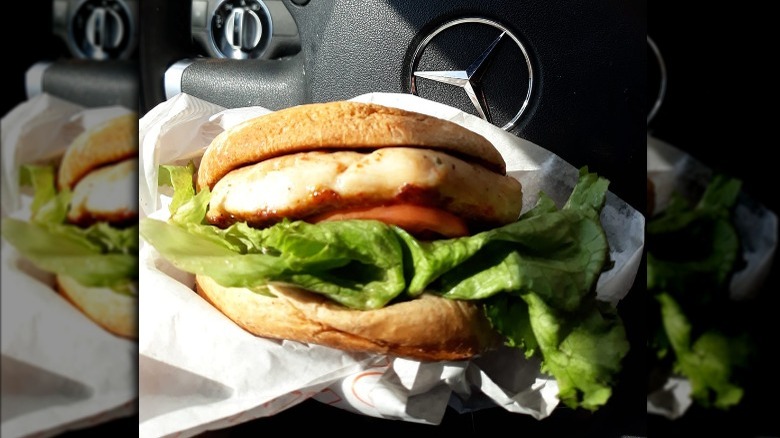 A lot of scrumptious food can be found at Whataburger. However, there's one item you should absolutely avoid: the Grilled Chicken Sandwich. This thing hardly classifies as edible. After your first taste, you'll fully realize that you've made a grave mistake. You may be able to take another bite or two but soon your taste buds will be begging you to wave the white flag and give up on this terrible sandwich.
The problem with Whataburger's Grilled Chicken Sandwich is the grilled chicken patty. It manages to be both grotesquely dry and extremely rubbery at the same time. The patty remains downright arid even if you drench the grilled chicken in mayonnaise, while the texture makes the sandwich a boring chore to eat.
If you order this sandwich from Whataburger expecting something akin to Chick-fil-A's glorious Grilled Chicken Sandwich that is meanwhile getting better and better as the years pass, you'll be in for a rude awakening. Pick something else. Anything else you select from the Whataburger menu is guaranteed to be superior.
24. Breakfast Platter
If you arrive at Whataburger first thing in the morning and you're starving out of your mind, you may be tempted to order the Breakfast Platter. It's a large collection of food that sounds like it'll fill you up to the top. Unfortunately, despite what you may have heard elsewhere, bigger isn't always better. Yes, there's a large amount of food in the meal — but all of it is entirely forgettable.
Whataburger's Breakfast Platter features scrambled eggs, bacon, hash browns, and a buttermilk biscuit. You'll find that the scrambled eggs are greasy and have a limited amount of flavor, while the hash browns are too crunchy on the outside and too mushy in the middle. Meanwhile, the plain buttermilk biscuit is nothing to write home about. This all means that the bacon will be the highlight of your meal but it's so thin that it'll be gone before you know it.
If you need a cup of coffee to begin your day, the good news is that Whataburger at least has reliably good coffee. While you can definitely find better fast food coffee elsewhere, you won't be upset with what you get from Whataburger.
23. Whatacatch Sandwich
In theory, getting a fish sandwich from a fast food chain that specializes in burgers sounds iffy. Sadly, that theory is correct at Whataburger. You'll discover that the chain's Whatacatch Sandwich has no redeeming qualities. From the flavor to the texture, it's a letdown.
The Whatacatch Sandwich begins with an Alaska pollock filet that's been covered with seasoned bread crumbs. On top of the fish filet rests tomato slices, lettuce, and tartar sauce. The main issue with this sandwich is that it falls apart too easily. The moment it enters your mouth, the filet disintegrates before you can even begin chewing. To make matters worse, the filet doesn't even really taste like fish anymore. Instead, it tastes like a piece of meat that has been processed so much that any flavor it used to have has been washed away. Your favorite aspect of the Whatacatch Sandwich will probably be the tartar sauce, which is tangy and oh-so-yummy.
Whataburger also sells something called a Whatacatch Dinner, but that too should be avoided. This dinner is just two fish filets with tartar sauce on the side. If you order it, don't be surprised if you just end up eating the tartar sauce with a spoon and ignoring the fish. When you really want a fish sandwich, find one of the better national seafood chains and skip Whataburger completely.
22. Mushroom Swiss Burger
The Mushroom Swiss Burger from Whataburger sounds like a safe choice. You've undoubtedly tried similar burgers at other fast food burger joints and you were probably happy with your selection. Tragically, Whataburger's version is just not good. In fact, it'd be difficult to find a worse one anywhere in the fast food universe.
The problem with the Mushroom Swiss Burger is multifaceted. First of all, the Swiss cheese is too muted, tasting more like white American cheese than authentic Swiss. Second, there are two few mushrooms, and the ones you do find taste watery instead of savory and earthy. Finally, this burger comes with a slathering of an odd take on au jus sauce that mostly just tastes like mayonnaise. The au jus steals too much of the spotlight without adding anything positive to the mix. Add it all up and the Mushroom Swiss Burger is the worst burger you can order at Whataburger — and it's not even a particularly close call.
21. Cobb Salad
Why would you go all the way to Whataburger for a salad? That makes no sense. You're so close to getting a top-of-the-line fast food meal and you opt for a salad instead? That'd be like going on a tropical vacation just to spend all of your time watching soap opera reruns in the hotel room. Even if you've been dragged kicking and screaming to Whataburger, you'd be better off saving your money than wasting it on one of their underwhelming salads.
Consider their Cobb Salad, which features lettuce, cheddar cheese, carrots, grape tomatoes, hard-boiled eggs, bacon, and chicken. The first thing you'll notice is that the salad doesn't have enough lettuce. It's such a drastic problem that this thing barely even qualifies as a true salad.
If you ignore this advice and still order Whataburger's Cobb Salad, at least make sure you use the jalapeno ranch as your salad dressing. It's some of the best ranch you can get through a drive-thru window.
20. Hot Apple Pie
Acquiring a delicious pie from a fast food restaurant is actually quite easy to do. From McDonald's to Popeyes and from KFC to Jollibee, fantastic pies are out there as long as you know where to look. Unfortunately, Whataburger isn't a place you should go to get your hands on a delectable pie. Both of their pie options are mediocre at best.
The most popular pie at Whataburger is the Hot Apple Pie. While it smells amazing and the crunchiness when you bite into it will fill you with hope, it's all downhill from there. This pie is so sweet that the sweetness overshadows all the other flavors, including the apple flavor. Whataburger's other pie is a Hot Lemon Pie. The lemon-powered version is a little bit better because it's not so sweet. That said, it's still a subpar pie compared to what you can find at other fast food eateries.
19. Whatachick'n Bites
Whatachick'n Bites are basically Whataburger's answer to the chicken nuggets you can get at other fast food destinations. Although these bites may look like Chick-fil-A's nuggets, don't let the visual similarities convince you to order these things.
While Whatachick'n Bites aren't the worst chicken nuggets ever, they're definitely below average. In fact, you can find much better store-bought nuggets that you can heat up at home. What's wrong here? Firstly, these Whatachick'n Bites lack juiciness. Whereas nuggets from Chick-fil-A are overflowing with juices, the opposite is true for Whataburger's version. Secondly, these bites are oddly fibrous and gristly. You'll enjoy the breading but everything below that will disappoint.
Thankfully, Whataburger helps you salvage what would otherwise be a gloomy meal by offering an array of high-quality dipping sauces. Tasty options include honey barbecue, honey butter, and the previously mentioned jalapeno ranch. Use any of these sauces to dip your bites and you'll at least be able to eat them all.
18. Spicy Chicken Sandwich
One of the hottest trends (both literally and figuratively) in the fast food world is spicy chicken sandwiches. It seems like every chain is throwing their hat into the ring by releasing their own version. Whataburger decided to join the party by releasing their Spicy Chicken Sandwich. Regrettably, this sandwich just isn't that good.
The issue with Whataburger's Spicy Chicken Sandwich is its lack of spice. Considering this fast food restaurant started in South Texas, the lack of heat here is truly shocking. The chicken patty has a reddish glow to it but its heat level is mild at. By the time you finish eating the entire sandwich, you might feel a little bit of spiciness on your tongue, but not much.
To turn up the volume on this sandwich's spiciness, you'll need to order Whataburger's buffalo sauce on the side and then add it to the sandwich yourself. But, let's be honest, that's too much manual labor when you can just buy a spicy chicken sandwich from McDonald's or Wendy's. Both of those options are spicier, tastier, and cheaper.
17. Pancake Platter
Ordering the Pancake Platter from Whataburger is risky and there's really not enough upside to justify it. At their best, the pancakes are nothing special. If you've had McDonald's Hotcakes, you basically know what you should expect. These pancakes will fill you up — but that's about the extent of it.
At their worst, the pancakes from Whataburger are frankly gross. Sometimes you'll find that their pancakes are undercooked, to the point where they're still a little bit liquid in the middle. Sometimes they can be a little bit burnt on one side. Either way, your breakfast trip to Whataburger will be very disappointing if you end up with a bad batch of pancakes.
Beyond the pancakes, this Pancake Platter comes with your choice of a couple of strips of bacon or a breakfast sausage patty. If you upgrade to a Whatameal, you get hash browns and a cup of coffee.
16. Chicken Fajita Taco
Whataburger's Chicken Fajita Taco has a lot of potential but it's still a work in progress. If you compare this menu item to what you can expect to receive from your favorite local Mexican restaurant, you won't be thrilled.
What holds this fajita taco back from climbing higher in this ranking is the chicken. Like the chicken found in the Grilled Chicken Sandwich, it's dry and rubbery. While spices have obviously been added, the chicken is still rather bland. That's a shame because everything else about the Chicken Fajita Taco is a winner. It has delicious red and poblano peppers, as well as onions. Additionally, the tortilla is tasty. If you want to turn up the heat, Whataburger has picante sauce that is perfect for doing just that.
If you're counting your calories, Chicken Fajita Taco may be a tempting selection. It has only 335 calories, a number so low that it may allow you to overlook the underwhelming chicken.
15. Whatachick'n Sandwich
While Whataburger has a lot of forgettable chicken options, their Whatachick'n Sandwich is an okay choice. It won't wow you but you will be able to eat it without any complaints. If you haven't ordered it in a while, give it another try. Whataburger has worked hard to improve it over the years — and that hard work is paying off.
Your Whatachick'n Sandwich experience will get off to a pleasant start when you encounter the crispy breading. From there, you'll find that the chicken is adequately juicy. While the chicken flavor isn't anything special, Whataburger adds a game-changing Whatasauce to this sandwich that will keep a smile firmly planted on your face. The Whatasauce tastes like a combination of barbecue sauce and honey mustard sauce. If you've ever tried Chick-fil-A Sauce, it has a very similar taste.
Make sure that you order your Whatachick'n Sandwich as a meal because the sandwich itself is relatively small. You'll need the French fries to fill your tummy.
14. Cinnamon Roll
Another item on Whataburger's menu that has improved recently is the Cinnamon Roll. After changing the recipe, this sweet treat is a whole lot better than it used to be. Instead of being a flaky mess, the Cinnamon Rolls at Whataburger are now gooey, warm, and stupendously flavorful. The only drawback these days is you need to eat it before it cools off because it loses a lot of its luster once it's no longer warm.
At Whataburger, there's never a bad time to order their Cinnamon Roll. It's on both their breakfast and dessert menus, which means it's available 24 hours a day and seven days a week. Start your day with one of these goodies and you'll have all you need to tackle anything life puts in front of you. Alternatively, if you order it as a dessert, you're sure to finish any meal on a high note.
If you want to save some money, you can do so by ordering these bad boys by the tray. Start handing out Whataburger's Cinnamon Rolls and you'll become the most popular person in town.
13. Biscuit and Gravy
The Biscuit and Gravy from Whataburger might not sound like much — but it will undoubtedly surpass your expectations. As the name suggests, this breakfast option is simply a biscuit that is covered with gravy. That sounds yawn-inducing, right? Well, not so fast. It's actually quite the fiesta for your taste buds.
The star of the show is the gravy. It's so tasty that you will dream about this stuff later. It may appear to be typical white gravy but, if you look closer, you'll see small chunks of sausage in it, making it unbelievably savory. While the biscuit by itself isn't too notable, it's the perfect partner for the gravy. If you don't want to use your fingers, you can use the biscuit to sop up every last drop.
Add grilled jalapenos to your Biscuit and Gravy order if you want to include more pizzazz. You'll find that the spiciness of the jalapenos is a great match for the savory sausage gravy.
12. French Fries
Whataburger may not have the best fast food fries but their French fries are good enough to be listed in the upper echelon. They're served hot, soft, and bursting with flavor. Like the Cinnamon Roll, you don't want to let their fries cool off because they're much better when they're still warm.
Whataburger's French fries are skinnier than you'll find at other fast food restaurants, which makes them better for dipping purposes. That's an important attribute because Whataburger's Fancy Ketchup is spectacular. Try their ketchup once and you'll understand why Whataburger fanatics buy it by the bottle. Compared to the generic ketchup you find at most fast food restaurants, Whataburger's version is less sweet. Instead of leaning on sugar, it relies on the fact that it's thicker and richer than the competition.
In addition to regular ketchup, Whataburger also has outstanding Spicy Ketchup. It's everything you adore about the Fancy Ketchup with a dash of heat to kick things up a notch or two.
11. Whataburger Patty Melt
The Whataburger Patty Melt is similar to the Mushroom Swiss Burger discussed above because it doesn't taste like a traditional patty melt. However, this thing is an absolute marvel. It's unique but you won't complain for a second.
A traditional patty melt uses rye bread that has been grilled along with caramelized onions and Swiss cheese. The Whataburger Patty Melt throws tradition out the window. Instead of grilled rye bread, it uses large slices of Texas toast. The caramelized onions and the Swiss cheese are replaced by grilled onions and Monterey Jack cheese.
To top off the Whataburger Patty Melt, a generous amount of their famous Creamy Pepper sauce is applied. This sauce tastes like mayonnaise mixed with multiple kinds of peppers along with mustard, paprika, and lemon juice. Even if you have a cowardly palate, there's a great chance that you'll fall in love with Whataburger's Creamy Pepper sauce. It's magical and it elevates the Whataburger Patty Melt to the next level.
10. Whatachick'n Strips
Whataburger has a lot of chicken on its menu. If you have poultry on the brain when you visit and you want to feast on their best chicken menu item, then be sure to pick the Whatachick'n Strips. These strips, which come in groups of three, are easily their best chicken option and definitely deserve a top ten spot in this ranking.
Nothing about the Whatachick'n Strips will let you down. The breading is both tasty and satisfyingly crunchy, while the chicken inside is juicy and flavorful. Served hot or at room temperature, you'll love these strips just the same.
When it comes to which dipping sauce you should select, you have many options. First of all, you should try eating Whatachick'n Strips without any dipping sauce. You may very well discover that the chicken is so delicious that you don't want anything coming between it and your taste buds. However, if you do decide to pick a dipping sauce, everything from their honey barbecue sauce to their Creamy Pepper sauce is up for the job. Even their Spicy Ketchup is a surprisingly good choice.
9. Whataburger
In the beginning, Whataburger was all about its eponymous burger. The Whataburger cost only 25 cents back in 1950 and was larger than the burgers sold by the competition (via AL.com). Nowadays, the Whataburger is still one of the most popular items on the menu.
If you don't customize it, this burger comes with a soft bun, a single beef patty, diced onions, lettuce, pickles, tomato, and mustard. You can opt to add American cheese to the Whataburger but you shouldn't get too adventurous with your customizations unless you know exactly what you're doing. Having just mustard on the burger may go against how you usually order a burger but it works amazingly well. A Whataburger without mustard loses a lot of what makes it so special, so proceed with caution.
Why isn't the Whataburger higher on this list? It's due to the size. Once upon a time, this was considered a large fast food burger. These days, it's on the small side.
8. Breakfast on a Bun
Whataburger's Breakfast on a Bun is another unique offering that you'll find at this fast food destination. It's not a complicated breakfast option but there's nothing else quite like it. If you've never tried one before, think of it as a Sausage McMuffin with Egg that has had its muffin replaced by a miniature hamburger bun.
The excellence of the Breakfast on a Bun begins with the bun. It's pillowy and buttery but also sturdy enough for you to eat this sandwich when you're on the go. If you're rushing to work and you only have one hand to eat with, this is a smart choice.
The standard Breakfast on a Bun comes with an egg, a slice of American cheese, and a breakfast sausage patty. If you wish, you can switch out the sausage patty for a couple of strips of bacon. Additionally, you can trade the American cheese for Swiss cheese or Monterey Jack cheese.
7. Avocado Bacon Burger
When it comes to combining memorable flavors and textures, it's difficult to beat Whataburger's Avocado Bacon Burger. This thing is even more glorious than it sounds, with so much going on that it's almost dizzying. That said, by the end of your meal, you'll only be thinking one thing: wow!
Like the Whataburger Patty Melt, the Avocado Bacon Burger uses Texas Toast for its bun. Inside, you'll find a beef patty, a slice of American cheese, three slices of bacon, diced onions, tomato, and avocado. This sandwich also features the same Creamy Pepper sauce found on the Whataburger Patty Melt. When you bite into it, the bacon, avocado, and Creamy Pepper sauce will all combine to blow your mind.
One day, hopefully, Whataburger will replace the avocado in this sandwich with genuine guacamole. If they ever do that, this bad boy will be even closer to the top of this ranking.
6. Chocolate Shake
Whataburger's luscious shakes somehow manage to fly beneath the radar. They're remarkably flavorful and among the best shakes you can find at any fast food eatery, yet they aren't talked about very often. Don't be one of those unfortunate individuals who miss the boat.
There are a few options when it comes to shakes at Whataburger. The three main flavors are chocolate, vanilla, and strawberry. each of which you can also get as malts. The chocolate shake or the chocolate malt is the tastiest option, though you can't go wrong with strawberry or vanilla either. You can order a shake as a dessert or replace your soda in your meal with a shake for a small charge. Either way, you'll feel like a bonafide winner.
In addition to the three main flavors, Whataburger also has other flavors you can find depending on the time of the year and location. In the past, those other flavors have included Dr. Pepper, Root Beer, and Salted Caramel.
5. Onion Rings
Like their shakes, Whataburger's onion rings aren't discussed too often in the outside world. But don't you dare ignore this French fries alternative. Whataburger has some of the very best onion rings you can find anywhere.
When you first grab one of their onion rings, you may worry that you've made a poor decision by subbing out the French fries due to the greasiness of these onion rings. Thankfully, once you put one of these onion rings to your lips, your nervousness will disappear and be replaced by unadulterated joy. Whether you eat them piping hot or all the way cooled down, their flavor is exquisite. Moreover, the greasiness just becomes part of their charm. By the time you have finished eating the onion rings, you will be licking your fingers until every last remnant is gone.
What's the best condiment for the onion rings at Whataburger? Either their Fancy Ketchup or Spicy Ketchup, of course!
4. Taquito with Cheese
Of all the Tex-Mex inspired menu items at Whataburger, the Taquito with Cheese reigns supreme. Very similar to a breakfast burrito, the standard Taquito with Cheese comes with eggs, American cheese, and bits of breakfast sausage. Besides sausage, you can also get this breakfast item with potato, bacon, or chorizo. All four options are excellent, so you can't go wrong.
If you want to try something that tastes as if it comes straight from Mexico, get your Taquito with Cheese with chorizo. Next, trade out the American cheese for shredded cheese. Last but not least, ask for your eggs to be done rancho picante style or rancho verde style. The rancho picante style adds red salsa to the eggs, while rancho verde adds green salsa. The red salsa is a bit spicier but they're both yummy. The resulting breakfast will be so scrumptious that you'll be bragging about it the rest of the day.
3. Sweet & Spicy Bacon Burger
The Sweet & Spicy Bacon Burger is like a workout for your tongue due to all the flavors at play. However, you don't need to go to the gym for this workout — just head to Whataburger. From the first bite to your final bite, there will never be a dull moment.
A large bun is the first piece of this culinary work of art. The Sweet & Spicy Bacon burger has a slice of American cheese and a slice of Monterey Jack cheese on top of two beef patties. It also has three slices of bacon, an ample amount of grilled onions, and mustard. Before this burger is served, the final piece of the puzzle is added: sweet & spicy sauce. This mix of brown sugar and cayenne pepper is mouthwateringly magnificent. When the flavor first hits, you'll think it's barbecue sauce, but the spicy aftertaste soon lets you know that it's something much more interesting and fun.
2. Double Meat Whataburger
If you find that the classic Whataburger isn't filling enough, the Double Meat Whataburger is the answer to your prayers. Compared to the original, this burger is heartier and fully capable of satiating just about any hunger.
Other than the extra patty, everything stays the same. The Double Meat Whataburger also features lettuce, tomato, onions, pickles, and mustard. That said, with two patties, the beef takes the center stage. When you bite into the classic Whataburger, most of the flavors — from the bun to the mustard to the beef — are balanced. This version is different but you're sure to enjoy it even more. Although the beef has a more prominent role, there are still enough complementary flavors to keep you on your toes.
If you're super hungry, you may be tempted by the Triple Meat Whataburger. Sadly, that's not a good idea because the balance of power shifts too far to the beef. Every bite will taste like pure beef instead of a well-thought-out burger. Plus, at 1,080 calories, 21 grams of saturated fat, and three grams of trans fat (via Insider), the Triple Meat Whataburger won't fit anyone's definition of a healthy choice.
1. Honey Butter Chicken Biscuit
Eating a Honey Butter Chicken Biscuit from Whataburger for the first time can be a life-altering experience — and that's not an exaggeration. After your first one, you may never want to start your morning with any other breakfast item. In fact, a pastor in Texas grew so fond of the Honey Butter Chicken Biscuit that he wrote a gospel song about it. This sandwich is also the main reason why Whataburger has one of the two best-rated breakfast menus of any fast food chain in the country.
This legendary Whataburger menu item has crispy chicken that gets bathed in a majestic pool of honey butter and then placed inside a biscuit. The recipe isn't groundbreaking but the flavor is utterly breathtaking.
To try the best item at Whataburger, what you need to keep in mind is that the Honey Butter Chicken Biscuit is on their breakfast menu, which means it's only available between 11:00 p.m to 11:00 a.m. After your first time eating it, you'll understand that it's unquestionably worth the extra effort.