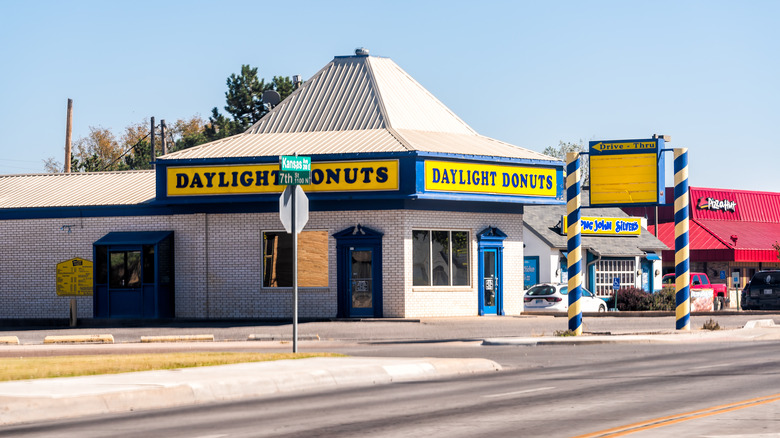 While Daylight Donuts may be a popular breakfast chain today, it comes from very humble beginnings. When founders Tommy and Lucille Day first began making and selling their very own donut mix, they didn't even have a brick-and-mortar location to serve as a home base for their budding new business, according to the Joplin Globe. Instead, they launched their new entrepreneurial endeavor, Daylight Donut Flour Company, from the trunk of a car.
Back in 1954, the Days realized they had come up with a new type of flour mix — one that was light, airy, and would create fluffier, better-tasting donuts. Every morning, the Days prepared and blended batches of their new flour mix recipe, bagged it, loaded it up into the back of their car, and then spent all their afternoons driving around Tulsa, Oklahoma, selling the donut mix to bakeries and pastry shops. That mix would become the foundation for what eventually morphed into Daylight Donuts.
Daylight Donuts takes its name from its founder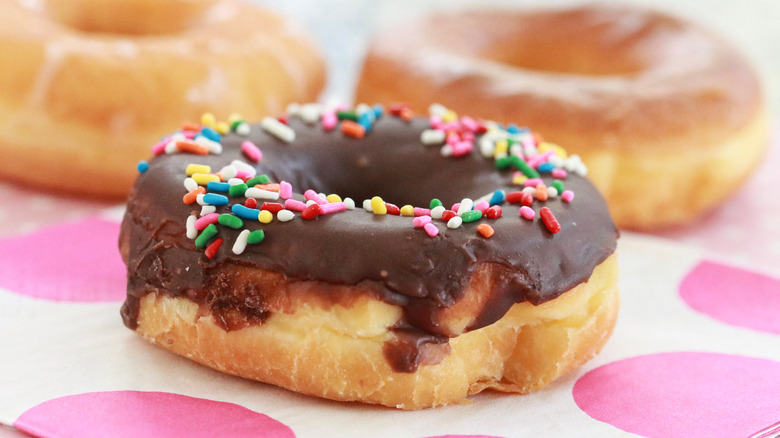 On September 22, 1954, Durard Pendergraft, a longtime friend of Tommy Day and one of his very first customers, opened up the world's first independently owned and operated Daylight Donut shop in Joplin, Missouri (via Joplin Globe). The flour company took its name from a combination of the founder's last name — Day — and the word light, which was meant to describe the light, airy new recipe they used that would set them apart from other donut shops, according to Tulsa World. Pendergraft added his own nickname, Dude, to the name, and Dude's Daylight Donuts was born.
"[Day] started out like I did; I didn't have anything to start out with and prayed every day that I didn't go under," Pendergraft told the Joplin Globe in 2016. "I knew if I worked at it, I could do it."
The chain would eventually take off, and even from the start, the entrepreneurs knew they found a great idea. "That night when we closed it up, we'd taken in a little over $50," Pendergraft continued. "And my wife, she said, 'Dude, we took in $50, we're rich!' That was a lot of money back in those days."
Daylight Donuts uses their own fleet of trucks
While it may not have been easy at first, the Day's donut mix business soon outgrew the trunk of their car. By the end of the 1950s, their business had expanded so much that they needed to move into a newly constructed 20,000 square foot facility and hire two employees to help keep up with the demand, according to Daylight Donuts. By the time Tommy and Lucille Day finally retired in the 1970s, their once-humble flour mix was now a runaway success.
By the time the Days retired, their company supplied over 200 independent donut shops with their specialty light donut mix across multiple states. In 1977, the Days turned the wheel of their booming Daylight Donut Flour Company over to another business-minded couple named Jerry and Linda Hull, who continued to work on expanding the company. Rather than selling their product store-to-store out of the back of a single car, the entrepreneurs began operating their own fleet of Daylight Donut trucks, which delivered supplies to hundreds of locations nationwide.
The Daylight Donut Flour Company made a major transformation in 2002
In 2002, the company changed hands again after it was purchased by another couple, John and Sheila Bond, per Tulsa World. John had begun working at Daylight Donut Flour Company as a sales rep in the 1980s, and by 1992, he had worked his way up to Chief Operations Officer. Ten years later, he bought the company from the Hulls with his wife Sheila, and the pair quickly began implementing new ideas and products to further grow the company.
Soon, they had expanded their operations into a brand new, state-of-the-art, 65,000 square foot manufacturing facility on Route 66 in Tulsa, Oklahoma. Under the leadership of John and Sheila Bond, the Daylight Donut Flour Company has expanded their offerings to include not just 17 different varieties of donuts, but just about every other item a restaurant chain needs to get and keep their Daylight Donuts shop up and running successfully.
Daylight Donuts has their own coffee
Daylight Donuts has found major success and their donuts sell at over 1,000 locations in over 13 countries, per Rutherford Weekly. Despite the growth, the brand makes sure to maintain their original entrepreneurial spirit. One of the main ways they do this is by ensuring that all of their chains are independently owned and operated, with every owner keeping all of the profits they earn from their own store, according to Daylight Donuts.
Today, the Daylight Donuts Flour Company produces around 230,000 pounds of donut mix every week, enough mix to make a whopping 2.5 million donuts, as the Joplin Globe reported. They haven't just stopped with donuts — they hit the perfect niche by offering up nice, hot cups of coffee. Daylight Donuts launched its own coffee label in 2003. Now, customers at each shop can also purchase a Daylight Donuts-label medium-roast coffee to go along with their light and fluffy donut in the morning.
The Daylight Donuts Flour Company provides shops with all their supplies
In addition to donuts and coffee, the Daylight Donuts Flour Company also provides a variety of toppings and fillings in just about every flavor imaginable, to make each of their donuts tasty, trendy, and unique. They also create the mix for a variety of other breakfast pastries, including their core menu items like raised donuts, cake donuts, cinnamon rolls, and sausage rolls, per Daylight Donuts. The company doesn't just stop with dishing out great food. They also provide all the necessary equipment required to keep the shop functioning, supplying everything from big items like display cases, to the smaller necessities like bags and paper cups, according to Tulsa World.
According to Daylight Donuts' History, the chain is now in its 67th year of operation and has over 430 licensed Daylight Donut shops spread throughout the United States with an average of 35 new independent locations popping up every year. The company continues to offer its customers the same delectable donut experience Tommy and Lucille Day first envisioned when they came up with their one-of-a-kind flour mix over half a century ago.