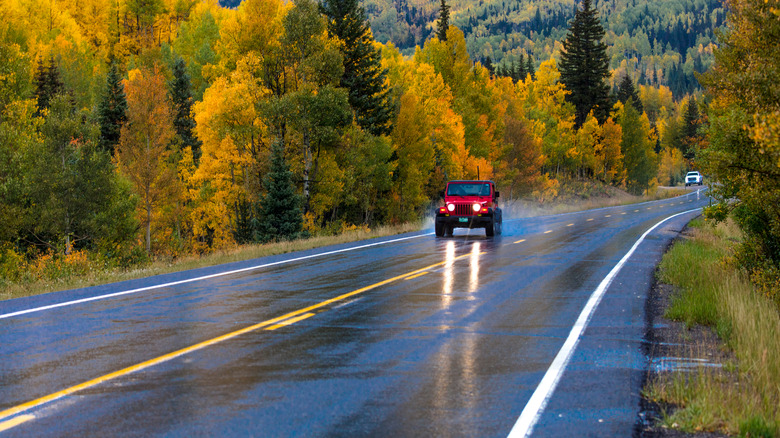 What is the most dangerous highway in America? That depends on the source and the latest data. According to ValuePenguin, it's I-5 in California. Or it could be I-4 in Florida, reports Teletrac. Or maybe it's U.S. 1 in Florida, according to Geotab. The United States has several highways that are treacherous to drive on due to outdated infrastructure, perilous road conditions, and heavy congestion, among other factors. Indeed, it's not really a contest about which one is the worst because there are so many that are perilous.
Highways or interstates are deemed dangerous or deadly due to the number of fatalities that occur in a particular stretch or time period. Some of these roads don't have very good lighting, so they can be difficult to travel on when it's dark. Others are located in cities or areas that draw a lot of drunk drivers who simply don't have the focus to drive as safely as sober people. Even more are situated on steep terrain without guardrails, so accidents, when they do occur, are more likely to be deadly.
Check out some of America's most dangerous roads below.
US Highway 1 in Florida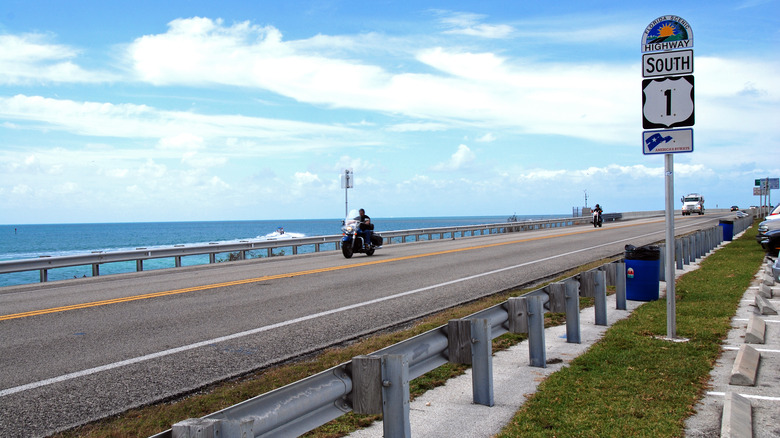 If you're traveling through Florida, you may want to be careful if you're driving on U.S. 1, which is located in the central part of the state along the east coast. This highway consists of 545 miles of roadway in Florida alone and goes through 13 counties, according to Orlando Weekly. In total, U.S Route 1 is 2,390 miles long and travels from Key West, Florida, to Fort Kent, Maine, by the Canadian border, according to Northern Door Inn.
In 2017, the Florida segment of U.S. 1 was considered "the most dangerous road in the country." According to vehicular data management company Geotab, the highway had a fatal crash rate of 2.8, which is higher than any other road in America. Between 2007 and 2017, it experienced 1,011 crashes and 1,079 fatalities. Geotab came to its conclusions by examining data from the National Highway Traffic Safety Administration. It also used information from the Federal Highway Administration and adjusted the number of fatalities by considering daily traffic flow.
Data from the Florida Department of Highway Safety and Motor Vehicles shows there were a total of 395,396 traffic crashes throughout the state and a total of 3,145 fatalities in 2016. This means approximately 34 percent of the fatalities occurred on U.S. 1.
US Highway 83 in Texas
They like to do everything big in Texas, including highways, which encompass about 700,000 miles, according to The Advocates Injury Attorneys. And driving along the state's interstate systems can be dangerous — it's not uncommon to see people stranded on the roadside next to their vehicles after an accident. One of its most hazardous highways is U.S. Highway 83, which the website dubs "The Road to Ruination."
U.S. Highway 83, which is also known as the Texas Vietnam Veterans Memorial Highway, reportedly has the second-highest fatal crash rate in America. Every year, there is an average of 26 fatal crashes on this road, and a vehicle-related fatality occurs once every two weeks. This particular highway travels from the Oklahoma state line to the border of Mexico, and it runs nearly 900 miles through Texas, so it's no surprise that so many crashes occur. It's the longest highway (not interstate) in the state and includes scenic river valley views and a variety of regional history museums, according to U.S. Route 83.com.
One point of interest is the Quanah Parker Trail, which pays tribute to the Comanche chief. The trail is marked by Quanah Parker arrows that line the highway and the Texas Panhandle.
Highway 431 in Alabama (aka the Highway To Hell)
In 2013, The World Health Organization (WHO) released its annual "Global status report on road safety" and included U.S. Highway 431 in its list of worst highways, according to Yellow Hammer News. The highway is 353 miles long and runs from the Alabama/Tennessee border to Dothan, Alabama. Oh, and its nickname is "Highway To Hell" (just like the famous AC/DC song). DrivingExperiences.com used data from the WHO study to create a "fear factor" scale of one to 10, giving U.S. 431 a four. The reason for the rating? Poor visibility, drivers traveling at high speeds, and quick two-to-four lane changes.
In 2013, there were 33,808 road fatalities in the United States, and U.S. 431 had the fourth-highest number in the country. When you travel on Highway 431, you will see numerous crosses erected in memory of those who died in vehicle crashes. But Alabama has not sat idly by — the state has been working on improvements since 2006 in order to make the highway safer for travelers. These improvements include widening dangerous sections of the road and expanding the patrols of state troopers. According to Reiff Law Firm, one particular section of Highway 431 that traveled from Pittsview to the border of Barbour County was so treacherous that it was bypassed in 2008. Notably, 31 people died on this stretch of the road because between 1992 and 2006.
Route 6 in Connecticut (aka Suicide 6)
If it has a nickname like "Suicide 6," you know the road is just a bit dangerous. Route 6 in Connecticut spans 117 miles and runs across the state from east to west, according to Reiff Law Firm. But only part of the route — the section from Bolton Notch to Willimantic — is known for its treacherous reputation. According to the Connecticut Department of Transportation, this stretch of the road is responsible for over 80 percent of all accidents on Route 6. In 1997 alone, there were 69 traffic crashes on this portion of the freeway, and the crash rate was so notable that it was featured on the NBC series "Dateline." The problem was that there were not enough shoulder areas on Route 6, and there were a lot of turns and speed limit changes that caused accidents.
According to Jonathan Perkins Injury Lawyers, 30 people died on Route 6 over 25 years, and this harrowing statistic led to its nickname. The state has tried to improve the road by widening it, flattening it, and straightening out sections; it also made clearer sightlines and added additional turn lanes. These safety enhancements appeared to work, and remarkably, there were no fatal crashes between 2017 and 2020. However, that changed in January 2021 when a fatal crash occurred, followed by another deadly accident less than two weeks later.
State Road 138 in California (aka Death Trap Highway)
It probably comes as no surprise that Los Angeles is the site of the highest rate of traffic fatalities in California. In 2019, 3,606 people died in motor vehicle accidents in California, according to the state's Office of Traffic Safety. Three years earlier, in 2016, that number was just a little bit higher at 3,623, and 790 of these deaths occurred in Los Angeles County, per Ellis Law Corporation. The problem is that these highways are very congested and feature less-than-ideal road conditions, sharp turns, tired truck drivers, distracted motorists, and impaired drivers — a deadly combination.
One of Southern California's most dangerous roads is State Road 138, which runs through part of Los Angeles and San Bernardino counties. The road is known for its steep mountainous terrain, sharp curves, and drop-offs. It's been dubbed "Death Trap Highway" and "Blood Alley" due to its large number of traffic-related deaths, according to the Reiff Law Firm. Even though it's only around 105-miles long, the highway has a dangerous reputation. One person wrote on Trip Advisor in 2019: "Was really gnarly when it goes to one lane, and there are no lights to provide much-needed safety. My wife was gripping my arm the entire drive."
Route 550 in Colorado (aka Million Dollar Highway)
Colorado's U.S. Route 550 is absolutely stunning, particularly in areas such as the Uncompahgre Gorge. But it's as dangerous as it is beautiful. Route 550 is known as the "Million Dollar Highway" because you would need to pay a local $1 million in order to drive on it during or following a snowstorm, according to Only In Your State. That should give you a little bit of an idea of why it's included on this list — the road is treacherous and has claimed many lives because of its steep cliffs.
Route 550 doesn't have any guardrails, so if you slip up, it could be a deadly mistake. It can be tough to resist this scenic highway because it's home to three 10,000-plus-foot mountain passes, according to USA Today. But you better be careful should you decide to travel on the 12-mile stretch of road south of Ouray if you're bound for Durango. The road was built in the late 1800s — it was hand-carved by Otto Mears, a Russian immigrant — and its steep, twisting cliffsides are no joke. It runs from central New Mexico up to western Colorado, and believe it or not, it's open to travelers during the winter.
Interstate 40 in Arizona
Arizona, also known as the Grand Canyon State, is stunning when it comes to its natural vistas. There are many excellent tourist attractions to visit, and they may require some interstate travel to reach them. The problem is that people are 33 percent more likely to get into a car accident involving a fatality in Arizona than in other parts of the country, according to The Advocates Injury Attorneys. That's why it's a good idea to be vigilant when you're traveling in this southwestern state.
Interstate 40 runs through the northern part of Arizona through Flagstaff and encompasses 359 miles. It's part of a larger interstate system that joins California to North Carolina, and this particular region of Arizona largely follows what you may know as Route 66 — one of America's most famous roads. These days, Interstate 40 is very busy and particularly popular in the summer, but it's dangerous in each state that it runs through.
At one point, over a span of four years, 220 fatalities occurred on this Arizona road. As a result, the state's Department of Transportation decided to include it in its Safety Corridor program to control the traffic and make it safer for travelers. The problem is that drivers have to deal with summer brush fires and winter snow and ice, as well as congestion and road conditions that require a lot of focus.
Interstate 80 in Wyoming
What's the deadliest highway in Wyoming? Interstate 80, according to fleet management firm Geotab (via Laramie Live). It's also the most dangerous highway in Nebraska and Iowa, so you probably want to be extra alert if you plan on using it. Wyoming's portion of the highway reportedly claims as many as 21 lives each year. The interstate runs from San Francisco, California, to across the middle of America to Teaneck, New Jersey. The Wyoming portion of the road traverses the southern section of the state through the following counties: Uinta, Sweetwater, Carbon, Albany, and Laramie.
The Wyoming portion of Interstate 80 is 403 miles. According to the Advocates Injury Attorneys, the problem with the road is that it can be treacherous in the winter, and there are many drunk drivers and a proliferation of semi-trucks that travel on its long, monotonous sections. While parts of it are scenic, it can be perilous if you're not careful behind the wheel.
Wyoming Public Radio reported that the Wyoming Department of Transportation found there were more than 2,600 crashes along the road between 2008 and 2018. In order to reduce the number of traffic crashes, the state's DOT decided to make some improvements by adding passing lanes and truck parking areas; construction was is expected to begin in 2021.
Interstate 40 in New Mexico
Interstate 40 is back with a vengeance, only this time it's the stretch in New Mexico that's the problem. As we noted previously, Geotab examined crash data from 2008 to 2017 from the National Highway Traffic Safety Administration. The company determined that New Mexico was the third-worst state in terms of crashes and fatalities. As for I-40 specifically, it experiences an average of 34 crashes annually, according to KRQE News. The interstate runs through the middle of New Mexico, including Albuquerque, per The Advocates Injury Attorneys.
The New Mexico portion is 373-miles long and is one of the busiest routes in America. Many commercial trucks travel on I-40, and it can get heavily congested at times. One portion northeast of downtown Albuquerque in which it connects with I-25 is particularly treacherous. Around 300,000 vehicles travel in this area — known as the "Big I" — each day. Car accidents are a common occurrence due to speeding, traffic, and distracted driving. It's worth noting that over one five-year period, the interstate saw 293 fatalities.
I-5 in California
California's I-5 is also quite dangerous. Between 2015 to 2019, there were 544 fatal crashes that resulted in 584 deaths, according to insurance company ValuePenguin. In other words, 107.4 people died for every 100 crashes. At almost 800-miles long, I-5 travels the length of the state. The most perilous portion is located in San Diego County, in which 110 people died in 99 fatal accidents. In addition, at least 50 people died after being involved in crashes in Los Angeles, Orange, San Joaquin, Kern, and Sacramento counties.
Other highways in the state are also quite treacherous. Route 49 saw 146.4 deaths per 100 fatal accidents during the same five-year period. However, Route 49 is still not as dangerous as I-5. Elsewhere, State Route 91 is a 59-mile road in the Los Angeles area, and 42 percent of fatal accidents involved impaired drivers in that five-year period. There were 36 fatal crashes involving alcohol, so in four out of 10 fatal crashes, alcohol was a factor.
I-4 in Florida
Florida is a tourist mecca, and many people drive there or rent cars to get from place to place. Plus, locals use the roads for both commuting and their daily errands. A 2021 study by Teletrac determined that Interstate 4 between Tampa and Daytona Beach was the deadliest portion of highway in America, according to Positively Osceola. Researchers looked at the number of deaths per mile, the typical time and day fatal accidents took place, and common causes for these crashes. The study found that Orlando was the deadliest city on I-4, which is about 132-miles long. Between 2016 and 2019, 150 people were involved in fatal car crashes, equaling about one death per mile.
However, officials from the Florida Department of Transportation called the study outdated, per WESH 2 News. They noted that there have been enhancements over the past few years, and more improvements are in progress. Meanwhile, the third deadliest highway on Teletrac's list was also in Florida: U.S. 192 between Four Corners and Indialantic. The study found 10 deaths on the road in the Kissimmee area. On the positive side, there's been a lot of construction on roads in central Florida, which are intended to decrease crashes and fatalities in Osceola County.
Interstate 45 in Texas
The COVID-19 pandemic hasn't been kind to motorists in Texas. In 2020, road rage increased dramatically, and car crashes increased by 9 percent, according to Houstonia magazine. While fewer people were on the roads during the pandemic, those who were appeared more likely to speed and drive recklessly. As a result, Texas experienced numerous fatal car crashes. In 2020 alone, there were 3,800 crashes — an increase of 200 over the previous year.
The most dangerous road in the state is I-45, which sees about 56.5 fatal accidents for every 100-mile stretch of highway. The Houston section of I-45 is particularly dangerous and saw 73 fatalities in 2019. To combat this problem, the state launched the North Houston Highway Improvement Project, which is designed to improve the region's infrastructure. Notably, the I-45 is one of the darkest highways in America, and it also has the highest rate of drunk-driving deaths.