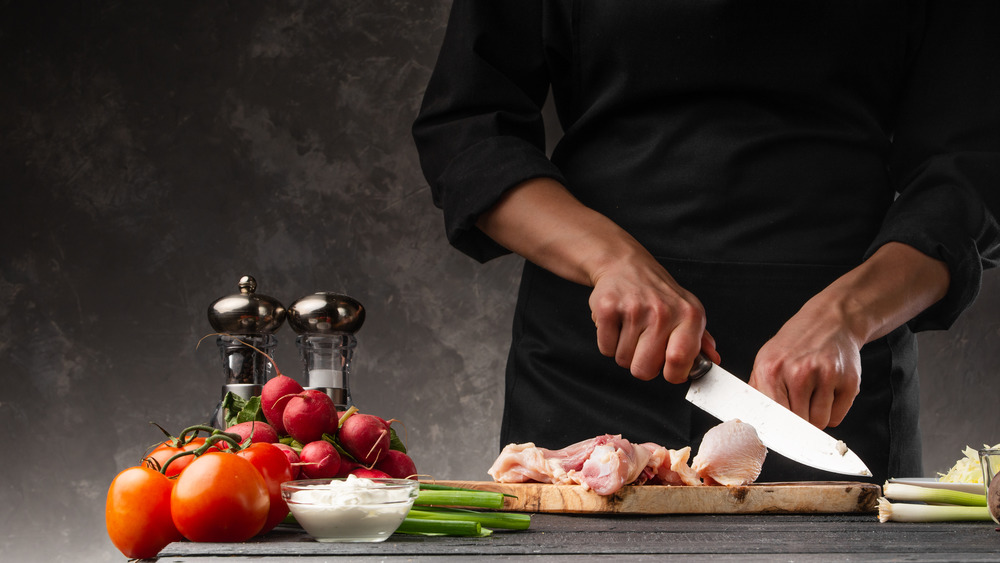 Chicken has been a staple protein for a long, long time — and fortunately, we've come a long way in figuring out creative ways to get it to the dinner table. It wasn't that long ago that Grandma might have been leaning heavy on the chicken-and-green-bean casserole and the old standby of roast chicken, and there's absolutely nothing wrong with either of those. They're still downright delicious, as a matter of fact! But let's be honest, there are so many more options out there.
Chicken is brilliant because it's so versatile, and it's well suited to being the star of all kinds of dishes with all kinds of flavor profiles, inspired by all kinds of cuisines. It's also handy to have around: It's easy to freeze into conveniently-sized portions, and we're huge fans of anything that makes cooking easier — because ultimately, that means it's more enjoyable.
So, let's get creative with chicken and talk about some new dishes to try, along with some ways to add a whole new element to old favorites.
Chicken Francese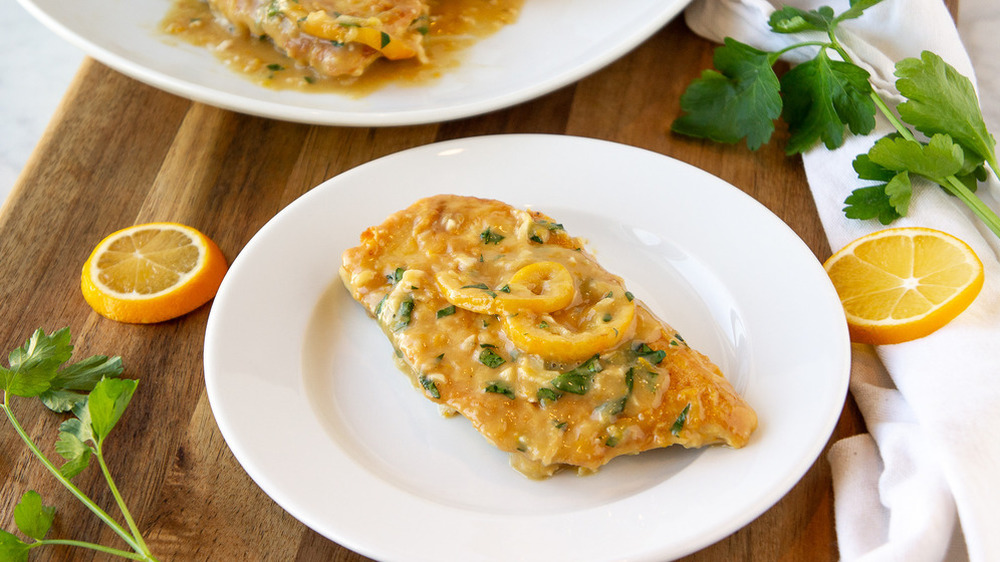 Chicken francese sounds fancy, but it's absolutely not: True, it's an Italian-inspired dish, which might make it seem like it should be even more complicated, but it only takes a handful of ingredients that you probably already have, and yes, one of them is wine. From start to finish, our chicken francese recipe helps guarantee you'll be done in just half an hour, though, and the light lemon-forward flavor makes this perfect for those nights where you're not feeling like having something too heavy. It's also complemented nicely by literally any side veggie, and in short, it's definitely going to end up being regularly requested.
Chicken stir fry
Chicken is great when it comes to all kinds of flavor profiles, and there's a reason it's so often used in Chinese-inspired cuisine — it's versatile and oh so delicious! Even if you have your standard go-to ideas, you'll want to check out our chicken stir fry recipe for some tips, including how to use up some of those veggies that you might not normally think of using in a stir fry. We're huge fans of no waste, and if you have the odd pepper, onion, a few carrots, or even a zucchini left over that you're not sure what to do with, well, it's stir fry night!
Jerk Chicken
Jerk chicken is a dish that comes to the US right from Jamaica, and for anyone who doesn't like their food too hot or too spicy, hearing that a recipe contains Scotch bonnet peppers might make it seem like a no-go. But we've totally got you covered with this recipe that makes Jerk chicken a little more accessible to palates that might not be ready for some extreme heat. We kept all of the flavor, while still using scotch bonnet sauce, to allow you to dial up — or tone down — the heat as you'd like, so go ahead and give it a try!
1-pan Tomato basil chicken
It doesn't matter how much you enjoy cooking — doing dishes afterward is the absolute worst. We're with you there, and that's why we love easy dinners like this one-pan tomato basil chicken and rice. That's right, all that in one pan! We won't give away too many secrets, but yes, after you sear off your chicken, everything else just goes in that one pan for minimal cleanup. There's more good news: If this Italian-inspired version is a win, we've also got a similar one-pan recipe for a dish that uses all Mexican flavors for a fast arroz con pollo, or chicken with rice, that's sure to wow.
Chicken casserole
Some days, you're just in the mood for some old-school, classic comfort food, and there are few dishes that say comfort food better than a chicken casserole. And here's the thing — just because it's an old favorite, that doesn't mean it has to be dry and boring. Check out our chicken casserole recipe for a dish that's hearty, filling, and covered in a delicious, creamy sauce. Bonus? It's great for hiding vegetables in, and any meal without arguing with the kids is a win, right?
Sweet and sour chicken
Pineapple might be a delicious snack when it's right out of the fridge, but warm pineapple can be pretty polarizing. Even if you're not a fan of it on a pizza, it's impossible to deny that sweet and sour chicken wouldn't be the same without it. It's a popular classic when it comes time to order take-out, but check out our recipe for a sweet and sour chicken that we'll stand by as being even better — and more affordable — than what you'd get delivered to your door. Plus, you get leftover pineapple for dessert!
Chicken & dumplings
It's not certain exactly how long people have been serving up the hot, hearty dish that is chicken and dumplings, but there's one thing that's agreed on: It's been on dinner tables for a long, long time. While that might mean it's one of those meals that has a reputation as being old-fashioned and not at all anywhere on your regular rotation, giving our chicken and dumplings recipe a try might just completely change your mind. These aren't your grandmother's chicken and dumplings, but follow our recipe and you'll definitely make her proud.
Stuffed chicken breast
Chicken breasts are delicious and super versatile, but if you've ever had complaints that they've just come out too dry, you're not alone. Fortunately, we have a great way to help make sure your chicken breasts come out moist and succulent, and that's by using our stuffed chicken breast recipe. Instead of relying on a sauce or gravy, this dish fills each breast with a cream cheese and veggie mix that will absolutely prevent any complaints. Goodbye, dry birds!
Chicken tikka masala
Indian take-away restaurants are wildly popular in the West, and especially in the UK, but fortunately, we also have a brilliant and easy recipe for one of the most popular dishes — chicken tikka masala.
Even though you can definitely adjust the amount of seasonings for spiciness, this dish isn't for unadventurous types. It's filled with spices like paprika, curry, cumin, and ginger, and for the real thing, you'll definitely want to use some hot peppers. The end result is a creamy, spicy chicken dish that will absolutely warm you up right, from head to toes.
Butter chicken
The name of our butter chicken recipe is a little deceiving, because while there is a dash of butter in there, it's actually so much more. Butter chicken is a mild but flavorful Indian dish that includes traditional seasonings like turmeric, cumin, and garam masala, but it goes easy on the heat and calls for just a dash of chili powder or sprinkling of jalapeno, if you're so inclined. Otherwise, just give it a skip for a creamy and mild chicken dish that's sure to be a favorite.
Chicken alfredo
Pasta night is great and all, but it can get a little repetitive — even when you swap out your usual garlic bread with some of those cheddar bay biscuits, which are nothing short of divine. What's the answer? How about changing it up a bit with our super easy chicken alfredo recipe? Sure, it's not going to be the healthiest meal you have all week (although it is possible to make this a vegan recipe with a few simple substitutions). But this oh-so-hearty, warm, and filling meal might be just what you didn't know you wanted, especially during those long, cold, winter nights.
Chicken tenders
Being an adult is overrated, and the worst might be the look you get when you order chicken tenders off the menu at any restaurant. We never understood the stigma: Sure, kids love them, but that's because they're amazing! They're crispy in all the right places, and moist where it counts. Plus, there's no end to the sauces!
If you're an adult who loves chicken tenders but are sick of the restaurant eye-rolls, we have you covered with our easy chicken tenders recipe that's going to be better than anything you're going to get from any restaurant. Pro tip? Make extra, and use them on a sub for the next day's lunch sandwiches or salads.
Sesame chicken
Sure, some nights you just want take-out. But what about those nights when you want all the fun and delicious flavor of take-out, but you'd still like to spend some time in the kitchen, cooking and catching up on the day's events with family over a drink or two? Look no further than our sesame chicken recipe. No, really — sesame chicken might seem daunting, with a whole laundry list of ingredients and more than a few steps, but it's really not. And our recipe comes together in just around an hour, and that's just enough time to work up that appetite.
Instant Pot chicken
Coming up with something good for dinner each and every day can be a real drag, but we have the perfect way to make that at least a little easier with Instant Pot chicken. Check out our recipe for the details, but the basics are that we're going to show you how to turn some boring old chicken into the basis for a delicious dinner. It'll only take around 10 minutes to do, and that'll give you plenty of time to figure out what else you're going to do with it. Whether you're serving it shredded with rice and vegetables or slathering on some BBQ sauce for sandwiches, it's a great place to start!
Baked/Buffalo chicken wings
Some of the best dinners are the ones that aren't boring, so how about whipping up a massive batch of wings and putting them on the table for everyone to share? Chicken wings are absolutely brilliant, and there's good news: you don't have to feel guilty about eating them, because there are definitely ways to make them so they're not as unhealthy as what you might order alongside a pizza. For starters, give our baked chicken wings a look — and yes, we know how to get them crispy! If you're feeling a bit more like a traditionalist, we've also got a great recipe for Buffalo wings — complete with bleu cheese dip.
Chicken piccata
What is chicken piccata? It's a noodle and chicken dish that's perfect for those nights when you're hungry… but not too hungry. Instead of hiding your chicken beneath a heavy sauce, this dish's white wine, lemon, and capers combine to make a sauce that accents the flavor of the chicken instead of hiding it, and it's an indulgent, elegant dish that won't leave you feeling like you overindulged at all.
Spicy chicken potstickers
We'd like to argue that a date night dinner doesn't have to just be about the eating, it can also be about sharing the meal prep — and a bottle of wine along the way. Sounds like more fun than sitting in front of the TV, right? We've even got the perfect recipe for socializing with our spicy chicken potstickers. Sure, it might take some time to prep the filling, make the dipping sauce, stuff the wonton wrappers, and fry them up, but that's part of the fun when you can share the process with someone special!
Chicken pot pie
Chicken pot pie might seem like one of those things that's easier to buy than it is to make, but gone are the days when you needed to make your own pie crust — and no, no one's going to judge you for using puff pastry, because that's exactly what our chicken pot pie recipe calls for. That makes it super simple, and then, add in the fact that this is a great way to use up those bags of vegetables that have just a little bit of bite left in them. We could all use more hearty yet easy recipes like this one, that's for sure.
1-pot chicken teriyaki
Having a busy few days doesn't mean you need to compromise and opt for something less-than-stellar for dinner. In fact, we'd argue that busy days are just when you need a good meal the most. We've got you covered with this 1-pot chicken teriyaki recipe: Not only does the single pan make cleanup a snap, even if you wait until the next morning to do it, but it only takes about 30 minutes to get a hot, flavorful and fresh meal on the table. Bonus? The leftovers will reheat well for an equally delicious lunch the next day.
Chicken thighs
What if we told you we had a yummy meat-and-potatoes dish that took just 10 minutes to prep, required only a single tray in the oven, and was guaranteed to win over even the most determined white meat fan? Well, we've got it in the form of this easy oven-baked chicken thighs recipe. Thighs can be tough if someone in your family isn't a fan of dark meat, but done right, they're oh-so-flavorful and delicious. This super simple yet elegant dish will absolutely prove it, and you don't even have to work hard to make it happen.
Chicken parm pasta
Sure, chicken parm is great, but it can be a pain in the backside to make. There's nothing more annoying than spending all that time cooking, only to have the breading fall off in the sauce, right? Well, we have a non-traditional fix for you in our one-pot chicken parm pasta recipe, and it'll capture the heart of a delicious chicken parm and none of the headache. We use bite-sized pieces of chicken covered in a scratch-made breading then piled on top of pasta and covered with parm. All the flavor with none of the mess!
Chicken paprikash
Social media and the internet have had far-reaching consequences on life in general, but let's talk about one of the best: access to recipes and ideas about food from different cultures. That's where our chicken paprikash comes in, and even though this hearty chicken stew hails from Hungary, you can easily make it in your own kitchen. You may need just one special ingredient — Hungarian paprika, which is stronger than regular paprika — but otherwise, there's nothing else that you don't already pick up on a standard shopping trip. It's just what you need to mix up dinnertime!
Orange chicken
It's safe to say that orange chicken is a fan favorite, whether it's from Panda Express or Trader Joe's. Now, it can be from your own kitchen, too, with a little guidance from our own orange chicken recipe. The secret? Fresh oranges, of course! That's the one thing you don't want to compromise on, after all — it's what gives orange chicken that distinctive mix of sweetness and zest, which comes from other traditional ingredients like soy and ginger. You might never order out for it again!
BBQ chicken
There are a few things that everyone should have a go-to recipe for, and it's entirely possible that this BBQ chicken recipe will be one of those staples for you. There's absolutely nothing you won't love, from the 5-minute prep time to the versatility when it comes to picking sides (literally — what do you have in the fridge?). It'll also be pretty much perfect no matter what kind of BBQ sauce you decide to use, and it doesn't get much easier — or better — than that!
Grilled chicken
Don't be alarmed by the two-hours-or-longer prep time on this: that's the hands-off marinating process. And trust us — it's a step you don't want to skip. If there's anything that makes the perfect summer day even better, it's firing up the grill and cooking in the great outdoors. Drying out chicken on the grill can be pretty easy to do, but this recipe for grilled chicken is going to help you avoid all the potential pitfalls. Moist, juicy chicken breasts, right off the grill and onto a paper plate, alongside some grilled corn and cold potato salad? Yes, please!