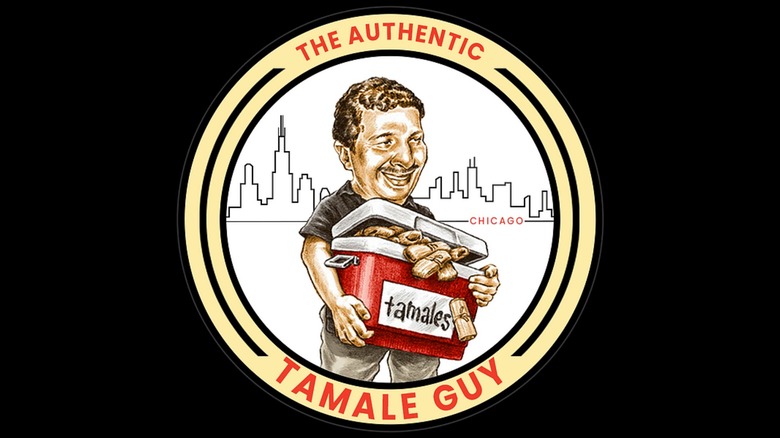 At just about midnight, you're out at the bars on a Saturday night, and you're starting to get a little hungry and tired. As the music and chatter of the bar surrounds you, maybe you worry about the hangover that looms in the coming morning. You're just about to tell your friends you have to head out to find some food, or even just go home to your welcoming bed — until a local legend arrives.
Anyone who's been out on the nightlife scene in Chicago will recognize his call of "Tamales, Tamales, jefe!" The Tamale Guy has been pleasantly surprising community members at bars, clubs, and concerts in need of a savory pick-me-up during their night out for over two decades. His name is Claudio Velez, and he is much beloved by the nightlife community in Chicago for his delicious plastic-bagged tamales, which he serves out of his signature red cooler (via The Tamale Guy). He makes his rounds on an unpublicized route, so his arrival is always a welcome surprise to his customers, some of who treat it like a scavenger hunt like in an Eater Chicago video. Some of his devoted fans follow his movements on a tamale tracker Twitter account to optimize their chances of snagging one of the scrumptious late-night snacks.
Whether you're one of his devoted fans or you're simply fascinated with the "Santa Claus for the drunk and hungry," read on to learn all about Chicago's Tamale Guy.
The origins of the Tamale Guy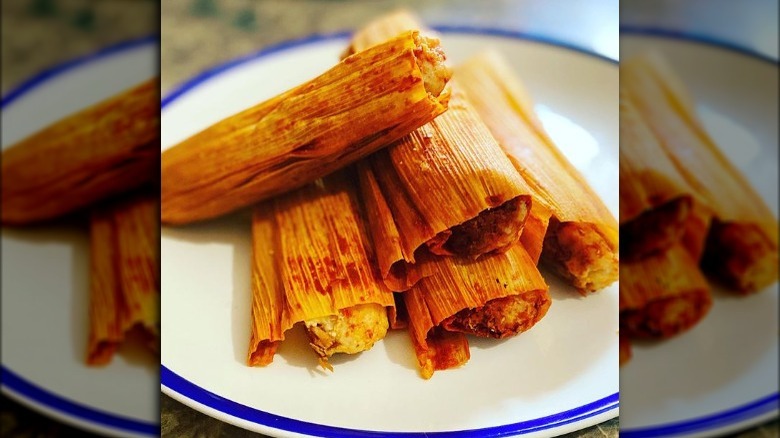 Now, he is celebrated by many who crave his meat and cheese filled corn husks and salsa verde, but the Tamale Guy started with a simple observation. Claudio Velez began selling tamales at bars around Chicago shortly after immigrating from Acapulco, Mexico. His co-workers at a home improvement store showed him around the city, giving him a tour of the local bar scene. Many of the bars didn't have kitchens, and customers were left with no choice but to leave earlier than they intended to, so they could grab some food after consuming a few drinks (via Eater).
Velez began selling tamales with his friend Fernando, who taught him the business of making the food and bringing them to bars around the city. Unfortunately, Fernando was injured during a car accident and was no longer a part of the operation. Velez continued with the enterprise, working with his sister and children to make the tamales during the day. On busy weekend nights, he would deliver 500 to 800 tamales to hungry customers at up to 50 different bars, spending as little as five minutes at each stop along the way (via Eater).
It was hard work, but loyal customers began to recognize him and were continually grateful for the tamales. This has brought Velez to legendary status around the city.
Tamale Guy during the pandemic
Just like so many businesses that serve food to the public, the Tamale Guy had to shift operations when the pandemic caused restrictions to change how people went about their lives. The bars where Claudio Velez typically sold his tamales were not open. Early in the pandemic, Velez began taking delivery orders via phone. He kept operations small and the phone number was circulated by word of mouth (via Eater).
Velez also sold tamales at West Loop Community Garden after Moshe Tamssot and his community organization True West Loop created an event to allow customers to support Velez. He was able to sell over $4,000 worth of food over two events before the city issued him a cease-and-desist letter for selling food without a permit. This led Velez to focus on access to a commercial kitchen and opening a restaurant, which was supported by a Go Fund Me fundraiser (via Eater).
During the pandemic, the Tamale Guy has continued to be valued by his fans, which has enabled him to keep selling his tamales.
Tamale Guy's new home base
The Tamale Guy has a new home base. After issues adjusting to pandemic operations and a difficult restaurant launch, Claudio Velez will be working out of the kitchen at Lone Wolf Tavern, a bar in the West Loop neighborhood of Chicago. The Chicago Tribune reports that the tamale takeover is a residency, not a permanent addition to the bar. Velez plans to make the tamales in its kitchen and provide Lone Wolf patrons with delicious food options from July 2021 until the end of the year. Velez has complete control over the Tamale Guy operations and brand and will have the option to renew the residency at Lone Wolf every six months.
While the tamales are available at Lone Wolf, Velez will also return to his nomadic ways, delivering the food to other bars around the city to delight his devoted fans as they return to the nightlife scene. This will be sure to satisfy everyone who associates Velez and his tamales with their favorite memories of going out in the city. Velez is also excited to return to his favorite part of the tamale business.
A special beer was inspired by the Tamale Guy
A local brewery in Chicago made a special limited-edition beer in honor of the Tamale Guy, and a portion of the proceeds were given directly to Claudio Velez and his family to support the business and his recovery from COVID. According to Time Out, the beer was made by Solemn Oath Brewing with the original intention of celebrating the opening of his restaurant.
The beer was inspired by Velez's favorite paleta flavor. A paleta is a Mexican popsicle typically sold by street vendors. Velez loves the mango-flavored variation of this icy treat, so the brewery based the beer's flavor profile on that and used strawberry, mango, and ancho chile flavors to create a unique pale ale. The beer is called El Rey de Tomal Pale Ale, a homage to Velez's stature as Chicago's tamale king. The hazy, fruity beer had an alcohol content of 5.5% ABV, was sold in October 2020, and delivered to beer and tamale fans around Chicago.
The bumpy path to a Tamale Guy restaurant
Claudio Velez had dreamed of opening his own restaurant and that dream came true, however briefly, last year. The Tamale Guy Chicago restaurant opened in summer 2020 in partnership between Velez and restaurateurs Pierre and Kristen Vega. After receiving a cease-and-desist letter from the city for selling tamales at a park during an event planned by True West Loop, a Go Fund Me fundraiser raised $28,000 to go toward Velez's own restaurant (via Eater).
Unfortunately, the business took a turn for the worse. First, Velez was hospitalized with a severe case of COVID-19. He thankfully recovered and told the Chicago Tribune in July 2021 that he is feeling "completamente great." The restaurant continued to operate while Velez was in the hospital.
After Velez returned to the business, the partnership came to an end with his lawsuit against the Vegas for excluding him from the operations and profits of the business while they utilized his likeness and recipes. The Vegas deny the claims. Velez says that he just wants to continue working, support his family, and provide tamales to the community bars (via Chicago Tribune).
Now, with the Tamale Guy operating out of the kitchen at Lone Wolf Tavern, he is able to do just that. His loyal customers and community are grateful he is able to continue sharing his tamales.