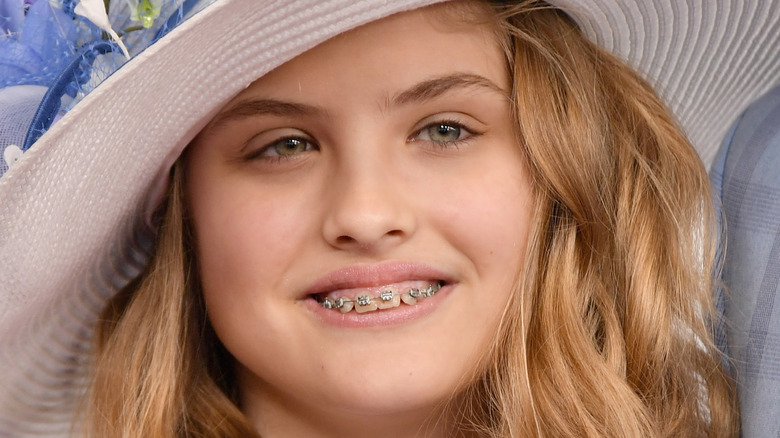 For a time, it was nearly impossible to go anywhere without hearing about Anna Nicole Smith's adventures; after rising to fame through her work for Guess and Playboy, the model, actress, and public figure became a pop culture mainstay once she married her husband, J. Howard Marshall, when he was 89 and she was only 26 years old. Her husband died after the two had just barely been married for a year, as noted by CNN.
Smith gave birth to her second child, daughter Dannielynn Birkhead, in 2006. As noted by CNN, Dannielynn's life was marked by confusion at first, as a paternity suit played out across the public stage, her older brother died only days after her birth, and her own mother passed away when she was still an infant.
Following her mother's death, Dannielynn began living with her father, Larry Birkhead. The two have lived a life that has been largely kept far away from Hollywood, though Anna Nicole Smith's daughter has made a few appearances here and there over the years.
Dannielynn Birkhead was born on September 7, 2006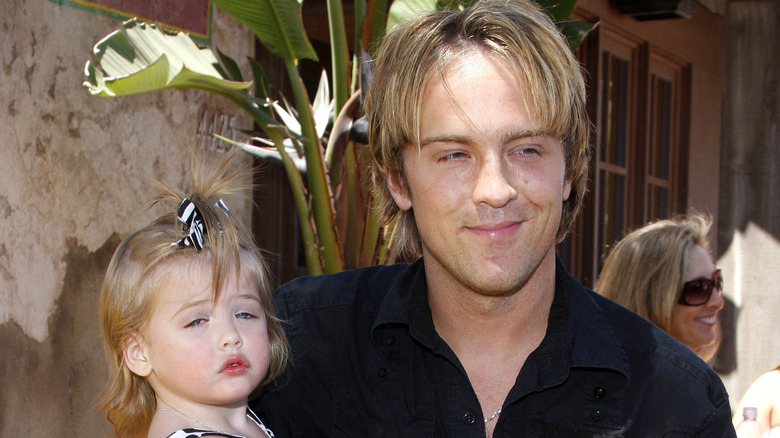 Dannielynn Birkhead was born at the Doctor's Hospital in the Bahamas, and the hospital announced that the healthy baby who weighed 6 pounds, 9 ounces, according to the Los Angeles Daily News. Sadly, Dannielynn was only a few days old when her older brother, Daniel, died. According to Cleveland 19 News, methadone and antidepressants Zoloft and Lexapro were found in his system.
Notably, Larry Birkhead later testified that Anna Nicole Smith had taken the drug methadone throughout her pregnancy, noting that the star was worried that if she quit completely, she would lose her pregnancy. As reported by the NY Daily News, he stated, "She said she was trying to cut down on the amounts but if she didn't take it she could go into shock and she could possibly lose the baby."
Despite those claims, it's clear that Smith was excited about her baby. She shared a clip on her website confirming the news, explaining (via Today), "Let me stop all the rumors. Yes, I am pregnant. I'm happy, I'm very very happy about it. Everything's goin' really, really good and I'll be checking in and out periodically on the Web and I'll let you see me as I'm growing."
If you or anyone you know is struggling with addiction issues, help is available. Visit the Substance Abuse and Mental Health Services Administration website or contact SAMHSA's National Helpline at 1-800-662-HELP (4357).
Anna Nicole Smith died when Dannielynn Birkhead was only five months old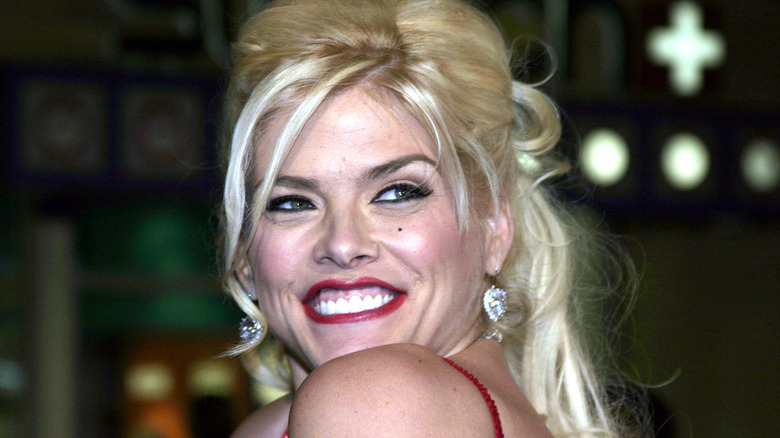 One of the saddest parts of Dannielynn Birkhead's otherwise sweet life is that her mother died when she was only five months old.
The last few days of Anna Nicole Smith's life have been described as miserable. As Today reported back in 2007, she endured a whole host of complications, including "stomach flu, a 105-degree fever, pungent sweating and an infection on her buttocks from repeated injections." It also seems that Smith was encouraged to go to the hospital in the days before she died, but she refused to do so.
Anna Nicole Smith's death was ultimately determined to be an accidental overdose, with Broward County Medical Examiner Dr. Joshua Perper positing that it was possible Smith was unaware of just how lethal the combination of drugs she had in her system was. He explained to the Associated Press that a trip to the hospital could have changed everything. He said (via Today), "If she would have gone to the hospital she wouldn't have died, because she wouldn't have had the opportunity to take the excessive amount of chloral hydrate."
There was a huge paternity dispute surrounding her birth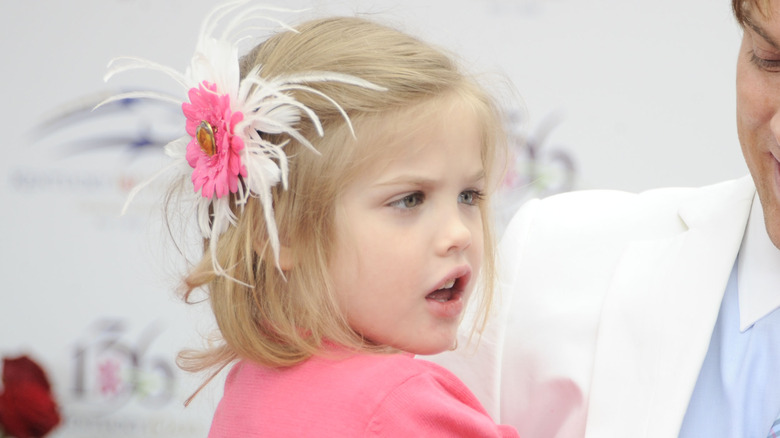 When Dannielynn Birkhead was born, her mother named her lawyer, Howard K. Stern, as her father on the birth certificate. The trouble was that this act was immediately contested by three other men: Larry Birkhead, Anna Nicole Smith's boyfriend; Alexander Denk, who served as Smith's bodyguard; and Prince Frederic von Anhalt, husband of Zsa Zsa Gabor, who claimed he had an affair with Smith for 10 years (per The Irish Examiner).
While Anhalt's claims were never verified, Denk appeared on "The Big Story with John Gibson" in February 2007 and explained his side of the story (via Fox News). "We were in a relationship. I knew Anna for five and a half years. We were intimate on and off for five years. I was not there 24 hours a day," he shared. Denk also insisted that Smith told him to "care for Dannielynn no matter what."
Larry Birkhead was named Dannielynn's father two months later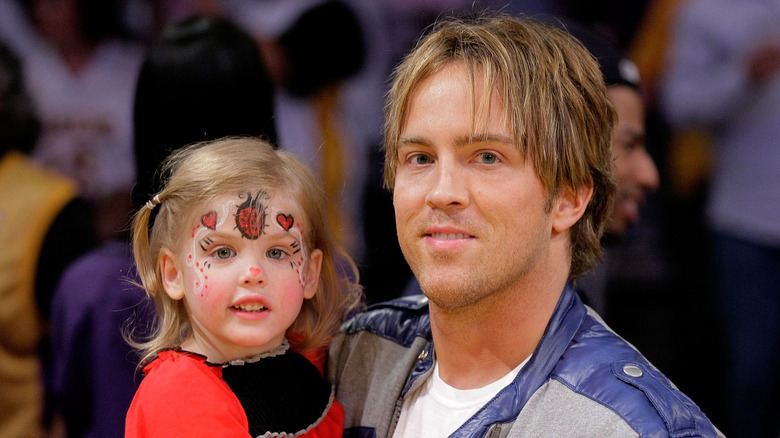 Ultimately, a paternity test revealed that Larry Birkhead was Dannielynn's biological father, and Anna Nicole Smith's daughter moved to his home when she was seven months old. Howard K. Stern said he would not fight for custody, and the two men were able to settle the issue generally peacefully, as noted by CNN. Stern, who had been listed on Dannielynn's birth certificate, told CNN that he would not fight him and that he would help "make sure" Birkhead had sole custody of the baby girl. "We're going to do what we can to make sure that the best interests of Dannielynn are carried out," he shared.
For his part, Birkhead was thrilled to receive the results he always knew were right. He triumphantly stated outside the court room, "Everybody, I hate to be the one to tell you this — but I told you so." From there, Birkhead began making preparations to bring his daughter home into his life.
Larry and Dannielynn Birkhead dropped out of the spotlight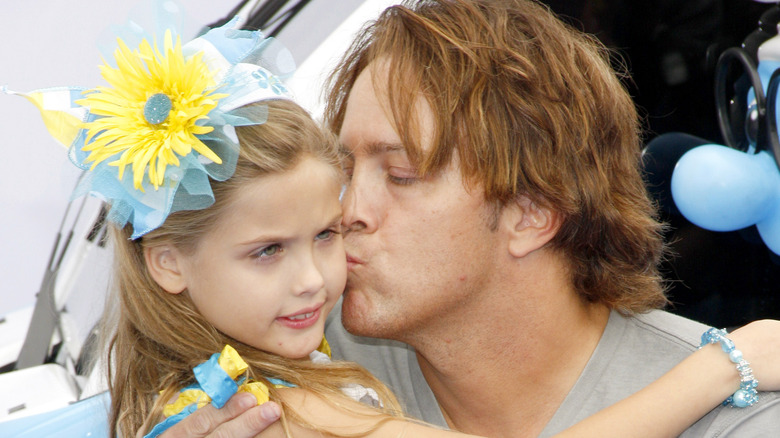 Most of us really didn't hear much from Larry and Dannielynn Birkhead in the first four or five years of her life. While Anna Nicole Smith was constantly pursued by the media in her life, it seems that many reporters and photographers might have decided to just leave the Birkheads alone.
It was a surprise when E! announced it was releasing a new special about the two in 2013, as the Daily Mail reported. In "Life After Anna Nicole: The Larry & Dannielynn Story," viewers were allowed to get a peek at the lives Larry and Dannielynn were leading in Louisville, Kentucky.
As seen in the special, Dannielynn is aware of who her mother was. Larry explained, "She knows that her mother is famous and that things would have turned out different if they could," noting, "Anna would be painting her fingernails, she would be taking her to buy dresses. And she would be doing all these things that I am happy to do, but obviously something she doesn't have."
Dannielynn Birkhead does not want to be famous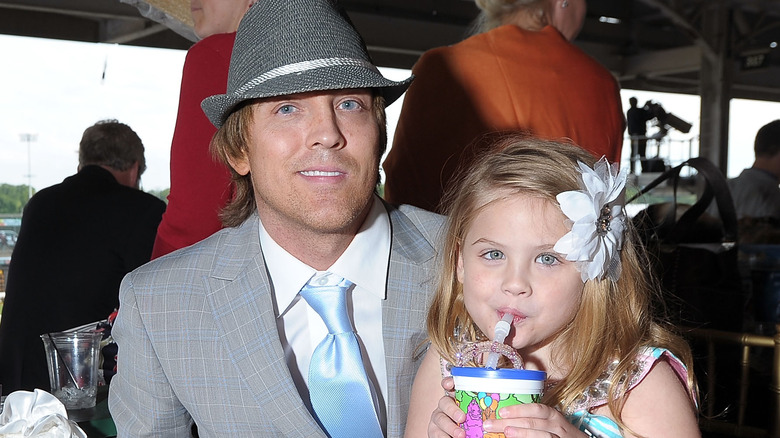 Larry and Dannielynn Birkhead resurfaced again a few years later in 2019. This time, Larry shared a photo of them attending the Kentucky Derby. Notably, he and Anna Nicole Smith first met the day before the Kentucky Derby years earlier (via ABC News). In the caption of the photo shared on Twitter, Larry wrote, "Kentucky Derby time once again. Dannielynn looks pretty in pink in her dress by Junona and her Mom's hat from her unforgettable appearance at The Kentucky Derby in 2004 #KentuckyDerby2019."
Larry still occasionally gives interviews, and he told "20/20" in 2017 that he is doing his best to let Dannielynn grow up with a normal childhood far from the forces that shaped her mother, reported by People. In part, that's because Dannielynn has no interest in becoming part of the entertainment world. "I've had companies call me … and ask for her to model, and that answer's no. She doesn't show any interest in it. She wants to be a kid," he shared.
Instead, Anna Nicole Smith's daughter gets to do what lots of other kids her age are doing. At the time, she was in Girl Scouts and was an avid user of Snapchat. Still, Dannielynn has expressed an interest in acting, according to an interview her father did with In Touch (via MEAWW), so maybe we will see in her in Hollywood one day, after all.
She chose to shoot one specific campaign to honor her mom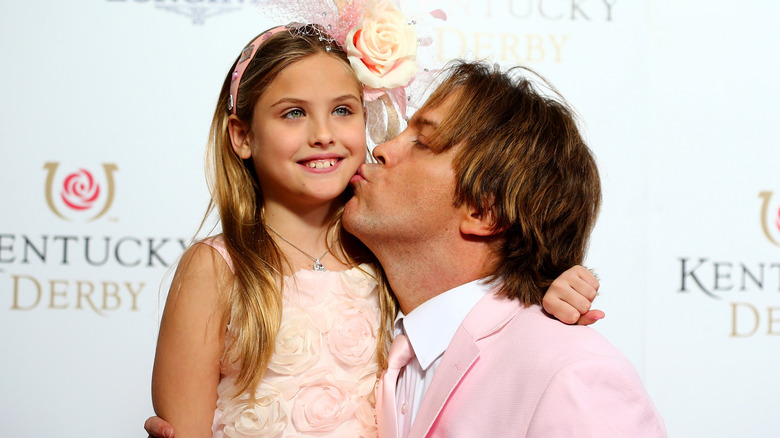 However, Dannielynn Birkhead did choose to participate in one special campaign in honor of her mom, Anna Nicole Smith. In 2012, she and her father traveled to New York so she could shoot a Guess Kids campaign to celebrate her mom's campaigns for Guess. As Larry Birkhead explained, this was one way Dannielynn could feel closer to her mother. "Dannielynn has always looked up to her mom's image and … I think that this is kind of Dannielynn's way of paying tribute to her mom in her own special way," he told "Good Morning America" (via Us Weekly).
Paul Marciano, the creative director for Guess, also spoke about the bittersweet opportunity, noting that Smith and her daughter definitely have something in common: "Dannielynn has the same playful spirit that her mother had on a set."
While the shoot was a wonderful thing to do, Dannielynn later commented that she's not comfortable with lots of people looking at her and said that seeing the giant billboard in Times Square was "weird," according to the Daily Mail.
It's unlikely Dannielynn Birkhead will inherit anything from her mother's husband's estate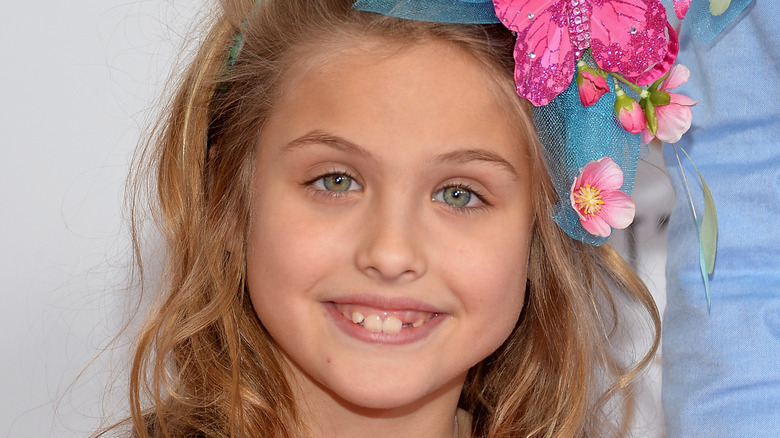 Anna Nicole Smith married J. Howard Marshall in 1994. The marriage was surprising for quite a few reasons, with the over 60-year age gap between the two being the biggest one. The two reportedly met at a Houston-area strip club where Smith worked and hit it off. While some didn't buy their love story, Larry Birkhead later told ABC News that he did.
"That was no act. She genuinely has some kind of a deep love for him," he said. "Now, I don't know if it was the kind of, you know, physical type of thing, but it was what he did for her and what he did for Daniel and that he changed her life."
After Marshall's death, Smith petitioned for part of his estate. The 2006 case ultimately concluded that Smith was entitled to be awarded money, though the court didn't go so far as to actually award her anything. When she died, Smith was still attempting to receive money from her husband's massive fortune, as Forbes noted (so Anna Nicole Smith's net worth at the time of her death might surprise you). Some believed that Dannielynn could stand to gain almost $50 million of the $1.6 billion Marshall was said to be worth, but a judge denied her claim in 2013.
Dannielynn Birkhead believes Anna Nicole Smith is with her all the time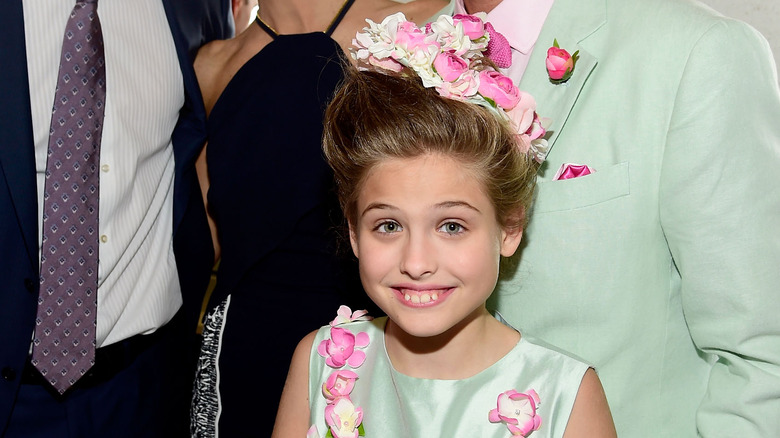 Dannielynn Birkhead hasn't spoken a lot about what it's been like to grow up without her mother, but when she does, it's clear that the young girl truly believes she and Anna Nicole Smith continue to share a tangible bond to this day. In the 2017 "20/20" interview that Dannielynn and Larry Birkhead participated in, her dad took a moment to share a heartfelt poem that the young girl wrote about her mother.
In the poem, Dannielynn noted that friends who knew and loved her mother have told her Smith would send her signs of her presence. "Ever since my mother's death, a friends of hers said she would send me pretty butterflies. So butterflies chase me everywhere, and I let the butterflies come out of my pencil and fly on my paper with their wings of love," Anna Nicole Smith's daughter wrote, as reported by the Daily Mail.
Dannielynn Birkhead would definitely love for Larry Birkhead to date celebrities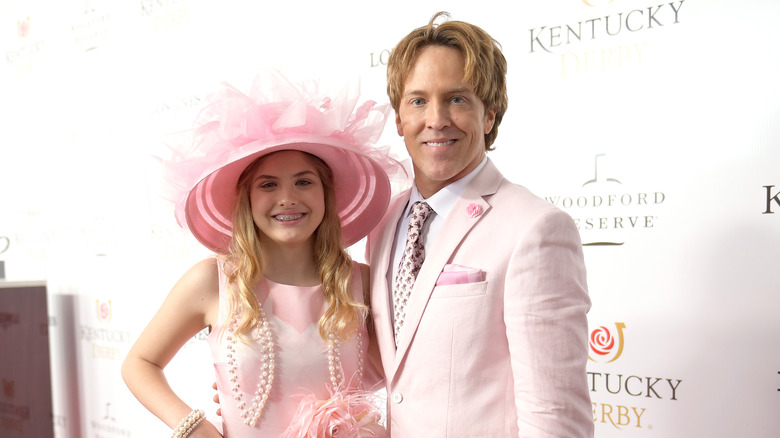 Even though Dannielynn Birkhead isn't interested in being in the spotlight herself, her dad, Larry Birkhead, has said that she would apparently love for him to date a celebrity or two. In an interview with Entertainment Tonight, Larry explained that, while Dannielynn doesn't want to talk about her life, she is more than happy to talk to her dad about his.
"We went to a swim party and it was a bunch of moms and I felt out of place, sitting there going, 'I can do this,' [while] they're all gossiping," he said. "Then Dannielynn comes over, takes my foot and slides it next to the mother's foot next to me. She says, 'Y'all need to get to know each other.'" He noted that his daughter encourages to get out in the dating scene.
But Dannielynn isn't only interested in local moms for her dad; she also spends time on the internet coming up with celebrities he could date. Her list includes Ariana Grande, Britney Spears, and Lady Gaga (via Entertainment Tonight).
Dannielynn Birkhead still celebrates her mom and her late brother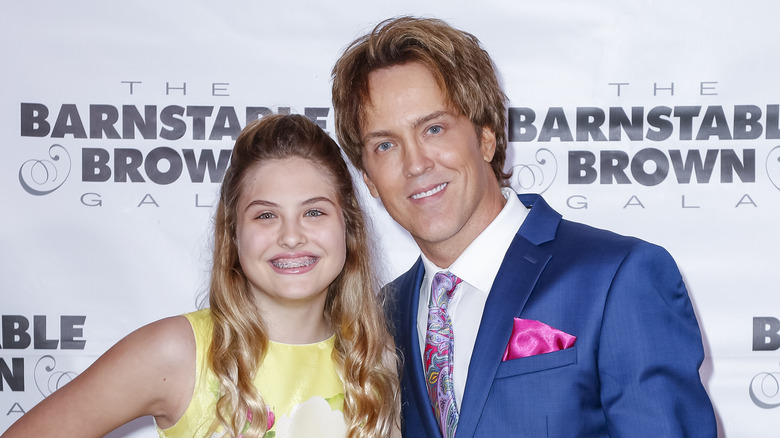 Though she lost both of them at too young an age and will never have the opportunity to have relationships with her mother or brother, Dannielynn Birkhead still finds ways to celebrate both of them as much as she can. In 2019, Larry Birkhead told the New Zealand Herald that Dannielynn is very aware of who her mother was.
"[Dannielynn] knows just really that her mom was famous and she knows about [Anna's late son] Daniel. I try to incorporate both of them because sometimes Daniel gets forgotten," he explained. Larry went on to add one particularly touching detail: He and Daniel have the same birthday. "We try to talk about him and I shared a birthday with him, so we always celebrated together," he said.
Ultimately, it's not clear what exactly the future will hold for Dannielynn Birkhead, but it is clear that she has already weathered a lot of tragedy with a stunning amount of grace.