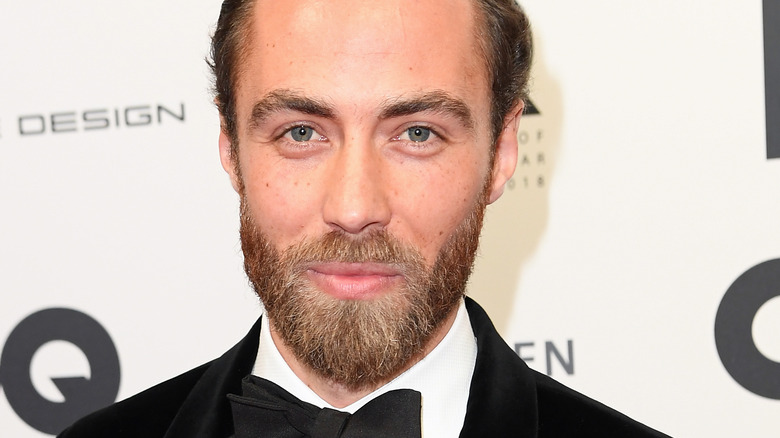 Once Kate Middleton snagged the heart of Prince William, she was thrust into the spotlight. Following the couple's nuptials, which made headlines as the royal wedding of the decade (at least, until sister-in-law Meghan Markle came along), the Duchess of Cambridge's younger sister, Pippa, also became the subject of public scrutiny. However, there is another Middleton sibling that not too many know about: brother James Middleton.
The youngest of the bunch, James was born in Reading, England on April 15, 1987, right before mom Carole launched her party supplies business, Party Pieces, which would make her and hubby Michael a ton of cash (via GQ). Although James grew up in the countryside, his family's money was soon be put to good use when he was sent to the prestigious St. Andrew's prep school. Soon after graduation, James began forging his own path.
From starting and closing businesses to being diagnosed with ADD and landing in numerous tabloids, James has had quite the life so far. Here's the untold truth of Kate Middleton's brother.
He's dyslexic and proud of it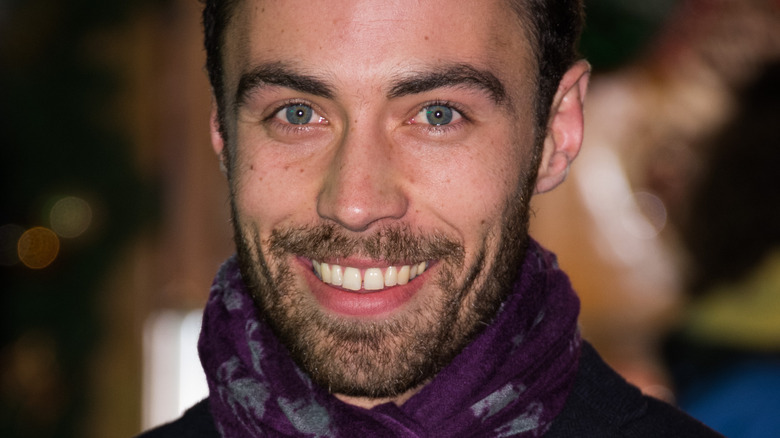 From a young age, James Middleton has struggled with dyslexia but he's never been shy about it. In 2012, Kate Middleton's brother, who was officially diagnosed at age 11 after taking a literacy test, helped raise awareness for the British Dyslexia Association. He also revealed (via the Daily Mail) that, growing up, there "was a certain amount of teasing, but I built up a bit of resilience and I was competent in other areas." He elaborated, "I was fine with numbers, but it took me a longer time to grasp simple things like spellings. I used to spell everything phonetically, or I would have little tricks for words I could not figure out."
He echoed the same sentiment in 2016, telling HK Magazine, "I'm very proudly dyslexic." Admitting that he was originally embarrassed by it, his perspective changed at age 17. "I think of it as more of a superpower," he told the mag. "Like if Harry Potter has his invisibility cloak, I have … dyslexia."
Noting that it may take him "a few different stops" to get from "A to B," he explained, "I've learned to use it as an advantage," adding that he considers himself "lucky" to have dyslexia. "You should be putting that on the first line of your CV," he said. "Then I know you've got a different and creative way of getting somewhere."
He dropped out of university
These days, Middleton is a proud entrepreneur who presumably has his parents' full support, but that wasn't always the case. In fact, he's been known to break the occasional rule and go against his parents' wishes … like when he opted out of university. "The biggest pressure I had from my family was to stay in university. I dropped out," he told HK Magazine in 2016. But he doesn't regret his decision. "I feel there are parts where I missed out, but I gained many other brilliant experiences," he said.
Before deciding to take on the business world, Middleton was studying environmental resources management at Edinburgh University, but he only lasted a year. "I knew that that mouthful of academic prescription was not going to do it for me," he told GQ. The reason? "Like lots of dyslexics, I am better at learning in a hands-on way and from my mistakes, not by being taught. My friends and family said I should stay [at university]: they said, 'Don't give up.' But I thought I wasn't dropping out but moving on, getting myself ready for the big wide world."
He's been photographed in the buff
Like his sisters, James Middleton isn't new to the tabloids, and he has had his share of coverage. In 2008, he was photographed urinating on a London street after celebrating his 21st birthday at Raffles nightclub. That same year, he was also caught wearing a French maid's outfit paired with fishnet stockings and fuchsia lipstick, as reported by GQ.
Following sister Kate's royal wedding, Middleton was snapped wearing traditional women's wear once more (this time it was a polka dot dress belonging to one of his sisters), and was also seen "reclining in an armchair completely naked" and "simulating sex with a male friend." Despite threatening to take legal action against outlets who published the images, Middleton has had no luck in having them removed for good. What's more, he became the butt of jokes when it was discovered that the lawyer demanding the snaps be taken down wasn't even a lawyer at all, but Middleton himself using the not-very-subtle email address james@nicelawyer.co.uk.
Having famous siblings can be 'frustrating'
Think constantly being asked about your celebrity siblings would eventually get to be a bit much? Well, so does James Middleton. As Us Weekly reported in 2015, Middleton admitted to TYD magazine, "Yes, it does get frustrating. I work incredibly hard — just like every other person in business and work and aside from the fact that yes, I am the brother of someone very important, I am, at the end of the day, just James."
And to him, his sisters will always be just Kate and Pippa. "I don't think of my sisters differently," he told HK Magazine. "They're still my sisters — sometimes really annoying, sometimes I love them to bits. They're nothing other than my sisters. All the childhood memories and future memories will never be different. They're just Pippa and Katherine and will always only ever be Pippa and Katherine."
Even so, he knows he can't escape the media. Speaking with the Daily Mail in 2016, he pointed out, "It's probably going to be the story of my life. [But] I am James Middleton. I am very proud to be 'the little brother of…' but, equally, they are proud that I am who I am."
He wants to be the 'cool uncle'
As much as he loves his sisters, James Middleton has a real soft spot for his sisters' kids. "I just want to be the best uncle possible," he told "Good Morning America" in 2014, following the birth of Prince William and Kate Middleton's first son, Prince George (via Us Weekly). "Like any uncle wants to be, I want to be the cool uncle. The fun uncle," he added.
Being a doting uncle has also had some surprising side effects, namely a positive impact on his business. Speaking with Hong Kong Tatler in 2016, Middleton admitted that his uncle duties have helped his business ventures because "being an uncle, I've got to be more creative with my gifts rather than just coming up with what I do at work. My family members are my guinea pigs … I get the most honest feedback from them."
He's got 'entrepreneurial spirit'
Ask James Middleton if he considers himself to be an entrepreneur and he'll be the first to tell you that heck yes he does. "I've definitely got the entrepreneurial spirit: unadulterated enthusiasm for what I do," he declared in an HK Magazine interview in 2016. "I wouldn't be doing anything else, despite sometimes working so hard — my longest shift was 42 hours, over Christmas," he boasted, making his dedication loud and clear. "It's hard work but it's such fun, and I wouldn't change it for the world."
After dropping out of university, Middleton founded The Cake Kit Company in September 2007, borrowing £11,000 from his uncle, taking out a traditional business bank loan, and using his parents' successful party-planning biz, Party Pieces, to sell upscale DIY cake kits. As GQ learned, he paid all that money back within a year and even won the Haines Watts Young Entrepreneur of the Year award in 2010.
He's selling photo marshmallows these days
Keeping on brand with his parents' party planning business and his former ventures, James Middleton founded yet another gifting-related company in 2013, this time focusing on personalized marshmallows. Called Boomf, the company lets you take any photos you like and print them on edible square-shaped marshmallows, "mallowpops," and chocolates. It also offers handmade bunting, confetti-filled birthday boxes, and more — all printed with the snaps of your choice.
Speaking with Hong Kong Tatler in 2016, three years after Boomf's founding, Middleton shared his inspiration: "Marshmallows are a very sociable type of confectionery." He noted, "You can always spot them at parties or special occasions."
What's more, he believes printing pictures is something we should all be doing more of. "We take thousands of photos every year and do almost nothing with them," he argued. "Having a physical presence of the moment — other than just posting it on social media — can really capture the emotion and not let it fade into a distant digital memory."
He won't let failure stop him
Following up his 2007 project, The Cake Kit Company, Middleton founded Nice Group London, an umbrella company encompassing subsidiaries Nice Cakes Ltd and Nice Wine Ltd. Unfortunately, as theDaily Mail reported in February 2015, these businesses did not prove to be lucrative, and Middleton ultimately decided to get rid of The Cake Kit Company, Nice Cakes, and Nice Wine. According to the publication, Nice Group London declared a loss of earnings for a third year in a row and the company only had £20 in its bank account.
Speaking with the outlet via email, Middleton clarified, "The Cake Kit Company is still selling but only business to business. The companies I've requested to be struck off have never traded." And he wasn't about to let a few bumps hold him back from achieving his goal of being a successful businessman. Looking to the future, he added, "My work focus at the moment is just on Boomf, which is proving to be a very excited [sic] business."
It took him a while to make his Instagram public
Despite being thrust into the limelight following sister Kate Middleton's wedding and sister Pippa Middleton's overnight fame, James Middleton managed to keep a large part of his life private over the years. But all of that changed when, seemingly out of the blue, he chose to make his Instagram account public at the start of January 2019. Numerous media outlets, including Time, immediately noticed and began reporting on the change, driving his number of followers way up to 130,000 by the end of the month. Unfortunately for royal buffs, neither Kate nor her husband, Prince William, have made any appearances at the time of this writing.
That being said, there are plenty of snaps of the hunky Brit shirtless, taking part in countless sports and outdoor activities, playing with cute dogs, and traveling around the world. Plus, there's also the occasional ad for his marshmallow business. What more could you ask for?
He loves dogs … like, a lot
Even the quickest visit to James Middleton's Instagram reveals that, while he may love many things, his dogs are his life. Scroll through his account and you'll find endless adorable photos of him posing with pups of various breeds and ages. In September 2017, he shared a snap of himself in a field, surrounded by nine dogs, which he dubbed "the ever growing pack," and it seems he does everything with them, from feeding them milk from a bottle to swimming and letting them ride shotgun in his car.
In December 2018, he even celebrated his dog Ella becoming a pet therapy dog. Sharing a snap of her in her blue and yellow vest, he wrote, "Animals can provide a sense of calm, comfort, or safety and divert attention away from a stressful situation and toward one that provides pleasure." He elaborated, "Advocates of animal-assisted therapy say that developing a bond with an animal can help people develop a better sense of self-worth and trust, stabilise their emotions, and improve their communication, self-regulation, and socialisation skills."
He noted, "I am a huge believer in this and Ella has done so much for me and we look forward to sharing the love."
His battle with depression
In January 2019, James Middleton made the brave decision to pen an op-ed piece for the Daily Mail in which he wrote candidly about his mental health struggles. Admitting to being diagnosed with attention deficit disorder (ADD) in 2018, Kate Middleton's brother remembered how, for years, he'd struggled to sleep. "A cacophony of imaginary noises rang in my head," he wrote. "It felt as if ten different radio stations were competing for airtime and the din was ceaseless and wearying."
He described feeling unable to communicate and feeling "despair," explaining, "All colour and emotion had leached out of my world and everything was grey and monotone." Turns out Middleton had been suffering from clinical depression since late 2016, as well as ADD, which he only learned after seeking professional help.
So why did he come forward with his story? Because of his family. "I feel compelled to talk about it openly because this is precisely what my brother-in-law Prince William, my sister Catherine and Prince Harry are advocating through their mental health charity Heads Together," he stated.