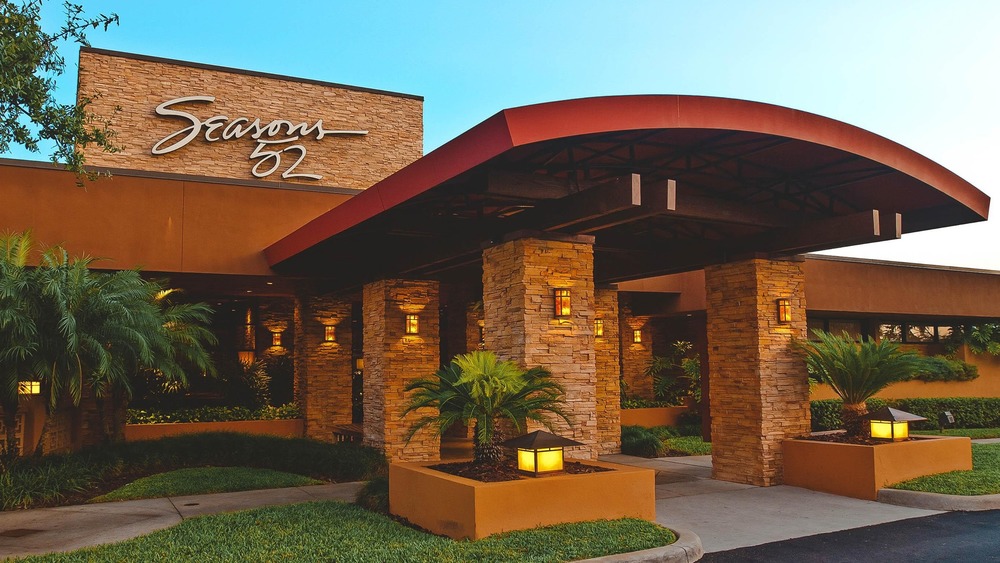 At Seasons 52, you can dine without the guilt of overindulging. The dishes are on the lighter side, and the dessert portions are unusually small. Owned by Darden Restaurants, Seasons 52 is essentially a fresh grill and bar that uses only the seasonal produce to create its floating menu. At any given time of the year, according to the chain's website, there are "over 50 varieties of vegetables, fruits, herbs and spices in our pantry and the latest catch from the sea on ice."
A lot of thought is put into the journey of the food, right from how it is sourced to how it is served. The scallops and the Florida stone crabs are caught in a sustainable fashion, making sure only the quantity that's necessary is caught. At the restaurant, water is served only upon request rather than to the entire table, an effort that helped the restaurant reduce the usage of water by 25 percent between 2008 and 2016. And it is for these reasons that consumers voted the chain as the Socially Responsible Restaurant of the year in 2016 at Technomic Inc.'s Chain Restaurant Consumers' Choice Awards.
Though it's a casual dining chain, it somehow doesn't seem to fit the definition because of its sophisticated provisions such as private dining rooms, valet parking, and a wall featuring wines from around the world. Here are some little known truths about the chain that lets seasons decide its menu.
Seasons 52 changes the menu 52 times a year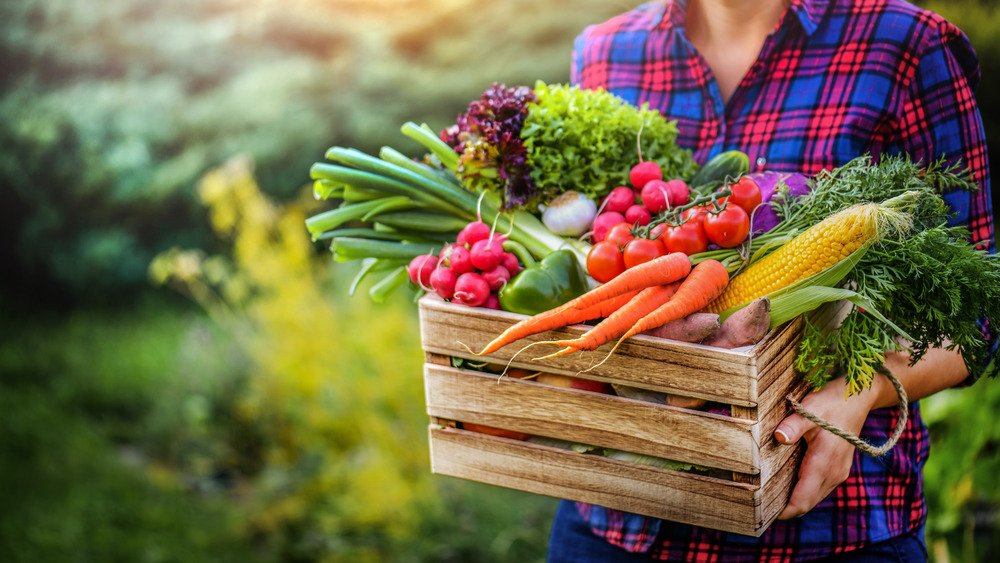 The restaurant may not have your favorite entrée all year round. But that's not such a bad thing. The wild Alaskan salmon, for example, is only available between late spring and late summer at the restaurant. And that's because that's the only window during which it is sustainably caught from the Copper River in Alaska. For the restaurant to serve it in any other season would mean compromising on the freshness of the salmon.
Use of fresh ingredients has been the chain's number one priority. "When Marvel-Striped tomatoes in Sonoma County are perfectly ripe in August; when Delta asparagus reaches its peak in Victoria Island in March; or when Copper River salmon runs for a few weeks in late May, that's when Seasons 52 will have them on its menu," Barry Moullet, the then-senior vice president of purchasing at Darden, had said before the opening of the first Seasons 52. The idea behind it: fresh veggies and seafood harvested at the right time would ensure great taste, even without flavor enhancers like fats and sauces.
While the menu largely changes every season, mild alterations are made on a week-to-week basis based on what's fresh. That way, one can say that the chain has 52 menus a year (hence the name). The summer menu features ingredients such as cherries and fresh figs, the fall menu includes pumpkin, Brussels sprouts, and mushrooms, and the winter menu features Florida stone crabs and Portuguese kale.
The first Seasons 52 started in Orlando's popular 'Restaurant Row'
Darden Restaurants owned around 1,200 restaurants, including Olive Garden, Red Lobster, Bahama Breeze, and Smokey Bones BBQ before it conceptualized the casually sophisticated grill and wine bar, Seasons 52, in 2003. The chain was born after Darden sensed a trend in which more and more people were being conscious about consuming fresh ingredients and taking a growing interest in food that was grilled instead of fried. To fill the void caused by this demand, Darden conceived a restaurant chain that would offer meals low on calories and made with seasonal produce, featuring a sophisticated atmosphere complete with an impressive list of wines.
When the first Seasons 52 opened on 7700 Sand Lake Road — part of Restaurant Row, which features the best of Orlando's eateries — it drew in customers who wanted a slightly more elegant experience, reports Orlando Sentinel. Though the sales at the eatery were ahead of its projections, after two years, there was still a lot of apprehension about whether it will turn out to be a success. It was nothing like Darden had attempted before.
Blaine Sweatt, president of new business development in Darden, told Orlando Sentinel in 2005, "Six, seven, or eight locations in different markets and trade areas will give us a good idea as to whether this has legs or not." The second Seasons 52 was launched in a mall at Fort Lauderdale, and the third near the Altamonte Mall, targeting middle income population.
Disney World's California Grill and Seasons 52 have a common link
When California Grill opened in 1995, Chef Clifford Pleau and Master Sommelier George Miliotes were part of the opening team. They worked on the menu and the wine list, and together, raised the restaurant to become one of the most popular eateries at Walt Disney World Resort. They were stars in their field. The reason California Grill is as popular as it is today, as mentioned in The Culinary Institute of America blog, is Chef Pleau. Nation's Restaurant News named him among the "Top 50 New Tastemakers," and The American Academy of Taste gave him the "Master of Taste" title. Meanwhile, Miliotes is among only 140 Master Sommeliers in the United States. This is a huge deal, for to become a Master Sommelier, one has to crack perhaps the hardest test in the world: The Court of Masters Sommelier exam.
"Pleau and Miliotes were such a successful team that Darden Restaurants, in 2002, lured them away to spearhead its yet-to-be-named new brand that would lift the company's reputation above Olive Garden and Red Lobster," reports Orlando-based food critic Scott Joseph. Pleau and Miliotes found themselves together again as the opening team for Seasons 52. Pleau and his colleague Toni Robertson designed the menu from scratch, and Miliotes brought his wine expertise to curate different wines that customers could ask for by the bottle at Seasons 52.
Seasons 52 offers wines that you can't get at a grocery store
It's hard to miss the big wall of shimmery wine bottles at a Seasons 52. The sheer size of it conveys that they take their wine very seriously. They offer over 52 wines by the glass. The list is curated by Brian Phillips, Director of Wine Strategy at Darden, who is on a constant lookout for new wines (in this pursuit, he has tasted 500 different wines in Napa Valley alone). Don't we love his job?
Thanks to all his travels, Seasons 52 has a curious "Drink them before they're famous" menu. Nice wording. Who could resist the opportunity to taste a soon-to-be-famous wine while it's still affordable? Wines from the Mendoza region of Argentina and the Jansz Tasmanian Sparkling Rose (via Gwinnett Daily Post) are some of the names that have made it to this list. And too bad if you crave for these wines outside the walls of Season 52, as you probably can't get them at your local grocery store. It's not surprising that 40 of the Seasons 52 restaurants have been given the Award of Excellence by the publication Wine Spectator.
Wine at Seasons 52 is also generously used in food. Their wood-grilled filet mignon is doused in red wine, the short ribs are cooked with wine, and wine is the main ingredient in the Artisan cheese fondue appetizer (via North State Journal).
Seasons 52 doesn't use butter or fryers in any of its locations
There is no complimentary bread, no French fries, and no butter. It might seem like a punishment to dine without any fried items, but the restaurant chain has been able to flourish sans a fryer. "Much of the menu is grilled — like cedar plank salmon — or roasted, like mesquite-roasted pork tenderloin," Atlanta Business Chronicle reports. There is no pizza either. Instead, they serve a variety of flatbreads topped with veggies and healthy proteins.
And every single dish — be it mac 'n cheese, truffled risotto, or steak salad — is less than 595 calories. In fact, when Chef Clifford Pleau and his colleague Chef Toni Robertson created the menu for Seasons 52 in 2003, they collaborated with nutritionist and author of Eat Well Live Well, Pamela Smith. The idea was to conceptualize dishes that brought out the freshness of all the ingredients and made for a nutritionally balanced diet, according to a report.
To achieve this, they decided to go with cooking methods that are more natural, like cooking over an open fire oak or mesquite grill or roasting on a stone hearth oven. The result was a light menu featuring grilled jumbo sea scallops, black mussels in an orange ginger broth, and grilled filet mignon.
Some Seasons 52 restaurants once featured piano bars
Seasons 52 was envisioned as a place where you could sip wine and enjoy live music. In the past, some Seasons 52 restaurants had a piano bar. In a 2014 report, CBS Philly ranked Seasons 52 among the top five piano bars in Philadelphia. Seasons 52 used to organize month-long music festivals featuring veteran musicians. For example, the King of Prussia, Pennsylvania, location featured live performances by pianists such as Scott Gurney and Mike Margarite, and Seasons 52 in South Coast Plaza, California, featured artists such as Nicholas Cole, one of the top 30 contestants in American Idol Season 4.
Piano bars are not a staple within Seasons 52's walls anymore, suggest several reviews by disappointed customers, on restaurant review platforms such as Yelp and TripAdvisor. The Seasons 52 restaurants at Coral Gables, Jacksonville and Altamonte Springs in Florida and Plano, Texas, no longer have a piano bar. Spencer Bates, a professional musician, who had played at Seasons 52 restaurants in North Bethesda and Tysons Center locations in Maryland for over five years confirmed on his official website that the company was re-branding and won't have piano bars in the locations that he used to perform at.
Seasons 52 in Los Angeles has an edible wall
In the chain's pursuit to use the freshest of produce in their dishes, they went ahead and created a whole wall of edible herbs. Think Asian jasmine, rosemary, mondo grass, lemon button ferns, and mint. The restaurant in LA, which was the chain's twenty-third location, features a 112-square-foot living wall with 125 types of herbs (via Greenroofs.com). It was envisioned by chef Clifford Pleau, the founding chef of Seasons 52, and created by Jim Mumford, a certified landscape professional and green roof professional, who is the founder of GreenScaped Buildings that specializes in living walls and green roofs.
The set up included a glass-enclosed environment with the necessary cooling system, temperature control, lighting, and water filtration set in place for the herbs to grow. And the edible wall was built right next to the chef's table, making it convenient for the chefs to pluck a herb or two to add to the drinks and dishes. The produce vendor for Seasons 52, the chef, the produce supplier, and the GreenScaped Building's maintenance team together decided on what kind of herbs are grown in the garden and what kind of maintenance was required for their sustenance.
Seasons 52 serves mini desserts in shot glasses
At Seasons 52, shot glasses have a different purpose than what you may be used to. They feature what Seasons 52 calls "mini indulgences." They include Belgian Chocolate S'more, Raspberry Chocolate Chip Cannoli, Pecan Pie, Key Lime Pie, and more, served in shot glasses. No problem doing "bottoms up" with these. Chef Clifford Pleau wanted to create desserts that were light on calories but, at the same time, used high-quality ingredients. Upon someone's suggestion, he decided to make the portions smaller, and the result was a pie-filled shot glass.
In order to decide on the flavors, Pleau went to a nearby grocery store and browsed through their bakery and dessert sections to see which were the most in demand. When it came to deciding on a way to present the desserts, he was inspired by a chandelier in a hotel lobby. Just how the chandeliers held the candles, he created a tower with holders that instead of candles held 18 mini desserts. (via Darden.com)
The yellowfin tuna served at Seasons 52 is responsibly sourced
Yellowfin tuna is sold worldwide and is often overexploited. So much so that even organizations like the World Wildlife Fund (WWF) have been working toward recovering the depleted tuna stock and raising awareness about sustainably-caught tuna, like the one in the Ahi Tuna Tartare that's served at Seasons 52.
At the chain, the yellowfin tuna are sourced through the Fishing and Living Program — a program launched by Anova Food to promote sustainable fisheries and support fishing communities. The fish are caught in the Coral Triangle (in the Western Pacific Ocean) using a sustainable fishing practice: the handline method (via Seasons 52).
Using this ancient technique, the fishermen manually catch one fish at a time using a line that's fitted with a hook and a bait in the end. This way, only the fish that is required is caught, and the rest of the marine life remains unaffected. This is a stark contrast to the industrial fishing method that uses large trawls to catch fish, and in the process, tends to trap sea turtles and dolphins.
Seasons 52 faced a lawsuit for age discrimination when hiring employees
As many as 254 candidates who applied for a job at Seasons 52 restaurants alleged that they faced age discrimination. They said that they were told by the eateries that they don't hire "old white guys," reports The Dallas Morning News. The US Equal Employment Opportunity Commission (EEOC) filed a lawsuit against the company for denying applicants aged over 40 years the opportunity to work in the chain's restaurants. As part of the litigation, many applicants wrote in their testimonies that during the job interview, the managers at Seasons 52 used age-related comments such as, "Seasons 52 hires young people" or, "We are really looking for someone younger," according to a report on EEOC website.
Darden Restaurants, which owns the chain, settled the federal lawsuit in 2018 for $2.85 million. Seasons 52, however, denied all allegations.
Besides Seasons 52, restaurant chains such as Texas Roadhouse and Ruby Tuesday have also come under the spotlight for denying jobs to applicants because of their age. Ageism, according to Jesse Newton, co-founder and vice-president of the Central Florida Restaurant Administration, does actually pervade in the food industry. Servers who are above 40 years of age said that they were criticized, intimidated, and harassed into quitting, as reported in Orlando Sentinel.
The interior is inspired by the architecture of Frank Lloyd Wright
Seasons 52 restaurants feature plenty of indoor plants inside. For example, the restaurant at Altamonte in Florida has a tall tree in the midst of the dining area. There are vases atop the bar counter near the entrance and in front of the open kitchen. They bring in an outdoorsy feel, which is aligned with the type of architecture that renowned American architect Frank Lloyd Wright practiced. He is known for designing prairie-style dwellings, a technique of designing that takes into account the surrounding environment (via The Spruce). And this prairie-style architecture is the inspiration behind the architecture of Seasons 52 restaurants that sport earthy colors and stone accents.
Inspired by Wright's style of organic architecture, the inside of the restaurants feature tall living plants. The restaurants also feature massive wine displays. In some locations such as Buford, Georgia, they form the center wall, while in Garden City, New York, the wine bottles are stored in custom-made wine cellars. Some restaurants use locally sourced natural wood for the interior design (via Gwinnett Daily Post).