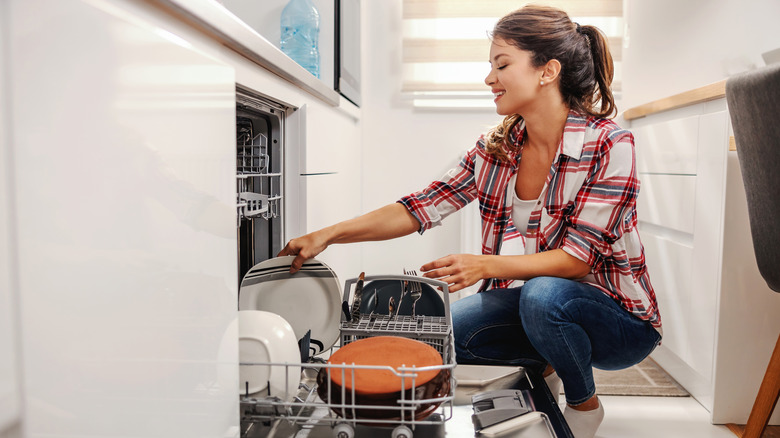 The kitchen's handiest appliance is undoubtedly the convenient dishwasher — along with the garbage disposal, of course. It helps us clean the dirtiest of dishes, whether it's after an exhilarating dinner party or after we've made three different meals for the night to satisfy each child's taste. We know that can be an unfortunate dinnertime scenario, but thanks to our dishwasher, it's a much easier task to handle! Contrary to popular belief, your dishwasher needs to be cleaned every now and again — even if hot, soapy water continuously passes through it — so that it can function correctly. Per Better Homes & Gardens, this is because residue, food scraps, and even cooking grease can be left behind, making this appliance have a foul smell. The outer section can get dirty too, since grimy fingers constantly touch it.
According to Country Living, you should clean your dishwasher at least once every month to keep it working as it should, while the buttons should be wiped down each week to keep germs and bacteria at bay.
1. Clean your plate … literally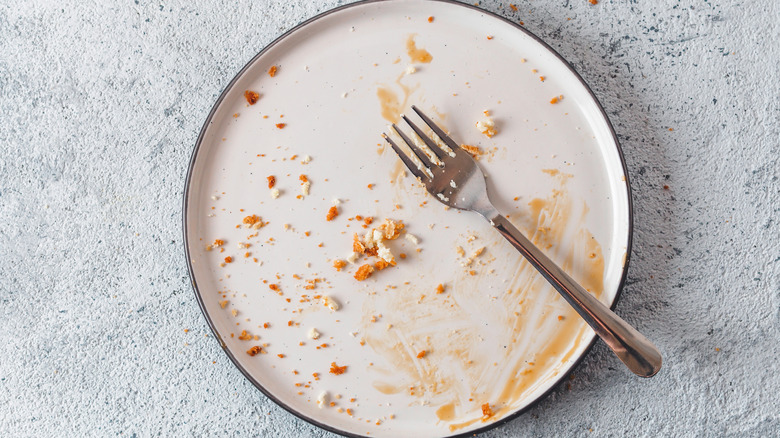 To keep food particles from getting inside your dishwasher, be sure to get all of the food off of your plate before you place it inside, via Good Housekeeping. The outlet notes that there's no need to rinse it off completely. The dishwasher is equipped to handle the job of cleaning your dishes to perfection, but scraping the food off of the plate can make a huge difference by keeping your dishwasher cleaner and food particles away!
Ashley Iredale, a whitegoods expert at consumer advocacy group CHOICE, advises against pre-washing your dishes to ABC Everyday, saying, "You may actually get worse results with your cleaning if you pre-rinse things than if you don't." If you're wondering why this is, the outlet explains that your dishwasher has sensors and knows if your dishes are filthy or if they need a light spritz cleaning, and then it works accordingly, so you might be doing yourself a disservice if you rinse them.
2. Clean with white vinegar
White vinegar is excellent to have on hand as it can clean just about anything, according to Healthline: it's a game-changer in the laundry room since it can replace your regular detergent, act as a stain fighter, and eliminate chemicals on clothing. It's a powerful tool for getting rid of stains in your toilet bowl, along with foul odors, too. Fortunately, it can also cleanse your dishwasher.
According to Architectural Digest, there's a way to clean your dishwasher with vinegar. First, the outlet suggests rounding up items including warm water, distilled white vinegar, baking soda, a toothpick, toothbrush, microfiber cloth, and rubber gloves. Next, the outlet suggests to remove the racks, the utensil holder, and the filter, which can soak in their own vinegar bath for up to half an hour. Now, take your toothbrush and toothpick and make sure to rid the dishwasher of any loose food particles. Then you pour your cup of white vinegar at the bottom of the appliance and run it on hot to loosen any leftover pieces of food or grime.
3. Use baking soda
According to Country Living, baking soda is suitable for getting rid of stubborn food residue. The outlet advises that you line the bottom of the dishwasher with up to 1 cup of baking soda. Then run the dishwasher on its hot cycle and do this as many times as needed until the foul odor or leftover stains are gone.
If that didn't do the trick, Country Living suggests making "baking soda bombs." To do this, they advise a mixture of 2 cups of the popular cleaning product baking soda, combined with 3 tablespoons of hydrogen peroxide. Then take a scoop with a spoon and let your slushy mixture dry by placing it on parchment paper. After a couple of hours, your bombs are ready to be used! PopSugar notes that waiting overnight for your bombs to be prepared is also an option. Then, place them in your unloaded dishwasher's bottom and run them on the hot cycle. If you really want to get rid of the smell, add a little essential oil to the mix. PopSugar suggests 10 to 20 drops of your favorite oils to have your dishwasher smelling divine in no time!
4. Clean with bleach, but use caution
Country Living warns to be careful with this method; however, it can be an excellent way to kill off bacteria or rid the dishwasher of mildew or mold. There is a caveat to pay attention to with this method: The outlet notes that if your dishwasher has any accessories on the inside that are made of stainless steel, don't use this option (instead, pick a different cleaning method, like one of the ones outlined above.) But if your accessories are made of plastic, go ahead and use a half cup of bleach and run the hot cycle of the dishwasher.
Hunker also approves of this method, but says to use powdered bleach where you would usually put your detergent, then run the appliance on as you usually would. After you have thoroughly completed the powdered bleach method, Hunker suggests the white vinegar method for one cycle so that your dishwasher is as clean as can be!
5. Clean the parts and accessories
Don't forget to clean your dishwasher's accessories, which can hang on to food particles and debris. Angi has an excellent tip: remove all accessories such as the utensil holder and rack and let those parts soak in a vinegar mixture in the sink for up to 30 minutes. To really get those parts clean, the site instructs to scrub it with a toothbrush, which is the perfect size to get into all of the little spots and crevices. After that, place them back in the dishwasher and run them on the hottest cycle.
Maytag also warns to ensure that your filter is cleaned as this can be the perfect spot for harboring food and other debris, including calcium deposits. First, they advise you to find your filter (some models have two, both upper and lower). Once you locate it, remove it and see if it just needs a good rinse or a little time to soak. If it needs a little scrub to remove excess food, a brush with soft bristles or a toothbrush can handle the job.
6. How to combat rust build-up or stains
If you locate rust on the inside of your dishwasher, there are generally a few culprits. According to GE Appliances, it can stem from the water supply or come from parts made of stainless steel. The company suggests using a citric acid crystals method which can gently remove the rust stains from the appliance by first placing as much as four ounces of the crystals where you would typically put the detergent, followed by running the dishwasher. Then they suggest doing another cycle with the detergent you usually use to remove any rust stains.
#CleanTok TikTok user Chantel Mila also uses half a lemon in the bottom of her dishwasher that's filled with dishes. Not only does it make dishes shine, but lemons are great for eliminating rust as well, according to the Daily Mail.
7. Here's how to clean your dishwasher door seals
Don't forget to clean the door seals of your dishwasher! According to The Maids, a nationwide cleaning service, the door seals of your dishwasher can hold onto food particles and other unsavory residues that can cause a foul odor to be emitted from your handy appliance. If left unchecked, the door seals can also harbor mold or mildew. The company suggests making a baking soda paste (just baking soda and water) and gently scrub it with a toothbrush. Not only can it clean the door seals, but it makes it smell great too!
AJ Madison, a home and kitchen appliances retailer, also advises cleaning your door seals. They suggest using a vinegar and water mixture and gently washing it with a paper towel or cloth. However, if you have stains, they also advise using the baking soda paste method, giving it a gentle scrub with a toothbrush or other soft bristle brush.
8. And lastly, wipe off that exterior door and keypad
Finally, the exterior door and keypad also should be cleaned to get rid of any bacteria, as well as loads of fingerprints. Better Homes & Gardens suggests using rubbing alcohol with a microfiber rag to free the door of prints. If you have a stainless steel dishwasher, Good Housekeeping says an excellent stainless steel cleaner such as Weiman Stainless Steal Cleaner and a variety of other cleaners can clean the exterior door and handles, making it free from fingerprints.
Apartment Therapy advises using products that work best for your particular dishwasher, so be sure to check any manuals. However, they say that a solution of vinegar and a citrus-based mix could be used to clean your exterior, depending on which kind of dishwasher you own. The outlet also gives their seal of approval on stainless steel cleaners for your dishwasher, if that's what you have!