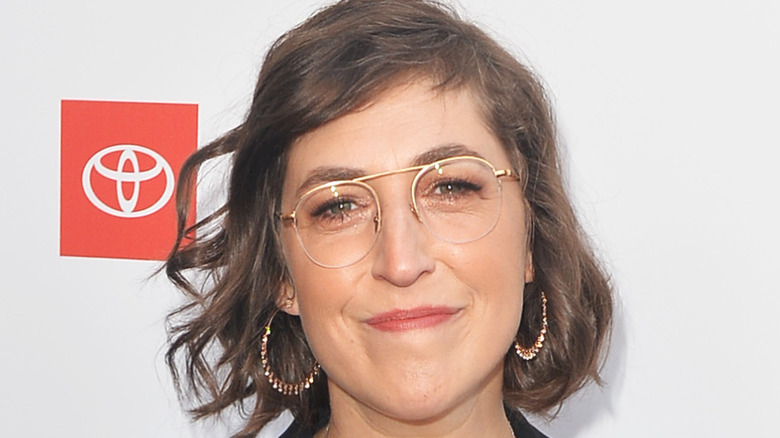 Talented actor, mother, and neuroscientist Mayim Bialik has officially been tapped as the guest host of America's popular game show, "Jeopardy!" for the next 15 episodes, as reported by CBS. The show's recent shakeup comes off the heels of newly appointed host Mike Richards stepping down as a result of his past inappropriate remarks about women coming to light. While Bialik had already been appointed to serve as the show's host for various prime time specials and spin-offs, this most recent announcement has generated a lot of buzz around the childhood star and the transformation she underwent right before the public's eyes.
But just how much has Bialik's life changed over the years? And how does someone like Bialik continue to re-invent herself over and over again whilst simultaneously crushing the notion that women (or anyone for that matter) cannot have it all? Keep reading after the jump to find out.
Mayim Bialik was just your average kid prior to acting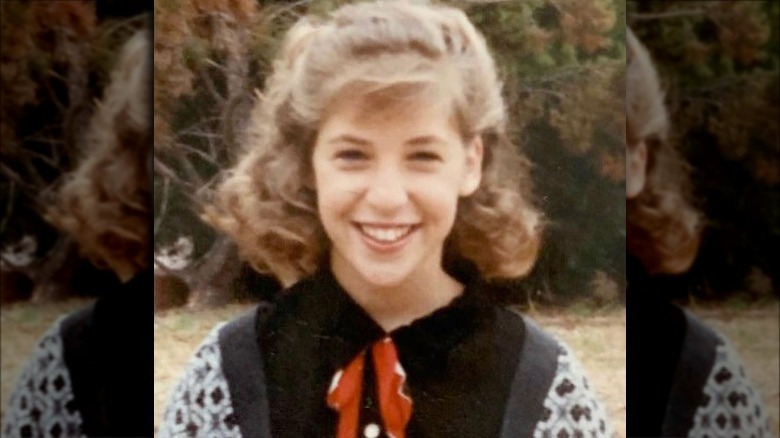 Some may be surprised to learn that Mayim Bialik's childhood was relatively normal prior to embarking on her acting career.
As reported by Biography, Bialik was born in California and raised to observe Reform Judaism — a Jewish denomination that seeks to be less legalistic and structured than its counterpart, Orthodox Judaism. "My parents were not at all observant; they raised me in a Reform congregation, which actually was a very positive experience. There were some remnants of my mom's Orthodoxy, but for the most part we were a traditional Reform family," she explained during an interview with The Jerusalem Post.
It wasn't too far into her life when a young Bialik was bit by the acting bug. According to Bialik, however, she never had ambitions of seriously pursuing a career in acting. Instead, it all happened rather organically. "I had no idea that I would have my own television show by the time I was 14. None of that was part of any grand plan at all," Bialik told Edge Magazine. "It really just happened very quickly. Once I got 'Beaches,' I felt like everything kind of free-fell, and all of a sudden I went from just being this kid who liked acting to a person with her own TV show."
Mayim Bialik is passionate about science
Mayim Bialik may be a bonafide star, but she's also deeply passionate about science. During an interview with Nova on PBS, Bialik confessed that she believes that her love of science is what kept her from making some of the same mistakes that other childhood stars were guilty of making. Bialik also revealed that it was her biology tutor on the set of "Blossom" that really helped instill the love of science deep within her.
"She was the first person I ever met who was a one-on-one female role model for me and I fell in love with science and wanted to pursue it," she explained during a 2015 interview with The Guardian. But Bialik admitted that her family's commitment to education also played an integral role in her pursuing higher eduction. "I am a second-generation American so I come from a family where college is really emphasized and I really just wanted to go — when 'Blossom' ended, that's exactly what I did."
Bialik went on to earn her doctorate in Neuroscience from University of California, Los Angeles, per PBS.
Mayim Bialik added 'wife' and 'mother' to her resume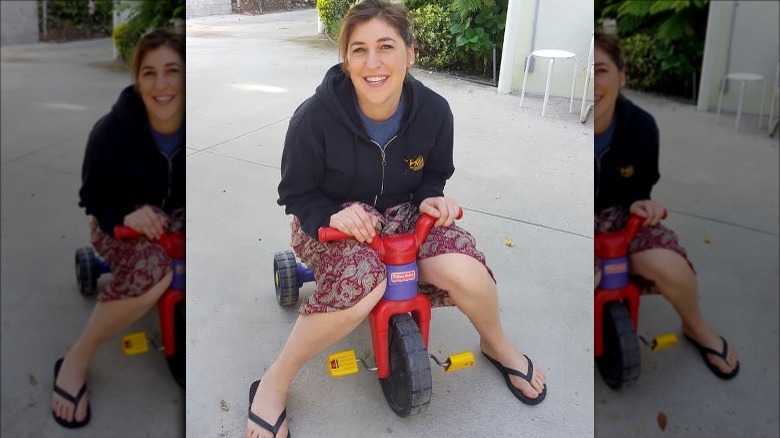 Don't get it twisted — it hasn't been all work and no play for the ultra-talented Mayim Bialik.
As reported by The New York Times, Bialik married Michael Stone in 2003 after meeting in a calculus class at the University of California, Los Angeles. The couple went on to have two sons, Miles and Frederick, before eventually calling it quits in 2012. Per ABC News, Bialik filed for divorce, citing "irreconcilable differences."
Fortunately, it appears both parties are committed to co-parenting. "The main priority for us now is to make the transition to two loving homes as smooth and painless as possible," Bialik penned in a statement on Kveller. "Our sons deserve parents committed to their growth and health and that's what we are focusing on," she continued.
On another occasion, Bialik discussed the importance of speaking kindly about her sons' father. "You know, I think a lot of people don't realize the impact of even subtle comments," she told Us Weekly in 2018. "I spend a lot of time building my ex up for my boys," she added.
Mayim Bialik became an accomplished author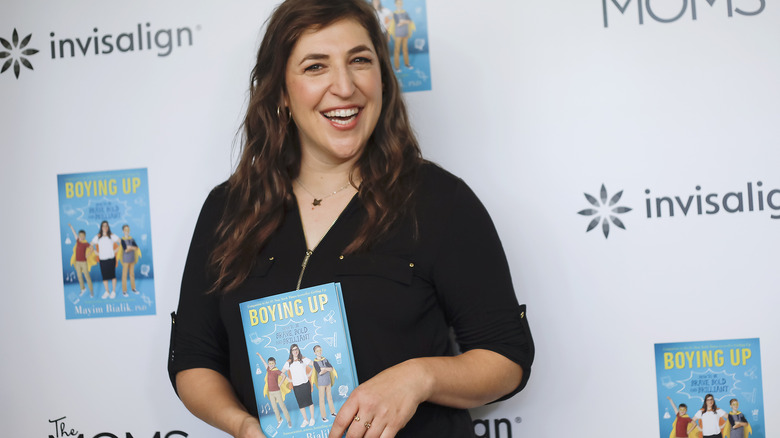 It's true that Mayim Bialik wears many hats, and she translated her "mom" title into several books.
According to Bialik, her passion for writing was inspired by the experiences she had after becoming a mother. "I think when I was a young mom a lot of moms were starting to write about their experiences and I wrote for a website called Kveller that really sought to bring a very honest voice to parenting, specifically Jewish parenting, but we covered all types," Bialik explained during a 2015 interview with The Guardian. "It sort of grew and grew and I've now launched my own website called GrokNation where I am able to write about a wider variety of topics and hopefully reach more people including more of 'The Big Bang Theory' audience," she added.
Bialik has penned several books, including "Beyond the Sling," "Mayim's Vegan Table," "Girling Up: How to Be Strong, Smart and Spectacular," and "Boying Up: How to Be Brave, Bold and Brilliant." Bravo!
Mayim Bialik returned to her thespian roots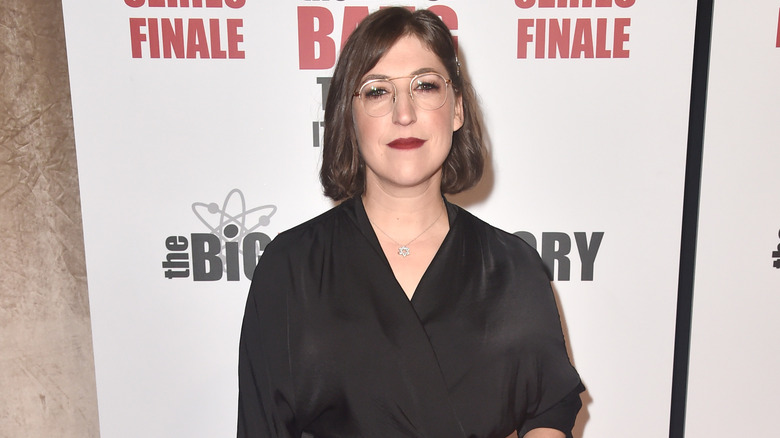 Alas, after receiving a hard-earned doctorate degree and even landing a job as a research professor before transitioning to motherhood, per Nature, Mayim Bialik eventually opted to return to her acting roots and took on the famous role of Dr. Amy Farrah Fowler on "The Big Bang Theory."
As reported by ABC News, her decision had less to do with her hankering for a spot back under the bright lights of Hollywood and more to do with a financial need: she and her family were running out of health insurance. "The true story is I was running out of health insurance and figured if I could even get a couple of acting jobs here and there, and if it's enough to get you your Screen Actors Guild Aftra health insurance, we would at least have insurance," Bialik confessed during an episode of ABC's "Popcorn With Peter Travers."
Still, it appears that decision had several benefits to it aside from the aforementioned health insurance. One of those benefits, perhaps, is getting to play a role that has striking similarities to Bialik in real life. "There are things she and I are similar in, the way we approach thinking and our appreciation for science," she explained to The Guardian about her role as Amy. While Bialik is a woman of many talents, it seems like she weaves them all together effortlessly.