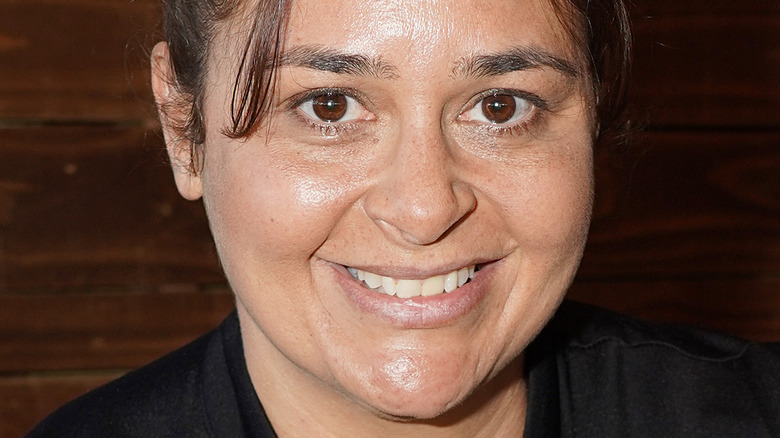 Located in Studio City, California, Antonia Lofaso's Black Market Liquor Bar has been serving American eclectic food and craft cocktails since 2011, per the bar's website. Opening the eatery wasn't Antonia Lofaso's first foray into running a kitchen. She had done just that at the erstwhile West Hollywood supper club, Foxtail, until it shuttered permanently, according to Harry and David. The new establishment marked a major step forward for Lofaso and possibly serves as one of the most significant contributions she made to America's culinary landscape.
The business' opening marked the very first time that Lofaso partnered with restaurant entrepreneurs Sal Aurora and Mario Guddemi. According to Dama, Lofaso, Aurora, and Guddemi continued to work together after establishing the eatery, and currently own and operate the Venice restaurant Scopa, the Latin-inspired Dama, and the Local Peasant (via Lofaso's website). The liquor bar served as a home for Lofaso and a place where she could express her culinary creativity with the freedom for which she had always longed. Although the chef has a long history of cooking alongside celebrities like Wolfgang Puck at Spago, Black Market Liquor Bar helped catalyze Lofaso's career as an executive chef.
Black Market Liquor Bar's executive chef is a full-fledged celebrity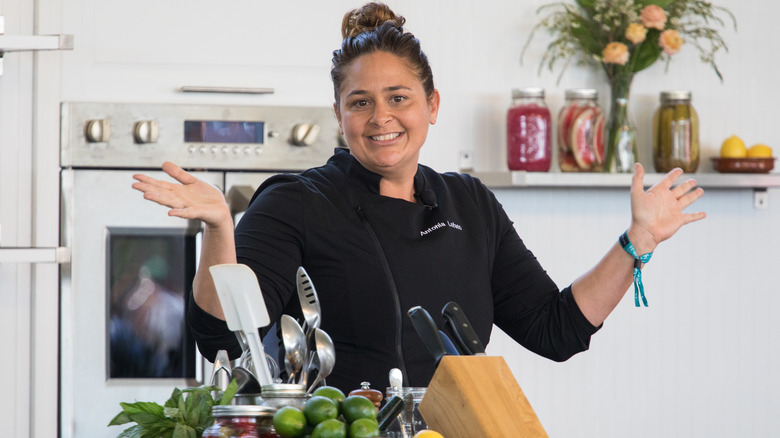 By the time Black Market Liquor Bar opened in 2011, Lofaso was a name that was already familiar to many foodies in the LA area, if not the country. As a graduate of the French Culinary Institute, the burgeoning chef had already spent years learning the restaurant ropes from a number of culinary legends, including six years of which were spent working at celebrity chef Wolfgang Puck's iconic Spago (via Lofaso's website). By 2011, Lofaso had already established a national name for herself and was well on the way to becoming the celebrity chef that she is today, thanks to her appearances on "Top Chef" in 2008 and "Top Chef: All Stars" during 2010 and 2011 (via IMDb).
Although Lofaso didn't win either "Top Chef" competition, Food Network audiences clearly loved her. This led to Lofaso continuing to make television appearances as either a competitor or a judge on an array of television cooking competitions throughout the years. Most recently, she's been even more prominently on the radar because of her friendship and working relationship with Guy Fieri, with whom she co-hosted the groundbreaking "Restaurant Reboot," per Extra.
Black Market Liquor Bar focuses on the alcohol
When Black Market Liquor Bar opened in 2011, the LA Times seemed to be pretty excited about it (via Los Angeles Times). The newspaper's enthusiasm for the restaurant was focused primarily on the big names who were going to be designing the craft cocktails and otherwise running the establishment. According to Antonia Lofaso's website, the publication was especially excited for Pablo Moix and Steve Livigni, who rounded out, "an all-star cast of bartenders and mixologists." Both Moix and Livigni came with their own respective impressive bar-and-mixology pedigrees, and Moix stuck around, continuing to work at Black Market Liquor Bar (via the restaurant's website).
The LA Times' enthusiasm didn't stop there, as they made a clear point of describing the food, noting that Lofaso was helming the kitchen. Looking back on it, the newspaper made the right call in praising the chef.
Lofaso found a spiritual home at Black Market Liquor Bar
Antonia Lofaso and her business partners have gone on to open a number of other restaurants in the LA area. However, Black Market Liquor Bar remains Lofaso's home base (via Antonia Lofaso's website). One reason Lofaso may feel such a connection to this business is that it was not only the restaurant that launched her other ventures but it also established a long-lasting collaboration with Sal Aurora and Mario Guddemi, who are now Lofaso's perennial business partners.
"In Black Market and the business partnerships she formed, Lofaso found a home," Lofaso's website explains. "This collaboration would foster the creative freedom [she] longed for." This benefits Black Market, which is known for its distinct flavor combinations, as well as for not being constrained to just one culinary tradition. So if you dine at Black Market Liquor Bar, don't be surprised if your menu choices include everything from Japanese shishito peppers, to Mexican chicken mole, as the LA Daily News pointed out.
The Black Market Liquor Bar opening was very difficult
Lofaso ended up opening Black Market Liquor Bar in spite of a major loss. According to LA Times, the establishment opened in July 2011, but just four months later, Antonia Lofaso's longtime partner and the father of her daughter died suddenly of a pulmonary embolism (via ABC News). With just a few weeks until she would turn 35 years old, Lofaso now had to face a whole new reality, per Harry and David.
Live Ramp Up states that Lofaso had been involved in a decade-long relationship with the rapper Dwight Errington Myers, who went by the name Heavy D, according to Nikki on the Daily. Myers' influence was instrumental in helping Lofaso take her passion for cooking to the next level by turning it into a career, helping her become Black Market's executive chef.
Black Market Liquor Bar took on an important role during the pandemic
Soon after the first major pandemic-related lockdown was declared in the U.S., people began losing their jobs. According to USA Today, few industries were hit quite as hard as the restaurant industry. These businesses had to close or let go of most of their employees in order to pivot to a take-out and delivery-only model. Lofaso handled the situation differently at Black Market Liquor Bar. "Whereas a lot of people were shell-shocked by what was happening, that didn't happen to us," Lofaso told Mashed during an exclusive interview.
"My business partners, Mario Guddemi, Sal Aurora, and Pablo Moix, and I — we decided to shutter DAMA because DAMA's kind of in the middle of nowhere in downtown L.A., and it had only been open two years at the time," Lofaso continued. "Scopa was open seven. Black Market was open almost 10. We're like, 'let's just focus all of our salaried employees there.'" In addition, Black Market became a place where people could find prepared food and various groceries and helped cater to a community in need.