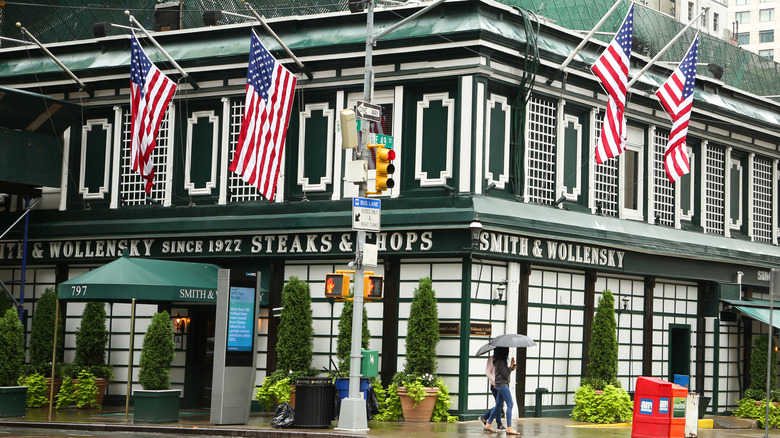 If you've never heard of Smith & Wollensky, then it's time to get yourself to the nearest major city and order a proper steak from this national steakhouse chain. Founded by restauranteur and business mogul Alan Stillman in the '70s, Smith & Wollensky has become a New York City institution and an international success. But, after all, what else would you expect from the creator of TGI Fridays?
The huge dining area and candlelit tables of this place may not seem particularly unique when it comes to steakhouse vibes, but the truth is that Smith & Wollensky was one of the first upscale steakhouses to open in the United States. Furthermore, the quality of the meat isn't something you'll find at just any restaurant, much less one with fancy leather-clad seats in the booths. Smith & Wollensky serves prime beef that's been aged slowly in-house — all that extra room just means more space to store several tons of meat.
Recently acquired by an international restaurant group called Danu, it's clear that this restaurant and its owners plan to continue growing in the coming years, bringing American steakhouses to every corner of the country and beyond. This is the untold truth of Smith & Wollensky.
When it opened in 1977, steakhouses were marketed toward men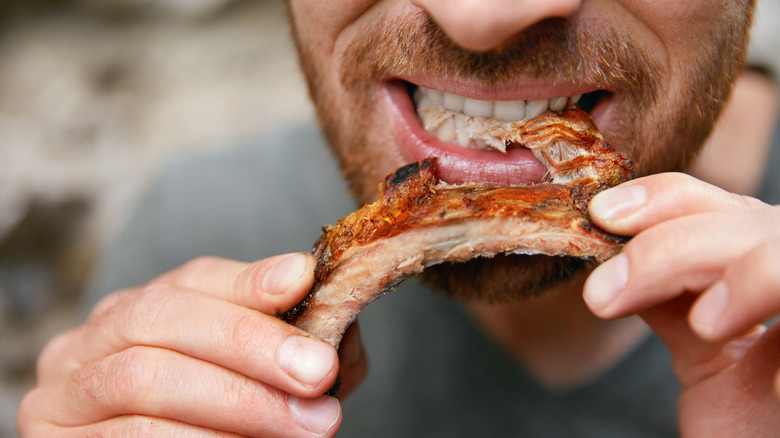 When Smith & Wollensky first opened in 1977, steakhouses were known for being decidedly male-centric, with traditionally "masculine" decorations like dark leather, plenty of brown liquor on the menu, and big, manly steaks (along with some seemingly set-in-stone rules). Furthermore, when Stillman acquired the building that would become his world-famous restaurant, he had to do a complete remodel due to some pretty serious previous fire damage. The atmosphere of Smith & Wollensky became sophisticated and warm, without losing the masculine edge most steakhouses at the time needed to succeed — the target demographic at the time was, after all, the most masculine of carnivorous men.
"It had more comfort to it," Stillman told Edible Geography, describing the soft lighting, exposed brick, and green and white exterior that would become part of Smith & Wollensky's brand. "But that wasn't because we intended it to be woman-friendly. It was a steakhouse, and at the time, steakhouses were male-oriented. Our target customer was people who ate at The Palm and Christ Cella — men my age."
Smith & Wollensky are random names
It would be reasonable to assume that the founders of Smith & Wollensky were, well, a pair of guys named Smith and Wollensky. Right? But that's not quite accurate. The owner and founder of the famous steakhouse is actually Alan Stillman and, try as you might, there's no actual Smith or Wollensky to be found. According to CBS News, Stillman waited until the last minute to name his restaurant. He already had many wealthy investors who had contributed to his vision, but just two or three weeks before the grand opening, he still didn't have a name.
It finally came to him and his associates in the wee hours of the morning. "And we finally said at 2 or 3 o'clock in the morning, 'Get a phonebook,'" Stillman told CBS. He randomly flipped to a page and chose the name "Smith" from the list. His friends encouraged him not to call his restaurant something as terribly basic as "Smith," so Stillman flipped to another page and got "Wollensky." The cadence of the two names together caught his ear, and, surprisingly enough, the name stuck.
It shares a founder with TGI Fridays
In 1965, Alan Stillman borrowed $5,000 from his mother to open one of the first singles bars in the United States. This would be a bar that would ultimately grow into an international franchise known as TGI Fridays.
"The neighborhood was full of singles, lots of stewardesses, pilots, actors and actresses, and I was single at the time," Stillman told Chron of the original TGI Fridays location in New York City. As he explained further in an interview in Edible Geography, this group of unattached young people represented, to his mind, a thoroughly untapped market. "Before T.G.I. Friday's, four single twenty-five-year-old girls were not going out on Friday nights, in public and with each other, to have a good time." There simply weren't all that many venues for this kind of fraternizing, at least not outside of house parties or upscale restaurants where you'd be more likely to go impress a date one-on-one.
Stillman's successful experience with TGI Fridays after its first 1965 opening and the singles bar concept, in general, encouraged him to continue his business ventures. And so, 12 years after his first grand opening, the inaugural Smith & Wollensky opened in Midtown Manhattan.
Smith & Wollensky was inspired by French restaurants
After Alan Stillman sold TGI Fridays, he got married and spent some time traveling with his new wife, which proved to be pretty informative as he developed his next restaurant concept. "My wife and I spent a lot of time in France, and we became somewhat sophisticated," he told Edible Geography. During their travels, the Stillmans spent a lot of time at French wine bars and restaurants, which would eventually serve as inspiration for Alan's next big idea.
"I thought that if I opened up a steakhouse and I served Californian wines, maybe I'd have something special and unique," Stillman said. "It was the American version of the French restaurants I loved in France."
It was a unique idea. When Smith & Wollensky opened in 1977, most steakhouses in New York only offered a few wine options — and most customers knew them only by the sophisticated names of "red" and "white." Stillman hoped to change that by providing customers with an extensive wine list complete with select bottles, half of which came from California and the other half from Italy and France. Yet Stillman and his team were, in his words to Edible Geography, "scared to death that people weren't going to order the American bottles, because they didn't know what the hell they were."
The restaurant initially received pretty mixed reviews
When Smith & Wollensky opened in 1977, the reception was chilly, to say the least. The New York Times was particularly rough, calling the restaurant's appetizers "disappointing," its bread "especially poor," and the overall atmosphere of the space downright "dreary."
The negative New York Times review nearly sunk the restaurant, but it was Stillman's savvy marketing skills that saved it from utter culinary doom. Shortly after the review was released and business plummeted, Stillman bought two full-page ads in the New York Times to garner more visibility and support for the fledgling steakhouse. "The following week we started doing business in double and more than double every day," he told CBS News.
"As far as I am concerned, the critics are incorrect," Alan Stillman told the New York Times a few years later, after the success of Smith & Wollensky had more or less proven the initial restaurant snobs wrong. The comment is typical Stillman, given that many of his colleagues claim it was his brash confidence that led to the success of his restaurant empire.
The meat is dry-aged and cut in-house
The meat you'll find at Smith & Wollensky isn't exactly that of your average steakhouse quality stuff. Indeed, this restaurant prides itself on the quality of its meat, which is carefully prepared by butchers who work specifically for the company. As part of that effort, the steak is dry-aged, a process that entails locking the meat in a sealed refrigerator kept at about 36 degrees Fahrenheit. The meat gets cured in this way over the course of about four weeks, resulting in the delicious flavor and tender texture of a classic Smith & Wollensky steak. Because of the massive size of the restaurant and its constant revolving door of customers, the fridge stays reliably full, too. A single Smith & Wollensky location may be curing anywhere from seven to 12 tons of meat at a time (via Smith & Wollensky).
According to the restaurant's website, their dry-aging process is pretty darn time-consuming and expensive, but it yields a product so delicious that the owners, butchers, and customers all agree that it's well worth the wait (and price).
Smith & Wollensky still celebrates its history
Smith & Wollensky has been serving world-famous steaks and cocktails in New York City and beyond for over 40 years now. The concept, created and founded by Alan Stillman, is altogether fairly simple, straightforward, and a little bit old school. Given the continued success of that model, it looks as if the restaurant's owners don't have plans to change that anytime soon. Suggesting anything to the contrary could be met with resistance.
In a 2017 interview with Haute Living, Stillman rejected the idea that Smith & Wollensky had "transformed" over the years. "There have been more decorative placards added over the years, more awards on the wall, and some menu items have been updated a bit, but we're still pretty much the same," he claimed.
Consider that, similar to when it originally opened in 1977, Smith & Wollensky still has an in-house butcher who manages the estimated three tons of beef that each restaurant receives each month. The servers, a traditionally itinerant bunch that are more likely to peruse other restaurant's job boards, often stick around at Smith & Wollensky for years. In fact, many of them average about 20 years at Smith & Wollensky (via Haute Living).
Warren Buffet is a regular at Smith & Wollensky
Warren Buffett, the incredibly rich American business mogul and investor, is reportedly a regular at Smith & Wollensky when he's not chowing down on fast food. According to Insider, when Buffet is in New York City, Smith & Wollensky is oftentimes his first — and most essential — stop. He's such a fan that one of Buffet's philanthropic efforts includes an auction where winners will enjoy a dinner with Buffet at Smith & Wollensky. Bidders pay upwards of $2.7 million to dine one-on-one with the famous businessman at his favorite Manhattan steakhouse, while the money goes to various charitable organizations.
According to former winners, Buffet's regular order at Smith & Wollensky is actually pretty simple. It consists only of "a medium-rare steak with hash browns and a cherry coke," reported the 2007 auction winner (via CNBC). Allegedly, his preferred cut of meat is a sirloin. And in matters of dessert, if nothing else, Buffet is a bit of a socialist. That is, reports indicate that he's willing to share — in everyone else's treat. Apparently, he asks the waiter for extra spoons so as to have a bite of everyone else's dessert.
In 2007, the founder sold many Smith & Wollensky restaurants
2007 brought quite a few big changes for this renowned New York-based steakhouse, including a major handover. For $79.5 million, a Los Angeles restaurant group called Patina bought Smith & Wollensky from its original founder, Alan Stillman, according to the Los Angeles Times. The Patina group, run by Chef Joachim Splichal, owns several of Los Angeles' most famous restaurants (and the Rockefeller Center ice rink), as well as a few restaurants in New York, New Jersey, Las Vegas, and Northern California.
After the acquisition, the new owners discussed the possibility of opening a Smith & Wollensky location in LA. "Los Angeles is not without some very fine steakhouses," Nick Valenti, Splichal's business partner, told the Los Angeles Times. "We think there's room for at least one more." Unfortunately, LA currently remains a Smith & Wollensky-less city.
Stillman, who agreed to the sale after his restaurant experienced a drop in sales after it went public, received some assets from the sale. Most notably, he was able to retain the New York Smith & Wollensky locations.
Smith & Wollensky was sued in 2020
In 2020, former employee Brenna Gonzalez came forward in a lawsuit against Smith & Wollensky with claims she endured repeated, consistent sexual harassment while working at the popular steakhouse and bar.
As NBC News reported, Gonzalez began working at Smith & Wollensky in 2018, when she was 18 years old. The lawsuit stated that she was subjected to sexual harassment shortly thereafter. She claimed that various parts of her body were "groped approximately 3 times per shift by staff and/or patrons." Complaining to managers about the conduct allegedly did nothing to stop the unwanted touching.
Gonzalez's lawyer said that Gonzalez came forward with this disturbing claim because she wanted to protect other women from harassment in the restaurant industry. "Ms. Gonzalez hopes to shed light on a systemic problem that exists in the restaurant industry and particularly at Smith & Wollensky," lawyer Eric Baum stated (via NBC News).
In the lawsuit, Gonzalez also claimed to have experienced some serious labor violations, including tip withholding (reportedly, her tips were held back "until she performed certain sexualized favors" for her supervisors), denied break time, and a lack of overtime pay.
Smith & Wollensky has locations across the globe
Initially, Smith & Wollensky was a local New York City restaurant only. To that end, some of Stillman's partners were hesitant to expand to other cities, but after Stillman bought out the other owners, he was free to grow the company beyond the Big Apple.
The second Smith & Wollensky location opened 20 years after the first, all the south in Miami, Florida. Stillman told Edible Geography that he looked at other cities but ultimately chose Miami because the property was the best option and the right piece of real estate had opened up. But, despite his expansionist drive, Stillman isn't interested in opening locations in smaller cities that can't support a fancy steakhouse. "Smith & Wollensky is definitely an urban restaurant," he said. "These are big restaurants doing big dollars, and we have to be in big cities."
The restaurants themselves are also big, considering that most of them can seat up to 700 people, per Edible Geography. "That's an economic decision, not an atmosphere one," said Stillman. Big box, big tickets — that's our formula." Currently, Smith & Wollensky has locations in nine different cities, from Columbus, Ohio to Taipei, Taiwan.
It's currently owned by Danu Partners restaurant group
Most of the Smith & Wollensky locations were acquired by the Danu Partners restaurant group in 2016, according to Nation's Restaurant News. This Irish-based investment group founded Setanta Sports Group, a sports television operator, and has acquired several other restaurant groups since their beginnings in 1992.
Leonard Ryan, a principal of Danu, said in a statement published in Nation's Restaurant News, that the partners have "been huge admirers of this iconic brand for decades, having hosted a great number of business dinners cutting into S&W steak."
The restaurant group hopes to continue to expand Smith & Wollensky beyond the US, citing the restaurant's "incredible equity and enormous potential internationally." For now, though, Alan Stillman remains at the helm of the original Smith & Wollensky in New York. While Danu may own the rest of the locations, it is Stillman's hand that steers what may be arguably the most important one.