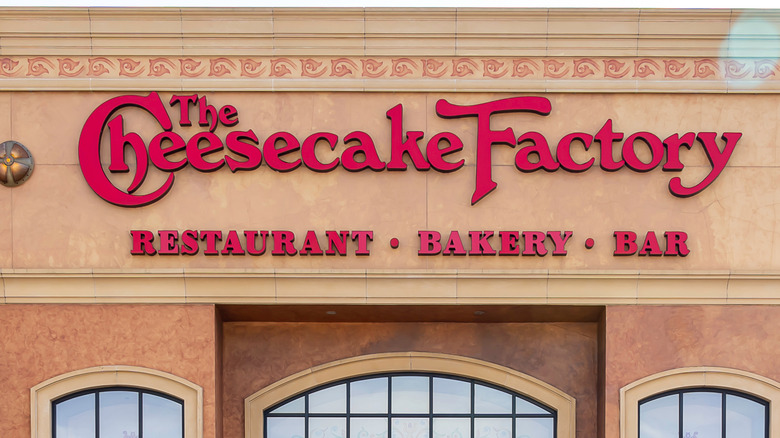 If there's one restaurant that just about everyone can agree on, it's the Cheesecake Factory. The massive chain restaurant has locations all over, and with a huge menu with plenty of variety, it's pretty much always a safe bet that whoever you're with will find something they want to eat there. Despite the name, the Cheesecake Factory actually serves more than just cheesecake or dessert, and their food is pretty tasty. Between the distinct decor, menu that's basically a short novel, and addictive — and free — bread they serve before your meal, it's easy to understand why the Cheesecake Factory is so successful.
Whether you only go to the Cheesecake Factory if someone else chooses it, or you're the chain's most devoted fan, most people can agree that the chain is extremely good at what it does. But, the untold truth of the Cheesecake Factory is that the popular chain restaurant has a lot more of a backstory to it than you probably realized. In fact, the story of the Cheesecake Factory is actually super interesting, and there are probably some facts that even the most devoted fans of the restaurant don't know.
The Cheesecake Factory started with an interesting recipe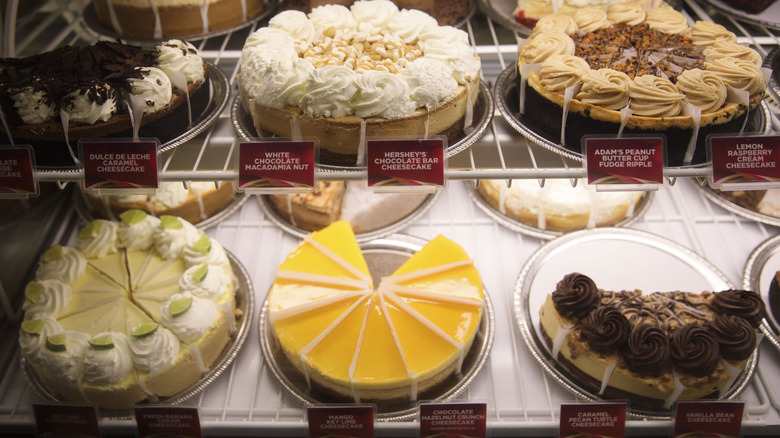 Okay, so obviously the Cheesecake Factory is known for its cheesecakes, specifically. While the rest of the restaurant's offerings are good, too, the cheesecake is actually where it all started — hence, the name. Specifically, the Cheesecake Factory was originally founded with just one recipe for an original cheesecake. Evelyn Overton started making cheesecake in her home in Detroit, based on a recipe she found in a newspaper.
In an interview with Vice, Evelyn's son and technical founder of the Cheesecake Factory, David Overton, explained that his mother started her own home business with that recipe. "She took all of her equipment from this store in Detroit," he said. "[She] moved it into her basement, and then for 25 years she made cheesecakes in Detroit out of her basement." According to ABC News, the recipe is pretty basic, but Overton clearly knew what she was doing as her cheesecake business was super successful and she was able to help support her family all from her own home.
One son encouraged his mom to take her cheesecakes out into the world
After Evelyn Overton and her husband, Oscar, decided to move to California, their son David was very encouraging of them to take their cheesecake business to the next level. Speaking to Vice, David explained that at that point, his mother's cheesecake business was more of a hobby, so he suggested they take it out into the world.
"I said, 'Why don't you go into cheesecakes?'" Overton explained to Vice. Overton added that his father would literally go door-to-door selling cheesecakes, but he knew they were capable of more. "I felt they were a little too mom-and-pop," he said. "I always felt I was good at business — knew I was good at business. The band I was in, I always took the business role. I moved down here, and everything really started to go well." So, David helped his parents take their cheesecake business to the next level, and Evelyn started baking more varieties of cheesecakes to sell all over the Los Angeles area.
The first restaurant opened in Beverly Hills
Even though the Overton family had come a long way since Evelyn first started baking cheesecakes in her basement, the first actual Cheesecake Factory restaurant didn't open until 1978, years after the first official cheesecake was made. The restaurant was the product of Evelyn's son, David's, creativity and opened in Beverly Hills, California.
According to David, the first opening of the Cheesecake Factory restaurant was super successful. "We just struck a chord with people for good, simple, straightforward fresh food," Overton told Nation's Restaurant News. "The menu was so simple. We had a few burgers, a few omelets, a few salads. The one thing that always stood out was the fresh strawberry cheesecake."
Even though no one knew what food was going to be on the menu before they walked in, people were still so excited to try the Cheesecake Factory now that it was an actual sit-down restaurant. And honestly, that's one of the chain's most impressive feats.
The Cheesecake Factory menu is long on purpose
As anyone who has ever been to the Cheesecake Factory knows, the menu is seriously long. In fact, it's more of a book than a menu. According to Thrillist, the menu is actually 21 pages long and has 250 items on it, which can make ordering a real struggle. But there's a reason why the menu is so long, and it might surprise you.
Founder David Overton told Thrillist that when the Cheesecake Factory restaurant first opened, he was one of the people cooking, so the menu was relatively simple. "I wasn't a chef, I had no experience in the restaurant business either, and I didn't want any chef we hired to walk out on me. So, I made sure that everything we served, was something I could make myself." Eventually, though, the menu grew. "We just kept putting things on the menu, that people seemed to like," he explained. And these days, the menu is kept long because it's what sets the Cheesecake Factory apart. "That's what keeps people interested," Overton told Nation's Restaurant News of the menu. "And it keeps us current." And staying current is certainly something the Cheesecake Factory is good at.
But the menu does change
With a menu as large as the Cheesecake Factory's, it would be pretty understandable for the restaurant chain to never really change what they offer. After all, with 250 items to choose from, how could anyone ever get bored of the menu? But, the menu does actually change, and more often than you probably realize. Sure, the Cheesecake Factory keeps its most popular menu items but it also rotates in new meal options to try on a regular basis.
In an interview with Nation's Restaurant News, founder David Overton explained that the menu did change. "We've changed the menu twice a year, every year, for 40 years," he said. "We don't rest on our laurels. There's nothing that America wants to eat that can't go on the Cheesecake Factory menu. And I think we've improved it." It's unclear when exactly those menu changes take place, but in an interview with Thrillist, Overton mentioned that when the restaurant first started, they changed the menu in June and December, so it's likely that is still the case. So, if you want to try new items, try going in one of those months and you can see if there are any changes!
The Cheesecake Factory was an instant success
When any new restaurant opens, it's bound to be stressful for the owners and operators. After all, what if no one shows up? What if people hate it? There's just so much that can go wrong, but that wasn't the case for the Cheesecake Factory when it opened. On the contrary, it was an instant success.
Linda Candioty, the Vice President of Guest Experience at the Cheesecake Factory was there for the chain's opening, and she told Vice it was pretty exciting to see so many people wanting to try it. "They were waiting in line in front of our restaurant," she said. "I cannot explain it. We opened and were busy from the first moment. David tells me, and I don't remember this, that I went outside and chatted with everybody while they were waiting in line, and people were excited." Clearly, people just knew there was something special about the Cheesecake Factory, even from the first day it opened. And by 1991, the Cheesecake Factory had expanded to having five restaurants across the United States, an impressive feat.
The Cheesecake Factory knows the decor is eccentric
Much like the menu, another stand-out characteristic of The Cheesecake Factory is definitely the restaurant's decor. Each Cheesecake Factory establishment, whether it's in Los Angeles or Austin, pretty much looks identical to every other Cheesecake Factory out there. But if you're thinking that the decor isn't really the best aspect of the Cheesecake Factory, you aren't alone. But it's decorated so uniquely on purpose. Rick McCormack, the restaurant designer responsible for The Cheesecake Factory's explained in an interview with Eater that he was aware the decor was pretty awful.
"If I try to describe to you what it looks like, you'd probably think it was one of the most horrible-looking places around," he said. McCormack then went on to describe the decor at every Cheesecake Factory: "French limestone floors, then we throw in some Egyptian columns, Victorian beadboard wood paneling." But according to McCormack, it's the Egyptian-style columns that get people talking the most. "Certainly they're very unique and people immediately take notice of them, which is one reason they're there." And, he's not wrong. The decor at Cheesecake Factory certainly stands out, whether you like it or not.
The brown bread is so popular, they'll even make a sandwich with it
If there's one thing most everyone who eats at Cheesecake Factory can agree on, it's that the brown bread that comes in the free bread basket before your meal is the superior bread. While the sourdough that's also in the bread basket is also tasty, the brown bread is different and has a lot more flavor.
According to founder David Overton, the brown bread was actually his doing. "I used a very good sourdough guy who was in LA, and I tasted what was then called squaw bread, and I asked him if he could make that for me in the long shape," he explained. "It turned out to be delicious, and we started serving both breads on the table instead of just sourdough, and people loved it." People love it so much, it's even sold at most grocery stores! And, according to Delish, you can actually substitute out the bread on any sandwich to be replaced with the restaurant's famous brown bread. Yes, so if you're a big fan of the brown bread, then try it on a sandwich, because it's bound to be delicious.
The Cheesecake Factory wasn't supposed to be a chain
Obviously, The Cheesecake Factory as you know it today is a chain restaurant. But like most chains, it didn't start out as a chain. As we mentioned, it all started with the first location in Beverly Hills, and then grew beyond that. But when founder David Overton started The Cheesecake Factory, he actually wasn't sure if he even wanted it to grow to be a massive chain.
"At the beginning I didn't know it was going to be a chain," he told Vice. "I didn't open it to be a chain." However, Overton explained that people loved the food and that " people liked [the big menu]. As we figured out how to do that, we got busier." So, even though it wasn't his intention, Overton realized things were moving fast. "The business started to grow, and then I thought,OK. I'll open one a year." Obviously, Overton ended up opening more than one per year as there are now over 200 Cheesecake Factories all over the world. But, it's interesting to see how small and modest his goals started out.
One NFL player had an unhealthy obsession with the restaurant
If you've ever found yourself wanting to spend your entire paycheck at Cheesecake Factory, you aren't alone. The chain restaurant is seriously popular, and though it's not super expensive, it would be easy to drop some major cash on just one dinner there. That said, you would probably never imagine spending thousands of dollars at the Cheesecake Factory week after week, right? Well, for one professional athlete, that's exactly what an unhealthy obsession with the restaurant led to.
According to SportsCasting, football player Vince Young was known to spend $5,000 per week at The Cheesecake Factory during his rookie year. Now, to be fair, Young would often pay for everyone at his table, and invite a lot of his teammates to join him, but that's still an impressive amount of money to spend at a restaurant. Young was likely still getting used to making professional football money, so it's not that shocking that he spent so much at the Cheesecake Factory. After all, it is delicious.
The Cheesecake Factory is a great place to work
When most people think of The Cheesecake Factory, they probably think of the delicious food, large menu, and of course, the decadent cheesecakes. But there's another thing the restaurant is known for, and it might surprise you. Believe it or not, but the restaurant is actually one of the best places to work. So, if you or someone you know is looking for a job, don't rule out the popular eatery.
Specifically, The Cheesecake Factory was ranked as the 12th best place to work in 2020 by Fortune, for quite a few reasons. First, the restaurant launched a new program to donate extra food to the less fortunate, something employees had been campaigning in support of for a while. Second, Cheesecake Factory employees rave about the management at most restaurant locations and say that management is easy to approach and super supportive of the whole team. Clearly, the Cheesecake Factory knows what it's doing when it comes to its employees, and that's always good to hear.
The Cheesecake Factory invented upscale casual dinning
Even though The Cheesecake Factory is a pretty common chain restaurant, that doesn't mean it's the most casual chain restaurant out there. Sure, you don't need to dress up all fancy to eat there, but it's definitely a lot nicer than your average Chili's that's for sure. And that's kind of the point.
According to founder David Overton, The Cheesecake Factory wants to be a little nicer than your typical chain restaurant. "We coined the phrase 'upscale casual dining'," he told Vice. "And with the dev of the food, the money we put into the decor, it became upscale casual dining, where [for] the most part, if you had more money, you would come to Cheesecake." Obviously, a Cheesecake Factory isn't the nicest restaurant in town, and you don't need to be super rich to eat there, but it is more expensive and a little fancier than a lot of other places. So, don't be shocked if you've never been and you get your first bill, because it's not cheap that's for sure.
Cheesecake Factory portions are big for a reason
Perhaps the most important defining feature of the Cheesecake Factory is that the portions are huge. And when you eat there, you'll get a large plate of food that's so big you can't finish it all in one sitting. But there's a reason for that.
President of The Cheesecake Factory, David Gordon, told Vice there was a reason why the restaurant's portions are so large. "The portions are large because we want people to share," he explained. "We want people to have experiential dining." Additionally, founder David Overton told Thrillist that large portions were always part of The Cheesecake Factory equation. "Growing up, my parents used to go down to Miami and gush about the large portions they commonly saw down there," he said. "Again, I didn't have restaurant experience, but it just seemed like the right thing to do for our business." And really, who doesn't love those big Cheesecake Factory portions that the chain is known for? If you can't finish your meal, you can take it home and eat it later. It's a win-win.