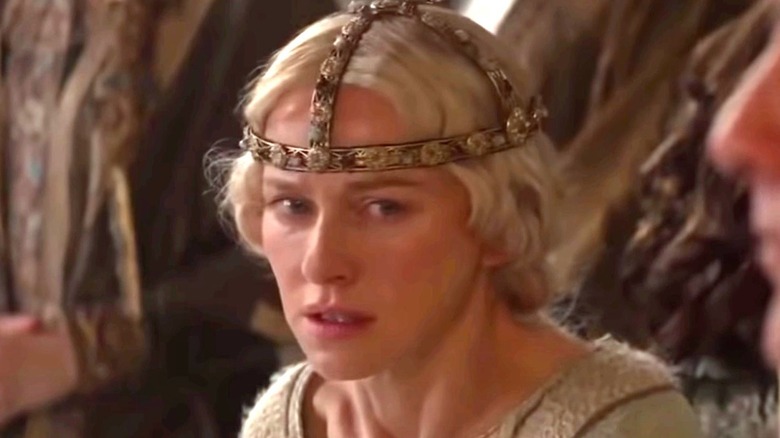 The 2018 drama "Ophelia" is a retelling of one of Shakespeare's most famous plays from the perspective of its tragic heroine. Based on a novel by Lisa Klein, the film stars Daisy Ridley as Ophelia, a young lady-in-waiting who falls in love with Hamlet (George MacKay), the prince of Denmark. When Hamlet discovers a conspiracy which murdered his father and put his uncle on the throne, Ophelia places herself in great peril to help him uncover the truth behind his father's death.
Part romantic drama and part murder mystery, "Ophelia" adapts Shakespeare's "Hamlet" into an intriguing new story for a modern audience. The film also stars Clive Owen as Claudius and Tom Felton as Laertes, with Naomi Watts taking on a dual role as twin sisters, Queen Gertrude and Mechtild. Watts takes on both parts seamlessly, portraying a distressed mother as well as a jilted lover.
Many viewers likely were able to point out Watts right away, which is no wonder — especially considering she has had almost 90 movie and TV roles over the years. If you're wondering which ones you may have recognized her from, here are just a handful of the English actor's previous roles.
Naomi Watts played Betty Elms in Mulholland Drive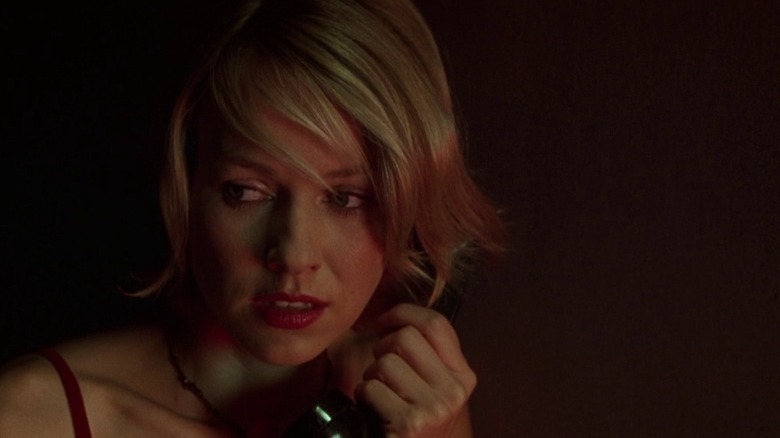 Naomi Watts first entered into the Hollywood eye with her role in David Lynch's surreal noir thriller, "Mulholland Drive." The film, which was originally meant to serve as a pilot for a new TV series, was turned into a feature after it was rejected by the ABC network — the same network that carried Lynch's "Twin Peaks." The movie earned Lynch an Academy Award nomination for Best Director in 2001 (via IMDb), and is widely regarded by movie buffs as his best film.
Watts plays Betty Elms and Diane Selwyn in the film — yet another dual role for the actor. Betty is a struggling actor in Hollywood attempting to help a woman named Rita (Laura Elena Harring), who is recovering from amnesia after a car accident. The story takes a dark and twisted turn in true Lynch fashion, with an ending that is left open to interpretation.
In a Los Angeles Time article from 2001, Lynch revealed what drew him to cast Watts in the film. "I saw someone that I felt had a tremendous talent," he said, "and I saw someone who had a beautiful soul, an intelligence–possibilities for a lot of different roles, so it was a beautiful full package."
She terrified audiences as Rachel Keller in The Ring and The Ring Two
Paving the way for other Asian horror adaptations, "The Ring" gave audiences a bone-chilling film that would go on to have a huge impact on horror film culture. Director Gore Verbinksi adapted the movie from the Japanese film "Ringu," and the movie received mostly favorable reviews from critics (via Rotten Tomatoes).
The film stars Naomi Watts as Rachel Keller, a woman who, while investigating the death of her niece, discovers a disturbing legend that puts herself and her young son in danger of a vengeful ghost. "The Ring" was praised for its disturbing and creepy visuals, without the use of gore. Watts reprised her role in the movie's sequel in 2005, "The Ring Two," which has her character racing to save her son, Aidan (David Dorfman), who has been possessed by the same malevolent spirit. The reviews for the film were dismal, with one critic describing it as "dead in the water" (via Rotten Tomatoes).
Watts tamed a beast as Ann Darrow in Peter Jackson's King Kong
Following the tremendous success of "The Lord of the Rings" film trilogy, New Zealand director Peter Jackson chose yet another adaptation for his next film project. The result was 2005's "King Kong," an action adventure on an epic scale, which retold the story of a giant ape who rules the wilds of the mysterious Skull Island. The film boasted an ensemble cast of A-list stars, including Watts, Adrian Brody, and Jack Black.
Watts plays Ann Darrow in the film, a down-on-her-luck actress in Depression-era New York City. She is discovered by director Carl Denham (Black), and hired to star in his newest picture — yet little do either of them know the perilous journey that awaits them. Jackson enlisted the help of his own special effects studio, Weta Digital, to create the motion capture effects to bring Kong to life. He also brought on "Lord of the Rings" actor Andy Serkis to play the great ape, who gave the character a humanizing quality with his emotional performance.
"King Kong" was a huge hit at the box office, raking in over $560 million worldwide (via Box Office Mojo). It was also considered a critical success, with reviewers praising the movie's special effects and the actors' performances (via Rotten Tomatoes). It won three Academy Awards as well, including Best Sound Editing, Best Sound Mixing, and Best Special Effects (via Oscars.org).
She got in deep with the Russian mob as Anna Khitrova in Eastern Promises
A violent drama about the Russian mafia, "Eastern Promises" starred Naomi Watts as Anna Khitrova, a midwife who delivers the baby of a teenage prostitute who dies shortly after childbirth. Looking for answers, Anna follows the clues left behind in the young woman's diary, which leads her to a dangerous family of Russian gangsters who rule the streets of London, England. She finds help from a man named Nikolai (Viggo Mortensen), a bodyguard and cleaner for the family. It is later revealed that Nikolai is actually an undercover agent, as the stakes quickly become increasingly dangerous for both him and Anna.
Directed by David Cronenberg, "Eastern Promises" was a big hit with critics (via Rotten Tomatoes). It was nominated for several awards, including Viggo Mortensen for an Oscar for Best Actor, and the Audience Prize for Best Film at the 2007 Toronto International Film Festival (via IndieWire). There were once talks of a sequel in the works, but the project was killed by former Focus CEO, James Schamus — at least, that was the case according to Cronenberg (via The Playlist).
Watts joined the Divergent series as a mother of Four
In spite of mixed reviews and a cancelled fourth installment, the "Divergent" movies made a tidy profit at the box office, and continues to have a loyal fan base. Based on a trilogy of novels by author Veronica Roth, the sci-fi series tells the story of a girl named Tris (Shailene Woodley), who must fight against a dystopian society which is separated into factions based on human virtues. Tris teams up with a young man called Four (Theo James) to overthrow the status quo and its corrupt leadership.
Naomi Watts appears in both "Insurgent" and "Allegiant," playing Four's mother, Evelyn. She is the leader of the Factionless, and she and her son are reunited after being estranged for many years. In "Insurgent," Evelyn rescues both Four and Tris from Jeanine (Kate Winslet), and later shoots and kills the Erudite leader in her prison cell. Evelyn becomes her own worst enemy in "Allegiant," the franchise's final film, when a violent war breaks out between the Factionless and the Allegiant, leading to Tris and Four working together to put a stop to the fighting.
Following the financial flop of the sequels, the "Divergent" series ended on a cliffhanger, with sadly no final film to conclude the overall story. There were once plans for the series to find new life in a series for television, but the idea was scrapped due to lack of interest from the original cast members (viaDigital Spy). At least fans still have the books to fall back on if they want to know how Tris's story ends.