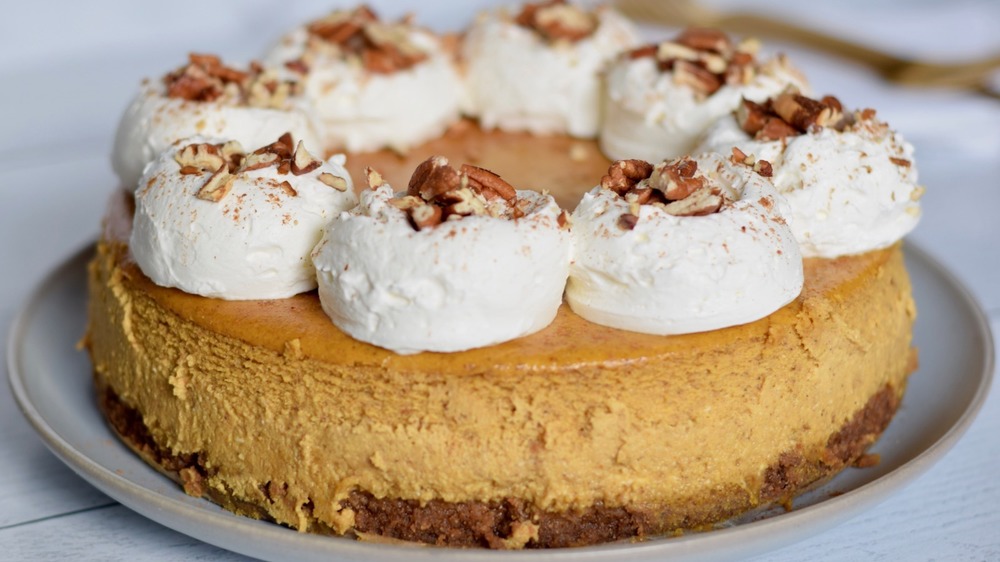 Good ol' fashioned pumpkin pie earned a place at our Thanksgiving tables back in the 1800s and to this day, most Americans won't eat their holiday dinners without it. And ever since then, it's been relegated to the fall as a seasonal dessert, showing up only for a short time each year — despite its massive popularity while around. But where's the fun if we never break the rules? We double dog dare you to give this pumpkin cheesecake a whirl, no matter what time of year it is.
Imagine if a pumpkin pie and a New York-style cheesecake had a baby… That's what we've created here. It's creamy and smooth, sweet yet slightly tart, has just the right amount of pumpkin flavor, and is piled high on a cinnamon graham cracker crust that's to die for. And believe it or not, it's a lot easier to put together than you probably imagine.
Find more recipes by Tara Rylie on RylieCakes.
Prepare the pan for your pumpkin cheesecake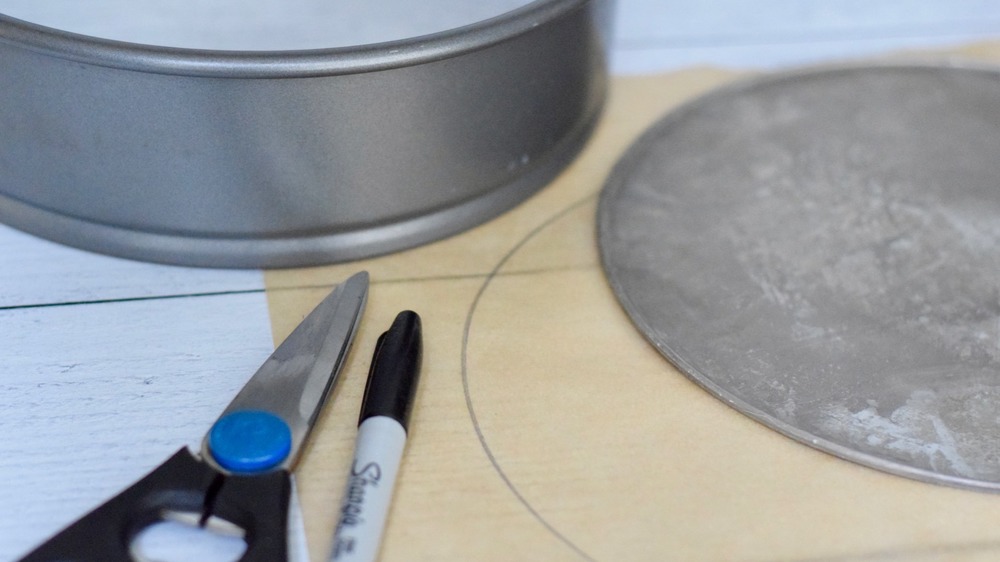 Preparing your pan ahead of time can save you a lot of trouble when you're nearing the end of your recipe. Imagine having your batter ready to go and nothing to put it in!
For this pumpkin cheesecake you'll want to line your springform pan with parchment so you can easily remove it from the pan when it's done — without potentially destroying your gorgeous cake. The best way to do this is to trace the base of the springform pan on parchment, cut out the circle, and then flip it so the ink side is pressed against the pan. Put your pan together and then coat it all with cooking spray.
Make the perfect pie crust for your pumpkin cheesecake
In our opinion, the graham cracker crust that serves as the base for this pumpkin cheesecake is what dreams are made of! It is super easy to throw together, and adds a the perfect crunch to the finished dessert. Better yet, it's so simple, we'd recommend keeping this recipe in your back pocket for other cheesecakes, lemon bars, or even a homemade apple pie.
Simply place all crust ingredients into the food processor and pulse until crackers are finely ground. Add melted butter and pulse until combined. Press the crust firmly into prepared pan and bake for 15 minutes. Finally, let the crust cool while you're preparing the filling.
Gather the ingredients for your pumpkin cheesecake filling
You've probably heard the term "mise en place," even if you're not completely sure what it means. Mise en place-ing is all about meticulously preparing for the recipe ahead — fully organizing all tools and measuring out all ingredients. This process helps create a flawless routine that ensures perfect results every time. Though it may seem like a chore, your hard work will be well rewarded.
So how does one mise en place? You simply put everything in its place! Measure out all of your ingredients and set them aside. Next, make sure you have all the tools you may need readily available. For this pumpkin cheesecake, the only tool you'll need is a spatula. Last but not least, read over the recipe just one more time before beginning so you know where you're heading.
Do not forget to scrape the bowl
To begin making the filling for this pumpkin cheesecake, you'll simply beat the cream cheese on medium speed until softened. Seems easy right? Well it's the next direction that will make or break your cheesecake.
Several steps in this recipe ask you to scrape down sides and bottom of bowl with your spatula. This step is much more important than you might think. For a cheesecake to bake as it should and have an extremely creamy texture throughout, you want a homogenous batter. Scraping the sides and bottom of the bowl will ensure you are incorporating all ingredients evenly while not overmixing, and thus you'll have a lump-free, crack-free cheesecake when all is said and done.
About that pumpkin puree…
One step in this recipe asks you to gently pat the pumpkin puree with a paper towel. This may sound silly, but it's not a prank — we swear it makes all the difference!
Patting the puree helps to remove any extra moisture from the pumpkin puree, which will ultimately help your pumpkin cheesecake set up while baking. Additionally, removing this moisture makes the pumpkin puree more flavorful. It's a quick step that goes a long way in baking the perfect pumpkin cheesecake.
Add the eggs to the pumpkin cheesecake mix one at a time
If you see a recipe that calls for room temperature eggs, do you usually follow that direction — or do you glance right over it as you grab your eggs from the fridge? Room temperature eggs are important in this recipe because cheesecakes have a high fat content. Cold eggs could potentially harden the fat, curdle the batter, and thus affect the final texture.
Additionally, be sure to add the eggs one at a time, beating approximately 20 seconds between each addition. Fat (cream cheese) and liquid (eggs) are unmixable by nature. Slowly adding the eggs gives the mixture time to thicken and emulsify. If that doesn't happen, your cheesecake will likely end up with a texture that's not quite what you were going for.
Yes, you really should cover the bottom of your pans
More often than not, springform pans are said to be leak-proof but this is not a chance you want to take after all your hard work. Just a small leak could lead to disastrous results when it comes to baking the perfect pumpkin cheesecake.
Rather than risk a soggy (and very unpretty) cheesecake, simply foil the bottom of your springform pan after baking your crust and the pan has cooled. If your foil roll isn't wide enough to get foil nearly all the way up the pan, use two sheets. Place one on top of the other, facing different directions, and then place your springform pan in the center. Fold the foil up around the edges of the pan. This will help keep your cheesecake dry while baking, leading to a perfectly cooked, unsoggy cheesecake.
Why do you need a water bath for this pumpkin cheesecake?
You're not going to just put the springform pans straight into the oven — this cheesecake needs to cook in a water bath. Before baking your pumpkin cheesecake, place the springform pan (filled with your cheesecake mix) inside of a roasting pan. If you don't have a roasting pan, a cake pan larger than the springform pan will do.
Fill the roasting pan with water until it's half way up the sides of the springform pan. The water bath helps the cheesecake bake evenly throughout, and adds moisture to the oven, preventing the cheesecake from cracking. And you've worked too hard on this cheesecake to let it crack!
Bake your cheesecake for approximately one hour and 30 minutes. It's done when top is golden brown, and the center is slightly wobbly.
Let that cheesecake set
When you remove your pumpkin cheesecake from oven, immediately remove it from the roasting pan. Remove the foil from the springform pan, too, and set it on a wire rack to cool to room temperature. Be warned — when you remove the foil, there may be some mixture of water and melted butter in the foil. That is totally normal, so don't worry about it.
Once the pumpkin cheesecake has cooled down to room temperature (this will take about two hours), cover it with foil and refrigerate overnight. Letting your cheesecake chill overnight allows it to set and firm up, giving it the texture that you know and love in a cheesecake.
Finally, it's time to decorate and devour
Finally, it's just about time to eat. Well… almost.
After you've chilled your cheesecake overnight, take a little time to add some extra toppings. You've put in the hard work to make this pumpkin cheesecake delicious, so you might as well make sure it looks as fabulous as it tastes.
If you want really want to impress, top it off with whipped cream and toasted pecans. If pecans aren't your thing, other toppings we suggest are candied pecans, caramel sauce, or even just a side of vanilla ice cream. This cheesecake is bound to impress, so be prepared for your guests to beg for more.
2 cups (8 oz) graham crackers
½ cup pecans
¾ cup + 3 Tbsp sugar, divided
1¾ tsp cinnamon, divided
1 tsp ginger, divided
½ tsp nutmeg, divided
½ tsp ground cloves, divided
5 Tbsp butter, melted
½ cup brown sugar
½ tsp allspice
½ tsp salt
1 can (15 oz) pumpkin puree
2 packages (16 oz) cream cheese
5 room temperature eggs
1 tsp vanilla bean paste
1 cup (8 oz) room temperature heavy cream
¼ cup (2 oz) Grand Marnier, brandy, or bourbon
Optional Ingredients
Whipped cream
Toasted pecans
Candied pecans
Caramel sauce
Preheat oven to 325°F. Adjust oven rack to middle position. Line 9-inch springform pan with parchment and coat with cooking spray.
To make the crust, pulse graham crackers, pecans, 3 tablespoons sugar, ¾ teaspoon cinnamon, ½ teaspoon ginger, ¼ teaspoon nutmeg, and ¼ teaspoon ground cloves in food processor until crackers are finely ground.
Add melted butter and pulse until just combined.
Pour crumbs into prepared springform pan, press firmly and evenly into bottom of pan.
Bake crust 15 minutes, then let cool completely on wire rack while making filling.
When cool or when filling is ready, double-wrap outside of pan with foil.
To make the filling, whisk together ¾ cup sugar, 1 teaspoon cinnamon, ½ teaspoon ginger, ¼ teaspoon nutmeg, ¼ teaspoon cloves, brown sugar, allspice, and salt in small bowl; set aside.
Empty can of pumpkin puree into a shallow bowl and pat gently with paper towel to remove extra moisture. Set aside.
In bowl of stand mixer fitted with paddle attachment, beat cream cheese on medium speed for 1 minute until softened. Scrape down sides and bottom of bowl with spatula.
Beat in sugar mixture on medium-low speed until just combined. Scrape down sides and bottom of bowl with spatula.
Add pumpkin puree and beat until combined, about 1 minute. Scrape down sides and bottom of bowl with spatula.
Add eggs one at a time, beating about 20 seconds in-between additions.
Reduce speed to low, add vanilla bean paste, heavy cream, and Grand Marnier, beat until combined. Scrape down sides and bottom of bowl with spatula one last time.
Pour filling into prepared springform pan and place into roasting pan.
Fill roasting pan with water until it comes halfway up the sides of the spring form pan. Bake for approximately 1 hour and 30 minutes. Cheesecake is done when the top is golden brown and the center is slightly wobbly when pan is shaken.
Remove from oven and remove cheesecake from roasting pan immediately. Remove foil from spring form pan and set on wire rack to cool to room temperature.
When cooled, cover cheesecake and refrigerate overnight.
Next day, remove cheesecake from pan and decorate with toppings of choice. Eat and enjoy.