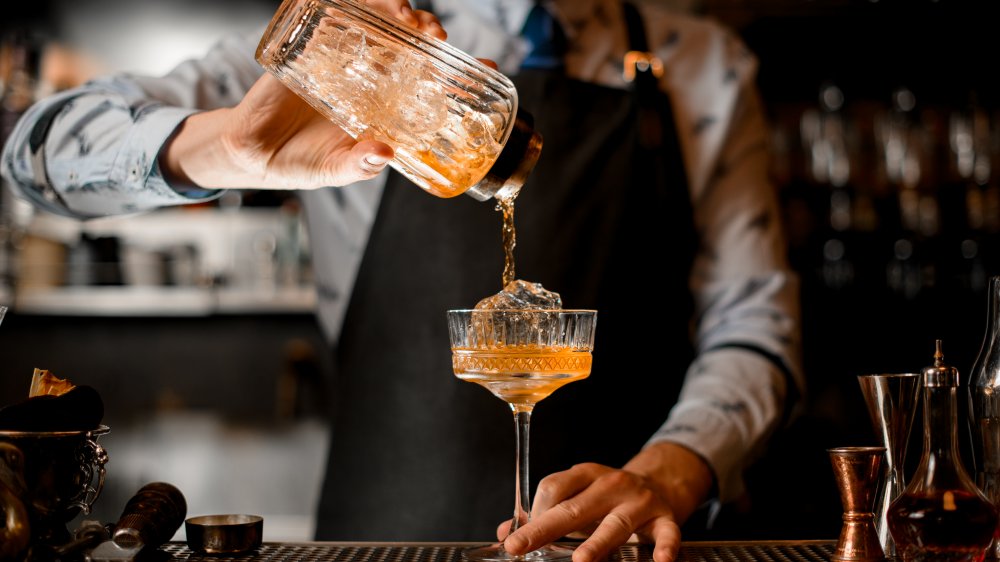 Tiki taverns, speakeasy spots, historic saloons, and dingy dives; every American state is packed with an abundance of each option. But within each one of their borders is a watering hole a cut above the rest. We've selected the best bar in every state, even in exceptionally challenging places like New York, California, and Oregon that have an almost overwhelming abundance of awesome bars. Some are cash only, some are operating in historic structures, and some are literally surrounded by a luxury apartment complex.
Below, you'll find beloved yet obvious choices like Charlie B's in Missoula, Montana, and The Sazerac in New Orleans, Louisiana. But you'll also find sleeper selections like The Matador, an underground dive in Santa Fe, New Mexico. Or The Light of Seven Matchsticks, another subterranean lounge, this time offering high-end craft cocktails, in Columbus, Ohio. Or Baby Bar — just a weird, fun place in Spokane, Washington.
People everywhere are passionate about where they do their drinking, and we can say with absolute certainty that you won't find a bad bar on this list.
Alabama: The Collins Bar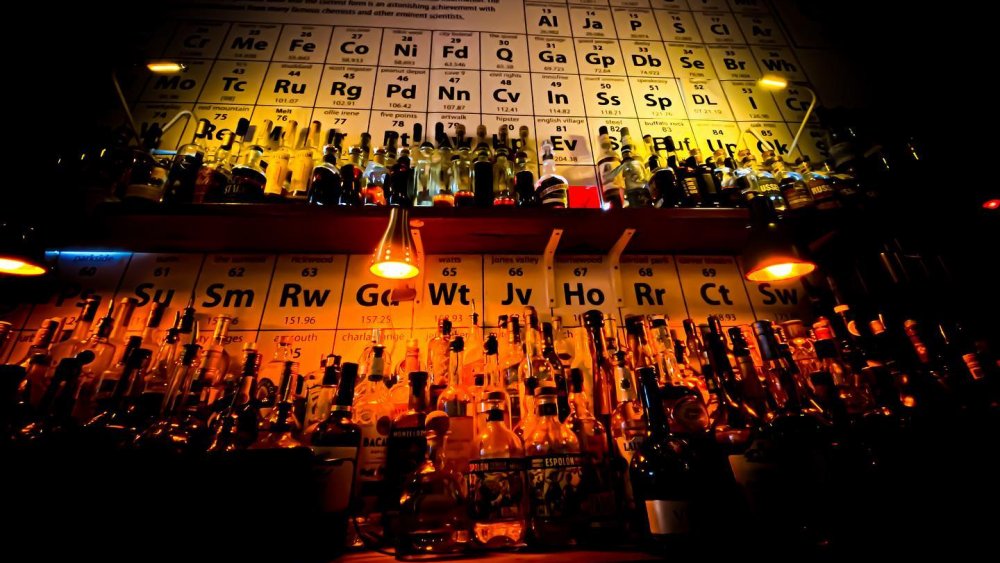 If it's a dive in Alabama you want, head straight for the dark and beloved Sports Page Lounge & Deli in Huntsville. However, if it's a well-mixed and inventive craft cocktail you're after, The Collins Bar in the Loft District of downtown Birmingham is your answer. This recently established bar has an impressive bourbon selection (via Best Things Alabama), as well as a vintage vibe thanks to antiquarian typewriters and the wallpaper-looking periodic table behind the liquor selection. There's also food, like Greek potstickers or chicken and waffles, but according to Southern Living, you'll first be ordering a Honeysuckle Rose — Cathead vodka, Aperol, ginger liqueur, and egg white
Alaska: Salty Dawg Saloon
When you picture the perfect Alaskan bar, you might picture The Brick from underrated '90s show Northern Exposure (though, that place is actually in Washington). A close second is Salty Dawg Saloon. The historic bar is set in the Kachemak Bay city of Homer on the Kenai Peninsula. Some of the first cabins there were built in 1897, and one of them is the Salty Dawg. The structure served as a grocery store, office, schoolhouse, post office, and was even moved after a 1964 earthquake. The now-iconic lighthouse was added to cover a water storage tank — and it finally became a bar in 1957.
Arizona: Bikini Lounge
Named for Bikini Atoll in the Marshall Islands, the Bikini Lounge is as much of a history lesson as it is a lovable dive in the Grand Avenue Arts District near downtown Phoenix. Though open since 1947, it's one of the last of the first-wave tiki bars that were popular in the Valley during the middle part of the 20th century. Bikini was remodeled in the 1960s and is currently decked out in Tom Cooper murals (most famously, the hula woman above the bar), a bamboo-walled back patio, and even a tiki-themed bike rack. The cash-only haunt usually is known for dance parties, tiki drinks, cold beer, or plain stiff cocktails.
Arkansas: Capital Hotel Bar & Grill
Established in 1876, and restored in 2007, the Capital Hotel in Little Rock has been, according to its own website, "Little Rock's 'front porch' for 140 years." Doesn't that sound like the perfect place for a drink? The onsite Capital Hotel Bar & Grill sports a "glossy, dark-paneled bar" (via Do South Magazine) upon which knowledgeable bartenders will slide down signature mules, house cocktails like the Corpse Reviver, draft beers, and wine by the glass. An extra perk? A good chunk of the drink menu is devoted to single malt scotch options.
California: Tiki-Ti
There are some amazing bars in California (shout out to Merchants' Saloon in Oakland, Zam Zam in San Francisco, and Marlin Club in Avalon), but the top spot goes to Tiki-Ti in Los Angeles. The classic tiki bar was opened in 1961 by Ray Buhen, who bartended for the Don the Beachcomber. Now Buhen's son, Mike Buhen Sr., and his sons, runs the bar. It's a petite place, just 12 bar stools, but there are 94 drinks options. It goes without saying that if you want a tiki drink while in Los Angeles, you can't go wrong with this place its signature drinks such as the Kactus Kula, the Fog Cutter, and Ray's Mistake.
Colorado: My Brother's Bar
The Centennial State is chock-full of history. Meaning if you want to find a historic bar, the pressure is on (though Colorado is full of those, too). But good news — My Brother's Bar delivers. The historic brick structure has offered a bar since the 1870s (via Denver Westword), and at this point happens to be the oldest saloon in Denver. It was big news when the bar changed ownership in 2017, but the new owners promised to not add televisions and an outside sign. It's also where icons of the Beat Generation — Neal Cassady, Allen Ginsberg, and Jack Kerouac — used to hang. What's more, burgers are served on wax paper till 1 a.m.
Connecticut: Griswold Inn
A New England bar must come with a good history, and the Griswold Inn in Essex has loads of it. The Tap Room space here first opened in 1776 but was even originally built as a schoolhouse as early as 1735. But it's not just a historic site, it's also a great bar, even landing the number 92 spot on The Daily Meal's list of "150 Best Bars in America" last year. There's also a great drink menu, a year-round Christmas tree, and Katherine Hepburn has enjoyed a drink here.
Delaware: Kelly's Logan House
The first state offers some great third places, but the most iconic is probably Kelly's Logan House. The Logan House itself was built in 1864, and it became a bar in 1889 — making the Trolley Square tavern the oldest Irish pub in the state. Listed in the "National Register of Historic Places, the spot is a go-to for St. Patrick's Day, Guinness on draft, and house cocktails like the Whiskers Old Fashioned — named for John D. "Whiskers" Kelly, one half of the husband-and-wife team (the other is Hannah Golden Kelleher Kelly) who originally purchased the Logan House. To this day, a member of the Kelly family oversees operations of the bar.
Florida: No Name Pub
While great Florida bars abound in Ybor City, Miami Beach, and Key West, the No Name Pub in the Florida Keys is high on The Guardian's list of the "Top 10 bars in Florida," and in our hearts. The Big Pine Key beach bar has one feature you'll notice right away — tons of dollar bills on the walls, ceilings, and every other crevice. It's marked with the sign "No Name Pub … You Found It," nailed onto a structure that dates back to 1931. By the 1950s, the place became an out-of-the-way bar — as it remains today.
Georgia: The Original Pinkie Masters
It's hard to overlook the great watering holes in Atlanta, Athens, and Macon, but Savannah has the best bar in the state. The Original Pinkie Masters can be spotted on Drayton street by the hanging Pabst Blue Ribbon sign. The gin joint was opened by Luis Christopher Masterpolis— a.k.a. Pinkie — in the 1950s. Though it continues to be an assuming dive, the neighborhood haunt has a political past. This was a regular stop of Jimmy Carter's — both as senator and president.
Hawaii: Duke's Waikiki Barefoot Bar
Duke's Waikiki Barefoot Bar is on every list of Hawaii's best bars, including this one. A beach bar named for a surfer, Duke's in Waikiki is about as Hawaiian as it gets. The Barefoot Bar menu lists Hawaiian beers and wines, as well as signature cocktails. Those include Duke's Mai Tai, Guava Jamz, and, of course, the Endless Summer — a blend of mango and citrus vodka with guava, coconut, and passion fruit juice. What's more, the interior of the bar is adorned in memorabilia dedicated to native Hawaiian athlete Duke Kahanamoku.
Idaho: Pengilly's Saloon
The Old Boise Historic District is home to the best bar in the Gem State — Pengilly's Saloon. The tavern is known for its more than 100-years-old Brunswick Bar, as well as plush booths, well-worn wooden tables, and Old West décor — not to mention that saloon-style stage. Despite Pengilly's being a major bar-hopping stop in downtown Boise, it definitely offers a small-town vibe. According to Esquire Magazine, which named Pengilly's one of the best bars in America in 2007, the drink to have here is a kamikaze.
Illinois: Billy Goat Tavern
Though there are about eight locations in Chicago, the Billy Goat Tavern on Michigan Avenue is an essential bar experience (via Eater). The legendary watering hole was opened in 1934 by William "Billy Goat" Sianis, and 10 years later, was known for posting "No Republicans allowed" In the window during the 1944 Republican Convention. It was also made famous in the late '70s when satirized by the beloved "Cheezborger" sketch on Saturday Night Live. While the place is known for burgers and Pepsi, there is a full bar and cold beer.
Indiana: Red Key Tavern
If you're attracted to bars with buzzing neon signs, hook into Red Key Tavern. Inside, you'll find 1950s-style décor, even though the Red Key was opened in 1933 (and before that it was a Piggly Wiggly since 1927). This is a well-established, cash-only Midwestern bar, complete with generations of regulars, daily drink specials, and a simple menu of cheeseburgers, chili, and potato salad. The mirrored walls, soft twinkle lights, small tables, and loads of wall décor and framed awards make the place always feel cozy.
Iowa: Historic Kelly's Little Nipper
A dive bar in Des Moines with roots going back to 1940? Such a magical place does exist. Kelly's Little Nipper is housed in a standalone structure that was built in 1908 and held a general store and brothel before the bar. In fact, the liquor license on the bar is the second oldest in Polk County. But the bar has been Kelly's Little Nipper since 1981 when Ernie Nipper took the reins as owner. House cocktails include Kelly's Sangria, Kelly's Punch, and Kelly's Screwdriver, which pair well with the fried appetizers and sandwiches.
Kansas: Mort's Martini & Cigar Bar
Mort's Martini & Cigar Bar was established in 1996 in historic Old Town in Wichita, and it's been something of a favorite hang ever since. You could come in for a quick mixed drink, but you'd be missing the point of this martini and cigar bar. Mort's offers more than 160 martinis on its drink menu, as well as an impressive array of cigars for sale. This brick-house bar also features live music on a nightly basis, a heat and cooled patio, craft beer selections, and a quick menu of bar food.
Kentucky: Mag Bar
There are many taverns called Magnolia Bar in this country, but a great one is in Kentucky (where it's not only the top bar in Louisville but also the best in the state). Mag Bar, as it's locally dubbed, was founded in 1962 in what is now the largest residential Victorian preservation district in the nation (via The Guardian) — a.k.a. historic Old Louisville. The punk-packed jukebox is famous citywide, the bands and DJs are loud, and the bar is cluttered with décor. Happy hour boasts $2.50 mixed drinks, and that's pretty much the extent of the drink menu at the cash-only Mag. This isn't the type of place with $13 signature cocktails.
Louisiana: The Sazerac Bar
Though many fantastic bars and breweries dot the historic districts of Alexandria, Baton Rouge, and Shreveport, it's New Orleans that is considered one of the premier drinking capitals of the world. It also happens to be home to the best bar in Louisiana. The Sazerac Bar at the Roosevelt Hotel on the edge of the French Quarter is moody with its African Walnut wood, leather seating, and Paul Ninas murals (via Conde Nast Traveler). Here the menu lists beer, wine, and modern cocktails like the Port of New Orleans. But at a historic joint like this, opt for a classic cocktail with — what else — a Sazerac.
Maine: Vena's Fizz House
One of the signature drinks at Vena's Fizz House sounds like a bad Madlib. The Maine Margarita is a blend of tequila, blueberry, pine, lime, Dry Curacao, and Vena's Bitter Tyrone, and it's incredible. This downtown Portland cocktail bar serves it along with other Pine Tree State spins like the Rocky Coast Bloody Mary and the Lumbersexual. Founded in 2013 by husband-and-wife team Johanna and Steve Corman, Vena's Fizz House is also a retail shop, complete with cocktail kits, vintage barware, and locally made bitters for sale. Vena's also offers an impressive mocktail menu.
Maryland: Max's Taphouse
If a sign reading "Welcome to the Land of Beer" doesn't coax you through the entryway it sits upon, we don't know how to help you. Max's Taphouse in the Fells Point area of Baltimore offers more than 100 rotating beers on tap and more than 1,000 bottles, too — making it home to Maryland's largest beer selection (or so the bar claims). Max's also offers daily drink specials and themed happy hours, a tight menu of bar food, and a scenic outdoor patio.
Massachusetts: Wally's Cafe
Boston being a major metropolitan area, it's packed with high-end cocktail lounges and modern breweries, but this is also Cheers town, so it's important to keep our pick of the best bar in Massachusetts simple. Wally's Cafe is a jazz club and drinking den with inexpensive beer, straightforward cocktails, and a promise of a lively, musical atmosphere. It dates back to the 1940s, though its current location has been in place since 1979. What's more, jazz great Charlie Parker has played here.
Michigan: Old Dog Tavern
Marked by "Star Paper Co." painted on the front façade of the two-story historic building, Old Dog Tavern is as cool-looking as it is quick on drinks. The bar and grill opened in 2010 by Amy and Sean Smith and it's become a go-to in Kalamazoo, which has even led MLive to declare it "Michigan's Best Neighborhood Bar." Signature cocktails include the Tommy Pickles Margarita and a build-your-own bloody mary, and there's some incredible mac and cheese. In addition to the historic digs, Old Dog also has one of the best beer gardens in Michigan.
Minnesota: Psycho Suzi's Waterfront Lounge
Psycho Suzi's Waterfront Lounge has been around since 2003, though it feels like the little tiki hut and pizza bar has been there since the dark days of the Midcentury. Psycho Suzi's is set right on the Mississippi River in northeast Minneapolis and has done some interesting stuff — like open bar reservations — during the COVID-19 pandemic. But overall Psycho Suzi's is just a weird retro bar heavy on the animal print with signature tropical drinks in custom tiki mugs. It's also big on holidays with over-the-top Halloween and Christmas parties.
Mississippi: City Grocery
The upstairs bar at the City Grocery in Oxford is a classic Mississippi haunt. It's the type of place that has welcomed Ole Miss professors and students, well-to-do Southerners, and well-worn travelers — as well as Anthony Bourdain. Classic cocktails include the Old Fashioned and Pimm's Cup, as well as local-lore-in-a-glass like the Oxfordian. If you're lucky, extremely lucky, you may get a seat on the famous balcony. There's also wine, beer, and views of Oxford's town square from on high.
Missouri: Green Lady Lounge
Obviously, Kansas City has some fun bars, including neighborhood joints like Zoo Bar and sports dives like Charlie Hooper's Bar & Grille and Tower Tavern. But for a truly KC night of drinking, you've got to go to Green Lady Lounge. This is a two-story jazz club that perfectly blends music, barbecue, and baseball. There's no cover charge, no bright lights, and no chance of not having a good time. Step through the entryway beneath the red awning, order your favorite mixed drink, and get comfortable for a full night of live music.
Montana: Charlie B's
Esquire Magazine named Charlie B's in Missoula as one of the "15 Bars Every Man Should Drink In Before He Dies." Well, um, women have a good time there, too — and many have their portraits framed on the wall of regulars. The bar is named for the owner, Charlie Baumgartner, who's been in charge since 1980. Before the place was Eddie's Club, but it's always attracted college students, Montana locals, and travelers looking for an inexpensive drink as early as 8 a.m. Another amazing perk is the adjoining Dinosaur Café, which serves a tight menu of Cajun food.
Nebraska: The Homy Inn
About as iconic as the Chimney Rock National Historic Site is the tap handle dispensing champagne on draft at The Homy Inn in Omaha. In fact, the well-worn bar serves four varieties of Champagne-on-tap — sweet, dry, strawberry, and peach. Homy was established in 1956 and has as storied a past as any neighborhood joint. Come here for the bubbly but stay (till 2 a.m. every night) to admire the vintage baseball cards and befriend the regulars.
Nevada: Atomic Liquors
The Silver State has a weird and wacky history, and part of that includes atomic testing in its desert landscape. Cue the 1952-established Atomic Liquors. Built in 1945 as Virginia's Cafe, this building is now home to the oldest freestanding bar in Las Vegas. The name stems from the time when guests would watch the blasts from the rooftop. The bar is pinned with a vintage, Old Vegas-style sign of lights reading "liquor" and "cocktails." Inside find cocktails like the Hunter S. Mash, rotating taps of craft beer, and a dinner menu of comfort food. What's more, this is where The Rat Pack, the Smothers Brothers, and Barbra Streisand used to drink.
New Hampshire: The Peddler's Daughter
A good Irish pub is never hard to find but a great Irish pub is found in Nashua. Inside the cozy, heavily decorated walls of The Peddler's Daughter, patrons are sipping a frothy pint of Guinness or Harp, finishing a plate of Irish Nachos, enjoying live music, and hopefully slapping a few tables. The list of Irish whiskey available here is impressive, as is the number of patches stuck up around the wraparound wooden bar.
New Jersey: The Wonder Bar
Jersey Shore locals and visitors flock to The Wonder Bar in Asbury Park, and for good reason. This is a nightclub and day drinking haven (best enjoyed on the deck dubbed Tillie's Landing) where big Jersey names like Bruce Springsteen and Bon Jovi have performed — even though the bar's only been open since 2002. The forementioned Tillie is the goofy-drinking mascot and mural on the outside of the bar. The menu at this dog-friendly shoreside tavern also offers wings, sandwiches, beer, wine, and cocktails like the Rum Bucket.
New Mexico: The Matador
If you'd like a killer drinking experience in the Land of Enchantment, be sure to head downtown to The Matador in Santa Fe. This cash-only, 67-person capacity underground bar is where you'll find cheap mixed drinks and cold domestic beer, along with a small gaggle of regulars. The Matador feels like a college dive bar, but it's definitely an all-ages (north of 21, of course) neighborhood watering hole. Expect post-punk on the speakers, off-the-cuff films on the screens, and an espresso bar to boot.
New York: Alibi
In a world of high-end cocktail bars and modern brew houses, Alibi is a proper neighborhood haunt. The bar is set in the Fort Greene neighborhood of northwest Brooklyn at DeKalb Avenue just off Vanderbilt Avenue, and it's a favorite among local and dive bar seekers. Bartenders here only take cash (via The New York Times), but drinks are inexpensive, prompting one writer to refer to the Alibi as a "legitimate drinker's paradise." The proof is right inside, where there are Christmas lights, wall graffiti, and a row of regulars at the bar.
North Carolina: Thirsty Beaver Saloon
You'll feel pretty thirsty once you get over the initial shock of pulling up to Thirsty Beaver Saloon in Charlotte's Plaza Midwood. The entryway to the standalone dive looks welcoming, while the towering apartment complex surrounding it? Not so much. Inside you can drink cold, cheap beer by the light of the neon signs, which adorn the short walls along with bras and old country-music memorabilia. You're also welcome to play darts and pump some coin into the jukebox.
North Dakota: Empire Tavern
Empire Tavern in downtown Fargo has been around since it was established in 1936. When Prohibition ended, the Empire was one of the first bars open in town after years spent as Empire Café. By 1943 it was the Empire Liquor Store, and by 1964 it was Empire Tavern. Today, the bar is marked by the iconic neon sign above the brick façade. Inside, find drink specials, dark wooden booths, neon beer signs, and Busch Light on tap.
Ohio: The Light of Seven Matchsticks
Attention anyone who's ever donned a multi-colored sweatband or fur coat for a Tenenbaums-themed costume: There's a Wes Anderson–inspired basement bar in Columbus. The Light of Seven Matchsticks, actually set in Worthington and named for a line in Anderson's Moonrise Kingdom, not The Royal Tenenbaums, is a craft cocktail lounge established underneath Natalie's Coal-Fired Pizza and Live Music. Signature cocktails are divided into categories like "Profound Dream State" and "Meet the Mentor." Plus, there's no cell service, and no kids allowed, if that helps.
Oklahoma: Edna's Club & Restaurant
Many bars stand out with a gimmick, but many aren't as enticing as the "Lunchbox." This is the specialty drink at Edna's Club & Restaurant, a highly accessible neighborhood bar in Oklahoma City. The dive is complete with low ceilings wallpapered in dollar bills, neon beer signs, pool tables, and a green light for smokers. An order of the OKC-famous Lunchbox is a big mug full of beer, amaretto, and a splash of orange juice. Around since 1980, Edna's also offers bar snacks (think fried pickles) and a well-loved jukebox.
Oregon: Loyal Legion
If you'd like to do a sip-tour of Oregon beer without neglecting your drinking buddy's want for a house cocktail, the Loyal Legion in Portland is your answer. The bar has 99 Oregon beers on tap, as well as a lengthy list of cocktails and wine — including some signature options like the Portland Pina Colada and the ultra-current Where's My Mask?. The Loyal Legion is also the longest bar in Portland, which adds to its classic look. The bar goes with a less-is-more look, meaning there are plush navy booths, pops of potted plants, and wood trims everywhere else in the old P.P.A.A. building.
Pennsylvania: Tattooed Mom
It's hard to pinpoint the best watering hole in Pennsylvania considering major destinations like Pittsburgh and scenic stops like Boyertown. But when it comes to taverns, Philadelphia takes the win. Specifically, Tattooed Mom. This tattoo parlor-themed neighborhood bar in Queen Village is colorfully and overly decorated and offers cold beer and house cocktails like the Pickletini and Cosmo Cloud. There's also a menu of snacks, sandwiches, and vegan options, as well as friendly bartenders and some extraordinary lounge spots to enjoy your beverage.
Rhode Island: White Horse Tavern
For a historic tavern experience in Rhode Island, there's no more historic place to get a drink than the bar at White Horse Tavern in Newport. The two-story structure in which White Horse is housed was built in 1652. And since it's been a bar since 1673, it's also the oldest operating tavern in the country. This place is first and foremost an upscale restaurant, but the bar area serves a Tavern Mai Thai and offers some impressive pours of wine.
South Carolina: The Griffon
Sure, signed dollar bills are a major gimmick of neighborhood bars. But when it's done well, it's a comforting scene. Cue The Griffon, found in Charleston, which is absolutely plastered with bills signed by drinkers from 'round the world dating back to more than 20 years (though some of those bills recently came down to support employees during the pandemic). Though set in a tourist district this is a neighborhood dive with cold beer — ranging from Yuengling on draft to canned Westbrook's Key Lime Gose — and accessible bartenders and patrons. The bar offers an efficient menu of bar food, including some legendary wings.
South Dakota: The Ice House
A truly monumental bar in South Dakota is The Ice House in the southeastern city of Yankton. Ice House has been around since 1928, though the beer license kicked into gear around 1933 after prohibition ended. Before that the building was in fact the Pure Ice Company — hence the name. Today this brick, standalone keeps up an old tradition: Drinkers are actually encouraged to smash their beer bottles under the deck after finishing a cold one.
Tennessee: Robert's Western World
Lower Broadway in downtown Nashville is absolutely packed with tourist-trapping bars and eateries. But there are a couple of authentic Music City honky tonks on this famous strip, and Robert's Western World is one of them. The bar and music venue is known for ice-cold beers, live country and western bands (both kinds of music), and fried bologna sandwiches (via Conde Nast Traveler). Sandwiches and other menu items are made right on the flat grill behind the bar. And as for the name, the space was once a famous instrument shop, but also Rhinestone Western Wear and Robert's Western Wear Bar & Night Club before becoming the famous watering hole. You can still spot boots on display on the other side of the bar.
Texas: Adair's Saloon
It's hard to overlook the great watering holes in Austin, Houston, and San Antonio, but Adair's Saloon is just that special. Adair's has been in Deep Ellum for about 20 years, but the first run dates back to the 1960s when it was opened by S.L. and Ann Adair. Adair's has written mementos and stickers on the walls, cheap beer, and plenty of live country-western acts. Patrons and performers here have included the Dixie Chicks to Elvis Presley. And this little Texas honky-tonk also offers a country-filled jukebox, juicy burgers, and shuffleboard.
Utah: Shooting Star Saloon
Shooting Star Saloon has been open since 1892 — making it the longest-running bar in Utah according to Gastronomic. But according to the bar itself, it's been slinging cold ones since 1879, making it the oldest continuously operating saloon west of the Mississippi. The Huntsville bar in northern Utah offers beer only — but not craft beer, just honky-tonk beer. No cocktails or wine, but there is coffee, malts, and soda. There is also a menu of Huntsville-famous burgers served with chips — no fries.
Vermont: Three Needs Tap Room & Pizza Cube
Three Needs Tap Room & Pizza Cube is a laid-back bar in Vermont that really welcomes all kinds. Overseen by brewer Glenn Walter, the bar offers multiple pool tables, pinball, and a big outdoor courtyard for the warmer months. The Three Needs offers a lengthy list of Vermont beers — bottles, cans, and draft — as well as creative cocktails like Glenn's Fruit Punch and the Spicy Margarita Jello Shot. Oh yes, and there are also pizzas. Find the beer and pizza by spotting the green little house bar in Burlington.
Virginia: B Side
B Side is a neighborhood bar and beacon to music and cocktail nerds alike. This Fairfax cocktail lounge in the Mosaic District was established by the same team behind the neighboring Red Apron Butcher and The Partisan. Many house cocktails are named after album B-sides, obviously, while other drinks are just efficient, like the Pina Margarita. Craft beer and wine are also available, as is a Creole-inspired menu from the next-door eatery, including Jambalaya Risotta Cigars.
Washington: Baby Bar
The Evergreen State is packed with Seattle cocktail bars, small-town taverns in the Puget Sound, and the actual bar from Northern Exposure (The Brick in Roslyn, Washington). But when it comes to character, nothing beats Baby Bar in Spokane. The house rules include "No crying" and "No fake accents," while the drink menu lists beer and booze. Touring alternative bands often pop in to play and drink, or both. And, if you're hungry, Baby Bar has a great neighbor: Neato Burrito.
West Virginia: Crockett's Lodge
With a tagline like "Hipster free since '83," it's hard to ignore the lure of a place like Crockett's Lodge. The Morgantown tavern has your typical bar décor — wrapped Christmas lights, framed portraits of regulars, posters, stickers, stained glass lamps, and a TV or two. The drink menu includes beer, wine, and whiskey — you won't find craft cocktails here unless you consider that a stiff mixed drink. What's more, Crockett's and its customers claim it has the best wings in town — and they've been served the same way throughout its 37-year history.
Wisconsin: Wolski's Tavern
This Milwaukee bar is so famous you'll see "I Closed Wolski's" bumper stickers on cars across the country. Those stickers, by the way, "are earned, not purchased, and require a late night at the bar" — or so the website states. Wolski's Tavern was established by Bernard Wolski in 1908, and it's the classic house-style tavern on Milwaukee's lower east side. The beer list features everything from Old Milwaukee (obviously) and Coors Light to local brews like Lakefront Eastside Dark on draft.
Wyoming: The Mint
Open since 1907 under the same name, The Mint feels like the quintessential Wyoming bar. Inside this narrow stretch of a tavern in downtown Sheridan, beneath the iconic neon cowboy, you'll spot red cedar trimmings, a long wood bar, taxidermized adornments, historic newspaper clippings, and "cedar shingles of 9,000 local cattle ranch brands." But when it comes to drinks, there's a lengthy menu of beers, whiskey, and wine. What's more, the owners claim the meaning of "Meet you at the Mint" would be understood around the world.