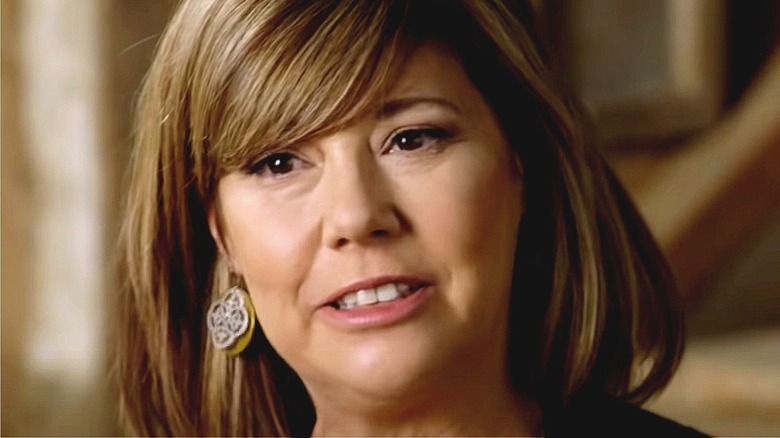 Reality show "Little People Big World" has been a hit for the TLC network ever since it debuted back in 2006. The longtime series follows the Roloff family, headed by former married couple Matt and Amy Roloff, who are both little people. "Little People Big World" highlights how despite their differences, the Roloffs, along with their four children Zach, Jeremy, Molly, and Jacob, succeed in their personal lives and in their business running a pumpkin farm, all while facing the challenges that come with having dwarfism or having a family member with dwarfism.
Throughout the years, the show has evolved to include not only some of the Roloff children's partners and their own children, but also some changes for Matt and Amy in that the two have since divorced and moved on to new relationships. After they split in 2016, Matt began dating his girlfriend, Caryn Chandler, and they've been together ever since. While the two seem very happy together, like any good reality show couple, the pair have faced their fair share of drama that started the moment they became an item.
Despite it all, Caryn has managed to become an integral part of the show and has fans of her own rooting for her relationship with Matt. Yet Caryn is more than just someone's girlfriend, so let's learn more about the "Little People Big World" star.
Caryn Chandler used to work on the pumpkin farm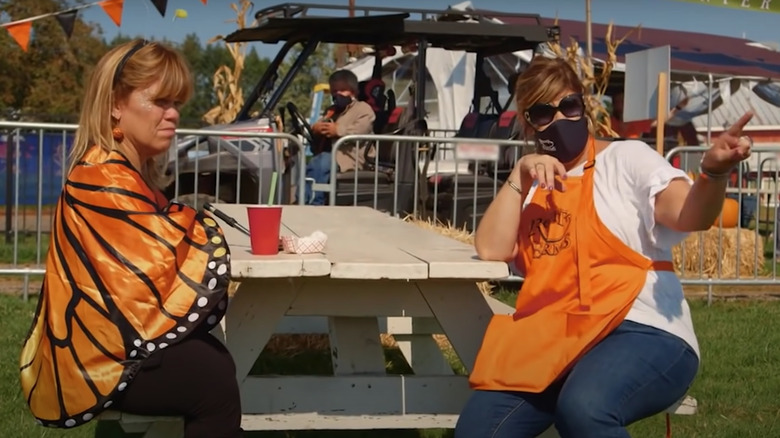 "Little People Big World" star Caryn Chandler was involved with the Roloff family long before she became patriarch Matt Roloff's girlfriend since she had worked on the family's Oregon farm. As viewers know, Caryn was a longtime employee who ended up working as Matt's assistant. Matt has even discussed on the show how important Caryn's role was on the farm, saying (via Good Housekeeping) that she was "instrumental in running pumpkin season," which is a major annual event.
Yet in 2018, Caryn announced on her Instagram that she'd stepped away from the gig, writing, "Today was the first day of pumpkin season .. ! Even though I'm not working at the farm this year I'm still greatly invested. Love the place…" It's apparent that Caryn had a passion what she did for a living.
While it's unclear why Caryn left her job on the farm, fans speculated that it had to do with Matt's ex-wife Amy Roloff. It was evident that she was uncomfortable with Caryn and even dished on the series (via Showbiz CheatSheet), "Caryn is an employee and is in a personal relationship with my ex-husband…I'd rather just minimize the personal interaction. It's not healthy for me." Matt acknowledged the difficulties of his girlfriend helping run the farm, explaining (via People), "She tries to get Amy as involved as she can. There was awkwardness a little bit."
Caryn Chandler has been married before
Like "Little People Big World's" Matt Roloff, Caryn Chandler too was once married and had some divorce drama of her own. Per ScreenRant, Caryn was married to her ex Joseph Chandler for 20 years. According to Radar, Joseph has been arrested multiple times, both before and after his split from Caryn.
According to court documents (via Radar), Joseph "did unlawfully and recklessly cause serious physical injury to victim by means of a motor vehicle, dangerous weapon" in 2009, and ultimately reached a settlement. In 2013, he got in trouble for driving with a suspended license, and a few years later, he got nabbed for driving under the influence again. Per the outlet, he served jail and probation time.
Caryn and Joseph share two children, Brittany and Connor Chandler. For years, the two were noticeably absent from "Little People Big World," and that wasn't an accident. Rather, it was directly linked to the Caryn and Joseph's divorce agreement. As noted in court docs obtained by Radar, "Neither party will allow the children to be filmed for television without the consent of the other party." Once they were legal adults, however, Brittany and Connor were free to go on the show whenever they wanted.
There have been ups and downs for Caryn Chandler and her kids
"Little People Big World's" Caryn Chandler may have a big role in the Roloff family these days, but the reality star has a family of her own. While Brittany and Connor Chandler don't really go on the show, it seems that they do have a relationship with the Roloffs. Brittany, for example, commented on Tori Roloff's 2020 Instagram post about daughter Lilah's dwarfism. She wrote (via Showbiz CheatSheet), "Oh Tori. I'll be lucky to be half the mama that u are one day. Real and honest. I love u guys & those kiddos so dang much."
Though they appear to be in a solid place now, Connor and Caryn's relationship has hit some major bumps in the road. According to The U.S. Sun, in January 2020, Connor was arrested for allegedly harassing his own mother, which included "offensive physical contact." Connor was ordered to stay away from Caryn at the time and was arrested again later that year when he failed to appear in court on the charges.
Connor was also arrested in the past for theft and struggled with drug addiction. He opened up on his Facebook (via Radar) about "how addiction almost took my life" before finding sobriety. However, it seems that Caryn and Connor have since reconciled, as she posted a photo with him and his girlfriend from their August 2021 maternity shoot, as well as pictures of herself holding Connor's new baby.
If you or anyone you know is struggling with addiction issues, help is available. Visit the Substance Abuse and Mental Health Services Administration website or contact SAMHSA's National Helpline at 1-800-662-HELP (4357).
If you or someone you know is dealing with domestic abuse, you can call the National Domestic Violence Hotline at 1−800−799−7233. You can also find more information, resources, and support at their website.
Matt Roloff and Caryn Chandler bought a house in Arizona
While "Little People Big World" star Matt Roloff hasn't put a ring on girlfriend Caryn Chandler's finger yet, the two are pretty serious. So much so that, as The Sun recounted, they moved into a home they purchased in 2018 that used to be Caryn's parents' former house — all the way in Caryn's native Arizona. The two not only use it as a frequent escape from the cold Oregon winters but appeared to have also posted up there together to quarantine during the height of the COVID-19 pandemic. Matt shared in a May 2020 Instagram post, "Making a break for Arizona where things are a bit calmer."
Yet just because the two have taken the step to live together in the Grand Canyon State doesn't mean they're ready for marriage. Matt revealed in an August 2021 episode of "Little People, Big World" (via Us Weekly) that their "grand plan right now is to stay committed, stay in love, go to Arizona and spend a tremendous amount of time together." As for whether a 2022 wedding is in store, Caryn dished, "He hasn't asked me, so we're definitely not yet."
It appears that fans are on Matt's case about it. As The Sun reported, when a fan told him to "Marry that woman" in the comment section of an Instagram post about Caryn's birthday, he replied, "Maybe I will !! You'll have to wait and see." Wedding bells may be in the cards for the couple after all.
There have been many rumors about Caryn Chandler and Matt Roloff
While some fans may be rooting for Matt Roloff and Caryn Chandler to tie the knot, others have been throwing shade at their relationship since day one, accusing Caryn of being the reason why Matt and Amy Roloff's 27-year-long marriage ended. Amy has even suggested that Matt had cheated on her with Caryn while they were still married. In a 2019 Facebook Live, Amy told fans (via The U.S. Sun), "We had someone that worked for us for a very long time on our farm. And I believe…that there was more than just friends going on." She even went as far as to add, "I think that evolved to a point where that got in the way of our marriage."
Amy also alluded to untoward behavior in her autobiography, "A Little Me," writing, "Matt and our farm manager…seemed to have more than just a working relationship or friendship." She continued, "I saw messages, pictures, and other things that should not have been shared between people who just worked together and were still married to other people."
Neither Matt nor Caryn have admitted to an affair. That said, Caryn has been called a lot of names on social media, and while it's usually best not to read the comments, sometimes, Matt reads and responds. For example, when someone wrote that Caryn "was dating Matt when he was still married to Amy and she's there for the money" on Instagram (via Good Housekeeping), he replied, "You couldn't be further from the truth."
Caryn Chandler was not invited to Amy Roloff's wedding
Due to their complicated past, it makes sense that Caryn Chandler and Matt Roloff were not asked to attend his ex Amy Roloff's wedding to Chris Marek. Amy revealed on their show "Little People Big World" (via People), "Chris and I debated whether to invite Matt and Caryn to the wedding, but we decided against it." She added, "I think it causes less drama and I think that's better for everyone." Despite Chris's good relationship with Matt and the fact that Matt had lent them his farm for their wedding, Chris felt that it would be "awkward for some people," including Amy.
Matt agreed, explaining, "We had a conversation and he goes, 'Are you going to be offended if we don't invite you to the wedding?' [I said,] 'Absolutely not, let's just take it off the table, make it simple.'" Amy also told fans in an Instagram Live (via The U.S. Sun) that there's "just too much history, and I wouldn't want my ex at the wedding with his longtime girlfriend."
While Amy still seems to have issues with Caryn, her children have taken to her as their father's girlfriend. According to Good Housekeeping, Zach Roloff even once said, "I'm not going to sit there all bitter and pissed off that him and my mom didn't work out." He continued, "Caryn and my dad seem really happy together, and no matter what, I want to see both of my parents happy."
Caryn Chandler has her own home in Oregon
Reality stars Caryn Chandler and Matt Roloff may share an abode in Arizona, but when the "Little People Big World" stars are in Oregon, they don't live together. As the father of four explained on the TLC series (via Us Weekly), "When we're here in Portland, we'll live individually and see each other a lot." In fact, The U.S. Sun reports that Caryn purchased the pad in November 2020, but Matt is helping her fix up her new place. He even showed off on Instagram how what he "wanted to help her with is to get a new, better, larger deck built."
Some fans believe that Caryn's new home isn't good for the couple. Not only is it a two-story home, which makes it hard for Matt to get up and down the stairs, but, as they explained on the show, it's also led to the two spending most nights sleeping apart.
On the flip side, Caryn isn't exactly interested in calling the house Matt once shared with ex Amy Roloff home. As she confessed on "LPBW" (via Showbiz CheatSheet), "I would never live in the big house. Ever. Put a pin in that." She also admitted that the new farmhouse that Matt plans to build isn't necessarily for her. She explained, "I've always loved the farm, but it's Matt's farm, it's Amy's farm, and so I kind of want to let all that stuff fall where it needs to be on its own."
In 2021, Caryn Chandler became a grandma
While Caryn Chandler has definitely had a role in the lives of her partner Matt Roloff's grandchildren, the "Little People Big World" star has officially become a grandmother herself. In 2021, the TLC star's son Connor Chandler welcomed a son with his girlfriend, Ashlee. Caryn made the announcement on her Instagram by sharing a photo of the baby, writing, "I'm a Grandma ! Sweet baby Liam Joseph Chandler arrived Sunday August 22nd (2 weeks early). A bouncing 6lbs 12 oz of pure joy." She posted another photo holding the baby, where she wrote, "​​A Huge heartfelt thank you for all your beautiful and thoughtful congrats grandma messages" adding, " It's everything you all said. My heart is full."
Though she spends a lot of time with Matt's grandchildren, she evidently has made a point to respect boundaries. For example, when someone commented on Instagram that she was "a great grandma" to Matt's kids' kids, she replied (via In Touch) that she doesn't refer to herself as the Roloff kids' grandma, presumably not to offend their actual grandmother, Amy Roloff.
Despite what term she uses, Caryn seems happy to frequently post the Roloff grandchildren on her Instagram. It appears that she and Matt often take the little ones on fun adventures like to the zoo and, of course, Disneyland.
Now, about those gold digger rumors
"Little People Big World's" Caryn Chandler may have been called a gold digger by Amy Roloff fans, but according to reports, the TLC star has quite the impressive net worth on her own. Per outlets such as The Sun and Distractify, Caryn reportedly has a net worth of $4.5 million, separate from her boyfriend Matt Roloff, who Celebrity Net Worth estimates to be worth $6 million.
While Caryn hasn't worked at the Roloff farm since 2018, it could be assumed she made a pretty good paycheck there over the years, first as farm manager then as Matt's personal assistant. Since the Roloff farm probably gained popularity from "Little People Big World," the farm is seemingly lucrative, especially during pumpkin season which is usually filled with visitors with tours going for $300 a pop, according to the farm's official website.
The mother of two also makes money from appearing on the long running and popular TLC show. In 2021, The Cinemaholic estimated the Roloffs bring in between $35,000 to $55,00 per episode, so it's safe to assume that Caryn's salary's somewhere near or in that range. It appears that Caryn not only spends her money on trips to Arizona with Matt but also on real estate. That Oregon house she bought in 2020? Well, according to The Sun, she apparently dropped $405,000 for the pad. So with her own home and own fat bank account, it doesn't seem like Caryn is using Matt for his money, although his family's show didn't hurt either.
Caryn Chandler doesn't consider herself a celebrity
Caryn Chandler may have begun as just an ordinary woman working on a cool pumpkin farm, but these days she's a reality star thanks to her role on "Little People Big World." She also happens to be a loyal viewer. As Caryn told TV Shows Ace, "Yes, I try to [watch the show] because I never know how the scenes will be edited in the end." Yet, even though the Arizona native is an established TV personality, she added, "I don't think I'm a celebrity at all. Just being myself." And it appears that while she does enjoy other reality shows like "Survivor," "Naked and Afraid," and "Long Island Medium," she's all about the crime genre.
However, while Caryn had tons of fans from "Little People Big World," as well as over 140K followers on Instagram, the reality star lives a pretty low key life. She explained her and her boyfriend Matt Roloff's usual routine on the show (via Showbiz CheatSheet), saying, "I think we kinda hang out in the morning. We have coffee. And then we both sort of spend the afternoon doing this project or that project solo."
And it seems that despite the fame and criticism that comes from appearing on the show, Caryn has her priorities straight. She revealed, "I'm just focusing still on some of my own stuff that I still want to accomplish in my life." Fans will just have to watch and see what that stuff is for the reality star.