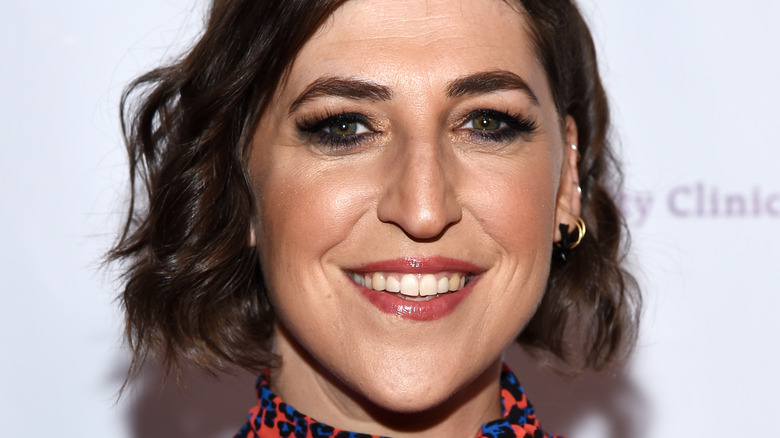 Mayim Bialik is an American actress who is most known for two major roles: her breakthrough role as star of "Blossom," which aired from 1990 to 1995, and playing Amy Fowler on "The Big Bang Theory," in which she starred from 2010 to 2019 (per IMDb). Bialik has enjoyed a steady career in the years between roles and even took time off to pursue higher education, earning her PhD in neuroscience in 2007 (per UCLA Alumni).
While her acting and academic careers have been impressive, that's not all Bialik's skills have been limited to. She is a loud-and-proud Jew, and, while she was raised according to Reform Judaism, she has since become an Orthodox Jew who is happily adherent to the beliefs and practices of both her religion and culture (per The Jerusalem Post). She's also a mom of two boys, a book author, and a regular contributor to the Jewish parenting site Kveller.
When it comes to Mayim Bialik, there is a lot to know about this multi-talented woman. Here are some interesting facts about the actress, neuroscientist, writer, mom, and more.
Mayim Bialik credits her parents for her 'normal' upbringing, despite starting acting at age 12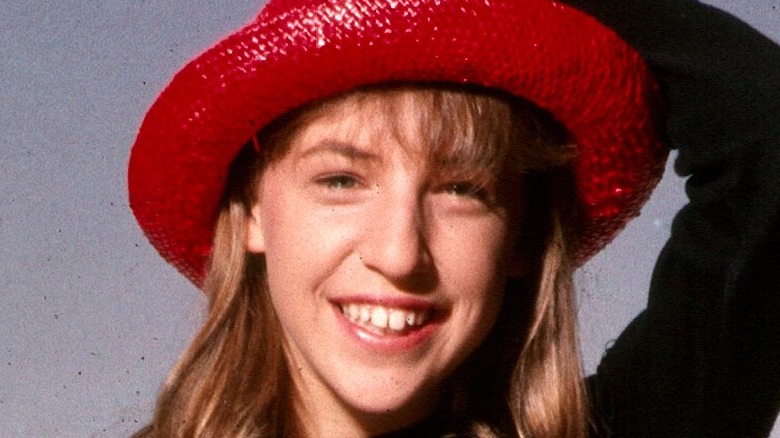 As she was born and raised in California, it might come as no surprise that Mayim Bialik got her start in acting relatively early on. She told Edge Magazine that, even though she really got her start in professional acting as she was entering middle school, she always participated in theater from the time she was in elementary school. "I was active in school plays. I felt comfortable in drama class when we had to do plays and stuff, but I was not a hammy kid. I wasn't an exceptionally outgoing or theatrical kid. When I would meet other child actors they were very theatrical and always kind of 'on.' That wasn't me at all," she said.
Bialik won a part in the 1988 movie "Beaches" when she was only 12 years old. She told Edge Magazine that her "late" start as a child actor helped shape her personality into who she is today. She also believes that escaping Hollywood during her childhood helped shape her perspective; instead of being fixated on being good enough for show business, she was able to enjoy what she calls a "relatively normal" experience.
Bialik also credits her parents for her focused perspective. She noted in the interview that both of her parents are first-generation American citizens and that the "strict immigrant mentality" she grew up with has guided her.
Her breakthrough role on the NBC sitcom Blossom was considered ahead of the times
In 1990, Mayim Bialik joined the cast of the NBC sitcom "Blossom" as the title character. This was a major role for the young star and is considered the one that propelled her to stardom. Bialik's character Blossom Russo is an Italian-American teen coping with the recent departure of her mother, who left the family.
Bialik later explained to Entertainment Weekly that the entire team at the show wanted the character of Blossom to be "forward-thinking," and she even provided an example. In one episode, Blossom is seen carrying a reusable canvas tote bag — a practice that is completely mainstream now, but that was unexpected when the show aired back in the early 1990s.
Bialik later told Yahoo! News that the show appealed to her from the beginning simply because it made her laugh, describing the show as "the first script I had ever read where I laughed out loud." While she described the humor in the show as "unusual," she also said that it perfectly aligned with her own sense of humor.
Mayim Bialik is an advocate for women in STEM careers
After "Blossom" ended in 1995, many people probably expected Mayim Bialik to continue her upward trajectory from the show. Instead, she did the opposite: Bialik dropped out of Hollywood and went to college. While speaking to Edge Magazine, Bialik clarified that she made a "conscious decision to leave acting" simply because she was also passionate about neuroscience, the subject in which she holds her PhD.
Packing up and moving to UCLA's campus for the next few years made sense to Bialik. The experience instilled in her an advocacy for girls and women in STEM (science, technology, engineering, and math) careers, and, as she told NextStepU, it's important to her to show that science isn't just something boys can do. She also described the experience of taking a full 12 years off from acting as "an amazing opportunity" (per Edge Magazine) — and something that she believes more women should do. "I think women in particular should be encouraged to try lots of different things — especially with the under-representation of women in science," she said.
After returning to acting, Mayim Bialik led somewhat of a double life
After graduating, Mayim Bialik actually spent a few years both auditioning for roles — when she returned to acting, she did so cautiously, making guest appearances on popular television shows such as "Curb Your Enthusiasm" and "What Not To Wear" – and teaching biology, chemistry, and neuroscience at UCLA, according to The Hollywood Reporter. While it might surprise some that she simultaneously enjoyed such seemingly unrelated fields, Bialik explained to the publication, "Just because someone works in the creative world doesn't mean that they're not also interested or skilled at science."
Once she stepped back into the world of acting, Bialik also partnered with calculator company Texas Instruments to promote an initiative designed to inspire more girls to enter STEM fields. Joining the project gave her the opportunity to "put a positive face" on the movement to provide more girls and women with access to STEM careers (via The Hollywood Reporter).
Mayim Bialik auditioned for The Big Bang Theory for this reason
In 2010, Mayim Bialik made a career move that would change everything when she joined the cast of "The Big Bang Theory." On the show, Bialik played Amy Farrah Fowler, who was essentially written as the female counterpart to Jim Parsons' Sheldon Cooper (per The Guardian).
While it's nearly impossible for fans of the show to imagine anyone else playing the part, Bialik told The Social that the reason she auditioned in the first place is one that many Americans can relate to. She explained, "I'm sure all of you up north can understand that I was running out of health insurance because that's not considered a human right in this country." She added that, as a mom of two young boys, she knew she needed to get herself and her kids covered after her health insurance no longer covered her after graduate school. Bialik's plan was simple: Get a handful of jobs over a period of time, just enough to get insurance again.
Of course, the reality is that things went wildly well for Bialik, and she was soon a regular on the show. Parade wrote that Bialik made $45,000 per episode when she started off as a recurring character, but that this rate gradually increased over time to $175,000 per episode! So, health insurance is probably no longer an issue for her anymore.
She converted from Reform Judaism to Orthodox Judaism after her studies at UCLA
In some circles, Mayim Bialik is just as popular for her out-and-proud Judaism as she is for acting or for neuroscience. While much has been made about her PhD in neuroscience, few people realize that Bialik also studied Hebrew and Jewish studies at UCLA and that she's a practicing Modern Orthodox Jew. She told The Jerusalem Post that, while she was raised according to Reform Judaism, the transition to Orthodoxy was pretty easy for her because of her own family's background. "Three of my four grandparents are immigrants to this country and my mom was raised Orthodox, but left Orthodoxy when she was a teenager," she said.
Bialik also spoke to The Jerusalem Post about how difficult it is to be an observant Jew within the context of Hollywood, describing the experience as "close to impossible." While she knows of a handful of producers and writers who are Orthodox, those people are outside the norm. And, while one might assume the demands placed on an actor's time are the biggest challenge they face, Bialik told the publication that expectations for how she will and won't dress on the red carpet can be "extremely stressful and difficult to work around" and that finding dresses that are appropriately modest but also appropriately designer is one of the hardest parts of being Orthodox in Hollywood.
Mayim Bialik was in a serious car crash in 2012
Mayim Bialik made headlines in August 2012 when she was involved in a serious car crash that resulted in numerous injuries. As reported by The Hollywood Reporter, the car Bialik was driving was hit near the intersection of Hollywood Boulevard and LaBrea Avenue, and Bialik was transported to the hospital with pretty serious injuries to her left hand.
While Bialik did later tweet that she was "in pain," she relieved her fans when she revealed she would not lose any of her fingers (per BBC News). While the car accident occurred right before filming began for that year's season of "The Big Bang Theory," Bialik later insisted that her injury would not interfere with the show's production. In fact, per TVLine, the only noticeable impact from the crash on the show was that Bialik had to refrain from playing the harp, an instrument in which her "Big Bang" character, Amy, is quite adept.
Mayim Bialik is an advocate of this specific parenting style
Mayim Bialik and her ex-husband, Michael Stone, share two children together, their sons Frederick Bialik Stone and Miles Bialik Stone (via The Sun). Bialik has made parenthood a central part of her life, and she regularly speaks about the importance it plays in her life. She told Us Weekly that the biggest thing she wishes she had known about being a parent before becoming one is that no one ever feels like they know everything they need to know, saying, "I raised my children knowing that every day, this is my first day parenting. So we're going to learn together and I'm going to do my best."
Bialik strongly identifies with attachment parenting, a style of parenting that emphasizes making sure babies feel their needs are met through consistent and constant love and attention from their parents or caregivers starting as early as possible (via WebMD). Bialik has faced her fair share of supporters and detractors in ways that are sometimes surprising, such as when she received backlash for posting a photo of herself breastfeeding her then-3-year-old on a train in New York City (per HuffPost).
She and her ex are committed to co-parenting and even spend holiday dinners together
In 2012, Mayim Bialik filed for divorce from her husband of nine years, Michael Stone. The decision was clearly an emotional one for the actress, and she explained in a statement to Kveller that the decision was one she and her then-husband weighed heavily. In her statement, she also requested privacy as the two made "the transition to two loving homes as smooth and painless as possible."
The pair also indicated that co-parenting would be their biggest priority, a fact that was underscored in 2018 when Bialik spent Thanksgiving with her ex-husband, their two children, her ex's new girlfriend, the girlfriend's children, and the girlfriend's ex (got that?). At the time, the newly-single Bialik wrote on her site Grok Nation that she was nervous heading into the night. "I am single again and it was painful to be 'alone' … what if it was uncomfortable?" she questioned.
To make things easier, Bialik also brought her mom and her best friend to dinner, later sharing a photo of herself and the friend she described as "mi hermana" on Instagram.
She contributes to a Jewish parenting site and launched her own lifestyle website
While Mayim Bialik is clearly a talented actress and a doctor to boot, she's also proven to be a fantastic writer. Bialik joined the team at the Jewish parenting site Kveller all the way back in 2010 as one of its first editors (via The Times of Israel), and she continues to contribute regularly to the digital publication.
In 2015, Bialik launched her own lifestyle website called GrokNation, which she described as "the place where I share my thoughts about being an actress on 'The Big Bang Theory,' being a scientist and a vegan mom, being an unusual woman because I am an actress and a scientist and a vegan mom, and everything in between" (via Kveller).
GrokNation quickly grew in popularity, even adding contributors, though the site has not been regularly updated since June 2019.
Mayim Bialik has written a somewhat controversial parenting book
Kveller and GrokNation are not the only places where Mayim Bialik has found a home for her writing. In 2012, she released a parenting book titled "Beyond the Sling: A Real-Life Guide to Raising Confident, Loving Children the Attachment Parenting Way." While the book was likely embraced by many parents around the world, it also proved to be controversial.
Bialik even admitted to the Toronto Star that she understands why parts of the book might be too much for some people. After all, as the publication notes, attachment parenting generally advocates for "diaperless potty-training, co-sleeping, and child-led weaning," all of which can be intimidating to first-time parents especially. Bialik, herself, even said that she didn't understand the concept when friends first told her about attachment parenting in the 1990s, but that her PhD studies at UCLA actually helped her see the style of parenting in a new light.
As she explained to the publication, while studying "the hormones of human attachment as part of my thesis," she began to realize that attachment parenting really seemed to work. As she put it, "The relationship between adult[s] and children wasn't based on them being told that they were bad" (via Toronto Star).
In 2017, she wrote an essay about feminism and Harvey Weinstein that made some people angry
In 2017, more of Mayim Bialik's writing was in the spotlight, but this time it was not in a way that she was pleased about. In her essay for The New York Times titled "Being a Feminist in Harvey Weinstein's World," Bialik examined sexual harassment in Hollywood. While the essay was well-intentioned, parts of it angered and confused readers, with many accusing Bialik of shaming women and even implying that women who are assaulted are responsible for being attacked.
After writing at length about the conservative choices she's made throughout her career, Bialik added that she hasn't encountered sexual harassment or assault in her career, personally, saying, "My sexual self is best reserved for private situations with those I am most intimate with. I dress modestly. I don't act flirtatiously with men as a policy" (per The New York Times).
The essay, according to the Chicago Tribune, was subsequently slammed by numerous women, including celebrities such as Gabrielle Union and Patricia Arquette. Bialik then issued an apology, directly affirming that she believes that anyone who is assaulted is never responsible for the act happening to them.
Mayim Bialik's show Call Me Kat was practically made for her
The final episode of "The Big Bang Theory" aired in May 2019 (via Vulture), and, when it came to figuring out her next move, Mayim Bialik took a bit of time. She eventually signed on to the sitcom "Call Me Kat" to play the title role, the owner of a cat café in Louisville, Kentucky. Bialik has praised the show since joining, telling the Philadelphia Gay News that the series was practically tailored to her. "I like to say that if my mom, when I was 11 and started acting, could have designed a show for me, it would have been 'Call Me Kat,' because this show takes everything I can do and it puts it in there [laughs]. She can sing, she can dance, she's funny with her body, she can kick high [laughs]," she said.
Bialik also said that the show mimics her life in one other way: She is the happy owner of three cats! And, just like her character on the show, Bialik definitely considers herself to be a "rad cat lady" (per Philadelphia Gay News).
She has embarked on an exciting opportunity as a host of Jeopardy!
In 2021, Mayim Bialik guest hosted several episodes of "Jeopardy!" following the death of longtime host Alex Trebek. While former "Jeopardy!" producer Mike Richards was ultimately chosen for the job, he stepped down from the role after only one day into the gig after his controversial past came to light — and Bialik was more than happy to step back up to the plate (per Deadline). Bialik issued a statement to Deadline affirming her enthusiasm for the job, sharing that she "couldn't be more thrilled" to come on board. Bialik was just as enthusiastic as she was at the beginning of the year when she was announced as a guest host for the show. She told the Philadelphia Gay News that it was a huge honor for her, noting that hosting was "one of the most iconic things I think I'm ever going to do in my career."
However, Bialik's appointment to the show hasn't come without its own hiccups. As Decider pointed out, several of her past comments, including a few about vaccinations, birth control, and feminism, have come back to haunt both the actress and the show itself.
Regardless of the backlash, we wish her the best on "Jeopardy!"