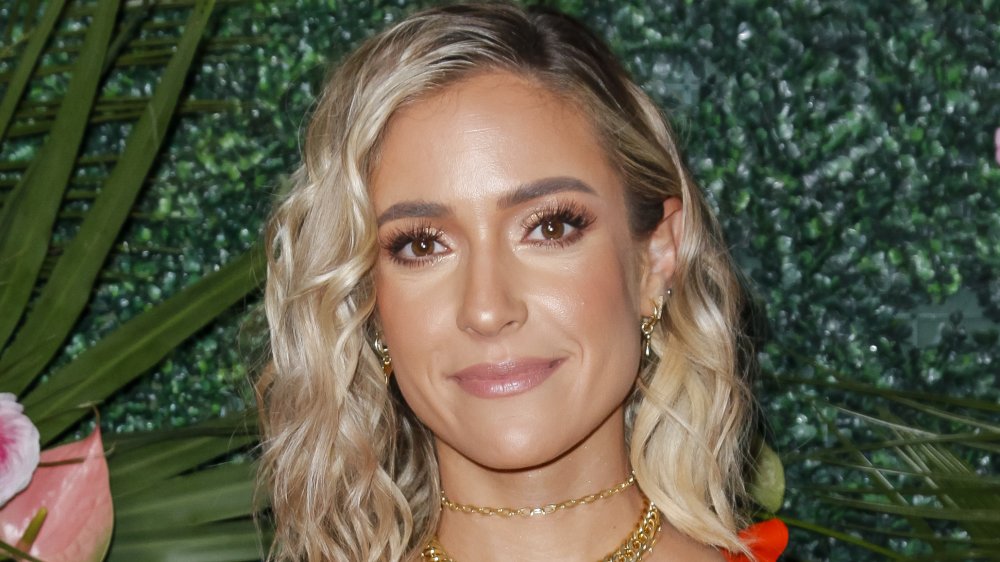 Kristin Cavallari captured fans' hearts with her fierce personality and quick wit on Laguna Beach and later The Hills. Even after her reality TV days wrapped, she continued to build up her career with her entrepreneurial skills, launching her business, Uncommon James, and penning several books. With all her different endeavors, Cavallari has seen the success most only dream of. According to Celebrity Net Worth, she boasts a net worth of $30 million as of July 2020.
Yes, Cavallari has constructed an insanely lavish life for herself — and her momentum hasn't slowed. Cavallari's various ventures have solidified her as a lifestyle guru and someone who is in high demand these days. According to The Daily Beast, the star rakes in between $20,000 and $25,000 per each two-hour public appearance. Between her gorgeous red carpet gowns, global escapades, and larger-than-life home, Cavallari is undeniably living the high life. Read on to see just how luxurious Cavallari's life truly is.
Kristin Cavallari was a teenager when she bought her first pair of Christian Louboutin heels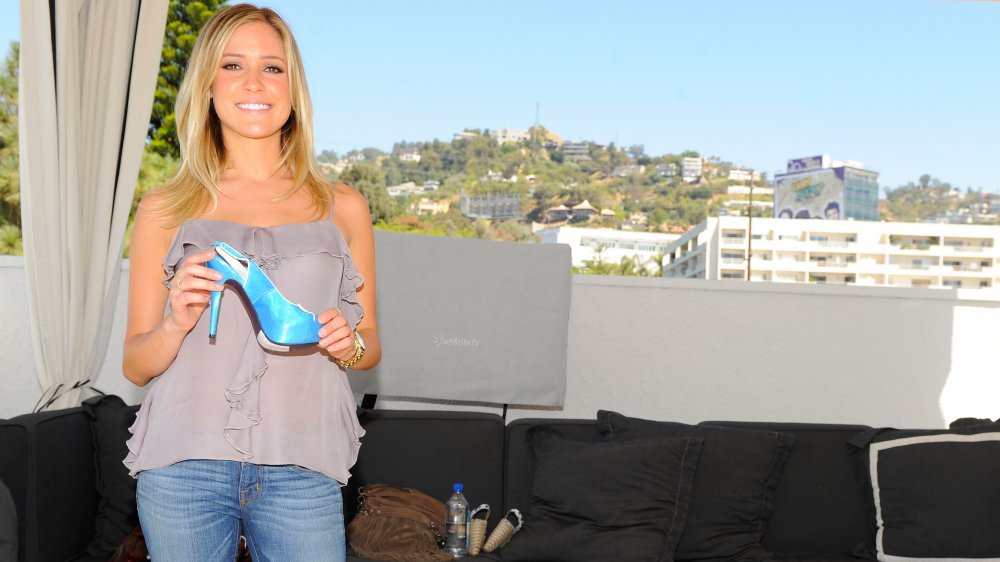 Kristin Cavallari was always destined to live a lavish lifestyle. Even as a teenager, when most kids were pinching pennies for a used car, she was dropping major dough on stilettos by luxury brand Christian Louboutin. She opened up to InStyle about how she spent her earliest reality TV paychecks, which she earned from appearing on Laguna Beach. With her newfound wealth, Cavallari went straight for the high-priced pair of designer heels, setting the bar high for her fashion standards moving forward.
"[Before Laguna Beach], I was a hostess at a restaurant in Dana Point, Calif. called the Salt Creek Grille and that was a really big deal for me," she told the publication of her humble beginnings. "I got that job when I was 15. I want to say I made $8 an hour." But life quickly changed for Cavallari after Laguna. "The second season [of that show], I used my paycheck to get a BMW X5," she said, before adding that at just 18 years old, she scooped up her first pair of Christian Louboutin shoes, bought with her own cash.
Kristin Cavallari received a huge diamond engagement ring from Jay Cutler
Kristin Cavallari and Jay Cutler separated in April 2020, but nine years earlier when he got down on one knee, he had one very heavy rock in his hand. As PopSugar reported, Cutler proposed to his then-girlfriend with a massive 5.2-carat diamond engagement ring. As if that wasn't enough romance right there, he popped the question during a romantic getaway to Cabo, Mexico.
If Cavallari's ring seems to be sparkling extra bright in photos, that's probably because it is. Jewelry expert Aslam Bakshi told Glamour what makes the reality star's ring so special. "Since the diamond is uniquely faceted, it has to be extremely clean or close to flawless, as all imperfections are visible to the naked eye," he explained. It may have taken Cavallari and Cutler multiple attempts to walk down the aisle (they initially called off their engagement in July 2011), but with a ring like that, it would've been hard not to take the plunge.
Dry land is cool, but Kristin Cavallari loves her boats
Kristin Cavallari went all out for her then-hubby Jay Cutler's 30th birthday in January 2017. In addition to jet-setting off to Puerto Vallerta, Mexico, the couple amped up the excitement by renting a massive yacht for the trip. Cavallari didn't spare any expense on the lavish vessel, large enough to pack all their friends, and lots of fun, into the boat. In photographs obtained by the Daily Mail, Cavallari and her hubby could be seen enjoying the ultimate day of relaxation with cocktails in hand, enjoying a rare break from their three children.
The extravagant birthday excursion also included plenty of adventure, with Cutler heading out for a paddle board session as well as cannonballing off the deck with friends. And while a pontoon or sailboat might have sufficed for a lavish birthday celebration, Cavallari injected some serious luxury into Cutler's special day by chartering the impressive yacht.
Prior to her wedding, Kristin Cavallari registered for thousands of dollars worth of china
Before tying the knot, Kristin Cavallari and Jay Cutler registered with several stores and included some high-ticket items on their registries. When The Knot came across their registries at Williams-Sonoma and Crate & Barrel, Cavallari's expensive home decor tastes were revealed. For starters, their lists totaled $14,500, nearly $10,000 more than the average U.S. registry, according to The Knot.
The site claimed Cavallari was registered for nearly $8,000 worth of wedding china. Of the china, nearly $4,000 of the listed items were dessert plates. Clearly, Cavallari was gearing up to throw some epic dinner parties. She also registered for a KitchenAid mixer in "majestic yellow," valued at $350. But — it wasn't all over-the-top items. One of the listed products was a simple sauce dish, which retailed for $1.29. Cavallari might have extravagant taste in dinnerware, but she was sure to level out the pricey registry with a slew of "normal" kitchen items.
Kristin Cavallari wore a glamorous Monique Lhuillier wedding gown
Kristin Cavallari wasn't exactly shopping around at David's Bridal when looking at wedding dresses ahead of her nuptials to Jay Cutler. Nope, she took a look straight off the runway. According to Glamour, the former Laguna Beach star donned a strapless white dress from famed designer Monique Lhuillier (pictured above). Not only that, but it was from their runway collection, and was previously worn by a model for Monique's spring 2012 collection.
Needless to say, Cavallari looked stunning in her high-fashion ensemble. In pictures from the June 2013 ceremony in Nashville, Tennessee, she paired the dress with a long veil, opting to wear her hair half-up, half-down. Her white gown fit like a glove, featuring a high belt, and a ruched skirt.
One source told Us Weekly that the bride matched her bouquet to her gown, carrying an array of white peonies. It's no secret Cavallari is a total style guru, but she really flaunted her affinity for luxury fashion with her wedding dress.
Kristin Cavallari and Jay Cutler lived in a massive estate
Kristin Cavallari and Jay Cutler decided to sell their luxurious mega mansion even before filing for divorce, but whoever gets next dibs will be living large. According to People, the since-estranged couple originally put their home on the market in 2018 — and it wasn't your average Nashville listing. The abode boasts nearly 20,000 square feet of space and a whopping 25 rooms. The listing revealed that the home was sold for $5.3 million back in 2012. When Cavallari and Cutler decided to sell, they first attempted to unload the property for $7.9 million, but with no buyer in sight, the price was reduced to $4.95 million in January 2020.
The mansion was built in 2007 and its future owners will feel far from cramped in the not-so-humble abode. The house features a "vast amount of space both indoors and out," according to People, and is three stories tall. During their time at the Mediterranean-inspired house, Cavallari and Cutler enjoyed not one, but two living rooms, as well as multiple dining rooms. The property also boasts a library, a movie theater, an outdoor terrace, and a lounge space under the stars with a stone fireplace.
Kristin Cavallari keeps some unusual and expensive pets
Kristin Cavallari always kept fans guessing on what she would do next on Very Cavallari, and she often left her then hubby in the dark too. Remember when Cutler was completely caught off guard when his lady brought home a massive llama to keep as a pet? While most couples struggle to keep up with the cost of a dog, Cavallari didn't seem concerned with the exorbitant cost of owning a llama, and didn't even think to run it by Cutler at the time.
"Oh, here comes Jay. Here we go, here's my farmhand," she joked in one episode of her reality show. "Didn't you always want a llama? I thought that was what you said at one point," she joked. Cutler wasn't exactly pleased, but Cavallari seemed intent on keeping their furry new animal.
According to Llamaseeker.com, a single "nice quality" llama can cost anywhere from $1,500 to $5,000, but "a small percent of llamas can fall between $5,000 – $20,000." Of course, llamas also need regular upkeep, food, and fencing, which can add thousands more per year on top of that. That's quite the financial commitment on Cavallari's end!
Kristin Cavallari doesn't skimp on party favors
Even at her own parties, Cavallari doles out presents. As People reported, Cavallari celebrated the arrival of her first baby with an ultra-festive baby shower in Los Angeles, California back in May 2012. Of course, The Hills star was gifted tons of presents from friends and family, but she dished out a few herself. Those in attendance each left with a glam bag full of Le bébé Coo products, the publication revealed.
Cavallari doled out the costly gift bag to everyone in attendance, packing it with tons of goodies she hand-picked herself. The bags included an array of skincare products including $26 massage oil and "Baby Lipstick" priced at $16. There were other similarly priced items, too, including diaper ointment, leave-in conditioner, lotion, and lavender Bedtime Wash. The items in each bag totaled up to be about $150, proving that Cavallari wanted everyone to leave with their own slice of her lavish life in hand.
Kristin Cavallari and Jay Cutler took a private jet on one of their first dates
Reports first surfaced that Kristin Cavallari was dating Jay Cutler in September 2010, but their relationship didn't start in a "normal" way. While first dates often consist of a movie or a dinner, the new couple boarded a private jet, E! News reported. Yes, the pair embarked on a sky-high adventure during their very first week of dating, jet-setting from Chicago, Illinois to Nashville, Tennessee.
At the time, a source reportedly told E! News that Cavallari, who was living in Los Angeles at the time, met up with the former Chicago Bears player in his team's hometown where the private jet awaited them. The pair allegedly "had a great time" and fans even spotted them cozying up at one of the city's hottest downtown bars. They must have really loved their time in music city, because they wound up making it their full-time home. Plus, Cavallari made it very apparent that she loved her whirlwind weekend with Cutler. She excitedly tweeted, "This has been one of the best weekends of my life. Yeehaw."
Kristin Cavallari vacations at all the most luxurious celebrity hot spots
Kristin Cavallari's everyday life is pretty luxurious, but her vacations are truly next level. In April 2017, Cavallari and then-husband Jay Cutler took to Mexico for a getaway of a lifetime — and her photos were envy-inducing, to say the least. The couple traveled to the popular Tulum beach destination, settling in at the adults-only Azulik Resort & Mayan Spa, PopSugar reported. According to the site, the pair's R&R was filled with sunset soaks and strolls through the property, which was lit entirely by candlelight. They even had their own villa, which boasted close-up views of the ocean.
Cavallari's affinity for luxury doesn't stop at warm-weather climates, though. She's also a big fan of Aspen, Colorado, and gave her followers insight into her last snow-filled vacation. In February 2020, she took off to the celebrity favorite ski spot and flaunted the trip on Instagram. Standing amid a picturesque backdrop, she looked ready to hit the slopes — or at least cozy up in a luxe cabin.
Kristin Cavallari sits front row at all the hottest runway shows
Kristin Cavallari is not only a fashion designer with her accessory and apparel line Uncommon James, she's also a fashion mogul who's been sitting front row at all the biggest shows for years. As MTV reported, The Hills star enjoyed a fashion frenzy in 2011, attending numerous Fashion Week shows and parties. After stopping by Zac Posen's September 2010 runway show, she visited the Montblanc showcase as well as the Catherine Malandrino presentation. She was also seen sitting front row at Carlos Miele's runway show, where the reality star rocked a head-to-toe pink blush ensemble, according to Teen Vogue.
In more recent years, she's made attending high fashion shows like Naeem Khan and The Blonds priority, and while most could only dream of snagging a ticket to such coveted shows, the invite seems to appear in Cavallari's inbox every year. It's no wonder why she's made so many best-dressed lists through the years!
Kristin Cavallari penned a popular cookbook
Don't think for a second that just because The Hills went off air Kristin Cavallari took a break. Nope, quite the opposite is true. The natural-born businesswoman took it upon herself to pen a cookbook, which would wind up being a massive success. Titled True Roots, Cavallari pushed some serious copies of the book and it went on to become a best-seller in its first week on the market. According to Publishers Weekly, Cavallari sold a total of 24,917 units in April 2018. It also became an instant New York Times' bestseller.
With the initial successful sales, Cavallari undoubtedly pulled in some serious cash. Seeing as her book is, as of this writing, still being sold for $25.99 on the Uncommon James site, Cavallari is likely continuing to pull in a nice profit. Not too shabby for an unlikely chef, right? The reality star turned best-selling author not only built up her bank account big time, but she also helped fans transform their diets with her unique recipes.
Kristin Cavallari has "worked with many, many stylists"
While most of us head to our closets solo each morning, Cavallari has a stylist to help her perfectly curate an outfit for each life occasion. In fact, the Very Cavallari star says she's had an assortment of stylists through the years — a luxury few can afford.
Speaking with Fashionista in July 2018, the star explained, "I've worked with many, many stylists over the years and because I wasn't really sure of my own personal style, like in my early 20s, I was just trying to bend to whatever my stylist was kind of putting me in." She went on to say that in more recent years, she has a go-to gal to help her pick out all her important TV looks. "Now my stylist [Dani Michelle] that I've been working with for the past year, really gets me," she told the site. "I did work with Dani, my stylist, for some looks [to wear on Very Cavallari] she continued.
Of course, as a clothing designer, Cavallari herself has a strong fashion sense. "I design everything that I love and want to wear," she told Fashionista.
Kristin Cavallari employs close a hundred people
Kristin Cavallari's business is so successful that not only can she afford to pay herself a hefty salary, but she employs some 90 people, The Tennessean reported. As the head honcho at Uncommon James — which generates some $20 million in revenue — Cavallari has transformed from celebrity to full-blown business mogul. "I'm doing it, and I'm so driven and so motivated," she told the publication.
For Cavallari, owning her own business meant being completely financially independent — something that's always been top priority for her. "I like having my own money and I always have because I never want to ask a guy if I can go buy a pair of shoes," she told InStyle in March 2019. "I have much more satisfaction in spending my own money than somebody else's money."
Cavallari values working hard and expects the same work ethic from her employees. "I've always been extremely driven," she shared, adding, "So I don't really have a lot of patience for people who are lazy and who always have excuses." From day one on Laguna Beach, Cavallari was the queen bee, and that hasn't changed in the least.