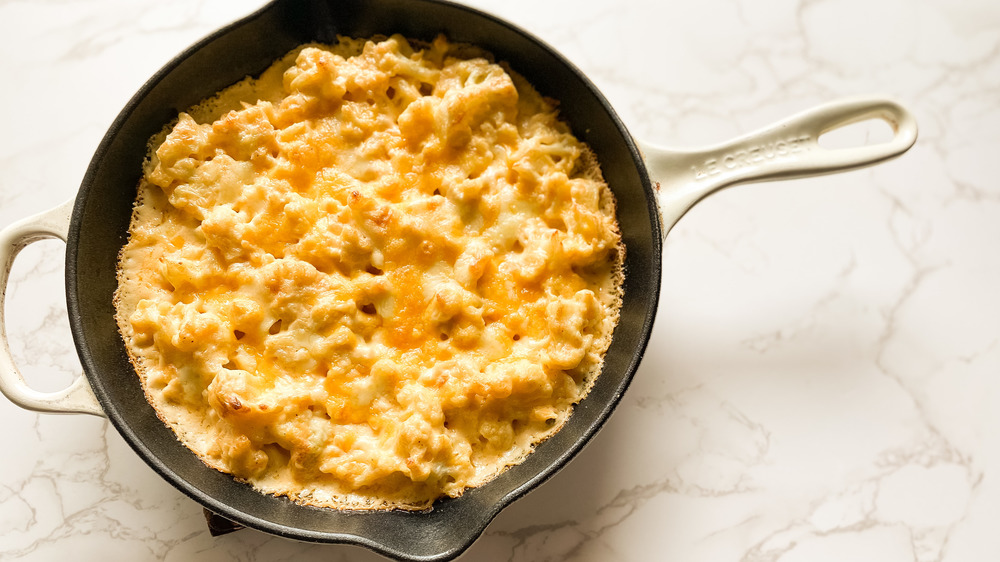 If you were looking for a few ways to describe mac and cheese, which of these terms do you think would apply? Comfort food? Hearty and delicious? Healthy and nutritious? We're guessing you chose the first two descriptions, but not so much on the third one. As tasty as it is, and a great dinner option for even the pickiest eaters (aka kids), macaroni and cheese isn't exactly a health food — as in, at all. How to put a healthier spin on the beloved dish? It's easier than you may think. Just drop the mac, but keep the cheese. That's right — it's time to try some cauliflower mac and cheese.
"Pickier eaters will love this one," says chef, food writer, and registered dietician Kristen Carli of Camelback Nutrition & Wellness. "It is so cheesy, that you likely can get even the pickiest eaters to enjoy their vegetables."
In addition to being a healthier take on classic mac and cheese that will nonetheless see near universal enjoyment, Carli says the recipe is really easy to prepare. It's the perfect quick side dish for a busy weeknight — with just 10 minutes of prep — but also a great choice for serving at a larger gathering, such as a dinner party or holiday meal, where you're already spread thin because you're cooking 10 other dishes at the same time. And if you're looking for ideas for a few of said dishes, Carli says, "I would pair this with grilled chicken breast or Italian salads."
Hungry yet? Then let's get cooking.
Gather your ingredients for cauliflower mac and cheese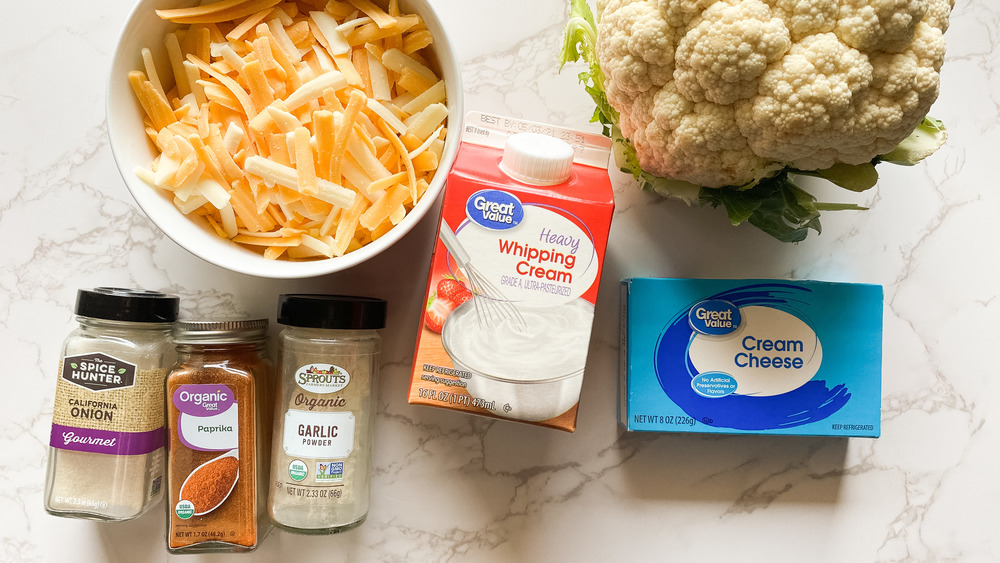 For this cheesy, savory dish, you'll need 1 head of cauliflower (cut into florets), ¼ cup of heavy cream, 2 ounces of cream cheese, 2 cups of shredded triple cheddar cheese (divided), ¼ teaspoon of garlic powder, ¼ teaspoon of paprika, ¼ teaspoon of onion powder, ½ teaspoon of salt, and ¼ teaspoon of pepper.
"I would recommend using fresh cauliflower," Carli says, but if you don't have ready access to fresh cauliflower, "frozen cauliflower would work in a pinch, if thawed." The freezing process breaks down veggies much like steaming them when fresh, so you don't need to steam frozen cauliflower — just let it thaw completely, and then chop it up.
Pre-heat the oven, and prep and steam the cauliflower
Start off by pre-heating your oven to 350 degrees Fahrenheit. Next, chop the cauliflower head into bite-size florets (on the smaller side is better — think noodle-size) and then, if you have one, use a food steamer to cook the cauliflower until it's tender.
If you don't have a dedicated steamer, you can use a double boiler with some water in the bottom, or even just put the veggies in a strainer over a pot of water and boil it until the cauliflower has become nice and tender. Just don't cook it so much that it becomes mushy, no matter what approach you use.
Make the cheese sauce
It's obvious why this dish is so delicious when you consider the blend of cheese, cream, and spices you're about to create. You could probably pour it over just about any veggie and make a delectable dish, but let's stick with already-tasty cauliflower for now.
In a small saucepan over low heat, add the heavy cream and the cream cheese, and whisk until they blend smoothly together. Then, add the garlic powder, paprika, onion powder, and salt to the cream and cream cheese mixture, and stir well until the spices mix in. Finally, add 1 ½ cups of the shredded cheese (note that you are reserving ½ cup), and stir to combine everything, cooking and stirring until the cheese is completely melted.
Mix in the cauliflower, top with cheese, and bake
Add the steamed cauliflower to the cheese sauce mixture, and stir everything well to coat and combine. Then, pour the cheesy cauliflower into a baking dish (you can use a greased glass pan, a Dutch oven, cast iron, or whatever you have), and top the coated cauliflower with the remaining shredded cheese.
Bake the dish for 20 minutes at 350 degrees Fahrenheit, and then pull the dish out and serve portions of this rich-tasting but very low-carb, cheesy dish. Sit back and rejoice as even the picky eaters in your house dig in, getting plenty of veggies as they enjoy.