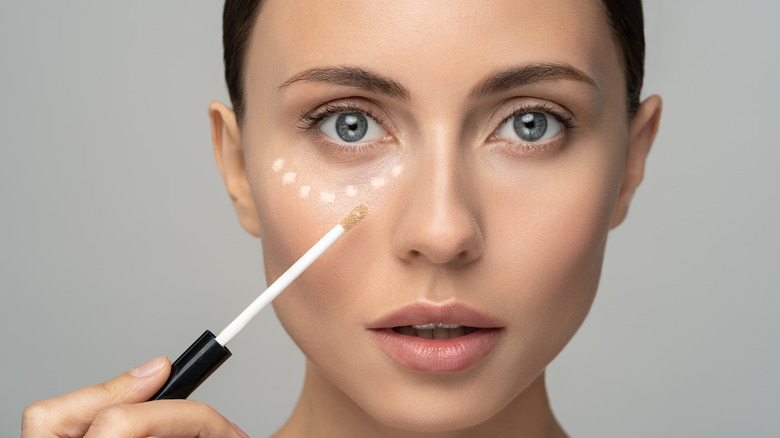 As tons of TikTok hacks show, the right concealer can work like a magic wand to banish blemishes, undereye circles, and discoloration back to the evil lands they came from. As TikTok creator Megha Singh showed in her viral video, concealer can even be used to create a faux face lift –- really. Applied thoughtfully to the upper corners of the eyes, lips, nose, and cheekbones, concealer can give you a taut, feline look for total Bella Hadid vibes. Outlets like Vogue and PopSugar went crazy for the super-innovative technique, and it left many of us wondering: can concealer really do it all?
As per Byrdie, concealer is an end-all beauty product that can kill two (or three) birds with one stone. Mix some drops into your favorite moisturizer or oil for the lightest, brightest of sheer foundations, or stock up on different shades to create a Kardashian-esque cheekbone contour. Apply your concealer with just your fingers for a natural look, or go for flawless nighttime glam using all the tools in your beauty arsenal. Concealer gives you options and makes you look alive after a textbook-cramming all-nighter or too many spicy margaritas, so it's no wonder it's a must-have in virtually every celebrity's makeup bag. In short, just like your makeup fairy godmother, concealer can make almost all your beauty dreams come true -– but even genies have their limits. Curious? Here are all the best ways to use your concealer, and the surprising things it just can't do for you.
Concealer is great for camouflaging small problem areas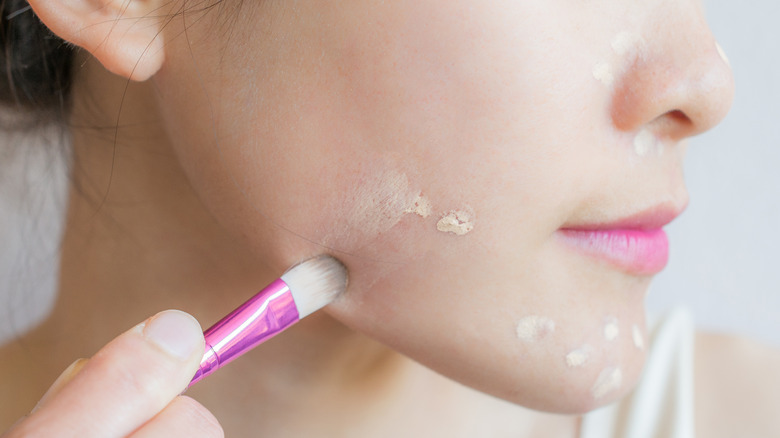 Let's start with the ways concealer works wonderfully -– because while the makeup product has limitations, it's still a near-necessity for a perfect beauty look. As you may expect, concealer is perfect for minimizing smaller problem areas around your face, particularly for camouflaging pesky blemishes, undereye circles, and acne discoloration or melasma. While foundation works to bring everything together, concealer works overtime to make sure your skin is uniform, bringing a creamier, thicker consistency to problem areas for staying power.
As celebrity makeup artist Bob Scott explained to Byrdie, concealer is the go-to product for covering pimples, so whether you're dealing with acne or just the occasional hormonal blemish, it's a must-have. Scott recommends dabbing concealer on pimples with a tapping motion instead of rubbing it in, which will give you fuller, yet more natural, coverage.
As per Verywell Health, you should always apply your concealer after foundation for the most consistent final look. According to Allure, concealer can work to camouflage every pimple under the sun, but a "putty"-like formulation will work the best. When it comes to undereye circles, celeb makeup artist Laura Geller told Glamour, "make sure you also apply it on the inner corners of your eyes too" for maximum doe-eyed brightness, and set with light powder. Use your concealer to play down redness, and you'll have a near-perfect look in no time — however, there will still be a few things your concealer will miss.
Concealer won't erase acne bumps or wrinkles
While concealer is touted as a do-it-all product, working as a multitasking blemish-eraser all the way to dewy highlighter, we're sorry to say it's not perfect. Just like the most swoon-worthy, romantic comedy-esque first date can turn into a relationship where you realize your partner leaves their dirty clothes on the floor, concealer isn't all it's cracked up to be. We still love it and need it, but it has flaws –- and that's okay. Case in point? Concealer can't change the texture of your skin. It can only work on camouflaging it through color-matching.
While Allure assures that concealer works magically for whiteheads, blackheads, cystic acne, and more, it can't zap away every imperfection under your makeup. Since pimples are unfortunately 3-D, you will still be able to see the unsightly bump under your creamy concealer; it will just be camouflaged by disguising its telltale redness. Something is better than nothing, though, and we'll take concealer's color-correcting any day of the week –- that being said, you will still be able to see raised bumps under your foundation.
Similarly, concealer won't disguise wrinkles, since it cannot fill in crevices, either. In fact, concealer can make wrinkles more evident. As makeup artist Suzy Gerstein told Byrdie, creasing is to be expected when it comes to concealer, particularly on mature skin. To solve this, try setting your concealer with fine powder, reapplying throughout the day, and build up your product in thin layers.
Keeping different concealer shades is great for contour
So concealer isn't perfect –- so what? You might still be with romantic comedy-turned-dirty clothes guy, because he makes you laugh and you have fun together. Similarly, concealer is still a powerhouse –- not magical per se but pretty close. Not only does it make us look awake after a night out, but as evidenced by countless makeup artists, concealer is the best-kept secret for perfect contouring, and we can't get over it.
Per Cosmopolitan, concealer is the perfect hack for creating a natural contour, especially if you prefer to stay away from shimmery bronzers and blinding highlighters. Of course, we love a little bit of sparkle in our cabinet, but a concealer contour technique is the best "no makeup" makeup look, and works great for day to day. BareMinerals makeup artist SJ Froom explained to the outlet that you should build a "concealer wardrobe," composed of your go-to shade, a concealer that's two to three shades lighter, and one that's two to three shades darker. She also advises going for stick formulas since they are "creamier" and "blend perfectly."
Once you have your tools, grab your darker concealer and swipe it under your cheekbones, the sides of your nose, and along your jaw. Also, use it to outline your forehead. Froom recommends blending that out, then grabbing your highlight shade and applying it to the upper cheekbones, inner eyes, under eyes, down the tip of your nose, and above your lips. Perfect contour every time!
But color-correcting is still key
Back to the bad: not a reason to throw out your concealer sticks but enough to rethink your go-to strategy. While concealer works to even out your skin tone and camouflage smaller problem spots like pimples and dark circles, it can't get the perfect shade every time. Plus, it doesn't always look natural, and your skin's redness might still show through -– especially after a few hours. So what to do? Color-correcting has become more popular as of late, and it's no wonder why: it can make or break your beauty routine and take concealer to the next level.
MYSA suggests trying different color correctors to help your concealer even out your skin, improve its staying power, and make you look flawless. Per the outlet, you should use a green color corrector to minimize redness, a purple shade for any yellowness in your skin, and orange or peach for a dark, blue-hued undereye area. As you use the color wheel to kick every last imperfection to the curb, Ipsy explains that color-correcting is a go-to for anytime your skin needs extra help and concealer alone isn't doing the job.
As per Ipsy, start by picking your needed shade and lightly apply a color-correcting primer all over your face. Once that's done, pat your color corrector on your problem areas before all other makeup, blending out. Then, swipe on your foundation, followed by concealer where needed. Finish with a setting powder and you're ready for anything.
And lastly, application is everything for concealer
While we've covered the ways concealer can work for your skin, blending with color correctors to even out your complexion and disguise spots, it can only work well if applied properly. As per Byrdie, picking the right shade is crucial, but once that's done, applying your concealer is just as tricky. Should you always apply it before foundation, or can it work after the fact? And with so many beauty tools to choose from, should you use a sponge, brush, or something else?
According to Byrdie, you should always apply concealer on your undereye circles before foundation. However, swipe your concealer on pimples after foundation for better coverage. As per the outlet, a subtle build-up will lead to a more natural look, and less is more. As explained by Ipsy, starting with moisturizer and primer is crucial, especially to avoid dreaded flakiness or dryness under your makeup. While spot application works great for discoloration or pimples, try going for the "inverted triangle" method under your eyes for one-and-done contouring and brightening power.
Glamour explains that there are several ways to mess up your concealer application, such as using the same concealer for your whole face, when you should use a thinner formula for eyes and a thicker putty for blemishes. For the best blending, the outlet recommends applying concealer under the eyes with just your fingers, or a sponge. Use the same sponge for large discolored areas, but go for a thin, pointed brush for smaller pimples.