Simon Cowell, television personality and judge on "America's Got Talent," will be returning to "AGT" this season after recovering from a back injury. Cowell missed most of the previous season after breaking his back last summer (via HollywoodLife).
In August 2020, Cowell was riding an electric bike in Malibu when he had an accident and broke his back in multiple places (via USA Today). The 60-year-old was rushed to the hospital before undergoing six hours of surgery, which included placing a metal rod in his back. Cowell was stable after the surgery and didn't experience any complications.
"If you buy an electric trail bike, read the manual before you ride it for the first time," he tweeted the day after the incident. "And a massive thank you to all the nurses and doctors. Some of the nicest people I have ever met," he added.
Cowell missed all live tapings of Season 15 of "America's Got Talent" while recovering from his injury.
He reportedly feels great after recovering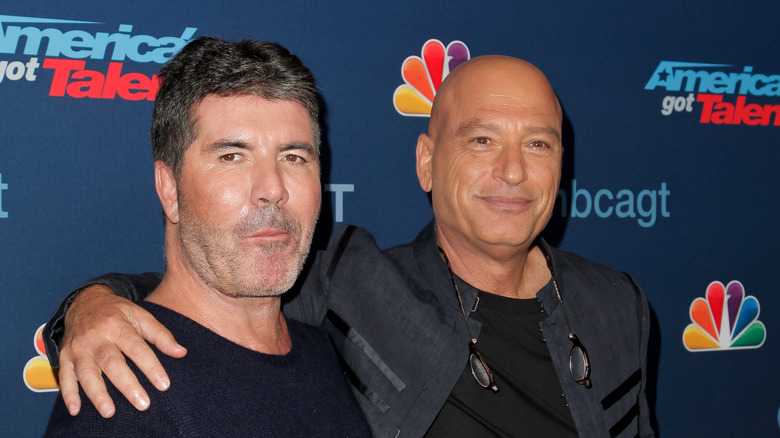 According to Howie Mandel, another judge on "America's Got Talent," Cowell is in excellent shape as he prepares for the premiere of Season 16.
"I was just happy to see the man in the room standing upright," Mandel told HollywoodLife. "I was amazed, and he came at us with more energy and more… You know how they say like a pregnant woman has that glow? He has that glow. I think because of rehab and physical therapy, he probably has exercised, stretched, and done things in his life because of this back injury that he's never done before. He says he even feels better than he did before he fell off the bike."
Mandel said that everyone is excited for Cowell to be back and happy to see him doing well. They are also eager to resume shows with live audiences, which was not possible last year because of the COVID-19 pandemic.
"We've all been waiting for this light at the end of the tunnel and to hear the roar of an audience, the excitement of an audience, to look at the spark in a performer's eyes, to look to my left because I'm at the end of the thing and to see everybody there just doing what we do, what we love to do, and being together," Mandel said.
Season 16 of "America's Got Talent" premieres on June 1, 2021.
Cowell admitted that the first few weeks of recovery were the hardest
According to ET Online, Cowell struggled to get through the first month of recovery after his spinal surgery.
"The first four weeks were the hardest," Cowell said. "Because you feel kind of helpless, and it was the first time in my life I've ever felt helpless…Then you're bored and frustrated, and I was in so much pain, if I'm being honest with you."
However, Cowell said that once he hit about seven weeks post-surgery, it was "like it never happened." Cowell said the injury has also helped him create a healthier lifestyle than he was living prior to his injury.
"I'm healthier now than I was a year ago because of this back injury. One of the things you've got do is so much exercise, to kind of, like, heal," he said. "So I have to walk, like, five, 10 miles a day, so I actually feel better than I did a year ago."
Although he hit a few bumps in the road while recovering, including not being able to resist a ride on a jet ski even after his doctor warned him to avoid water sports, Cowell said the latter part of his recovery was special. In addition to reducing his risk of getting COVID, staying home allowed him to spend more time with his girlfriend, Lauren, and their 7-year-old son, Eric.
What really happens when you break your back
Someone is diagnosed with a broken back after they fracture one or more of the 33 vertebrae that make up the spine (via Healthline). This injury is most commonly caused by bad falls but can also be seen in vehicular collisions or accidents. The main symptom of a broken back is pain. However, the vertebrae in the spine protect the spinal cord and damaged vertebrae may compress the nerves in that area. This can cause numbness in some areas and pain in others.
Broken backs can be divided into three main patterns to define the fracture: flexion, rotation, and extension. A flexion fracture makes it difficult or impossible for the spine to bend. A rotation fracture occurs when the spine is rotated or violently hit. This often happens in car accidents and can dislocate one or more vertebrae in addition to fracturing them. An extension fracture happens when the spine is pulled apart. These are also common in car accidents when the top of someone's body is moved during the accident while the bottom of their body stays in place because of their seatbelt. This injury can also damage ligaments and muscles in the back.
How a broken back is treated
The treatment of a broken back will depend on the type of fracture and the severity of the injury. In cases where surgery is not required, doctors will focus on realigning the spine and stabilizing it to help it heal properly (via Cleveland Clinic). Patients may need to wear a brace for up to 12 weeks.
More serious spinal fractures may require surgery. One procedure, called vertebroplasty, injects the fractured parts of the spine with bone cement. This cement will harden and keep the spine stable. Another procedure, called kyphoplasty, inserts an inflatable bone tamp into the vertebral column. Once inside, this can be expanded to move the shifted vertebrae back to their original locations before being filled with bone cement and hardening to stabilize the spine.
Sometimes, like in the case of Simon Cowell, plates, screws, or rods are inserted into the spine to keep the spine stable. A back brace is often necessary after surgery as well.
Recovery can vary depending on the severity of the injury
Although spinal fractures sound scary, some can heal in as little as six weeks. According to Medical News Today, fractures that don't need surgery may only take six to 12 weeks for the bones to fully heal. Patients who need surgery may experience a longer recovery time including a hospital stay.
A doctor will likely recommend bed rest and limited physical activity for a period of time immediately following the injury and/or surgery. Once the patient can move safely, physical therapy will be prescribed to help the patient slowly get back to their original range of motion. Back stiffness is common during the recovery period.
The recovery process of someone with a spinal fracture that damaged their spinal cord will look much different. These injuries can cause anything from minor loss of movement to complete paralysis in the body from the neck down (via Mayo Clinic). Ongoing research shows the promise of surgeons one day being able to fully repair spinal cord injuries. Fortunately for Simon Cowell, his back injury allowed him a full recovery.