These are the best Metroidvania games on PC
When done right, Metroidvania games are some of the most engrossing experiences available.
Combining platforming with RPG elements, Metroidvanias reward players for going off the beaten path and exploring. They offer freedom, yet they're also often tight experiences with precise controls and rewarding combat. While consoles have plenty of Metroidvania games available on them, they're generally best played on PC.
With so many games available on PC, it can be hard to separate the wheat from the chaff, never mind find the best Metroidvanias. Hopefully that's something we can help you with. We've put together a list of the best Metroidvania games on PC to point you in the right direct. Sure there are more available on PC, but these are the ones we've personally played and loved. Each and every one has our seal of approval. We hope it helps you decide what to play next.
Want to support GameSpew? If you decide to buy any of the games on this list, please consider using our affiliate links, included below each entry. It won't cost you anything extra, but we'll get a small slice of the purchase. Thank you.
Blasphemous
Blasphemous is the Metroidvania for fans of the genre who like more of a challenge.
Playing as The Penitent One, Blasphemous is as mysterious as it is punishing. You'll make your way through atmospheric environments, avoiding perilous traps and combating vile enemies. And if you want to succeed, you need to find shrines and altars that allow you to increase your health, improve the strength of your sword, and grant you more fervour.
It's Blasphemous' bosses that truly make the game worth playing though, as they are brilliant. They're tough but fair, and they're so detailed visually that you can't help but be impressed. For PC gamers that are up to the task, do yourself a favour and add Blasphemous to your collection. You won't regret it.
Read our review of Blasphemous
Ori and the Will of the Wisps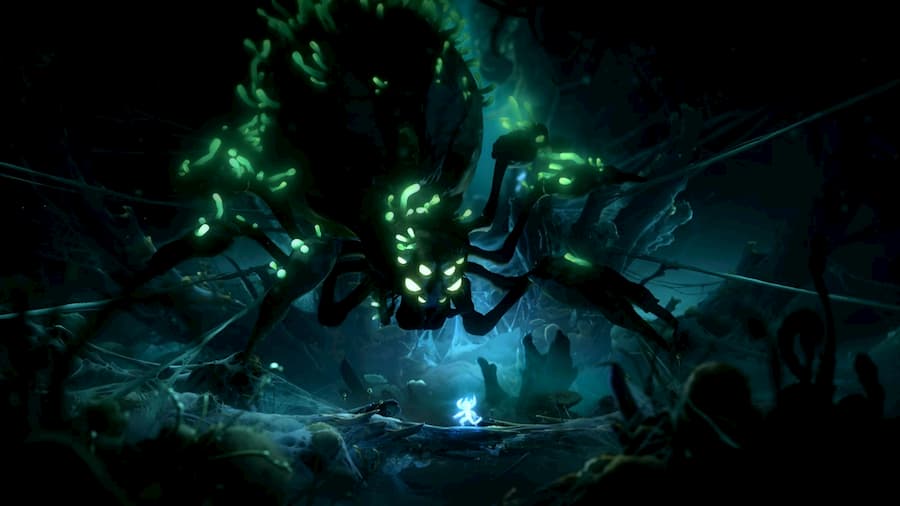 Do you want to cry? Better play Ori and the Will of the Wisps.
Ori and the Blind Forest opened with one of the saddest scenes in video games. Ori and the Will of the Wisps, however, says "Hold my beer!" throughout.
Like any Metroidvania, Ori and the Will of the Wisps has plenty of platforming to be done. It also has an upgrade system so you can develop Ori over time, and by gaining new abilities you gain access to new areas, allowing you to progress further into the game.
Everything about Ori and the Will of the Wisps is improved compared to its predecessor. It looks nicer, plays better, has more combat options; the list goes on. Better still, if you have a decent PC, there's no finer way to play it. This is the best Metroidvania game available right now. In fact, it's one of the best games ever made. And if you have Xbox Game Pass for PC, you can play it without having to spend any extra money.
Bloodstained: Ritual of the Night
Ten years after the release of Castlevania: Order of Ecclesia, Koji Igarashi is back with Bloodstained: Ritual of the Night.
A spiritual successor to his previous works, Bloodstained: Ritual of the Night doesn't have you going up against Dracula but the gameplay is typical of previous Castlevania games using the Metroidvania formula. You'll explore a castle, defeat grotesque enemies and gain new abilities that will enable you to access more areas. But thanks to Koji Igarashi's touch, everything is just magical.
There are loads of weapons to find and craft, every enemy has a shard for you to absorb which grants you a new skill, and there are secrets aplenty. If you've ever played Castlevania: Symphony of the Night you should know what to expect. Only Bloodstained: Ritual of the Night is bigger, prettier, and dare we say it… just better. If you're after the best Metroidvania games on PC, this is an absolute must-have.
SteamWorld Dig 2
Like digging? SteamWorld Dig 2 is the Metroidvania for you.
Following on from SteamWorld Dig, released on PC way back in 2013, SteamWorld Dig 2 has you searching for that game's protagonist who has gone missing. As Dorothy, you'll have to dig and explore a variety of underground environments to find Rusty, defeating enemies and solving puzzles as you go.
While SteamWorld Dig was good, SteamWorld Dig 2 is better in every way. It looks nicer, plays better, and is just more polished. You'll enjoy adventuring and powering up Dorothy so that she's able to venture into new areas and deal with stronger foes.
You might only get about 10 hours or so gameplay out of it, but SteamWorld Dig 2 is well worth playing if you want a charming Metroidvania to occupy some time on PC.
Axiom Verge
Developed by just one man, Tom Happ, Axiom Verge is one hell of a game.
Taking cues from Metroid itself, this sprawling 2D shooter certainly wears its influences on its sleeve, but it has enough of its own unique features and quirks to make it stand out as a classic in its own right.
Putting you in control of a character called Trace, Axiom Verge tasks you with finding out how exactly you ended up in an alien world. Though your priorities will change as you play.
Its controls are crisp and responsive, making it a pleasure to play, and there are a wealth of weapons for you to acquire and upgrade. Axiom Verge is one of those games that you can get lost in for hours, investigating areas you haven't searched before and trying to find secrets.
Axiom Verge's bosses are no doubt the stars of the show though, each being epic in scale and enjoyably challenging. Honestly, Axiom Verge is so good that once you've completed it you'll want to jump right back in on a harder difficulty or in speedrun mode.
Hollow Knight
Presenting you with a vast world and little direction, Hollow Knight is a Metroidvania for you to truly get lost in.
There's little in the way of story; Hollow Knight is more about atmosphere than narrative. Like Dark Souls or Bloodborne, you'll encounter only a few friendly characters on your adventure, but it just makes those meetings more meaningful. Enemies, however, are plentiful.
Initially, Hollow Knight's combat may seem rather basic. As you collect Charms and equip them in your limited selection of available slots, however, you'll discover a great deal of depth. Before you know it, you'll be customising your equipped Charms frequently to more effectively deal with pesky bosses and arduous enemies.
If you like your Metroidvania experiences to hold your hand a little, you might lose interest in Hollow Knight after a while. If you like being given the freedom to explore, however, you'll be absolutely enthralled by it. It's undoubtedly one of the best Metroidvania games available on PC.