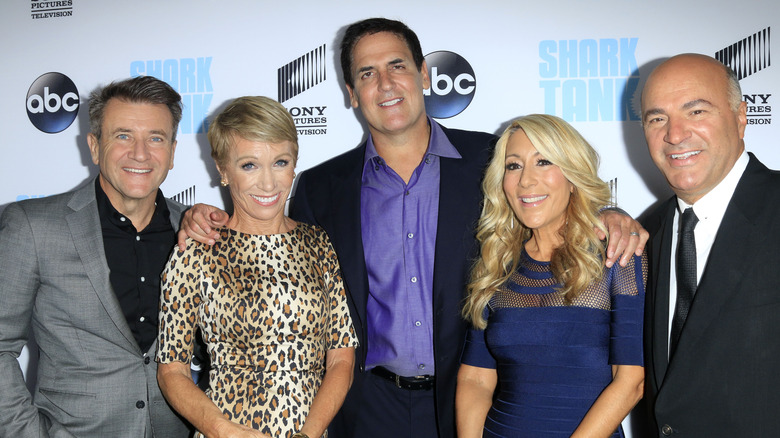 This content was paid for by Sony and created by Looper.
Most TV shows are designed to entertain audiences and evoke some kind of emotional response — a laugh, a tear, or a gasp, perhaps. And ABC's "Shark Tank" does a little bit of everything. Not only does it make for engaging television, but it has also helped a lot of inventive people achieve their dreams. The reality series, which debuted on ABC in 2009, sees the owners of small and burgeoning businesses get the chance to meet some of America's most successful and active venture capitalists, including Mark Cuban, Kevin O'Leary, Robert Herjavec, Daymond John, Lori Grenier, and Barbara Corcoran. After explaining their business plan, entrepreneurs then ask for a sizable investment in exchange for a share in the company, and these sharks get to decide whether to jump into the tank and with how much of their cash.
Over the first 10 seasons of "Shark Tank," nearly 900 entrepreneurs had negotiated about 500 deals with the show's resident Sharks, for a total of more than $140 million in investments and company valuations worth more than $1 billion. On average, business people walk out of the tank with just under a quarter of a million dollars, but there are some who got a lot more because their ideas were just that exceptional. Here are the 10 most lucrative deals ever made on "Shark Tank."
Kevin O'Leary said cheers to Zipz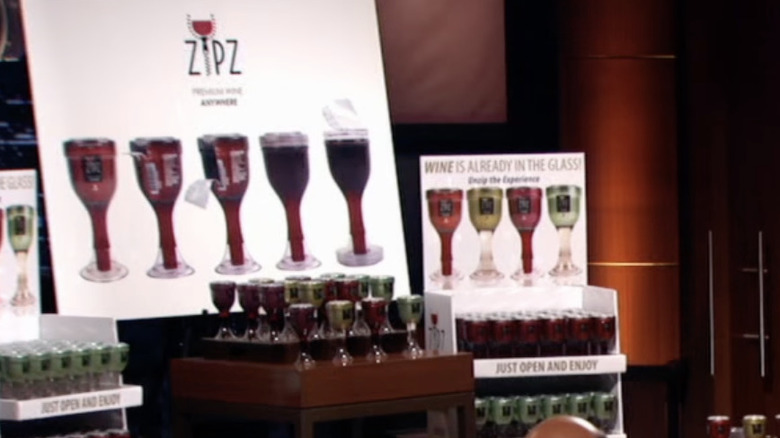 No longer the exclusive purview of the wealthy and the elite, wine has grown more populist in the last few years, on par with other broadly popular alcoholic beverages like beer. According to Wine Spectator, Americans bought 328.9 million cases worth of fermented grape juice in 2020, and researchers estimate the industry will be worth nearly $700 billion by 2028. Mainstay "Shark Tank" investor Kevin O'Leary was likely aware of those upward-heading numbers in a December 2014 episode featuring Andrew McMurray, the Vice President of Zachys Wine and Liquor. McMurray needed a sizable investment from one or more of the Sharks to help his company change the way wine is sold and consumed. His product: Zipz, which is wine sold in individual serving sizes, packaged in plastic wine glasses.
The idea piqued the interest of some of the sharks. Mark Cuban didn't like the name "Zipz" and passed, and Robert Herjavec suggested that McMurray license the technology to other winemakers — but Kevin O'Leary was all-in. The shark agreed to invest $2.5 million in the Zipz project in exchange for a 10 percent stake. In terms of dollar amount negotiated on the show, that's the biggest deal in "Shark Tank" history.
Vengo's vending machines brought in millions
Clever advertising proved to be an extraordinarily attractive business proposition for the sharks when Vengo Labs founders Steven Bofill and Brian Shimmerlik appeared on "Shark Tank" in 2016, and their pitch became a major can't-miss opportunity for the show's investor panel.
A Vengo device, Shimmerlik and Bofill explained, is a wall-mounted vending machine that sells any number of items that it can also advertise with an embedded video screen. After raising $3.4 million in seed money to fund production of the Vengo units, Shimmerlik and Bofill headed into the tank to ask for a $2 million investment in exchange for a 12.5 percent equity share. The concept seemed so lucrative that the Vengo guys got what they wanted from a rare "Shark Tank" team-up: Kevin O'Leary and Lori Grenier put up the $2 million and split a three percent stake when all was said and done.
Ten Thirty One Productions generated a spooktacular sum
Attending the Haunted Hayride is a beloved, annual tradition for a vast many residents of the Los Angeles area. Conceived by Ten Thirty One Productions, tens of thousands of Halloween spook-seekers head to a dark, woodsy section of Griffith Park for a scary, open-air, frightful live theatrical experience. Led by founder Melissa Carbone, Ten Thirty One came to "Shark Tank" in search of additional funding and got it, with Mark Cuban investing $2 million in exchange for a 20 percent share.
Cuban actively helped grow the company. "They were killing it. And so we expanded to New York," Cuban explained to Looper. After expanding operations to eight U.S. cities, Cuban and the rest of Ten Thirty One's owners made a tidy profit when the company sold to Thirteenth Floor Entertainment. Still, the $2 million investment is one of largest ever seen on "Shark Tank."
"For a seven-figure deal, it's got to be a great business that I see the opportunity to really grow," Cuban said. "It's got to be something that I like the business myself. Because if I'm committing that much capital to it, I want to be able to enjoy it."
Rugged Maniac raced away with $1.75 million from Mark Cuban
Americans are always looking for something fun to do outside of the house. One can only go bowling, play miniature golf, or go to the movies so many times, and that explains how Rugged Races made itself into one of the fastest-growing interactive entertainment companies in the country. In 2014, Rugged Races founders Rob Dickens and Brad Scudder appeared on "Shark Tank" to explain and draw attention to its extreme obstacle courses. For a fee, customers could attend Rugged Maniac, a traveling event where they got to engage in more than 20 fun and very challenging feats of strength and agility, including leaping over fires, scaling walls, and negotiating mud pits.
"Shark Tank" investor Mark Cuban was quickly smitten, offering an almost unheard of sum of $1.75 million for a 25 percent stake in Rugged. "I think experiential entertainment is big. And so when I invested them in a few years ago, it was early in kind of the theme of people wanting to get out of the house and do as many things as possible," Cuban exclusively told Looper. "So the opportunity to become part of that was something I looked forward to and honestly worked out really well."
Indeed — according to the Boston Globe, New Media Investment Group purchased 80 percent of Rugged Maniac, and Cuban nearly doubled his original investment.
xCraft flew into Shark Tank and flew out flush
Drones are a relatively new invention, and one with a number of applications, ranging from large-scale to small-scale. They can be used for everything from military and espionage missions to kids flying them around in the park or backyard for fun. In other words, drones are here to stay, and they're a growth industry. So when a small company on the cutting edge side of their robotic flying devices appeared on "Shark Tank," it managed to capture the attention, imagination, and funds of not one investing shark, but all five.
In 2015, Charles Manning and J.D. Claridge, founders of Idaho drone maker xCraft, entered the tank to show off their drone that can both hover and fly — and do so at elevations of up to 10,000 feet and speeds of up to 60 miles per hour. By the time of their "Shark Tank" debut, Manning and Claridge had sold nearly $200,000 worth of their drones in pre-orders by way of a Kickstarter campaign.
All five sharks present wanted in, so xCraft's team suggested a rare arrangement: all five "Shark Tank" panel members would contribute $300,000 each, in exchange for 5 percent equity. That amounted to $1.5 million, one of the biggest proposals ever negotiated on "Shark Tank," and certainly the biggest five-way deal.
SparkCharge generated excitement and income
While there are lots of electric vehicle (EV) charging stations scattered across North America, they can be few and far between, putting a driver in a stressful situation if their car goes dead in the middle of nowhere. The solution, according to SparkCharge founder and CEO Josh Aviv: a portable, super-fast portable EV charging unit. "You sign up for a service, the different gas stations, everything, sign up to offer a service, so that people with EVs, like Teslas or whatever, if they're stuck somewhere on the side of the road, they need a quick charge to get somewhere, they'll come out and charge you up," "Shark Tank" investor Mark Cuban told Looper.
Aviv appeared on "Shark Tank" in 2020 in search of $1 million in additional funding (to add on to a $5 million nest egg) at the cost of a 6 percent stake. Cuban and fellow shark Lori Grenier were both so interested that they accepted Aviv's revised proposal: The duo could split the $1 million buy-in in exchange for a 10 percent stake along with 2 percent advisor equity each.
Yellow Leaf Hammocks woke up the Sharks
You might not think something as simple as a hammock would inspire high-stakes negotiations and million-dollar deals. After all, they're pretty common and are usually made from readily available materials. But Yellow Leaf's hammocks were clearly something special, different, and perhaps better than any other hammock that came before.
In 2020, Joe Demin and Rachel Connors, co-founders of Yellow Leaf Hammocks, used their time with the "Shark Tank" board of investors to ask for a cash infusion for their next-generation sleeping slings. Connors explained that he and his team had "conquered every obstacle" and devised a hammock that offered a closed-in feel made of soft-materials that didn't wiggle and wouldn't disintegrate under intense rain or sun.
Demin and Connors entered the tank asking for $400,000 in exchange for a 7 percent stake. But special guest shark Daniel Lubetsky, the head of Kind Snacks, had an even better offer: he put up $1 million and got a 25 percent stake in the fledgling hammock company.
PolarPro focused on a million-dollar payday
In a 2015 episode of "Shark Tank," Jeff Overall touted PolarPro, the company he'd founded just four years earlier while he was a student and ski team member at the University of California, Santa Barbara. Dissatisfied with the ski run videos generated by GoPro cameras, the industry standard-bearer in POV vid-cap technology, he started making his own polarized lenses to improve the quality of his videos. From there, he started charging other athletes and photographers a reported $10 a pop for his creations. He did so well that he began professional manufacturing, grew his portfolio to more than two dozen products, and then sought out a major cash infusion from "Shark Tank."
A fight amongst the sharks broke out. Mark Cuban offered $500,000 for a 10 percent share, and Daymond John countered with the same figure for a higher stake and a willingness to take on licensing and distribution work if not a partnership with Cuban. Lori Grenier and Robert Herjavec also put deals on the table, but Overall ultimately teamed up with Cuban and Herjavec, landing half a million from both investors in exchange for a 10 percent stake to each.
Breathometer took all five Sharks' breath away
Entrepreneur Charles Michael Yim went before the "Shark Tank" investor squad in 2013 to seek funding for his pet project, a product that he believed and suggested could, if used properly, save lives by reducing the number of intoxicated drivers on the road. His device: the Breathometer, a sleek, pocket-sized breath analyzer that plugged into a smartphone's headphone jack. After consuming alcoholic drinks, the user would breathe into it, and after a few seconds of analysis the machine would provide the user's blood alcohol level — and with it, a tacit recommendation of whether or not it was safe for them to drive home.
In an unusual arrangement — for "Shark Tank," at least — all five sharks present went in on a deal together. All told, Breathometer's founders walked home with $1 million that day in exchange for 15 percent of the company, with Mark Cuban leading the investment team by ponying up half of the financial injection.
BeatBox Beverages rocked a tasty investment
Very often, marketing alcohol is about selling the idea of a fun, cool, memorable hang — the notion that the drink being advertised is so cool and easy that it will fuel the perfect party. That's what the makers of BeatBox Beverages were going for when they appeared on "Shark Tank" in 2014.
"You don't sell wine, you sell fun," "Shark Tank" panel investor Mark Cuban said during the episode. Comparing itself to Red Bull but resembling an adult-oriented Capri Sun or Hi-C, BeatBox makes single-serving, sweet and fruity-flavored alcoholic beverages (in varieties like Blue Raspberry and Fruit Punch) in bright, eye-catching packaging.
The enduring popularity of hard sodas, seltzers, and ciders proves there was a market for a product line like BeatBox's, and the company was on the right side of that trend. Cuban agreed, investing $1 million for a third of BeatBox's shares, a hefty deal in terms of "Shark Tank" figures. "Not only did I give them $1 million when they came in, but I've put more money in after that, and they were crushing it," Cuban explained. "And then they've expanded into alcohol flavored seltzers. And now they're blowing up completely. They've done a good job of expanding the business." Clearly, Cuban has no remorse about jumping into the tank with these folks.