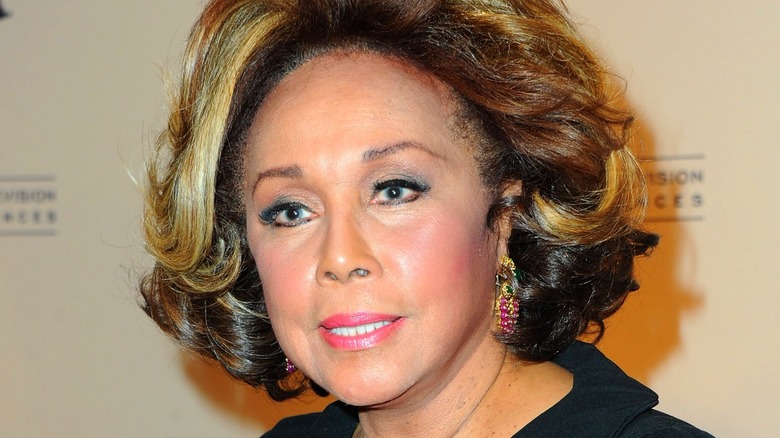 Though NBC's "A Different World" started out as a fairly standard spin-off show with frequent appearances from the characters of its parent sitcom, "The Cosby Show," it was ultimately able to stand on its own two feet. The show's theme song makes it clear that it's radically different from the program that focuses on the affable Huxtable family: "It's a different world/Than where ya come from/Yes it is now," promise the lyrics. Indeed, "A Different World" witnesses Denise Huxtable's (Lisa Bonet) transition from happy "Cosby Show" antics to the significantly more charged events of Hillman College, which mirrors the show's own transition from being a Huxtable vehicle to something completely different. After Bonet's departure following Season 1, the connection between "A Different World" and "The Cosby Show" became more and more tenuous. Eventually, "A Different World" grew into its own, glorious thing.
"A Different World" features a great many actors, plenty of whom are still working in the industry. Apart from Bonet, actors like Glynn Turman (Col. Bradford Taylor), Marisa Tomei (Maggie Lauten), Jada Pinkett Smith (Lena James), and Sinbad (Coach Oakes) remain major Hollywood names. Unfortunately, the fact that the show was made in the late 1980s and early 1990s means that some members of its illustrious cast are no longer with us. Let's take a look at "A Different World" actors you may not know have passed away.
Lou Myers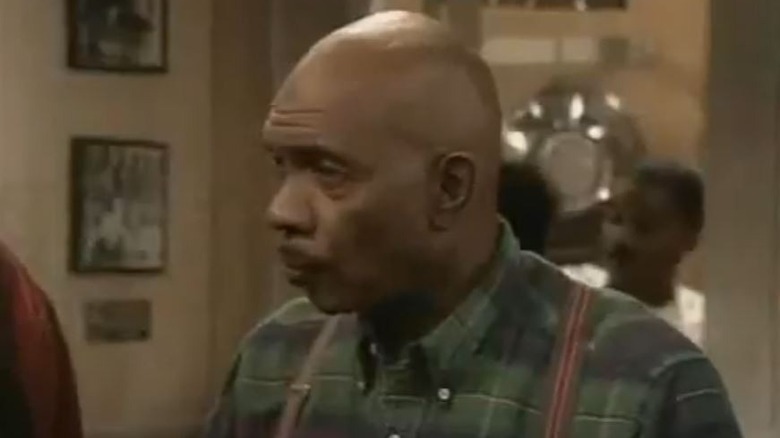 Lou Myers' Vernon Gaines, a memorably grouchy restaurant owner, is one of Season 2's key additions to "A Different World." A borderline misanthropic older guy whose confrontational demeanor hides a complex soul, Mr. Gaines would have been a tough character for many actors to pull off. But, as anyone who's seen the show can attest, Myers absolutely owned the role.
After "A Different World" sang its swan song in 1993, Myers went on to have a prolific career in movies and TV shows alike, appearing in films including "Volcano," "Tin Cup," "How Stella Got her Groove Back," and "The Wedding Planner." As the Charleston Gazette-Mail reported in 2013, Myers was also a celebrated Broadway performer, musician, and motivational speaker, as well as an active member of his community.
After months of ill health and a bout of pneumonia, Myers died in February 2013 at the age of 77 (via TMZ).
Diahann Carroll
Whitley Gilbert's overbearing mother, Marion Gilbert, is a Hillman graduate herself, as well as a member of the board. "A Different World" needed to find someone absolutely dripping with charisma to play this role, and, wisely enough, they went with Diahann Carroll. The actress arrived on the show with a Golden Globe, multiple Emmy nominations, and an Academy Award nomination under her belt, as well as a Tony Award from her Broadway career (via The Hollywood Reporter) and an unforgettably disturbing role in the "Star Wars Holiday Special." During her time on "A Different World," Carroll received her own star on the Hollywood Walk of Fame.
Carroll's breakthrough small-screen role was the titular character on the 1968 NBC sitcom "Julia." "We were saying to the country, 'We're going to present a very upper middle-class black woman raising her child, and her major concentration is not going to be about suffering in the ghetto,'" Carroll said, regarding the role's significance. She achieved further fame as the conniving Dominique Deveraux on the popular ABC soaps "Dynasty" and "The Colbys."
Though Carroll only appeared on nine episodes of "A Different World," she elevated every single one. She didn't slow down after her time on the show ended, either: Carroll went on to appear on programs like ABC's "Grey's Anatomy" and USA's "White Collar." Carroll died on October 4, 2019, at the age of 84. The cause of death was cancer.
Rosalind Cash
As Dean Hughes appears in just four episodes of "A Different World," the character demanded an actor with serious presence. Casting Rosalind Cash in the role provided Hughes with all the required credibility, and more. As The New York Times notes, Cash had amassed an impressive résumé on multiple fronts by the time she arrived on the show. She had an extensive stage career, and was one of the NEC's original members. Her 1973 turn as Goneril in Shakespeare's "King Lear," opposite James Earl Jones in the titular role, is a particularly impressive highlight. She didn't stick to one genre, either — in 1971, Cash appeared as Lisa, the female lead of the Charlton Heston-led sci-fi movie "The Omega Man."
Throughout her lengthy career, Cash was very careful about the roles she accepted. "I'm not good at playing stereotypes," she once remarked (via Jet), and so she didn't — an enormously brave and difficult stance to take, even today. After years of trailblazing success, Cash died of cancer on October 31, 1995, at the age of 56.
Ron O'Neal
With Diahann Carroll playing Whitley Gilbert's mother, "A Different World" was practically required to cast a force to be reckoned with as her father, Mercer Gilbert. Enter Ron O'Neal, star of the famous 1972 blaxploitation movie, "Super Fly." His performance as the flashy Youngblood Priest made him a major name, but as O'Neal himself admitted, this was somewhat detrimental to further career opportunities (via The Guardian). "Outside New York, people assumed I really was a hustler," O'Neal said in 1979. "'Super Fly' took me from relative obscurity, but I haven't been offered that many roles since."
Apart from "Super Fly" and "A Different World," O'Neal's most notable screen roles were Colonel Ernesto Bella in 1984's "Red Dawn," and Lt. Isadore Smalls on "The Equalizer." However, as Playbill notes, O'Neal's screen resume doesn't encompass the entirety of his career. He was a prolific and award-winning stage performer, both on and off-Broadway. On January 14, 2004, the 66-year-old actor died in Los Angeles. The cause of death was pancreatic cancer.
Robert Guillaume
Robert Guillaume may have only appeared on three episodes of "A Different World," but he holds the distinction of playing two different characters: Dean Winston and Professor Murphy. And really, why not? Guillaume had played a seriously wide array of roles by the time he landed on "A Different World," after all. Guillaume was likely best known for playing Frederick Douglass on the ABC miniseries "North and South," and Benson DuBois on the same network's soap opera sitcom, "Soap." He did such a great job in the latter role that the character's spin-off series, "Benson," ended up running much longer than its parent show.
"The minute I saw the script, I knew I had a live one," Guillaume said of "Soap" in 2001 (via The Chicago Tribune). "Every role was written against type, especially Benson, who wasn't subservient to anyone. To me, Benson was the revenge for all those stereotyped guys who looked like Benson in the '40s and '50s [movies] and had to keep their mouths shut."
Amazingly enough, Benson wasn't even Guillaume's last iconic role. He was also a prominent voice actor, and, in 1994, gained international renown for his performance as Rafiki in Disney's "The Lion King" (via The New York Times). He went on to reprise the role many times in a variety of media. After years of achievement, Guillaume died of prostate cancer on October 24, 2017, at the age of 89.
Ted Ross
In a way, Ted Ross was part of "A Different World" before the show even existed. He first appeared as Dean Harris on "The Cosby Show" episode "Hillman," which introduces the titular college. He reprised the role for the pilot of "A Different World." However, his role on the show ended up being somewhat smaller than these early appearances might suggest. His last appearance as Dean Harris came in Episode 22 of Season 1, "My Dinner with Theo."
Though his time on "A Different World" was relatively short, Ross more than made up for it on other fronts. He appeared in movies as varied as "Arthur," "Police Academy," and "The Fisher King" over the course of his multi-decade screen career. Even more notably, he was a highly-lauded stage actor who took home a Tony Award for his Broadway portrayal of the Cowardly Lion in "The Wiz" (per Playbill). He reprised the role in the star-studded 1978 movie adaptation, sharing the screen with performers like Diana Ross (Dorothy), Michael Jackson (Scarecrow), and Richard Pryor (The Wiz).
Ross died from complications of an earlier stroke on September 3, 2002, at the age of 68 (via The New York Times).
Kristoff St. John
Kristoff St. John first appeared as David James on an episode of "The Cosby Show." Four years later in 1988, he returned to its universe as E.Z. Brooks on "A Different World." Though the actor's tenure on both shows lasted only a single episode, St. John's next roles lasted significantly longer. From 1989 to 1991, he played Adam Marshall on the daytime drama "Generations" to the tune of 208 episodes. He went on to shatter that record by taking the role of cosmetics executive Neil Winters on the CBS soap opera "The Young and the Restless." He played Winters from 1991 to 2019, appearing in well over 1,800 episodes. He took home 10 NAACP Image Awards and two Daytime Emmy awards for this mammoth performance (via IMDb).
On February 3, 2019, St. John was found dead in his Los Angeles home at the age of 52. This prompted shocked and saddened reactions from his colleagues and loved ones (via CNN). An autopsy determined the cause of death to be hypertrophic heart failure (via USA Today).
James Avery and Thomas Mikal Ford
Every once in a while, "A Different World" brought in a face you either knew from a very different sitcom, or would go on to become familiar with on a similar show. Sadly, some of these stars have passed away in the intervening years. James Avery, who was basically sitcom royalty, is one of these names, his most famous role being Philip "Uncle Phil" Banks on "The Fresh Prince of Bel-Air." Viewers who revisit "A Different World" might be surprised to find that shortly before he took that iconic role, Avery appeared on the show's Season 3 episode, "To Have and Have Not," as the Pin Punisher. Avery died due to complications from open heart surgery on December 31, 2013. He was 68 years old (via CNN).
Before Thomas Mikal Ford became known as Martin Payne's friend Tommy Strawn on the Fox sitcom "Martin," he, too, appeared on a Season 3 episode of "A Different World." He played Jaleesa Vinson's ex-husband, Lamar Collins. On October 12, 2016, the 52-year-old actor died due to a burst abdominal aneurysm, per Entertainment Weekly.