Aly Raisman is an American gymnast who hails from Needham, Massachusetts, but whose sport has taken her all around the world collecting Olympic medals, according to Team USA. She's a two-time Olympian (she competed in the 2012 London Olympic Games and the 2016 Rio Olympic Games) and a six-time Olympic medalist with three golds, two silvers, and one bronze under her belt. In fact, she became the first woman from the U.S. to win gold in the floor exercise, according to The Eagle Tribune. No wonder she earned quite a bit of money throughout her Olympic career!
For most people, one Olympic medal would be more than enough to show they've lived a successful life. But, while Raisman has been a gymnast since she was a young girl, there's more to the Olympian than her ridiculously triumphant gymnastics career. Raisman has gone onto chase her dreams of working in fashion, fighting for social justice issues, and inspiring girls with her powerful journey as a published author, too.
Curious to learn more about the acclaimed athlete? Read on to discover the stunning transformation of Aly Raisman.
Aly Raisman was an athlete from a young age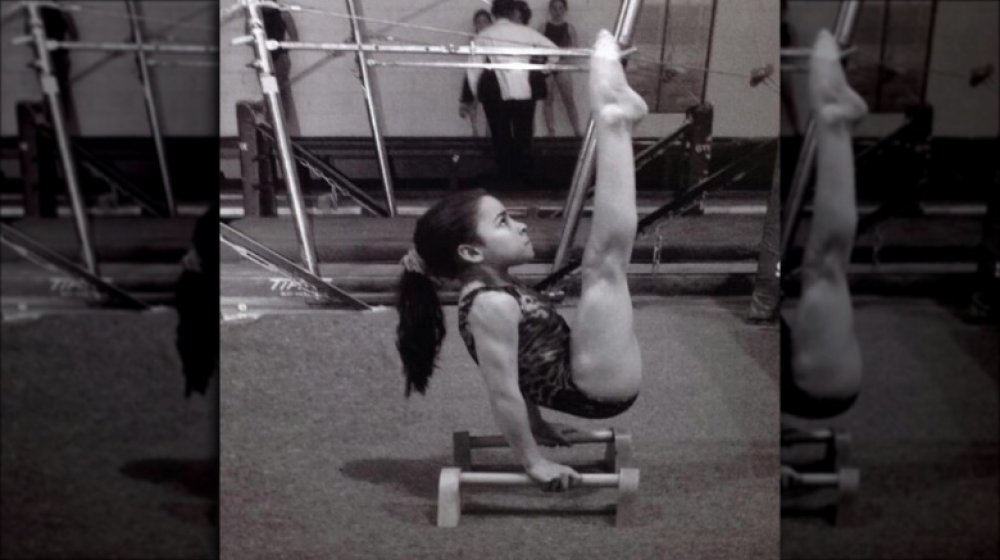 Aly Raisman was a natural athlete from a young age. She got her start in gymnastics at 2-years-old, following in her mom's footsteps, according to the The Eagle Tribune. But, while gymnastics was ultimately her "favorite thing in the world" as she said in an Instagram post, Raisman loved being active in general.
From the beginning, Raisman tried her hand at a wide variety of different sports. She gave basketball, baseball, soccer, and ice skating a try before she ultimately decided to pursue gymnastics on a professional level. On Instagram, Raisman said that she trained almost every single day growing up simply because she loved the sport that much.
Raisman continued to doggedly pursue sports over the years, despite the fact that the other kids in her class made fun of her muscles. But while bullying did take a toll on her, as she admitted on Instagram, Raisman didn't let it stop her from achieving Olympic success in the long-term.
Aly Raisman always dreamt of going to the Olympics for gymnastics as a young girl
Aly Raisman was just 2 years old in 1996 when the U.S. women's gymnastics team took home the gold in the Olympics in Atlanta. While she was too young to process those events at the time, Raisman's mom later found an old VHS tape of the team and gave it to her, which she watched on repeat day after day. She was "literally obsessed with it," she shared, admitting that she'd actually memorized all the scores, and could recite which gymnast was up next.
Years later in 2020, Raisman announced that she wouldn't be competing in the (since-canceled) Tokyo Olympics in a tweet. She also recalled the years she spent as a child, "cartwheeling all over the house, bumping into furniture, and knocking things over." But it wasn't all mishaps, as Raisman also discussed her ambitious childhood premonition. "I dreamt of wearing a red-white-and-blue leotard at the Olympics and imagined myself standing on the podium," she wrote. "One of the best things about being a kid is the belief that anything is possible and that no dream is too big."
Aly Raisman completed her senior year of high school online while she trained
Like most kids, Aly Raisman went to a regular high school: Needham High School in Needham, Massachusetts. But, unlike most kids, Raisman decided to finish her senior year of high school online while she trained to compete in the Olympics. High school homework is hard enough for many kids to manage, but Raisman tackled both that and about seven hours of training at the gym every day.
Raisman wasn't just lifting weights while she trained, either, as she was hardcore conditioning her body. "Actually, I have to climb the rope without legs, with 10-pound weights on," she told NPR in an interview, adding that "it's very, very hard." But her tireless work paid off, and Raisman became "proud" of the fact that she looked "really strong, definitely compared to normal girls." She added that she understood that her strength didn't just appear overnight, either — it took blood, sweat, and tears.
Also unlike regular folks, Raisman told ESPN that, while "most girls are used to wearing heels and dresses," she's "used to being in a leotard with no makeup on," and she loved it.
At age 15, Aly Raisman was allegedly sexually abused by Larry Nassar
The world was stunned to learn that Aly Raisman was allegedly one of the victims of former USA Gymnastics doctor Larry Nassar. The abuse reportedly started when she was just 15 years old, young enough that she didn't fully comprehend what was happening to her. "What people don't get is that he was a doctor," she explained in an interview with Time. "I would never have imagined that a doctor would abuse me or manipulate me so badly."
When asked why she didn't speak up sooner, Aly had the perfect response: "Why are we looking at why didn't the girls speak up?" she asked in an interview with 60 Minutes. "Why not look at what about the culture? What did USA Gymnastics do, and Larry Nassar do, to manipulate these girls so much that they are so afraid to speak up?"
Raisman wasn't alone in enduring this abuse, either. Rather, over 130 woman, most of them athletes, filed suit against the now disgraced Nasser, accusing him of abusing them while pretending to treat them for injuries.
In 2012, Aly Raisman became the first U.S. woman to win gold in floor exercise at the 2012 London Olympics
Aly Raisman made history when she became the first U.S. woman to win gold in the floor exercise, which she accomplished at the 2012 Olympic Games in London. After accepting her gold medal at the event, Raisman was flying high. "I feel amazing; I am so excited and, I don't even know, I am speechless," she gushed in an interview with the Olympic Channel. "That was the best routine I've ever done."
In fact, Raisman's routine earned her a score of 15.600, which was enough to beat the 15.200 score of Romania's Catalina Ponor, according to NPR. Still, Raisman was humble. "Regardless of the medal, I was just so happy to finish out strong for Team USA," she said. "The Olympic experience has been amazing. I'm so honored to be here."
Though she was now officially an Olympic gold medalist, Raisman knew she wanted more. She told ESPN that she always feels like her work is "never good enough," recalling mistakes she's made in the past.
Aly Raisman won three medals at the 2016 Olympic Games in Rio
Given that Aly Raisman was anything but finished after the 2012 Olympics, the 2016 games in Rio were just the opportunity she needed. Raisman took home three medals that year, according to the Olympic Channel. That's despite the fact that it's rare for athletes to compete in more than one Olympic games, according to The New York Times, since it's fairly easy to veer off track in the interim. But Raisman persisted, even though she took more than a year off after winning three medals (including two gold medals) at the 2012 London Games.
Raisman's coach, Mihai Brestyan, waited to make sure that she was absolutely serious about coming back before he took her seriously about training again. After all, since most athletes don't compete for as long as she did, the excitement could wear off fast (or it persist for the wrong reasons, like sponsorships over a love of the sport itself). But, sure enough, Raisman was ready to get back to the Olympics. She worked hard to get back into "leotard shape," and it paid off in Brazil.
In 2017, Aly Raisman published a memoir
In 2017, Aly Raisman took her career one step further and became a published author. Her memoir, Fierce: How Competing for Myself Changed Everything, dives into her journey as an Olympic athlete, detailing her "dedication, perseverance, and learning to think positive even in the toughest times on her path to gold medal success in two Olympic Games and beyond."
Additionally, Raisman's memoir included coveted, never-before-seen photos of her, bits and pieces from her personal journals that she held onto since childhood (including excerpts from memories with her teammates), and empowering advice. She talks about not only her successes but also her struggles before, during, and after her Olympic career — from being bullied as a kid for having muscles to the alleged sexual abuse she endured as a teenager to her lowest lows in training. It's a raw, honest, and deeply inspiring account of her life, as noted by Time.
At the 2018 ESPY Awards, Aly Raisman received the Arthur Ashe Courage Award
At the 2018 ESPY Awards, Aly Raisman received the Arthur Ashe Courage Award alongside some of her gymnastics teammates. This was on the heels of speaking out about her alleged sexual abuse by former USA Gymnastics doctor, Larry Nassar. "Getting that award with this incredible army of survivors is very, I mean, it's hard to put into words," Raisman told Good Morning America. "I don't even know if it's really sunk in yet." She added that all of the survivors share a camaraderie because of what they all endured, but with each other's help they got through it. That was especially empowering for her, and helped her to feel less alone.
Raisman also said that she was "beyond grateful" to have the "opportunity to speak [her] truth," stressing that the award meant so much to her. Fellow Olympic gymnasts Simone Biles, Gabby Douglas, and McKayla Marone were also among the athletes who publicly accused Nassar of sexual abuse, according to Good Morning America.
Aly Raisman spent much of her career fighting for victims of child sexual abuse
Because of what she went through, Aly Raisman spends much of her time fighting for victims of child sexual abuse. For example, in 2019, she rallied to support a California bill that would extend the statute of limitations for reporting cases of sexual abuse. "It's not just the fact that I was abused by a trusted adult," she revealed to Today. "It was the fact that there were so many adults around me that knew about it and looked the other way and covered it up." That's why Raisman is out to make a difference, and hold people accountable for both their actions and their inactions.
Beyond lobbying for the bill, Raisman also teamed up with the organization Darkness to Light. Together, they offer workshops that help people to identify and prevent sexual abuse, according to Refinery29. She's even involved in campaigns like Flip the Switch, for which she works to prioritize children's safety, according to a tweet.
While she told People that her experience is still hard for her to speak about, there are no signs of her backing down until changes are made.
In 2019, Aly Raisman entered the fashion world
Aly Raisman always had dreams of working in the fashion business, which is why she finally kicked off her fashion career in 2019. Specifically, Raisman launched a capsule collection of activewear in collaboration with Aerie. Her aim was to ensure that every piece in the collection was comfortable, first and foremost. "Working out is already hard enough on its own, and everyone works out for different reasons," she shared in an interview with Refinery29. "The last thing you want is to feel uncomfortable or have a sports bra be too tight or leggings feel weird."
Proceeds of Raisman's clothing line go to the campaign Darkness to Light, which aims to educate people about identifying and preventing child sexual abuse. She said that it's important to her to get as many adults as possible to take the campaign's course, as she knows it could prevent the kind of abuse she endured at the hands of Larry Nasser. "If people around us were more aware and paid attention, he would've been stopped a long time ago," she continued.
Aly Raisman also launched a makeup collaboration with Lime Life by Alcone
In addition to dipping her toes into the pool of the fashion business, Aly Raisman also launched a holiday makeup collaboration with LimeLife by Alcone called FIERCE by Aly, according to a pose on her Instagram. "Fierce makeup may be different for each of us," she wrote in the caption. "For some, it could be a red lip or green eye shadow, or a nude natural lip, or maybe no makeup at all! Whatever makes you feel good is #fierce." For Raisman, that depends on the day, as she tells it. It can really change the way Olympic athletes look without it!
Specifically, the makeup collaboration features an eyeshadow palette that can make your eyes pop and an eyeliner pencil duo with a metallic makeup case. Her palettes are called "Speak Up," "Find Balance," and "Be Present." Meanwhile, her eyeliner pencil duos are called "Work Hard/Play Hard," "Be Proud/Appreciate You," and "AM/PM."
Raisman also added that she enjoys trying out new things. Clearly she's been doing that not only with her eyeshadow palettes, but also, evidently, with her career.
Though the Tokyo Olympics were ultimately postponed, Aly Raisman opted not to compete
Though the 2020 Tokyo Olympics were ultimately postponed due to the COVID-19 pandemic, according to NBC, Raisman tweeted that she wouldn't be competing before the news broke. In a letter, which she also shared on Instagram, she wrote about what she'd tell her younger self. "As a little girl, I thought what mattered most was making it to the Olympics, but I've learned that my love for gymnastics is more important," she said. "It is this love that fueled my Olympic dreams, and it is this love that now inspires me to do everything I can to make it safer for the many wonderful people in the sport."
Raisman, who has opened up about having post traumatic stress disorder, is, of course, referring to her work to fight child sexual abuse following her own case against disgraced former doctor Larry Nassar. So while Raisman may not be competing in the Olympics again, she's still fighting for other young girls to be able to compete without enduring the same traumatic experience she had.
Aly Raisman is trying out other sports and taking up new hobbies in her retirement
Since Aly Raisman decided not to compete in the 2020 Olympics, she's finally had the opportunity to try out other sports and take up new hobbies in her retirement. "I am looking forward to having more balance in my life and trying new things," she told The Daily Mail. "I am going to start taking golf lessons, and I am also taking tennis lessons, which is so fun!" She's also interested in learning how to ride horses, something that her younger sister Chloe is quite passionate about.
Though she's enjoying her newfound freedom, Raisman admitted that she's still figuring out what it is that she enjoys doing with her days, now that she's not training 24/7. Still, all of the space and time she has to now explore her other passions has been really fun, she said.
Raisman also shared with Boston Magazine that she's been gardening and learning about composting, replanting vegetables, and growing her own foods. She even told Women's Health that she's a plant mom to 85 different flowers, veggies, and succulents in her post-Olympian life.
Though she's retired, Aly Raisman still focuses on eating clean and keeping healthy
Although Aly Raisman is no longer competing in the Olympics or spending all of her time training for them, she's still focused on eating well and keeping healthy. In fact, she eats a mostly plant-based diet — which is slightly different from a vegan diet — which helps her maintain structure in her eating habits. "It's the athlete in me," she explained in an interview with Women's Health. "I always eat for a purpose and I'm always thinking in terms of what's going to keep me energized."
Additionally, Raisman makes sure that she still gets the nutrients she needs, even if that means adding a scoop of protein powder into her morning cup of coffee. "Being mostly plant-based, it can be a little difficult to make sure I'm getting enough protein," she continued.
That all said, Raisman still snacks, of course. Smoothies are one of her top choices to satiate her hunger in between meals. She also admits that she still loves her dessert, particularly banana bread.