While Americans are busy choosing sides in the fast food chicken sandwich wars, the British seem to have another objective entirely. That would appear to be pretty much ignoring the deep-fried poultry-related brouhaha across the pond in favor of quietly enjoying yet another reliably delicious serving of the beloved dish known as fish and chips.
Don't underestimate its popularity, either. British people tuck into this fried cod and French fry dish at the rate of about 167 million portions per year from their approximately 10,500 fish and chip shops (also known as "chippies") around the country, according to UK Fisheries. Unfortunately, fish and chips are not nearly as widely available stateside (rest in peace, Arthur Treacher's Fish & Chips).
However, it's not all bad, even if you're far, far away from a local fish and chip shop. Recipe developer Susan Olayinka of The Flexible Fridge has brought us this recipe for air fryer crispy cod in an attempt not only to afford Americans the opportunity to have fish and chips whenever they want but also to reign in the fat content of this beloved British comfort food. The secret? An air fryer. As Olayinka told Mashed, "The fact that you can make crispy cod in the air fryer with hardly [any] oil amazes me." And, as an added bonus, Olayinka also has a crafty recipe for crispy air fryer French fries that you can serve with this cod for an truly authentic British chippie experience.
Gather your ingredients for air fryer crispy cod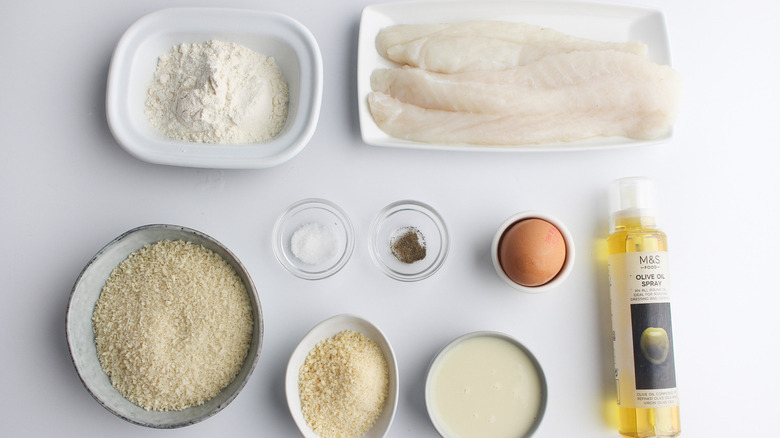 Olayinka's recipe for air fryer crispy cod begins, of course, with cod. If you can't procure that particular fish or want another variety, you can make fish and chips with a number of different white fish, though don't stray too far from home territory. "Cod holds together well and doesn't fall apart," Olayinka told Mashed. "It's also neutral tasting and not that fishy." So, for starters, you'll want to gather up a couple of fresh cod fillets weighing a total of around 10.5 ounces each. And try to avoid using frozen fillets for this because Olayinka says that can result in a soggier finished product.
To help build their crispy exterior, you'll need ½ cup of all-purpose flour, a cup of whole milk, an egg, as well as 1 ½ cups of Panko breadcrumbs, ¼ cup of Parmesan cheese, and a sprinkling of salt and pepper (specifically, you'll need ½ teaspoon of each). Keep some olive oil on hand, too, to make sure that everything will release from the cooking surface later on.
Finally, you'll need an air fryer. If that's really tough to find, you could potentially get away with using a convection oven if you haven't yet welcomed an air fryer into your kitchen.
Begin with this double-dipping method
To get its satisfyingly crispy crust, cod needs to be battered before it's fried — or, in this case, air fried. The secret to the crispiest, crunchiest crust involves a bit of double-dipping, according to Olayinka.
Start by getting out two mixing bowls (making sure that each is big enough to hold a cod fillet). Into one, put the all-purpose flour, the whole milk, the egg, salt, and pepper. Stir all of these ingredients to combine thoroughly, making sure there are no lumps in the batter. Into the other bowl, put the breadcrumbs and parmesan cheese. Stir these two ingredients to combine as well.
Commence the double-dipping process
With your bowls set up in front of you, take out your cod, and begin by dipping one cod fillet first into the liquid mixture, and then into the breadcrumb and parmesan cheese mixture. Then go right back to the batter and then the breadcrumbs and cheese mixture for a second dip.
After your second dip, set the fillet aside — a wire rack over a baking pan to catch any errant drips would work well here — and repeat the process with the second fillet. This double-dipping process will ensure that your cod fillets have an even coating of flavorful, crispy batter, amped up even further with umami-rich parmesan cheese.
How to get the crispiest cod in an air fryer
Sure, it's true that the double-dipping process is critical to getting the best and crispiest results from this particular recipe, but what's just as important is how you use your air fryer. And the key to using your air fryer properly, at least in this case, is to be patient enough to cook one fillet at a time (that is, unless you're using a convection oven, in which case you'll have more room to work in).
Simply place one breaded fillet into the air fryer, and spritz it with some olive oil spray. Cover the air fryer with its lid and set the timer to 15 minutes at 375 F. When the timer goes off, take the fillet out of the air fryer and set it aside. Then, repeat the same process with the second fillet. After both cod fillets are cooked, serve them on a plate right away. They go especially well with these fantastic air fryer truffle fries, also from Olayinka.