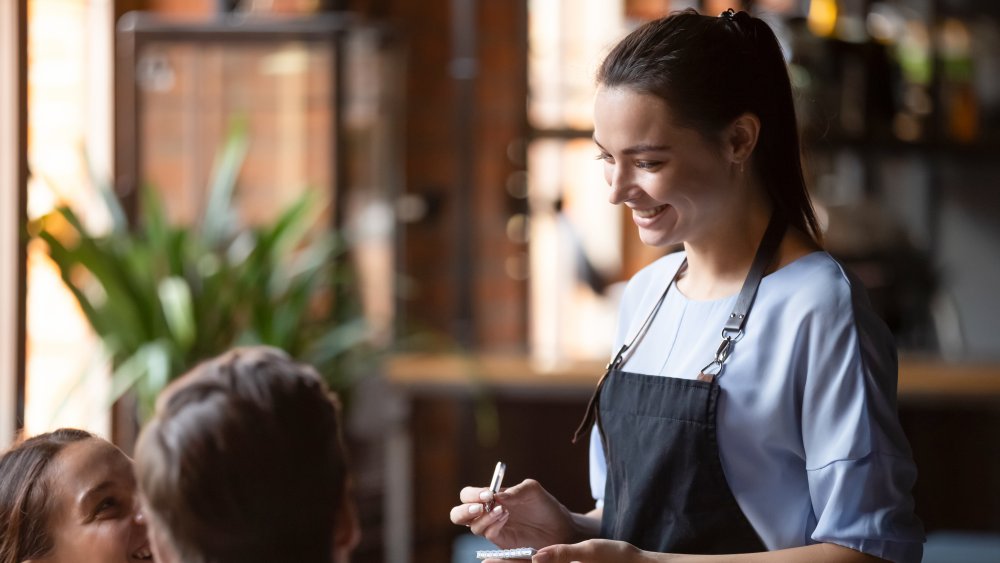 Whether it's a special occasion deserving of a night out on the town or you simply just don't feel like cooking, how do you choose what restaurant to hit up and what menu item to order? Dining out at a chain restaurant is a special treat for many people, especially those on a budget. So when you finally have the opportunity to sit down and order at your favorite restaurant (or maybe you're trying a new eatery), you will want to make the most of your night out on the town and pick the most perfect dish to dine on. But how on earth will you choose?
To help you out, we have compiled a list of favorite dishes served at some of the top restaurant chains in the country. The delectable options range from Asian to Australian to American, from seafood to comfort food to buffet food. Some of the tasty options are hearty and belly-filling while others tend to be healthier options. There are meatless options and meals fit for the hungriest of carnivores. Even if you don't feel like eating in at one of these establishments, many restaurants offer curbside pickup or take-out, allowing you to enjoy one of these favorite fares in the comfort of your own home. If you have a favorite dish that's not on our list, be sure and let us know!
Outback's Bone-in Ribeye with a Bloomin' Onion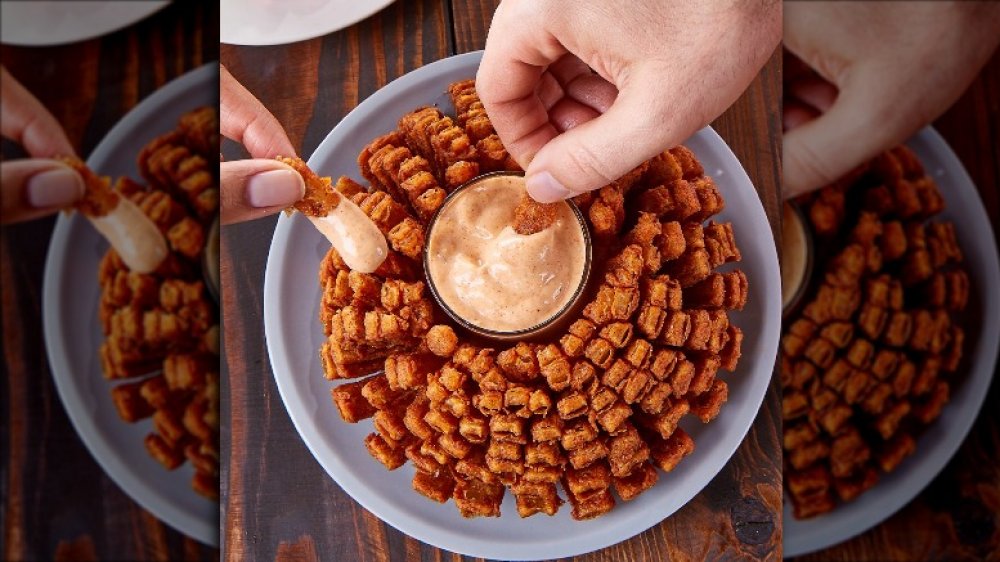 Ouback Steakhouse is known for its Bloomin' Onion. It's a tradition to order this mouthwatering morsel served as an appetizer at this chain restaurant. Just snap off one of the deep fat-fried onion "petals," and scoop up some of their special tangy sauce. For the entrée, look no further than the juicy bone-in ribeye. Allison Robicelli, food critic with She Knows, said it melted in her mouth from the first bite to the last. Foodie Jennifer said the bone-in ribeye is the top steak out of the most popular four ordered at the Australian-themed restaurant, making it one entrée you should try.
Olive Garden's Tour of Italy
Olive Garden's most popular dish is the Tour of Italy, featuring three of its most popular entrees on one platter. The lasagna is brimming with plenty of meat, ooey gooey cheese, and rich red sauce. The fettuccini alfredo has just the right amount of white sauce drizzled over the wide egg noodles, and the chicken Parmesan is a crispy breaded chicken breast smothered with the same red sauce and melted mozzarella cheese. No wonder it's such a huge hit among diners at this chain restaurant!
Applebee's Shrimp and Parmesan Sirloin
Foodie Julia Smith has loved chain restaurant Applebee's forever, particularly its surf and turf. In fact, she'd even serve it at her wedding, it's that fantastic. The warm and creamy Parmesan sauce with a hint of tangy lemon smothering the juicy and sizzling sirloin steak elevates the dish to a level of one similarly served at a fancy and pricey establishment. The half a dozen pieces of delectable shrimp served atop the steak makes it "one of the better surf 'n turf options" she's had.
TGI Friday's Potato Skins
Every mouthful of the loaded potato skins at chain restaurant TGI Friday's explodes with flavor with a light and crispy outside and an inside smothered with ooey, gooey melted cheese and rich applewood smoked bacon bits bursting with contradicting textures. Courtney Iseman of Delish noted they're the most popular dish offered at the festively decorated restaurant. This finger food has been around since 1974 and definitely doesn't disappoint as a top seller. They are carb-loaded, salty, and fantastically delicious, especially when you scoop up some of the restaurant's tangy sour cream dip adorned with a sprinkling of scallions.
Red Lobster's Ultimate Feast
Before your meal ever arrives at the table at Red Lobster, you'll likely stuff yourself with the Cheddar Bay Biscuits brimming with seasonings and rich butter. But save room for the most popular entree served at the chain restaurant: the Ultimate Feast. The dinner platter is piled high with tender Maine lobster tail, steamed wild-caught North American snow crab legs, garlic shrimp scampi, and Walt's Favorite Shrimp, served alongside rice and a second side of your choosing. Foodie Rheanna O'Neil Bellomo claimed it to be the best option on the menu, and many Red Lobster lovers would have to agree!
Carrabba's Italian Grill's Chicken Bryan
Carrabba's Italian Grill offers more than just traditional red-sauce dishes. As a grill, the chain restaurant's entrees feature a hearty woodfired meat with tender bites falling off every forkful. One of Carrabba's most popular dishes, according to Emily Lee with the Food Network, is Chicken Bryan. The captivating flavors of this dish stems hails from the restaurant's signature grill baste consisting of olive oil blended with 14 different herbs and spices. It's topped with hearty goat cheese, sun-dried tomatoes, basil, and a lemon butter sauce. Served with a side of belly-filling pasta, this particular dish definitely is a fan favorite.
Denny's Fried Cheese Melt
Grilled cheese sandwiches are delicious with shredded cheese piled high on the crispy slices of buttered bread. Denny's Fried Cheese Melt is one of its most popular dishes on the menu because it's not only made with delicious American cheese, but it's also packed with four fried mozzarella sticks stuck between two hearty slices of dense sourdough bread. According to First We Feast, this dish, described as a "Frankenfood monstrosity," cleverly combines two dishes into one hard-to-resist and wildly popular meal at Denny's chain restaurant.
Hard Rock Cafe's Legendary Burger
People queried the chain restaurant Hard Rock Cafe to see what dish is ordered the most, and the Legendary Burger tops the list. It's topped with a golden bun that's crisp on the outside and soft on the inside. With its traditional tomato and lettuce perched below the thickest, juiciest patty, it's mouthwateringly good. Two slices of melted American cheese smother the patty, which is topped with crunchy flavorful bacon and a thick onion ring. This tiered burger traditionally proves to be too much for even the heartiest burger lover, but it definitely fills you up with a myriad of flavors bursting forth.
P.F. Chang's Chicken Lettuce Wrap
America's favorite Asian-inspired chain restaurant P.F. Chang's offers scrumptious menu items sure to please any palate. Foodie Allison Robicelli with SheKnows dined on shrimp and pork dumplings at P.F. Chang's, then ordered the lettuce wrap after she polled numerous people who said it was their favorite dish. As a gluten-free option, it's made with a "secret family recipe" and is the eatery's signature dish. Copycat recipes call for ground chicken, garlic, hoisin sauce, ginger, Sriracha, chestnuts, and onions to name a few flavor-popping ingredients. It's no surprise it's a high-demand dish.
Chili's Triple Dipper
Why settle for just one appetizer when you can choose three on one plate at your favorite chain restaurant Chili's? Food critic Dan Gentile didn't rely on his own taste buds to pick the best dish at Chili's but instead roped in his parents to help him out. Their favorite happens to be the eatery's top dish: the Triple Dipper. The most commonly ordered combination consists of the boneless chicken wings, Southwestern egg rolls, and fried pickle slices. Dan's family ranked the appetizers, and their top three were the tableside guacamole, chicken crispers, and sliders.
Boston Market's Half Rack of St. Louis-Style BBQ Ribs
Boston Market's Half Rack of St. Louis-Style BBQ Ribs smothered with scrumptious barbeque sauce shares a plate with fresh corn and rich whipped mashed potatoes. Slow cooked to where it's fall-off-the-bone tender, these baby back ribs are seasoned then brushed with Sweet Baby Ray's Hickory BBQ sauce. Food critic Ken Hoffman's buddy calls them the "Cadillac of ribs." Dan suggested diners order the garlic dill new potatoes and sweet corn as their sides at this chain restaurant, noting that he prefers Boston Market's sides to those offered at traditional barbecue restaurants.
LongHorn Steakhouse's Flo's Filet with Lobster Tail
It shouldn't be a surprise that a steak tops the favorites list at LongHorn Steakhouse, but Flo's Filet happens to be served with lobster tail for a tasty version of surf 'n turf. Flo's Filet with Lobster Tail is not only popular among patrons, but it also has a surprisingly solid nutritional value. The lobster is "tasty," notes registered dietician Elizabeth Ward, who sampled all of the steakhouse's entrees. The Western-themed chain restaurant is known for its cuts of beef, and this hearty meal will not disappoint. The combination of beef and lobster tail just can't be beat!
California Pizza Kitchen's Carne Asada Pizza
If you love pizza chain restaurants, then you would love to have foodie Julia Smith's job. She was tasked with taste testing every single pizza made at California Pizza Kitchen — 20 in all! She determined the best to be the Carne Asada Pizza. "I couldn't have predicted that this would be the pizza I would dream about for six nights in a row, but it was," she said. With juicy marinated steak bites smothered in spicy cilantro pesto and accented with fire-roasted poblanos, even the mozzarella and Monterey jack cheeses complement each other perfectly, which is why it's many customers' favorite.
Famous Dave's Brisket
The buddies at Geeks Who Eat who love reviewing food set out to determine the best menu item at Famous Dave's, a chain restaurant. After stuffing themselves with every amazing menu item there, they crowned the ultimate winner and described the winning brisket as the "best we've ever had." It's seasoned with salt and pepper and smoked for five hours, then wrapped in special unwaxed, unlined butcher paper and cooked to perfection for yet another ten hours. If that doesn't give you a hankering for the wildly popular brisket at Famous Dave's, we don't know what will.
Bonefish Grille's Bang Bang Shrimp
Chris Schonberger with First We Feast declared the Bang Bang shrimp at Bonefish Grille chain restaurant as the absolute best dish there, even though it's actually an appetizer. The food reviewer shared that the shrimp is deep-fried with a special creamy, spicy sauce that's both sweet, tangy, and not for the faint of heart. He describes it as a "bonafide hit" and raved over the explosion of flavors pouring forth from the dish, like a party in his mouth. Served atop fresh greens, this appetizer will leave a lasting impression in your belly, too, if you give it a shot.
Cracker Barrel's Hash Brown Casserole
Shay Spence with People investigated the most-ordered dish at Cracker Barrel, a chain restaurant known for its hearty, old-fashioned Southern-style meals like coarse-ground grits, fried apples, country ham, and gravy 'n biscuits. The winner? The Hash Brown Casserole. With shredded potatoes baked in a delicious cheesy sauce, the recipe produces a meal that's crispy on top and ooey-gooey in the middle. The newest twist on this dish is the Bacon Hash Brown Casserole with bacon, scrambled eggs, cheese, onions, and tomatoes piled on top of the traditional hash brown casserole.
Panera's Broccoli Cheddar Soup
Panera Bread is a chain restaurant that features light and somewhat healthy salads, soups, and cheesy sandwiches. The rotating soup menu features amazing bread bowls that fill you up so much more than soup in a boring bowl. The most popular menu item ordered there happens to be the creamy Broccoli Cheddar Soup. Panera Bread's head chef Dan Kish believes that "there's something very nurturing about soup." It's one of the oldest types of food and is comforting to many, so it's no wonder that people flock to Panera Bread to order the scrumptious Broccoli Cheddar Soup.
The Cheesecake Factory's Cajun Jambalaya Pasta
The Cheesecake Factory naturally is known for its cheesecake. But for a meal, people really love the Cajun Jambalaya Pasta at this chain restaurant. Sophia Mitrokostas surveyed former employees of The Cheesecake Factory, who described this dish as "a great value" and "full of different flavors." Former employee Ken Schwartz said the dish is chock full of ingredients: shrimp and chicken sauteed with onions, tomatoes, and peppers smothered in spicy Cajun sauce. The dish typically is served over fresh linguine, but it can be served over white rice or mashed potatoes instead. Yum! Don't forget to follow it up with a slice of tantalizing cheesecake.
IHOP's Pancakes
The Rehoboth Foodie popped into the International House of Pancakes to sample the menu items and determine what was the tastiest. This breakfast food fanatic tried the chain restaurant's omelets, French toast, eggs, bacon, and more. The winner according to this foodie were the pancakes. They described them as "hot, soft but not mushy, with a vanilla-like aroma." He declared them a delight to dine upon at a place known for its breakfast food. Even the restaurant describes them as "world-famous."
Buffalo Wild Wings' Mango Habanero Wings
The Rehoboth Foodie declares there definitely is one food at Buffalo Wild Wings that jumps out at him: the Mango Habernero Wings. This man can't get enough of the chain restaurant's wings, and the hotter, the better. His favorite sauce at Buffalo Wild Wings is the hottest, called Blazin' sauce. But when a manager insisted he try the Mango Habernero, he was glad he did. It was hot, very hot, but with a delightfully fruity undertone that was "quite delicious" and not "gooey" like other fruit-infused sauces, he noted.
Dave and Buster's Blackened Chicken Pasta
Some folks love going to Dave and Buster's for the entertainment factor, but foodie Tom focused more on hot wings and tequila in his 20s when visiting the chain restaurant. Now as a more polished connoisseur of food, he's identified what he and others believe to be the most delicious entree on the menu: the Blackened Chicken Pasta. Tom described it as having "nicely done flavors." It looks fantastic, too, with its rich, spicy sauce and blackened chunks of chicken. You definitely can't pass up this menu item.
Red Robin's Whiskey River BBQ Burger
If you're seeking a huge burger with a juicy, flavorful patty covered with mouthwatering melted cheese, a ripe red tomato, and crisp green lettuce sitting atop at a chain restaurant, look no further than the Whiskey River BBQ Burger at Red Robin. The addition of crispy onion straws below the patty really gives this burger some seriously tasty crunch. This burger is one of the best, something Chris Schonberger with First We Feast believes. This stacked sandwich is tangy, crunchy, fresh, and flavorful. He noted that the patty has "enough beefy oomph to stand up to all the toppings."
On the Border's Sizzling Fajitas
Mexican food favorites like mesquite-grilled fajitas, tacos, or one of On the Border's famous margaritas draw people into this chain restaurant. But one of the best-tasting entrees people order most often is the Sizzling Fajitas. According to People, On the Border even designated an official holiday: National Fajita Day. The famous fajitas are grilled over mesquite wood and served with warm flour tortillas, sour cream, pico de gallo, cheese, guacamole, Mexican rice, and refried beans. Black beans can be added to each this that's already brimming with yumminess.
Texas Roadhouse's Bone-in Ribeye
Splitting peanuts and popping them in your mouth makes for a fun appetizer at Texas Roadhouse, a Western-themed steakhouse chain restaurant known for its fresh-baked bread, tasty sides, fall-off-the-bone ribs, and of course, its hand-cut steaks. According to food critic Irene Jiang, a food reviewer with Business Insider, the Bone-in Ribeye is the best-selling steak at the restaurant, and for good reason. This 20-ounce, juicy, flavorful ribeye is served on the bone for an extra punch of deliciousness. She described the ribeye as "gorgeous," oozing fat and encrusted in a criss-cross layer of crisp black char.
Golden Corral's Fried Chicken
Golden Corral is a chain restaurant that offers several comfort food-type dishes such as fried chicken. Foodies Charlie Miller and Jacob Pucci teamed up to work their way through 50 different foods offered at Golden Corral to identify the best and the not so yummy foods. What emerged as the winner? The crispy, seasoned Fried Chicken. The reviewers described it as "exceptional," perfectly crispy on the outside and juicy on the inside. They suggested snagging your chicken as soon as it's put out on the buffet.
Noodles & Company's Wisconsin Mac and Cheese
Noodles & Company chain restaurant specializes in everything noodles, including the classic and most loved option of Wisconsin Mac and Cheese. According to Shay Spence, a food critic with People, the Wisconsin Mac and Cheese is the best item on the menu. Shay testified that it's "always a crowd-pleaser." Not only are the noodles smothered in a cheese sauce, but it's also sprinkled with a hearty blend of finely shredded cheese.
Chipotle's Chicken Burrito Bowl
Chipotle Mexican Grill chain restaurant specializes in tacos and burritos, but it's the Chicken Burrito Bowl that has people flowing through the door to dine. Holly Van Hare with The Daily Meal said the most popular item at Chipotle is filled with a spicy and incredible combination of flavors. When building a burrito bowl, choose your freshly grilled meat or sofritas served with rice, beans, or fajita veggies. Other possibilities include sour cream, salsa, guacamole, black beans, corn, and more. The colors of this incredible dish burst forth, as does the flavors of this Mexican-inspired recipe.
Yard House's Poke Nachos
Claiming to have the world's largest selection of draft beer along with an extensive menu, chain restaurant Yard House offers an incredible array of food. But the best item on the menu, according to foodie Meghan, happens to be the Poke Nachos. Crisp homemade tortilla chips that actually are wontons are buried underneath marinated ahi tuna, cilantro, serrano peppers, green onions, nori, sesame seeds, sweet soy sauce, sriracha aioli, and white truffle oil.
Friendly's Honey BBQ Chicken Melt
Food critic Julie R. Thomson declares Friendly's to be the best chain restaurant in the country. So what to order if you have the chance to visit one? Friendly's is known for its ice cream but also for its SuperMelts. These go way beyond a traditional "melt." Served in a basket with crispy golden fries, the SuperMelts are made with thick slices of browned, grilled sourdough bread. But there's a twist with the most popular one. The Honey BBQ Chicken SuperMelt consists of country-breaded chicken tenders smothered in sweet honey barbecue sauce, stacked atop melted cheddar cheese with richly flavored applewood smoked bacon and ranch dressing.
Bahama Breeze's Jerk Chicken Pasta
If you can't escape to the Bahamas and enjoy original island fare, then sneak off to the chain restaurant Bahama Breeze and enjoy a Caribbean-inspired meal at the festively decorated eatery. Patricia Bannan, a registered dietitian who definitely knows a thing or two about food, shared on Eat This, Not That! that the restaurant's Jerk Chicken Pasta with its light and creamy Parmesan sauce drizzled across bow tie pasta, thinly sliced jerk chicken strips, and snips of asparagus dancing with mushrooms across the plate has such an amazing blend of flavors that you'll want to savor every mouthful of.