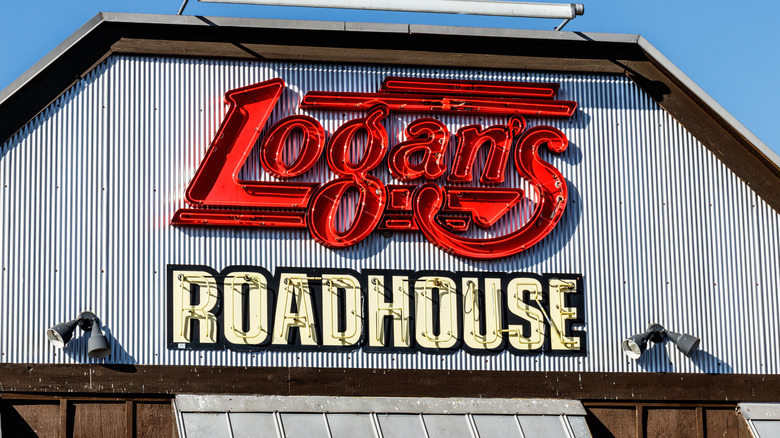 If you've ever visited one of the more than 100 Logan's Roadhouse locations stretched across the United States, you're probably familiar with the chain restaurant brand's friendly feel, to-die-for dinner rolls, and ultra-strong take on a Long Island iced tea. Not to be confused with Texas Roadhouse, with its very-much-Texan-inspired theme, Logan's Roadhouse isn't quite so Southwest in stylings and, instead, embraces the local or regional vibe, incorporating local sports teams into a location's decor, which is otherwise non-region specific.
Still, with the dinner rolls, steak, and in-shell peanuts, both roadhouses share similarities. However, what they don't share is a track record of success. While Texas Roadhouse boasted the same CEO for nearly 30 years and continued to expand while other, similar chains regressed (via the Tampa Bay Times), Logan's Roadhouse has faced an arduous growth journey and the dust has only recently, possibly settled.
Here's the untold truth of Logan's Roadhouse.
Logan's Roadhouse was established in 1991, founded by a previous Shoney's CEO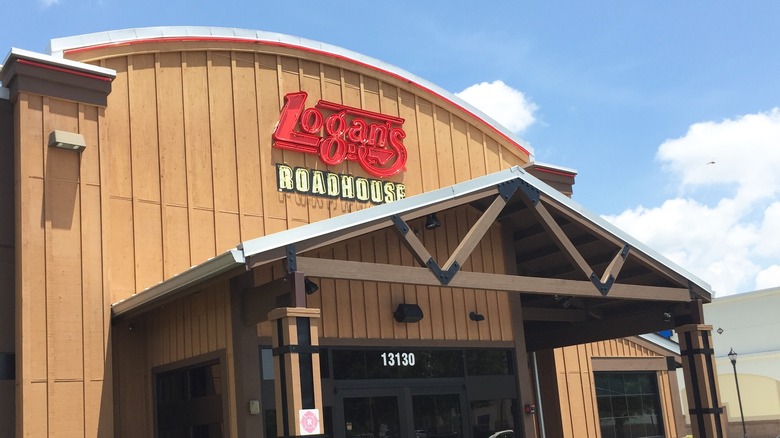 All told, Logan's Roadhouse got off to a good start. The first restaurant opened in Lexington, Kentucky, in 1991. The founder was David Wachtel, previous CEO of restaurant chain Shoney's (which Mashed previously explained was one of the most recognizable restaurants in America in the 1980s and 1990s, with the brand's nearly 2,000 restaurants in 36 states). With that kind of experience, you'd think that Wachtel's leadership would set Logan's Roadhouse up for success, and he did — for a while. Wachtel and team grew the chain at a slow pace and were known for rigorous standards for each and every location.
Sales climbed quickly and, by 1995, Logan's Roadhouse was in an enviable financial position (via Funding Universe). This could be partially credited to the chain's low management turnover; rather than requiring managers to work 60-hour weeks, as was common at other chains, Logan's only required its management to work 45- to 50-hour weeks.
The first year in business, a Logan's employee created the brand's famous yeast rolls
One of Logan's Roadhouse's most famous menu items? The famous yeast rolls. These rolls sell at a rate of 98 million rolls per year, according to the brand. They first came to Logan's restaurants, courtesy of a team member named Brenda, in the summer of 1991, not long after the first location in Lexington, Kentucky, opened.
You can find loads of copycat recipes online for Logan's yeasty rolls, but replicating the unique taste and flavor isn't exactly easy. As Eat This, Not That! can attest, home bakers can try creating replicate rolls with milk powder, dry yeast, honey, and butter, but the result is never quite the same. Still, each one of these fluffy buns comes in at a whopping 200 calories, so they're not quite as innocent and heavenly as they might taste, especially once Logan's started offering them as a bun replacement for the brand's burgers and other sandwiches.
Two years later, Logan's debuted its famous Roadhouse Tea
But Logan's isn't only famous for its dinner rolls. In 1993, the restaurant chain debuted one of its other top-selling items: its famous Roadhouse Tea, which it sells at a rate of 2 million drinks per year, according to the brand. If that seems a little low (at least compared to the dinner rolls), it's worth noting that this is not your average sweet or unsweetened tea. Instead, Roadhouse Tea is a take on a Long Island iced tea and it certainly packs a punch.
According to Reddit, a Roadhouse Tea is one part rum, one part gin, one part triple sec, and one part pure grain alcohol, all topped off with a little sweet and sour and a splash of Coke. Your typical Long Island iced tea is a little more complicated, with equal parts vodka, rum, tequila, gin, triple sec, simple syrup, and lemon juice (according to liquor.com), but it's the pure grain alcohol — which any seasoned drinker can tell you is incredibly potent and typically 95% alcohol, making it 190 proof (via Spoon University), or about twice as strong as your average whiskey — that really makes this cocktail stand apart.
By the late 1990s, the restaurant chain was considered a success
Within the decade, Logan's Roadhouse would be considered a success. According to Funding Universe, the average Logan's location was bringing in about $3.5 million annually, in 1997, compared to O'Charley's and Lone Star's $2.5 million per location and Outback Steakhouse's $3.1 million per location. Logan's Roadhouse had also received high praise from industry publications, being called "one of the hottest concepts" in the restaurant industry, as well as one of the top small businesses in the United States by both Forbes and Business Week. In 1995, Logan's went public and, by the end of 1996, Logan's stock price had risen by more than 100%, putting the brand at the top of the pack for stock appreciation among casual restaurants.
By the end of 1998, Logan's Roadhouse was operating more than 40 locations across 12 states. Annual sales were around $100 million, a 50% increase from 1997. However, rather than keep that success internal, the brand decided to sell.
In 1998, Logan's gets its first of many, many new owners
Having reached admirable heights of success in less than a decade, Logan's Roadhouse decided to sell out, accepting an acquisition offer from CBRL Group, the parent company of Cracker Barrel Old Country Store (via Funding Universe). At the time, Cracker Barrel was much, much bigger than Logan's, with nearly 400 units around the country. However, CBRL Group allowed Logan's to continue functioning as a separate entity, after the $179 million-dollar purchase. At the time, CBRL Group was also growing its Carmine Giardini's Gourmet Market brand, but it still focused on growing Logan's further, with nearly 25 new locations planned for 1999 and 2000 (via Funding Universe).
Still, this growth wasn't enough to keep Logan's on its successful trajectory that had started way back in 1991 with David Wachtel. CBRL Group sold Carmine Giardini's in 2001, and went on to close some of its underperforming restaurants — which included both certain Logan's Roadhouse locations and Cracker Barrel locations (via the Nashville Post).
CBRL Group didn't hold on to Logan's Roadhouse for long
Not long after CBRL Group sold off Carmine Giardini's Gourmet Market, it also sold off Logan's Roadhouse. In a 2006 press release, CBRL Group announced that it would be selling Logan's Roadhouse to a private equity investment firm, Bruckmann, Rosser, Sherrill & Co. Inc. (or BRS). The transaction amounted to approximately $486 million, though CBRL Group only took home $385 million (via Tulsa World). Upon the sale, CBRL's chairman, president, and CEO called the transaction a "major strategic milestone," and that it planned to use roughly $350 million of the money made from the sale to buy up $250 million of its own stock.
Still, all things considered, Logan's Roadhouse wasn't doing terribly. In 2003, the brand opened its 100th location, and in 2006, it launched its loyalty club, the Nut-E Club. Today, the Nut-E Club isn't so much of a loyalty club as it is an email list, as current sign-up links redirect you to "become a Logan's VIP" by entering your email and getting news updates and $5 off your next purchase.
In 2010, Logan's changed hands again
Logan's Roadhouse has experienced a long line of owners. While Bruckmann, Rosser, Sherrill & Co, Inc. boasts a portfolio that includes a lot of casual restaurant chains, such as Au Bon Pain, California Pizza Kitchen, and Golden Corral, it eventually passed off the Logan's brand. This was only after about three years of ownership and following a $200 million initial public offering intended to pay down debt and afford some more expansion (via Nation's Restaurant News).
The new owners? Kelso, another private equity firm. Kelso, however, at the time, did not have the same track record with restaurants that BRS boasted, focusing primarily on retail and consumer investments. Its only experience managing a restaurant chain was when it owned a stake in IHOP in the 1980s. While, over the next few years, Logan's managed to grow to a chain of about 250 restaurants, with locations in 50 states, and nearly 20,000 employees (via the Tennessean), Logan's Roadhouse still hit financial troubles within six years.
In 2016, Logan's files for bankruptcy (for the first time)
The money problems started in 2016, with Kelso at the helm (via the Tennessean). Over the first half of 2016, sales had declined, with traffic falling by over 8% and sales falling by 4%.
In August, Logan's Roadhouse filed for bankruptcy and closed nearly 20 "underperforming" restaurants. According to a statement, the closures were "part of the overall efforts to improve the company's financial performance" and a "plan [was] in place to assist employees in closing restaurants, reassigning employees to other Logan's restaurants, and providing them with outplacement services and assistance with applying for jobs."
The bankruptcy filings resulted in $25 million in financing for a restructuring plan, which included the stepping down of the brand's CEO at the time. However, the $25 million in financing seemed paltry in comparison to the chain's $416 million in debts, owed to as many as 25,000 creditors. The largest debt was to National Retail Properties, to whom Logan's Roadhouse owed more than half a million dollars.
In 2018, Kelso finally sold Logan's Roadhouse
As you could possibly expect by this point, Kelso didn't hold on to Logan's Roadhouse for very long, either, especially once the finances went south. Two years after filing for bankruptcy, Kelso sold Logan's Roadhouse, in 2018, to a company with a little more experience in the food and dining space: CraftWorks Restaurants & Breweries (via Nation's Restaurant News). The acquisition created a 390-unit portfolio for CraftWorks, which also owned Old Chicago Pizza & Taproom, Rock Bottom Restaurants & Breweries, Gordon Biersch Brewery Restaurants, and Big River Grille & Brewing Works. At the time of the sale, the Logan's brand had been reduced from 250 restaurants in 50 states to 204 restaurants in 22 states.
With a brand-new CEO and another near-200 restaurants already under its belt, CraftWorks was seemingly well-equipped to take over Logan's, though it was not disclosed exactly how much CraftWorks paid Kelso for the brand. Unfortunately, things would not remain so optimistic.
Just two years later, Logan's Roadhouse filed for bankruptcy yet again
While CraftWorks was optimistic about its future with Logan's Roadhouse, things didn't turn out as planned, especially when the Covid-19 pandemic hit. In early March of 2020, the CraftWorks Holdings CEO had said that the fiscal quarter was "off to a solid start," but then, by late March, things had turned sour.
Later that month, CraftWorks filed for bankruptcy after shutting down numerous restaurant locations across its portfolio, with the intention of continuing to operate all of its other locations, but, shortly after pandemic-related shut-downs began, in April 2020, CraftWorks closed others and laid off some 18,000 employees, cutting expenses to the "bare minimum" in an effort to maintain "as much value as possible" for post-pandemic times (via the Tennessean). In fact, all corporate-owned locations were closed and CraftWorks only kept on a corporate staff of 25 people, to keep the lights on for the foreseeable future (some franchised locations remained open, however).
The pandemic took things from bad to worse
But the financial worries didn't end there. While CraftWorks remained optimistic about returning to business as soon as possible, at least for a little while, it then decided that the Logan's Roadhouse locations would be closed "indefinitely." The company made the clarification that the closures would not end with the pandemic, nor as local case numbers decreased (via WCRZ). The company told employees who thought they were merely furloughed that they were, in fact, terminated, with no benefits. All layoffs were permanent, with no plans for the restaurants to get back to business. The decisions impacted not only Logan's Roadhouse locations, but also Old Chicago locations.
According to one previous employee on Reddit, "We were terminated on March 31. I'm an employee and we received emails stating [we were fired]. If, and a big if, they reopen, we have to reapply."
Meanwhile, commenters noted the stark comparisons between the ways CraftWorks and Texas Roadhouse were handling the pandemic, noting how Texas Roadhouse's CEO gave up his 2020 salary to help employees (via People).
Is a new owner the light at the end of the tunnel for Logan's Roadhouse?
In a turn of events that anyone who's made it this far into the article could likely predict, CraftWorks' response to its financial and business woes was to simply sell Logan's Roadhouse. Later in 2020, Craftworks sold its properties to Fortress Investment Group and SPB Hospitality for $93 million (via FSR Magazine). Almost immediately, SPB Hospitality began reopening locations and, as of mid-2020, 103 company-owned and 25 franchised Logan's Roadhouses were open, though a greater switch was made to off-premises dining, including delivery and carry out. Employees were also rehired.
SPB Hospitality had previously also acquired Krystal, following the chain's recent bankruptcy, and the company's CEO Marc Buehler has remained positive regarding Logan's Roadhouse's future.
"We've got a really dedicated group of people that are focused specifically on their concepts," Buehler said in an interview. "They're excited about what the challenges are in front of them and where we can go with these brands."