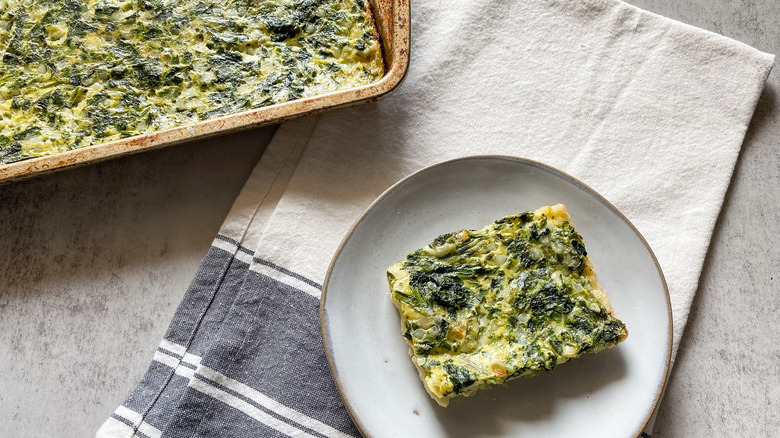 When you're looking for a way to enjoy the flavor experience of a quiche, but you want something that's a little lighter, it's hard to go wrong with this spinach and cottage cheese pie recipe from private practice registered dietitian Kristen Carli. It takes less than an hour to make and is incredibly easy to put together — no special cooking skills or fancy ingredients required! And given its likeness to quiche, Carli says it makes an excellent option for a casual Sunday morning brunch, so go ahead and feel good about pairing it with a mimosa and a side of fruit. You can feel good about adding this recipe to your regular weekend repertoire, because as Carli notes, "This is a healthy, low-fat meal that is packed with vitamins and protein."
And once you've mastered the basic recipe, you can get creative with fillings and flavors to your heart's content. The base ingredients include the puff pastry and eggs, but you can switch out the spinach and cottage cheese with other cheeses or vegetables to your heart's content. And if you prefer a brunch with a little more protein, you can always throw in some diced ham or crumbled bacon to give the pie a little extra staying power. Just keep in mind, as you switch ingredients in and out, the nutritional values will change for things like fat, protein, carbohydrates, and calories, so make switches wisely based on your own dietary needs.
Gather your ingredients to prepare low-fat spinach and cottage cheese pie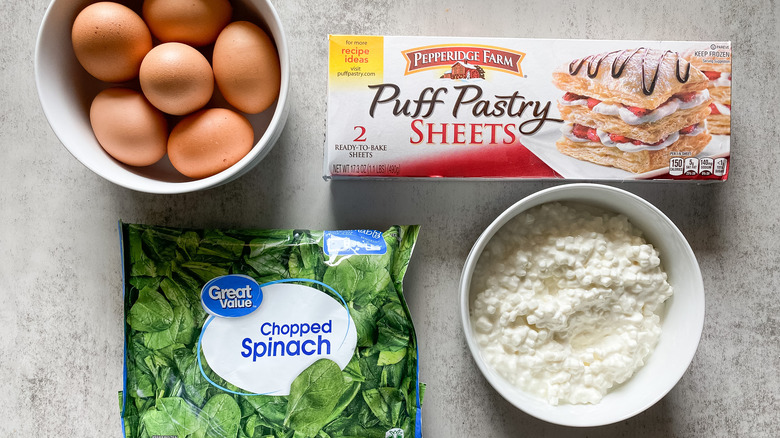 The ingredients for this breakfast pie are very, very simple. All you need is some pre-made puff pastry to act as the pie crust, eggs, low-fat cottage cheese, some frozen spinach, and a small amount of salt and pepper for flavor. Carli says if you like a richer flavor and you're not concerned with adding a little more fat and calorie content to your pie, you can sub full-fat cottage cheese for the low-fat variety. "This would be scrumptious with full-fat cottage cheese. I have yet to find a good dairy-free cottage cheese available, but if possible, that would be delicious, too."
Line your baking sheet with puff pastry
Start by preheating your oven to 350 F. Meanwhile, grab a sheet pan and prepare the puff pastry base of the pie. To cover a standard baking sheet with puff pastry, you'll need a total of 1 ⅔ sheets. Simply lay one full sheet of puff pastry on your pan, aligned to the left side, then lay out the remaining ⅔ puff pastry to the right side in order to cover the remaining section of your pan.
Combine the spinach, egg, cheese, and spices
Because you're working with frozen spinach, you do need to thaw the spinach and squeeze out excess moisture before mixing it with the other ingredients. If you know you'll be using the spinach in the morning, simply allow the package to thaw overnight in the fridge, and in the morning, remove the spinach from the package and use your clean hands to squeeze any excess water from the greens.
Once your spinach is drained, if you know how to stir, you have all the skills necessary for making the pie filling. Simply place the spinach, eggs, cottage cheese, salt, and pepper into a bowl, and stir until they're well-combined. That's all there is to making the filling!
Pour the pie filling over the puff pastry, and bake
Use your spoon to pour the pie filling over the top of your puff pastry, and spread the filling evenly across the pastry — you want the filling to reach every corner of the puff pastry so as to cook evenly. Place your pan in the center rack of your pre-heated oven, and allow the pie to bake for 35 minutes. If you know you have hot spots in your oven, turn the pan halfway through the bake to avoid over-baking.
When the pie is done, the eggs will be cooked through, and the top will start to take on a golden brown color. Serve your pie hot, and enjoy it with fruit, fresh juice, or as Carli suggests, a mimosa!