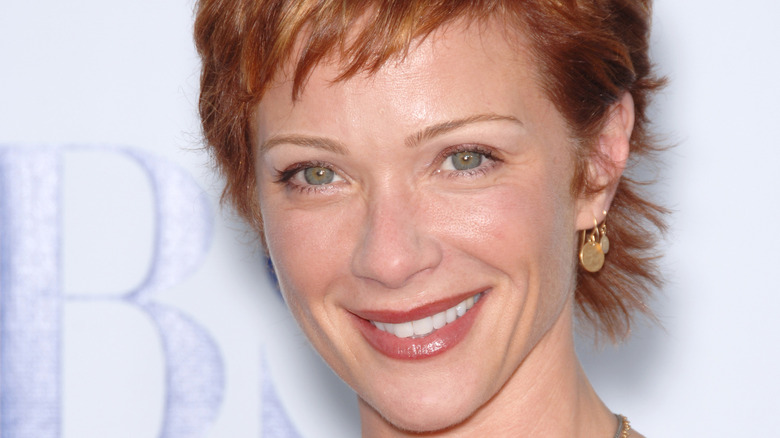 While Lauren Holly may not be a household name, her long and varied career has spanned several decades and even more genres. Chances are, you remember her from at least one film or TV show. As cited on IMDb, her career began with several roles in the '80s, including a role in "All My Children." She found fame as Mary in "Dumb and Dumber" and as Maxine in the show "Picket Fences." She quickly became a familiar face on the tabloids, thanks to her highly publicized romance and short-lived marriage with Jim Carrey.
Her career continued to thrive with significant roles in "Motive," "NCIS," and "Tiny Pretty Things," although Holly did take a few steps back from the chaotic world of Hollywood. She moved to Canada to lead a more private life and to raise three sons while working as an actress and clothing designer. Curious to find out more about how this Hollywood star became a Canadian actress who flies under the radar? Here is the stunning transformation of Lauren Holly.
Lauren Holly grew up in a small town with inspirational parents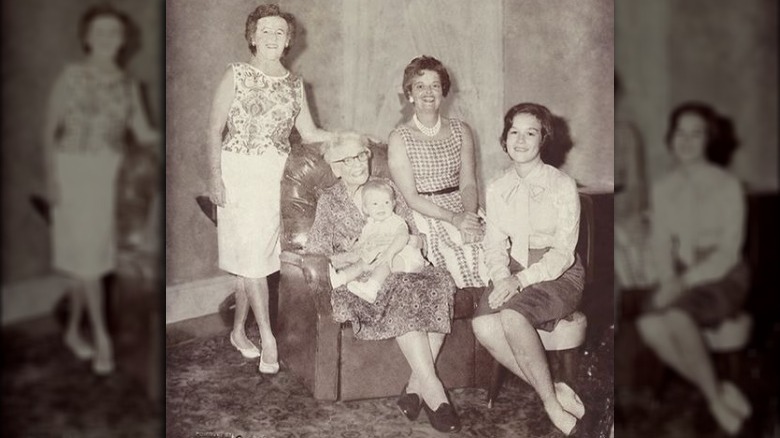 Lauren Holly was born on October 28, 1963 in Bristol, Pennsylvania. She had a relatively normal childhood, growing up in the small town of Geneva. As she told This Mom Loves, her small town meant that she had a private, sheltered life. "I was able to go through and make my own mistakes totally in private, in my small town with my 10 friends knowing, and it's completely different now," she said.
Both of her parents were college teachers — her father taught screenwriting and her mother taught art history (via TCM). Looking back on her upbringing, Holly sees her mother as a real inspiration. As she said in a Reddit interview, "I'm so proud." She watched her mother continue her studies while she was growing up, because her mother had been young when Holly was born. "She got her PhD when I was in high school, and went on to be a well-known art historian," Holly said.
Lauren Holly spent a few years in London before discovering a passion for acting
When Lauren Holly was 12, her father went on sabbatical to London, England. While Holly was there, she discovered her passion for acting. She had always been interested in acting, thanks to her great-grandmother who was an actress herself. But, as she explained to Female First, until then, she had planned to become a lawyer in rebellion against her parents who were "hippies." In London, she began taking music and acting classes at Sarah Siddons School, and that's where her plans changed.
"I studied music and dramatic arts there and developed this passion and did it on the side at college," she recalled. In college, she acted in plays while studying English at Sarah Lawrence College. In her last year, the well-known director Francis Ford Coppola saw her perform. He hired her as a model for his wife's clothing and, soon after, she found her way into professional acting.
Lauren Holly learned about acting on the job in a soap opera
One of Lauren Holly's first acting jobs was on the soap opera "All My Children" as Julie, a teenage runaway. While being on a soap opera wasn't exactly giving Holly A-lister material to work with, it gave her the training and experience she needed to progress to other genres and mediums later on in her career. "It was one of those things with a huge learning curve for me," she told Smashing Interviews in 2016. "It was an amazing experience. I always say if directors want a hard-working actor, they should take them off of soaps because that is a daily grind."
As she explained, she worked on the show for three years straight, learning 40 pages of material each day. When she left, she felt prepared for anything. Plus, it turns out, her dad was a huge fan of the show!
Lauren Holly tied the knot with fellow actor Danny Quinn in 1991
Lauren Holly tied the knot with her first husband, Danny Quinn, in 1991 after meeting him on the set of a film, according to ABC News. The marriage lasted only three years. At the time, the pair seemed happy. Holly told Deseret that the pair lived in L.A. with three dogs and a show horse, called Lace Valentine. When one of Quinn's pilots didn't get picked up by a network, Holly seemed happy. "It's giving us a chance to spend some time together," she said at the time.
However, years later, Quinn admitted that he had abused Holly during their relationship. "I had a dysfunctional relationship with Lauren, whom I love to this day," he once said (via The Spokesman Review). "I would turn violent. I would grab her, I would punch her, I would kick her." While Holly has never said much about her first marriage, it's clear that it was a difficult, upsetting time in her life.
If you or someone you know is dealing with domestic abuse, you can call the National Domestic Violence Hotline at 1−800−799−7233. You can also find more information, resources, and support at their website.
Lauren Holly's career took off in the mid-'90s with Picket Fences and Dumb and Dumber
After several years of modeling, waiting tables, auditioning, and acting in some forgettable films and TV shows, Lauren Holly got her big break in the TV show "Picket Fences." This was followed by a role in "Dragon" as the wife of Bruce Lee, Linda. As Holly told Deseret at the time, "I feel very lucky. Many women in the business complain that there are no great women's roles and I am sitting here with two of them." According to Holly, her success was down to luck — but, clearly, filmgoers and filmmakers alike were impressed with her work.
After her career took off with "Picket Fences," she landed a starring role in "Dumb and Dumber," opposite Jim Carrey. With this project, Holly not only became a household name, but she also began dating Carrey. As she told Female First, "It was fun to make a movie with your boyfriend, or whatever … big groups of us, of the crew and cast, would go to Lake Powell … and rent house boats for the long weekends and just do cook outs and jet ski and swim, and it was just so much fun, you know?"
While grieving for her brother, Lauren Holly had a spiritual awakening filming Dragon in 1993
One of Lauren Holly's first big films was the 1993 movie "Dragon" about Bruce Lee. For Holly, it was an unforgettable, life-changing project — even though she had initially been hesitant about accepting the role in the first place (via Deseret). As she told This Mom Loves, the movie "affected [her] spiritually." Her younger brother had died unexpectedly shortly before filming began. She said, "It was an emotional experience for me."
She credits her co-star Jason Scott Lee with helping her heal. "It's hard to explain," she said, "but he opened my eyes to all of that [healing], and it was really something to be in Asia going through my grieving process." It sounds like filming "Dragon" came at just the right time for Holly — and the experience is one that she'll remember for the rest of her life.
Lauren Holly had to deal with the pressures of fame while dating Jim Carrey
After making "Dumb and Dumber," Lauren Holly's life changed completely. She and her co-star Jim Carrey were dating and living together at the time. The tabloids became obsessed with the pair. "When ['Dumb and Dumber'] came out all of a sudden everything about us became news, and that was a little bit frightening to deal with in a way," she recalled to Female First. Apparently, photographers would hide near their house and go through their garbage. In an interview with Oprah Winfrey, Holly revealed that some members of the press even camped out under their tennis court to try and get images of them in their house.
At the time, Holly and Carrey were desperate to keep their lives private. "Our whole life became about, 'We have to keep them out,'" Holly told George Stroumboulopoulos. As Holly noted, these days, celebrities tend to seek out press as a way to elevate their status — for her and Carrey, it was the opposite.
Lauren Holly was married to Jim Carrey from 1996 to 1997, then went through a very public divorce
Lauren Holly and Jim Carrey were married for just under one year, between 1996 and 1997, according to E!. However, as Holly pointed out in an interview with George Stromboulopolous, they had been together for a long time before their divorce. So, when they broke up, it certainly wasn't easy for Holly. Not only was the divorce heartbreaking, it was also a hot topic for the press.
"When we got divorced I had a really hard time … I always felt like everybody knew my personal business," she said. Even on the street or in her local coffee shop, Holly often felt that people knew who she was and had their own judgements about her divorce. "I would just feel, like, so terrible," she said.
After experiencing heartbreak in the public eye, Holly realized that Hollywood wasn't for her. Eventually, she even left L.A. altogether so that she could finally find the privacy she had craved during her divorce. However, she has remained on cordial terms with Carrey. In 2020, she even commented on his impression of President Joe Biden during an interview with Entertainment Tonight Canada, calling her ex "a genius."
Lauren Holly starred in NCIS as Jenny Shepard on and off for 10 years
In 2005, Lauren Holly took on what would become a career-defining role — NCIS Director Jenny Shepard in "NCIS." Holly told Channel 10 at the time, "I really appreciate Don Bellisario giving me the opportunity to play such a character, because it's a boy's club, the NCIS — and, in real life it is. I mean, they're not ready for a female director."
As Holly explained in a post on her official website (which has since been deactivated), the role was initially slated for just six episodes. As she wrote, "I was happy to be a minor character because that meant I could be with [my young family] more." She was raising young children in Chicago at the time. Eventually, the family moved to L.A. so that she wouldn't have to commute to work. Holly went on to explain that she enjoyed the project throughout her 10 years on the show, but eventually, she became anxious to branch out and take on new roles, so the decision was made to kill off Lauren Holly's character on NCIS (via Express).
Lauren Holly married again and moved away from L.A. to raise her family in Canada
Lauren Holly tied the knot for a third time in 2001, marrying Francis Greco, a Canadian investment banker. In 2008, the couple moved with their three sons from L.A. to Canada. Holly officially became a citizen and landed a role in a Canadian mystery series called "Motive," noted The Hamilton Spectator. Finally, everything seemed to fall into place for the actress.
As Holly explained to This Mom Loves, Toronto ended up being the perfect spot for her family to live in privacy while Holly continued working. "To be honest, I was living in Los Angeles and I was on NCIS, and I did not want to raise the boys in L.A. I picked Toronto kind of by a fluke, because I grew up in upstate New York about two hours away. I have family there, and I thought, okay, it's close to my family and it's a city where lots happens." Holly and her family loved Canada and they haven't looked back since.
Lauren Holly started a fashion business called Lauren's Closet
After moving to Canada, Lauren Holly continued acting consistently. However, she also branched out into a new industry — fashion. In 2015, the actress partnered with the Canadian clothing company Le Chateau to release a line of clothing called Lauren's Closet.
Holly explained to Cliché Magazine that she'd been inspired to design clothes after acting in the movie "After the Ball." "I became enamored with the clothes [in the film]," she said. She found out they were from Le Chateau and it quickly became her favorite store. "I started shopping there so much that I would joke on set with the owners that the real name of their stores should be Lauren's Closet," she explained.
Holly went on to describe her collection. Apparently, it was filled with cozy plaid, scarves, and suede — everything a working woman could want. "[Women] are taking care of a lot, personally and professionally," she said. "We love to look good, and need to feel comfortable in [our clothes]."
Lauren Holly came forward with accusations about Harvey Weinstein in 2017
Even though Lauren Holly is now a Canadian living a quiet, private life, she was once an up-and-coming Hollywood star. In 2017, the actress revealed that when she was younger, she had been harassed by the notorious producer Harvey Weinstein, shortly after other actresses made similar accusations. As she told the Canadian chat show, "The Social," "I realized that I had a responsibility that I needed to come forward and say it."
Apparently, Weinstein once invited Holly up to his hotel room, used the bathroom and then had a shower in front of her. Holly didn't know how to react without being rude or risking her career. "I didn't quite know how to handle myself at that moment. I wanted to flee, I was scared," Holly said. Then, Weinstein offered her a massage and asked for one in return. Holly fled the room and avoided him in the future, she told Variety. We think it's incredibly brave of Holly to come forward with her story.
If you or anyone you know has been a victim of sexual assault, help is available. Visit the Rape, Abuse & Incest National Network website or contact RAINN's National Helpline at 1-800-656-HOPE (4673).
Lauren Holly focuses more on wellness as she gets older
Lauren Holly turned 57 in 2020. As the actress has gotten older, she has focused more and more on her wellbeing. In an interview with New Beauty, she explained, "One of the biggest things you can do is just accept yourself [as you age.]" She's also lucky to live in Toronto where "there's much less of an aging stigma."
While mindset is a big part of Holly's approach, she also takes care of her body and her skin and eats a diet of fresh food. Her favorite form of exercise, she said, is Bikram yoga — an hour-and-a-half-long hot yoga session. "It's like my own personal form of mediation because I can't think of anything (besides the heat)," she said. As for skin and hair it's all about cleanliness and "moisture, moisture, moisture," as she put it. It sounds like Holly's healthy, laid-back Canadian lifestyle is really paying off!
In 2020, Lauren Holly starred in Tiny Pretty Things
Lauren Holly may be in her late 50s, but it doesn't seem as though her career is slowing down any time soon. In 2020, she starred in the Netflix series "Tiny Pretty Things" as a formidable ex-Prima ballerina turned teacher, Monique. She had initially been considered for another role. "The producers and the director asked me for breakfast, and I was bold enough to tell them how much I love the role of Monique at the breakfast — which is always sort of a risk," she told Us Weekly. Clearly, it paid off, and Holly got the chance to play one of her favorite roles to date.
As Holly told Raine Magazine, she hopes to continue acting, but it isn't always easy. "It's [a] hard occupation, from the sense of you can never really make a plan, hard onto any relationship, due to travel and getting consumed for weeks on maintaining that faith," she said. "We're like a certain breed, you have to love it." Clearly, Holly will continue acting no matter how hard it gets with the pressure of fame or family — and we can't wait to see what she does next.