Born Nicole Prescovia Elikolani Valiente on June 29, 1978, Nicole Scherzinger later changed her last name to that of her stepfather, Gary Scherzinger, as noted by Independent.ie. The Hawaii native was raised in Louisville, Kentucky, and demonstrated a talent for the performing arts at a young age. Per All Music, by the late '90s, she was singing backup for the group Days of the New, before rising to fame on the talent competition "Popstars" and winning the career-making opportunity to helm the girl group Eden's Crush.
It's her time with The Pussycat Dolls, though, that she's most famous for. As a member of the girl group, known for its sultry numbers, Scherzinger became a household name — but she didn't stop there. She's also an actress and a television personality, known for her work on reality shows like "The X Factor" and "The Masked Singer." Scherzinger is a mega-talent with a huge following. Think you know her? Think again.
Nicole Scherzinger experienced a difficult childhood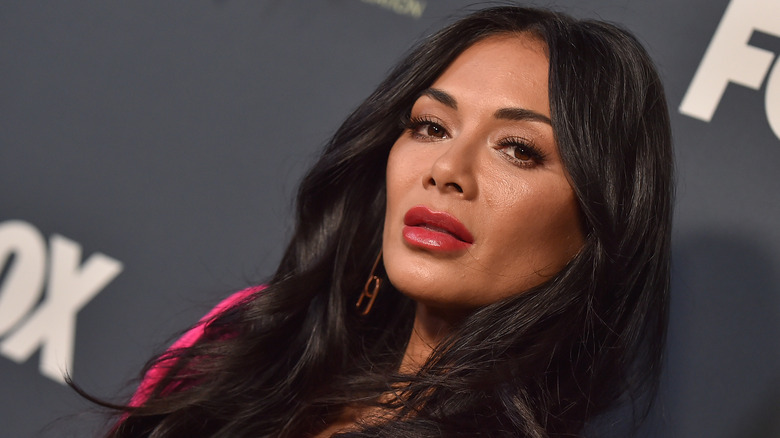 While she's rich and famous now with an estimated net worth of $14 million, per Celebrity Net Worth, things weren't always so easy for Nicole Scherzinger. As noted by Independent.ie, Scherzinger's family didn't have much money while she was growing up, and she also had to deal with bullying. She explained to Anokhi Life (via the website of Raj Girn) that, as someone with darker skin, she felt like she didn't fit in, as she grew up in a predominantly white town. "You want to grow up and have the blue eyes, blonde hair and fair skin to fit in," she said.
At least Scherzinger had her talent to anchor her. She described herself as "a really shy, awkward, lanky kid growing up," but her dreams of being a singer kept her going — especially after she sang in a school production in middle school, cementing her future. "I felt so comfortable and at home, and the rest is history," she said.
Her mother didn't approve of her joining The Pussycat Dolls
Nicole Scherzinger grew up in a conservative, Catholic household. While she would go on to become a sex symbol, it wasn't a transition that came easily to her. She explained to PR.com that when she arrived at her audition for The Pussycat Dolls, she didn't exactly exude the sensual vibes the group is known for, wearing a decidedly tame outfit that she described as "not cute." She explained to The Guardian that when she walked into her audition — which she only landed because her lawyer called in a favor — "they were rolling their eyes" at her and didn't even let her all the way into the audition room. She nevertheless managed to impress them with her powerhouse vocals, and she landed the job.
Her family, however, wasn't thrilled with her decision to join the group, with Scherzinger telling PR.com that her mother especially disliked the name, wishing they were simply called "The Dolls." Her family eventually came around, though, with Scherzinger saying, "[T]hey support The Pussycat Dolls because they believe in us."
Nicole Scherzinger is proud of her multicultural roots
As noted by The Telegraph, Nicole Scherzinger comes from a multicultural background. Her mother, Rosemary, is of Hawaiian and Russian ancestry, while her father, Alfonso, is Filipino. She was raised by her stepfather, Gary, who is of German heritage, making for quite the diverse upbringing.
Scherzinger is incredibly proud of her roots. Even though she grew up in Kentucky, she still views her home state of Hawaii as home, especially since she has family there. "Being born there and knowing that I am part Hawaiian, makes me feel connected to the 'aina' and the spirit of Hawai'i," she told Modern Luxury Hawaii. She also connected to her Hawaiian roots by voicing Sina, the mother of the titular character in the Disney animated film "Moana." She told the blog Whisky + Sunshine that she "had to be a part of the project" because she wanted to do her part to represent her Polynesian heritage. "Plus I didn't wanna go back home and … hear, 'How come you're not in Moana?'" she joked.
Scherzinger has also gotten in touch with her Filipino roots by singing the Tagalog song "Pangako" for the compilation album "Kaibigan." While she doesn't speak Tagalog, she told the press (via Inquirer.net) that she was eager for the opportunity to explore her heritage through the song, saying, "music speaks all languages … Whether or not you speak Tagalog, when you listen to the song, it moves you and your soul."
Nicole Scherzinger lived with an eating disorder for years
Nicole Scherzinger is widely recognized as a stunning woman. In 2013, a poll conducted by The Good Surgeon Guide (via The Telegraph) found that Scherzinger was the famous figure that British women most wanted to look like. Though she'd been turning heads ever since finding the spotlight, inside she was struggling with her body image, living with an eating disorder. In an interview with The Guardian, she revealed that she would spend hours a day at the gym and severely control her eating habits. "I was living in a very dark world," she confessed.
In her early 30s, Scherzinger was told that bulimia was harming her singing voice, which led to "a real awakening" and her seeking help (via The Guardian). It wasn't an easy journey for the singer, but she eventually recovered. "It is such a horrible paraly[z]ing disease and it was such a dark time for me," she told Cosmopolitan UK. Her experience made her want to share her struggles and offer hope for others, letting them know that healing is possible. "But you can beat it — do not give up because you're so special and you're meant for such great things," she said.
If you are struggling with an eating disorder, or know someone who is, help is available. Visit the National Eating Disorders Association website or contact NEDA's Live Helpline at 1-800-931-2237. You can also receive 24/7 Crisis Support via text (send NEDA to 741-741).
The singer doesn't think of herself as a feminist
Nicole Scherzinger channels some serious girl power and has inspired many young women over the years. That being said, she doesn't consider herself a feminist. It's not that she doesn't agree with the goals of feminism, though. While she's on board with equality, she doesn't see the need to give that belief a particular label. "I'm just for women," she told The Guardian. "I'm also for the human race in general." In an interview with Wylde, she joked that "instead of a feminist" she's "a 'feline-ist.'"
Jokes aside, Scherzinger is quick to speak out about women's issues. She's been vocal about the sexism directed toward The Pussycat Dolls, telling The Times (via the Independent) that a lot of the media coverage about the group over the years was misogynistic. "It's sad that, with whatever people are writing out there, they pit women against each other," she said, adding, "They don't do that with guy groups."
Nicole Scherzinger is a bit of 'a homebody'
Some people enter the performing arts hoping to become famous, but a life of movie premieres and star-studded parties was never Nicole Scherzinger's goal. Instead, she prefers a more relaxed lifestyle. While she's happy to get glammed up for performances, she told The Guardian that getting gussied up for a red carpet event is another story and that her "team has to wrestle [her] to the ground" to get her to such functions. Scherzinger revealed that she would be much happier "at home, eating jambon," and, honestly, we can't blame her.
In an interview with PR.com, she said that, while she does love traveling, she thinks of herself as something of "a homebody." When it comes to touring, she said that being able to broaden her horizons is great, but that she finds herself longing for something more familiar. "I miss my family and my loved ones, and I miss my bed," she said. It just goes to show there's no place like home — even for celebrities.
These are some of Nicole Scherzinger's biggest inspirations
With her large vocal range and her ability to tackle everything from pop music to show tunes, it's no surprise that Nicole Scherzinger has a vast array of influences. The singer told PR.com that Whitney Houston was her idol as a kid, but that her tastes branched out with age to jazz greats like Ella Fitzgerald and Billie Holiday. Some of her more modern inspirations include Sade, Alanis Morissette, and, of course, Beyoncé. "I'm probably Beyonce's biggest fan," she told Capital FM. "I love Bey, I think she's Queen Bey for sure, nobody can touch her."
Music isn't the only thing that has inspired Scherzinger over the years. One of the biggest factors in her becoming the artist she is today is a scholarship she received in high school called the Wittenberg Scholarship. "This scholarship helped me get a college education, pay for housing, and it inspired me," she told Fund for the Arts.
She's performed on stage in theatrical productions
Unless you've followed Nicole Scherzinger's career exceptionally closely, you may not know that she's expanded her talents to the stage. In 2014, she played Grizabella in the musical "Cats," earning an Olivier nomination for her performance. She almost played the role on Broadway as well, but she dropped out of the production shortly before she was set to make her debut, choosing, instead, to return to her role as a judge on "The X Factor." The show's composer, Andrew Lloyd Webber, was disappointed, telling The Economist Radio (via Broadway.com), "I'm furious because I really believe she's the most fantastically talented girl."
Scherzinger wanted to star in the 2019 film adaptation of the hit musical but wasn't even given an audition. "That really upset me, I won't lie about that," she told The Guardian. "I was devastated."
While she didn't get the film role, she did land a role in another musical. Scherzinger is set to play Grace in NBC's "Annie Live," telling Entertainment Weekly, "It's such an empowering role and beautiful, graceful shoes to fill, every pun intended."
Nicole Scherzinger is a bit of a perfectionist
Nicole Scherzinger is a success story, but her achievements didn't come without a lot of hard work. The singer considers herself a perfectionist, and her Type A personality has been evident from a young age. In an interview with The Guardian, she talked about a story her mother likes to tell about her childhood. It seems that, as a little girl, Scherzinger was so driven by a need to get things just right that she even wanted her coloring to be perfect. According to her mom, "If I colored slightly outside of the lines, I would rip the page and throw it across the room."
A good artist needs to know when to kill their darlings, as the saying goes, and Scherzinger has taken the adage to heart, telling Digital Spy that she's "scrapped five whole albums" because they didn't meet her exacting standards. While we're disappointed that there's undoubtedly incredible music out there from her that we may never hear, Scherzinger said shelving songs is typical in the industry. "I'm very protective of my babies … I think a lot of artists are like that," she said.
Nicole Scherzinger has embraced who she is as a woman
While The Pussycat Dolls have attracted a lot of attention for their risque performances and their members' often provocative clothing, there's a lot more to the group than sex appeal. Nicole Scherzinger wasn't initially comfortable with the revealing outfits, telling Marie Claire that she "cried" upon seeing the first outfit she was expected to wear as a member of the group, but she eventually got used to the look. "I'm a woman, and it's part of owning what you are," she said of growing more comfortable with showcasing her body.
The Pussycat Dolls helped Scherzinger become more empowered, and it's a power she thinks we can all tap into. As she told Wylde, "Everyone always has a Pussycat Doll inside of them," explaining, "When I think of that I think of a woman who is growing into herself, knowing who she is, owning who she is, loving and accepting who she is."
Scherzinger continued, saying that being a Pussycat Doll means a person channeling "that lioness part in her, to go after what she wants," something we've definitely seen her do!
The superstar doesn't post much on social media
Nicole Scherzinger has quite the social media following, with 5 million followers on both Twitter and Instagram, as of this writing, and 2.3 million on TikTok. While some celebs carefully curate each social media account and post frequently to grow their followings, Scherzinger doesn't take it so seriously, telling Wylde, "I don't Tweet that often." What she does take seriously, though, is that many of her fans see her "as some kind of a role model," so she's careful about what she posts. "I wish I were more interesting and wild on Twitter!" she joked.
There's another reason she's careful about what she posts, though. "Social media gives me the heebie-frickin'-jeebies," she admitted to the Daily Record, explaining that posting causes her "anxiety" and that she often second-guesses herself before uploading an image of herself. She explained that, as she's so much in the public eye, her posts are scrutinized by the public and the press alike. "I want to share so much but I get afraid because of the way people pick it apart and ridicule you," she said.
Nicole Scherzinger has this scary recurring dream
Sleep Foundation notes that anywhere from 60% to 75% of adults in the U.S. suffer from recurring dreams, the majority of which are distressing. Nicole Scherzinger is no exception to this and opened up to Wylde about a dream that she's had over and over again.
Unsurprisingly, the dream is related to performing and involves her about to go on stage but being totally unprepared. "I have that one all the time!" she said. "And the 'Oh my God I've killed somebody and now I'm not able to have my world tour' one!"
Scherzinger added that she once had a dream that she was unable to perform at the VMAs with The Pussycat Dolls because she was in the hospital with salmonella poisoning. Fortunately, that dream wound up having a happy ending, as she ended up performing from her sickbed, which had been moved to the stage. "It was a good dream!" she said. "It was sweet ['cause] I was singing 'Stick Wit U'!"
Why is she always front and center on stage when performing with The Pussycat Dolls?
If you've ever watched The Pussycat Dolls perform, you've likely noticed that Nicole Scherzinger is typically front and center. The reason for this, surprisingly, has nothing to do with height. Scherzinger revealed on VH1's "Behind the Music" that she was always in the middle "because I was singing," she said (via Us Weekly). And, because of Scherzinger's amazing voice, it's estimated that she "probably did 95%" of the Dolls' vocals on their first album, a claim that its executive producer, Ron Fair, backed up. "Melody sang a bit here and there, but the records were Nicole, with the exception of an occasional ad-lib," he said.
Sadly, Scherzinger's natural star power led to some tension in the group. While she told "Behind the Music" that the other Pussycat Dolls are "like my sisters," she admitted to The Telegraph that there was some jealousy from her bandmates. "It's just that natural dynamic where they want to be at the front," she explained. What is Scherzinger's relationship like with the other members today?
After some reflection, it seems like at least one of her bandmates changed her opinion of Scherzinger always taking the lead. Years after the group disbanded, they got together in 2020 for their first single in a decade, "React." Scherzinger's bandmate, Kimberly Wyatt, praised her pipes, telling The U.K. Sun, "Ultimately, The Pussycat Dolls has a lead singer and that is Nicole."