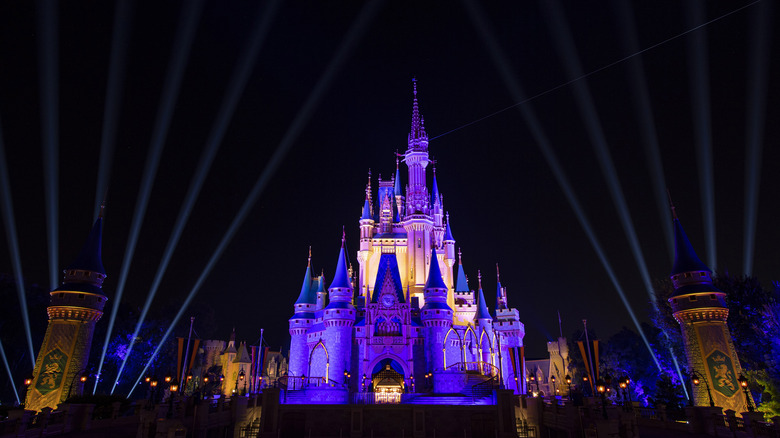 Throughout most of the historic rivalry between the two theme park giants Disney and Universal Studios, the latter was the clear underdog. This has been the case from the time when visitors received a simple studio tour to even after it created the incredibly popular world of the boy wizard, Harry Potter. An interesting point that proves this is that a shocking number of guests have mistaken Disney as the location of the Wizarding World, only to discover on their trip to Orlando that they were unfortunately wrong. For decades, Universal Studios was just a fun side quest for families when they went to see the king of the theme park capital, Walt Disney World.
However, over the last several years, the dynamics of the competition have become much more interesting. After a massive influx of cash, Universal has been creating so many new experiences for its growing number of guests that Disney has been somewhat struggling to keep up. Tom Williams, the CEO of Universal Parks, is quite right when he says, "It really is us and Disney, as far as parks go in terms of competition." And the epic faceoff has created a true golden age for theme park fans that has never existed before. Find out more about the Disney vs. Universal theme park rivalry.
Universal caused the creation of Mickey Mouse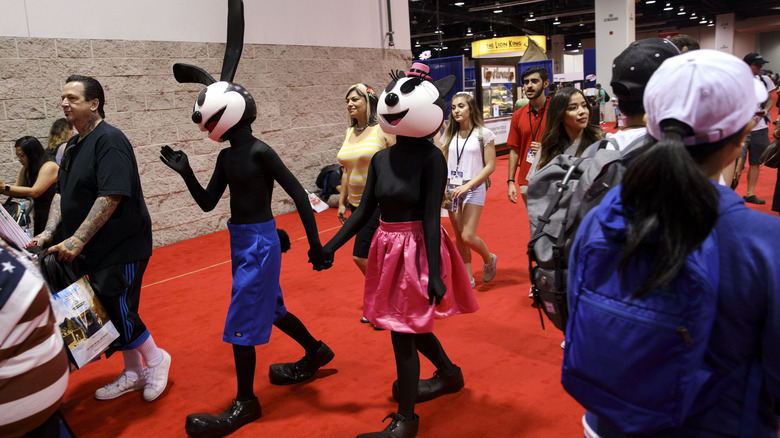 Before Mickey Mouse, in 1927, Walt Disney Studios created a character named Oswald the Lucky Rabbit, which was so popular that Universal Pictures quickly commissioned more films to be made by Disney, according to Time. However, in February 1928, when Walt Disney was riding high from his success, he tried to renegotiate a new contract. Instead of giving him a better deal, Universal offered to hire Walt for less pay, which he vehemently refused.
In the end, Walt lost nearly all of his animators and the rights to Oswald. So, he and an animator who had remained loyal, Ub Iwerks, created Mortimer the mouse. Before long, the character had become Mickey Mouse, one of the most recognizable characters of all time worldwide.
Oswald never became anywhere near as popular as Mickey, but Universal continued to produce animated shorts of the rabbit until 1943. Then, in February 2006, Disney made a deal with Universal to gain back the rights to Oswald, and the character has appeared at a few Disney parks, including DisneySea in Tokyo.
Universal and Disney discussed building a theme park together
Walt Disney World opened in Orlando, Florida in 1971, and due to its huge success there were soon plans to build a Universal Studios Tour nearby. MCA owned Universal at the time, and in 1979 the company purchased land for the park 10 miles north of the Disney resort.
All MCA needed was a partner to help shoulder the burden of investing in such a massive project. Since the CEO of MCA, Sidney Sheinberg, personally knew the CEO of Disney, Michael Eisner, he reached out shortly after Eisner was hired by Disney in 1984. However, the response was the exact opposite of what Sheinberg expected because Eisner simply stated, "We're already working on something of our own," according to The Unofficial Guide.
In 1987, Sheinberg again proposed building a theme park together and sharing dual ownership of it, but the plan failed because Eisner was only willing to use Universal's intellectual properties in exchange for a small royalty. This was the last attempt at a partnership before the point of no return. The theme park war for supremacy in Orlando had begun.
Disney allegedly stole ideas for its MGM Studios theme park
In 1981, Michael Eisner was the president of Paramount when MCA approached the company to partner in creating its Universal Studios Tour in Florida. Sidney Sheinberg, the CEO of MCA, believed that Universal had developed a unique experience that offered something different from the fantasy themes of Disney and said that at the time, "This business doesn't exist anywhere else in America to my knowledge." (via the LA Times)
When Eisner became chairman at Disney in 1984, he shocked Sheinberg when he announced plans to build a new studio tour in Florida without involving MCA at all. The new leader of Disney denied that he used any information gained from his time at Paramount in his theme park plans. Instead, Eisner made claims that the project was well underway before he got there and said, "When I arrived at [Disney], the studio tour was already on the drawing boards and had been for many years."
Sheinberg thought the idea that Eisner had no insider information was ridiculous, and it is not hard to see why. The first plans for Universal's tour ride had the tram pass through an area called Hollywood Canyon, where a mock earthquake would split open a dam, which would gush with water, followed by an explosion from a semi-truck colliding with an oil tank. Possibly not just coincidentally, the early plans for the tram ride at Disney-MGM Studios had a section with the name Catastrophe Canyon, which also featured an earthquake, an oil tank explosion, and a flash flood.
Universal Studios had a disastrous opening
The first round of the theme park fight did not go well for Universal Studios. When the Universal Studios theme park officially opened on June 7, 1990, most of the major attractions failed to work properly, according to Sam Gennawey in his book, "Universal vs. Disney: The Unofficial Guide to American Theme Parks' Greatest Rivalry." Park workers were only allowed a few weeks of technical rehearsals before the big day, so they simply were not ready to operate such a large, new park for so many guests. By the end of the day, over 1,000 visitors demanded a refund.
Disney's MGM Studios had opened over a year before, on May 1, 1989, with a much better reaction from its initial guests. Large crowds gathered in anticipation, with some guests arriving as early as 2 a.m. to wait in line. Even though only two major attractions were operating — the Studio Backlot Tour and the Great Movie Ride — meaning that wait times were long, they were at least working without issue, unlike the rival newcomer. Disney remained the undisputed theme park king of Orlando.
Close friends Steven Spielberg and George Lucas worked with rival theme parks
Not only did George Lucas and Steven Spielberg create the Indiana Jones series together, they also have a close friendship outside of work, which is interesting since each one has worked exclusively for opposing theme parks. In the mid 1980s, George Lucas worked with Disney on Star Tours and Captain EO, then later sold Lucasfilm to Disney for $4 billion.
Meanwhile, according to Theme Park Tourist, Steven Spielberg made an impromptu visit to Universal so that he could check out the new King Kong ride that was being constructed in spring 1986. His former college roommate, Peter Alexander, was working on the project and thought the director would enjoy it, which he certainly did. Spielberg reportedly said, "You guys are pretty good at this. My friend George Lucas told me only Disney could do this. He just took me on Star Tours at Disney." The director added that Lucas told him, "'You screwed up going with Universal. They could never do a Star Tours."
Spielberg believed that Universal could make rides as good as Disney, and that bet paid off for him considerably. The director became a creative consultant for Universal with a highly lucrative theme park clause added to his contract. Since the theme parks are generating so much money these days, Spielberg's deal could be worth over $1 billion.
Islands of Adventure and Animal Kingdom opened in Orlando
In round two of the battle between Disney and Universal, Universal's Islands of Adventure did much better than its first park when it opened on May 28, 1999. Reviews were glowing from fans and critics alike, especially for the Amazing Adventures of Spider-Man ride. Gary Slade of Amusement Today was certainly one of those who very much approved of the new park, saying, "I think Disney's got to counter. Universal has built one incredible theme park."
Disney did beat Universal by a year, once again, since Animal Kingdom opened on April 22, 1998, but the delay sort of worked in Universal's favor this time around. Disney originally planned to include a land called Beastly Kingdom, which would have featured a dragon-themed roller coaster among other attractions, but the plans were ultimately scrapped. However, Universal hired some of the Disney Imagineers who worked on the canceled project, and they converted the idea into the Lost Continent land at Islands of Adventure, says Theme Park Insider.
Some creatives have switched sides
Before Peter Alexander showed Steven Spielberg his work on King Kong, he used to be a Disney Imagineer, but he is definitely not the only creative talent who has worked for both companies. In fact, dozens of Imagineers have made the switch to Universal, with significant talent going the other way as well.
In 2007, the vice president of Universal's Creative Studios, Scott Trowbridge, was hired by Walt Disney Imagineering, says the Orlando Sentinel. But years before that, Thierry Coup first worked for Disney, and then went on to help Universal create Spider-Man, Harry Potter and the Forbidden Journey, and the Transformers rides. Similarly, attraction designer Gary Goddard originally worked for Disney Imagineering and then went on to work with Universal for Spider-Man, Terminator 2: 3D, and the Jurassic Park River Ride.
Unlike George Lucas and Steven Spielberg, director James Cameron helped create attractions for both Universal and Disney. After working on Terminator 2 3-D at Universal Studios in the 1990s, Cameron was essential to the development of Pandora: The World of Avatar, which opened at Disney's Animal Kingdom in 2017.
Disney considered purchasing Universal
Regardless of the success of Islands of Adventure, Universal Studios ran into some major issues that had little to do with its theme parks. In 2002, Universal was owned by Vivendi, which was not in good shape. Two years before, the company took over Universal's previous owner, Seagram, for an astounding $34 billion. So, Vivendi was open to selling valuable assets in order to lower the company's debt, including Universal Studios and Islands of Adventure, according to the Orlando Sentinel.
The Chief Financial Officer at Disney, Thomas Staggs, said that the company would consider buying anything related to its prime business, which certainly included theme parks. In the end, Disney did not end up making the takeover because the company was not in the best shape either, since their stock was trading low for nearly 52 weeks. So, General Electric bought Universal for only $3.8 billion.
Disney almost built a Wizarding World of Harry Potter first
In the early 2000s, two of most popular movie series were the Lord of the Rings and Harry Potter. By 2003, Disney made the first move and went so far as to get a signed a letter of intent from J.K. Rowling in order to create a Harry Potter land at its theme parks, according to Vulture. Disney's Wizarding land would have included a Defense Against the Dark Arts ride, and a petting zoo for the Care of Magical Creatures.
However, the author thought she was being sidelined creatively, so the deal collapsed in 2004. Rowling then made an agreement with Universal instead, giving the company the theme park rights to the entire Harry Potter film franchise in 2007.
Universal's collaboration with Rowling was revolutionary for the theme park industry. When the first Wizarding World, Hogsmeade, opened at Universal Studios in 2010, a themed area had never been so incredibly immersive before. Not only did it raise the standard, but it arguably also put Universal on the same level as Disney for the first time in their epic rivalry.
NBC Universal was bought by Comcast
In 2011, Comcast Corp bought NBC Universal, which created a $30 billion colossal player in the media industry, according to Reuters. Along with the theme parks, Comcast gained several valuable assets, such as the Universal film studio, NBC broadcast stations, and cable channels including Bravo, USA and E!. The combination created what the Comcast chief executive Brian Roberts described as "the ideal entertainment and distribution company."
The CEO of NBC Universal, Stephen Burke, explains that at first the theme parks were simply just a part of the massive deal for Comcast. However, that mindset changed after the second Wizarding World, Diagon Alley, brought in a huge amount of money. So, the company has been committed to investing in the theme parks to keep the cash flowing now that Comcast knows their true worth. As Burke says, the theme parks "are right at the core of what we're all about and, we think, provide a tremendous growth opportunity."
In 2015, Comcast announced its plans to open around one major attraction a year at its Universal Studios theme parks worldwide. Universal finally had the resources it needed to challenge the king for the crown.
Universal retained the rights to Marvel at Islands of Adventure
Since Marvel was not doing well in the 1990s, Universal was able to take advantage of the situation and make a deal that was much more favorable to it than Marvel. So, even though Disney bought Marvel Entertainment for $4 billion in 2009, Universal still owns the rights to most of the classic Marvel characters, and the Marvel name, for any theme parks east of the Mississippi River, according to the Tampa Bay Times. Second only to the Wizarding Worlds, the Marvel land, particularly the Spider-Man ride, is one of Universal's crown jewels so the company has made sure to hold on tight to the rights, with no sign of giving them up any time soon.
Instead, Disney has been forced to build its Marvel lands at Disney California Adventure, Hong Kong Disneyland, and Walt Disney Studios Park in Paris, though there is speculation that the two companies have come to an agreement that allows characters not referred to at Universal Studios to appear in Disney theme parks in Orlando. The best example of this so far is the announced Guardians of the Galaxy roller coaster being constructed at Epcot.
Disney countered with Pandora and Star Wars land
After the incredible success of the Wizarding Worlds at Universal, Disney was forced to respond to the new level of competition by building immersive lands based on "Avatar" in 2017 and "Star Wars" in 2019. Though neither of the new additions have been as popular as the original Harry Potter land at Islands of Adventure, or the Diagon Alley expansion at Universal Studios.
The main problem with the "Avatar" themed land, Pandora, is quite obvious. By the time the area finally opened at Animal Kingdom in 2017, the "Avatar" film of 2009 had been mostly forgotten by the masses, especially since James Cameron's planned sequels kept being delayed as well, says Vulture.
Star Wars: Galaxy's Edge has done much better for Disney in Orlando. However, it also has some major issues for the diehard fans. With almost no references to the original trilogy aside from Chewbacca and the Millennium Falcon, the new land is only vaguely familiar to those that grew up watching the movies. If Disney hoped to reclaim its place as the undisputed champion of Orlando, it had to do better.
Several new Universal and Disney theme parks in Asia
Since the U.S. has so many theme parks already, both Disney and Universal began to shift a lot of focus towards Asia, starting with Universal Studios Japan and DisneySea in 2001. After the success of the $5.5 billion theme park Shanghai Disney Resort in 2016, Universal doubled its investment to $6.5 billion for a theme park in Beijing, which would be the first time a company spent more money than Disney on a theme park project, according to The Wall Street Journal.
Before the COVID-19s pandemic brought massive changes, China was on track to overtake both the U.S. and Japan to become the largest theme park market in the world by 2020. It remains to be seen if that will eventually be the case, though huge crowds are expected to visit Disney Shanghai and Universal Beijing in 2021.
Future Nintendo land and the third Universal theme park in Orlando
After a long delay due to the COVID-19 pandemic, Universal has resumed construction of its next major theme park in Orlando. Epic Universe will be the first new park for the theme park capital in over 20 years, according to the Washington Post. Comcast chief executive Brian Roberts says, "Our new park represents the single largest investment Comcast NBC Universal has made in its theme park business and in Florida overall," so expectations are high to say the least. Once finished, that would give Universal three theme parks and one waterpark, compared to Disney's four theme parks and two waterparks in the city.
Plus, Universal is adding areas devoted to one of the most popular video game companies in the world, Nintendo. Super Nintendo World debuted earlier this year in March, 2021, at Universal Studios Japan, with plans to create the land in Florida, California, and Singapore as well.
The battle for the top spot in the theme park world is far from over, with many rumors over the years that Disney could build a fifth park in Orlando since they have plenty of room for expansion. As Dennis Speigel, president of International Theme Park Services, told the Washington Post, "These two competitors are in the boxing ring, the gloves have come off, and now it's bare fists and they're pounding each other. In the end, the guest is the winner."