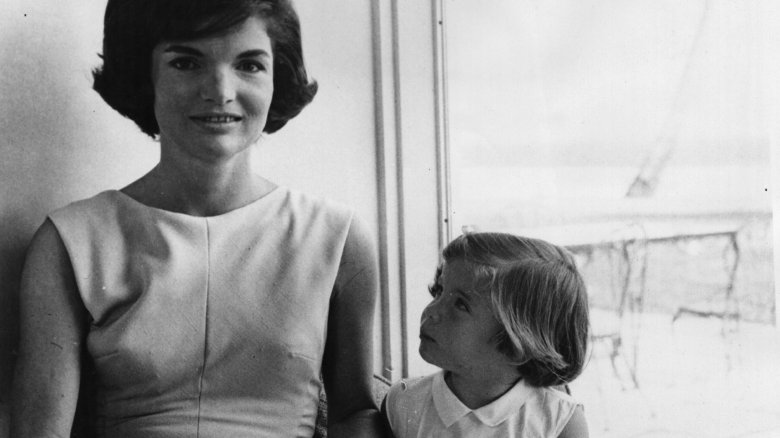 President Harry S. Truman once referred to the White House as a "glamorous prison." If that description is any bit accurate, the jail-like atmosphere must only be intensified for the president's children. "There was little privacy," Julie Nixon Eisenhower, the daughter of former President Richard Nixon, admitted. "The minute we stepped onto the public floors below our rooms, we were guarded."
Coming of age while living in the White House was likely a very unusual and incredibly unique experience for presidential children. Nevertheless, quite a few children of former presidents grew up to be upstanding members of society. Some forged their own paths in politics whereas others pursued noble careers. There's also no denying that many of these presidential children grew up to be totally stunning — inside and out.
So, without further adieu, here's a comprehensive look at the kids of former presidents who grew up to be all sorts of gorgeous.
Chelsea Clinton's awkward days are long behind her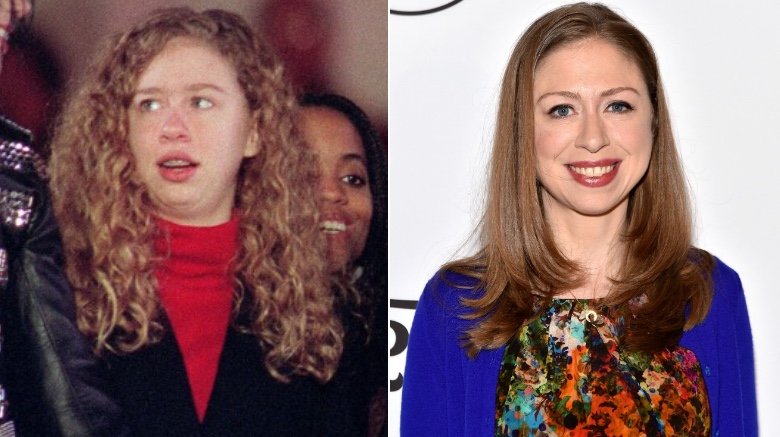 Named after the Joni Mitchell song "Chelsea Morning," Chelsea Clinton was born when her father was in his first term as governor of Arkansas. Of course, his political career was only getting started. In 1993, when Clinton was just 12 years old, her father became president and the family relocated to the White House.
If you're reading this article, you've probably lived through some pretty embarrassing and awkward preteen years yourself. If you're lucky, there may only be a few photographs from that time in your life. If you're Chelsea Clinton, however, there's no shortage of images — and commentary — about the then-young girl's appearance. According to Biography, she was the object of "intense media scrutiny" and was often the butt of jokes about her appearance. Well, the joke's on them now.
These days, Clinton serves as the vice chair of the Clinton Foundation, a nonprofit organization that her father spearheaded in 2001 in an effort to foster leadership and improve health conditions throughout the world. She's also an adjunct assistant professor at Columbia University, an author, a mother of three, and a lover of ballet. Oh, and not at all awkward, in case you were wondering.
Jenna Bush Hager is no longer a rebellious young adult
When George W. Bush became president in 2001, his daughter, Jenna, was 19 years old. Although she was past her awkward phase, she was at the height of her rebellious years. In an interview with InStyle, Bush explained that her father was running for president when she was a senior in high school. She added, "[It] is a particularly selfish time because you're trying to figure out what you want to do with your life." She recalled how she'd tell her dad that she didn't want to campaign and even told him that he wasn't going to win.
Photos captured some of Bush's rebellious spirit when she was in the backseat of a limousine with her dad. After first smiling at reporters and photographers, Bush stuck out her tongue and laughed, making for some funny — albeit technically inappropriate — pictures.
By her father's second run for office, she postponed her career as a teacher to campaign, explaining "how much you grow up between 18 and 22." Bush continued to evolve, first working as a teacher in Baltimore, then becoming a New York Times bestselling author and a "Today" show correspondent. She later became Hoda Kotb's cohost for the fourth hour of the "Today" show, "Today with Hoda & Jenna."
Barbara Pierce Bush is not a 'party fixture'
Barbara Pierce Bush also spent some time in the White House. As the twin sister of Jenna, she experienced many of the same ups and downs that came with being the daughter of a president. Whereas her sister was labeled the "irrepressible blonde," as The New York Times reported, Barbara was labeled "the reserved brunette." Of course, both women are not synonymous with their stereotypes. Sometimes both sisters were even given the reputation of party-goers. The New York Times highlighted how far they now are from the "Manhattan party fixtures they could easily be."
Yes, the two beautiful women went on to become much more than simply presidential children. Barbara Pierce Bush went on to graduate from Yale and, in April 2018, she received the Skoll Award for Social Entrepreneurship on behalf the organization she co-founded, Global Health Corps, which helps provide health care throughout the world. Needless to say, she continues to slay!
'Strikingly beautiful' Susan Ford Bales
Susan Ford Bales, the youngest child of former President Gerald Ford, became a presidential child as a teenager. At 17 years old, Bales orchestrated the first — and only — high school prom ever to be held at the White House. She invited students from her school, Holton-Arms, to the famous mansion and also aboard the presidential yacht.
"Susan, at that age, was strikingly beautiful," Sally Alexander, a retired English teacher at Holton-Arms who helped chaperone the dance, told Vanity Fair. Bales may have been stunning back then, but she became even more striking as she got older (inside and out) as she honed her talents as an author, a photojournalist, and chairman of the Betty Ford Center, a drug and alcohol treatment center.
She also focused her attention on commissioning the $13 billion supercarrier USS Gerald R. Ford, telling Palm Springs Life, the ship was "a really important project for my dad. … I'll be very proud to get her into the fleet, helping support America." Afterward, Bales has her sights set on pushing for breast cancer awareness and continuing to support the Betty Ford Center.
The incredible Caroline Kennedy
Caroline Kennedy was just 3 years old when she, along with her brother and parents, moved into the White House. Just two years later, President John F. Kennedy was assassinated. Not only did the country lose its president in one shocking and devastating fell swoop, but Caroline and John F. Kennedy Jr. lost their father. This also meant the White House would no longer be the family's home. According to History, they relocated to Manhattan and were raised by their mother, Jacqueline Kennedy.
Although she had an incredibly traumatic young life, Kennedy grew up to be an impeccably strong woman. She went on to graduate from Radcliffe College and Columbia Law School. Although she has never been an elected official, she stayed along the outskirts of politics, endorsing Barack Obama and joining him on his campaign. Although she ultimately withdrew her name, she did announce her interest in the U.S. Senate. In addition, Kennedy has also written many books and anthologies. She is certainly a force to be reckoned with.
Patti Davis, the former 'rebel'
In 1986, Patti Davis graced the cover of People magazine with the headline, "Rebel Reagan." This was during the same time that her father, Ronald Reagan, was serving as the president of the United States. In her interview with People, she explained her point of view, saying, "I think people got used to seeing very obedient presidential daughters." She added, "I mean, I considered myself fairly normal, I didn't, like, burn out on acid or something."
Davis admitted that she was pretty cynical, especially with regards to politics. Over the years, however, she has gone through quite a transformation and her heart seems to have softened regarding her tumultuous relationship with her parents.
After Nancy Reagan's passing, Davis told the "Today" show, "I feel very complete in my relationship with [my mother]. I feel very clear and clean in where our relationship came to, particularly the last few years of her life." Even during a difficult time, Davis' newfound peace seemed to radiate from within during her interview — a stark contrast to the Patti Davis of the past.
Tricia Nixon Cox — not 'the miniskirt type'?
Tricia Nixon Cox, along with her sister Julie, were once considered the means by which President Nixon wanted to install traditional values back into the United States.
In a cringeworthy lecture given by the former president, he explained (via Rolling Stone), "Both Tricia and Julie are fortunate that they have the kind of figures that permits them to wear mini-skirts, but women should not complain about the new longer lengths, because most don't have the figures for the shorter ones." According to Rolling Stone, Tricia is reported to have made a reply, saying, "I don't think I'm the miniskirt type." Eek.
The president's daughter went on to find love with Edward Cox, with whom she is still married. The former president wrote this note to his daughter the night before her wedding: "The years ahead will be happy ones because you will make them so. Your strength of character will see you through whatever comes." Tricia Nixon Cox has gone on to live a reserved life, but there's no denying her "strength of character."
Today, she serves on the board of the Richard Nixon Foundation.
Like father, like daughter: Lynda Bird Johnson Robb
When Lyndon B. Johnson was sworn into office in 1963 after the assassination of John F. Kennedy, he brought with him his wife and two daughters. Lynda Bird Johnson (now Lynda Bird Johnson Robb) was 19 years old at the time.
Robb was by all accounts stunning in the '60s, but her evolution into the woman she is today is certainly more notable. Yet and still, there is something undeniable about her looks. As The Washington Post pointed out, "The older she gets, the more she looks like [her father]."
That's not the only thing they had in common though. She, too, is a democrat and supports universal health care. She also serves on the board of trustees of the Lyndon B. Johnson Foundation. Outside of the realm of politics, Robb worked as a contributing editor for a popular women's magazine, Ladies Home Journal, and brought her voice to a great multitude of women.
The ever-evolving Malia Obama
It's hard to believe that Malia Obama was just 10 years old when Barack Obama was elected president of the United States. On Inauguration Day, she, along with her mother Michelle and sister Sasha, got to witness her father being sworn into office. Looking back, she would hardly be recognizable all bundled up in her Inauguration Day outfit, a cobalt blue peacoat and black scarf. The oldest Obama daughter has made an incredible transformation since her days as a young girl in the White House.
Although she was involved in some controversy as a teenager — ahem, Lollapalooza — she still has a good head on her shoulders. In 2017, Obama began attending Harvard University. As the former first daughter grew up, naturally her style evolved with her. That said, her style is exceptionally killer these days. Of course, Obama has a bright future ahead of her so we're sure her transformation is not yet finished — and we're so here for it.
Sasha Obama is carving her own path
Sasha Obama was just 7 when her dad, Barack Obama, was elected president in 2008, making her the youngest presidential kid in the White House since John F. Kennedy was in office, per Biography. She grew up in front of our eyes, although her parents did their best to keep her and her sister, Malia, grounded. Upon moving to the White House, Michelle Obama revealed to The New York Times that she swiftly informed the staff not to wait on her daughters. "Don't make their beds," she recounted saying, adding, "They have to learn these things."
It's no wonder, then, that Sasha grew up to be hard-working and intelligent — not to mention gorgeous. In 2019, she headed to the University of Michigan for college where she kept a low profile. As one of her classmates told The Detroit News, she seemed like "a normal student to me."
The COVID-19 pandemic sent her and her sister back home, but Sasha continued her studies online. "I'm just glad that they're staying put, even if they're sick of me," Michelle said in an Instagram Live in September 2020 (via People). Later that year, Sasha was spotted dancing in now-deleted TikTok videos, reported The U.S. Sun. She also demonstrated a more serious side; her dad told People that she and Malia participated in nationwide protests that erupted after George Floyd and Breonna Taylor were killed by police. "I could not have been prouder of them," he said.