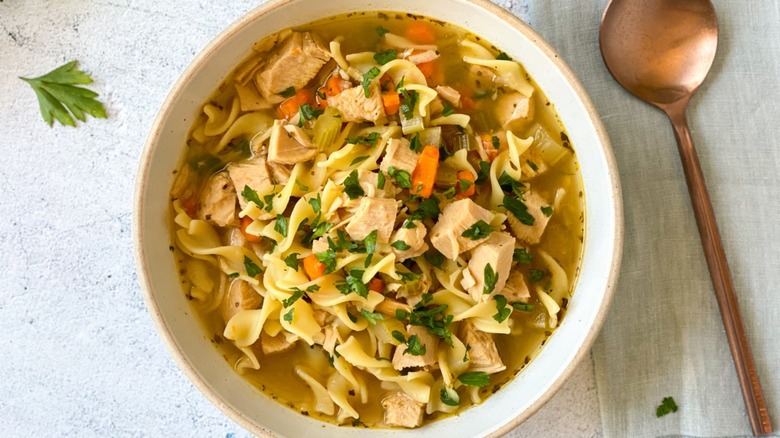 Fall is here! Are you craving a hearty soup that will fill the whole family? Recipe developer Hayley MacLean used her Instant Pot to perfect this hearty turkey soup recipe. We're here to share it with you, so you can feed your family well this season.
Did you know that soup is actually good for respiratory health during the fall and winter? The soup broth and fresh ingredients are often Mom's most delicious way to subside cold or flu symptoms. This turkey and noodle soup is rich with vitamins and minerals, and turkey is known as a healthier alternative to red meat. The nutrients packed into its juicy white meat are plenty of B vitamins, protein, and minerals like zinc and selenium (via Medical News Today).
If you have an Instant Pot, you can pull this together in no time. Prep requires about 5 minutes and 20 minutes to cook. We know you'll love serving this delicious dish to your family during the cold weather season. And as usual, it's always better the second time around.
Gather the ingredients to prepare Instant Pot turkey soup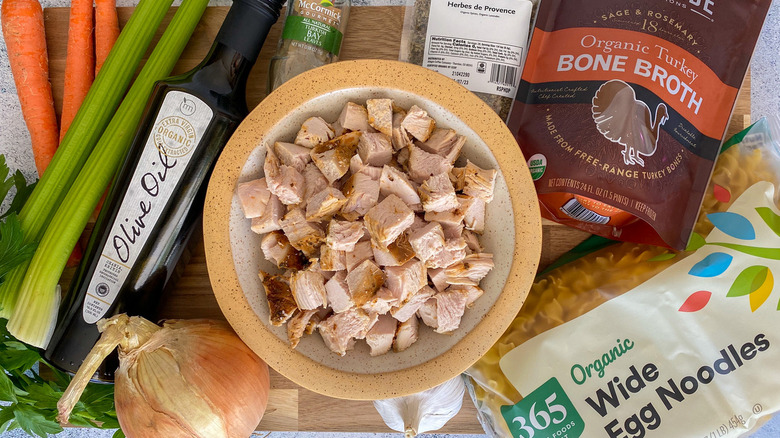 When it comes to ingredients, the best way to treat yourself or any guest is to go all fresh. To start your turkey soup, you'll need some olive oil, a yellow onion, chopped carrots, peeled and chopped celery stalks, and four minced garlic cloves. For seasoning we used herbes de Provence, bay leaves, salt, and black pepper. The final add-ins are either turkey or chicken broth, cooked turkey, uncooked egg noodles, and a bit of fresh parsley. Now, find out how to make this a 30-minute masterpiece.
Start with the onions and oil
To get started, set the Instant Pot to the Sauté setting on Medium, and add 1 tablespoon of olive oil. As the oil begins to simmer, chop and drop in ½ yellow onion. Cook it for three to four minutes, until the onions begin to caramelize.
Autumn is a favorite time of year for soups, and as far as why MacLean loves to make turkey soup for an easy fall dinner, she notes, "My favorite part of this recipe is how cozy and comforting it is. It reminds me of all the best parts of autumn, and is perfect for a cool, cloudy evening."
Sauté the fresh veggies
Up next, drop in three medium carrots along with two chopped stalks of celery in the Instant Pot. Let these cook for two to three minutes alongside the onions until they begin to soften. According to MacLean, "Using the Instant Pot makes this recipe super easy to put together and really builds a large amount of flavor in a short amount of time!"
After that, it's time to use your seasonings. Add in four minced cloves of garlic, 1 teaspoon of herbes de Provence, two bay leaves, 1 teaspoon of salt, and ½ teaspoon of black pepper, and let them all cook together for one minute.
Pour in the broth and turkey
Now, turn off your Instant Pot. Pour in 6 cups of turkey or chicken broth with 3 cups of diced cooked turkey. Set the Instant Pot to Pressure Cook on High for five minutes.
Maclean says that turkey adds depth and richness of flavor to this soup. She notes, "Turkey generally has a deeper, richer taste than chicken, which makes this soup even more flavorful and hearty!"
Once the cycle completes, allow the pressure to release itself naturally for 10 minutes. Afterward, go ahead and manually release any pressure that remains.
Add the egg noodles
Get excited, because we're almost done! Turn your Instant Pot back to Sauteé on Medium. This will bring the broth up to a boil. Now is the time to stir in the 2 cups of uncooked egg noodles, and cook the soup until they are tender. Maclean says that this may take about six to eight minutes. Before serving the soup, remember to pull the bay leaves out of the broth.
We are certain this soup will satisfy the whole family. Maclean adds, "The mirepoix of vegetables adds the perfect bit of light sweetness, and cooking the noodles directly in the soup allows them to soak up all of the flavors — it's really wonderful."
Serve your scrumptious turkey soup
Turn off the Instant Pot, and stir in 2 tablespoons of minced parsley. As any soup is, this decadent dish is best served steaming hot. Single servings are about 2 cups. Take the liberty to garnish with extra parsley as preferred.
MacLean recommends serving this with bread and a light salad. "A big piece of crusty bread to soak up the broth and a light salad would be the perfect accompaniment for this soup. Pair it with a nice chardonnay and a warm chocolate chip cookie afterwards, and you've got a perfect meal," she says.
As for the leftovers, they can be stored short-term in an airtight container for three to five days, or the soup can be frozen (and reheated on low). We hope this dish will fill your tummies and hearts with joy!
1 tablespoon olive oil
½ large yellow onion, chopped
3 medium carrots, peeled and chopped
2 large celery stalks, chopped
4 garlic cloves, minced
1 teaspoon herbes de Provence
2 bay leaves
1 teaspoon salt
½ teaspoon black pepper
6 cups turkey or chicken broth
3 cups cooked turkey, chopped
2 cups uncooked egg noodles
2 tablespoons fresh parsley, minced + extra for garnish
Set the Instant Pot to Sauté on Medium, and add the olive oil. Once the oil is shimmering, add the chopped onion, and cook until beginning to caramelize, 3 to 4 minutes.
Add the chopped carrots and celery, and cook until they begin to soften, 2 to 3 minutes.
Add the garlic, herbes de Provence, bay leaves, salt, and pepper, and cook for 1 minute. Then, turn off the Instant Pot.
Add the broth and cooked turkey, and set the Instant Pot to Pressure Cook on High for 5 minutes. Once completed, allow the pressure to release naturally for 10 minutes before manually releasing any remaining pressure.
Turn the Instant Pot back to Sauté on Medium, and bring the broth to a boil. Add the egg noodles, and cook until noodles are tender, about 6 to 8 minutes.
Remove the bay leaves from the broth.
Turn off the Instant Pot, and stir in the minced parsley.
Serve immediately, garnishing with extra parsley, as desired.