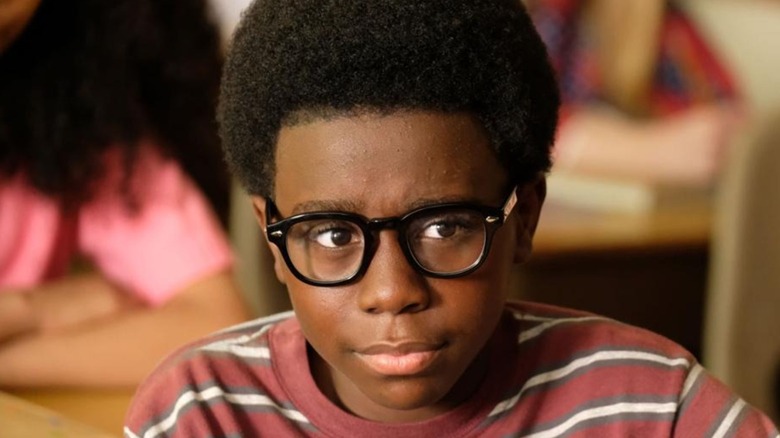 An '80s television classic, "The Wonder Years" is about life during one of the most eventful eras of America's history — the 1960s. While the series covered some of the country's biggest events of that age, it was mostly a story about a young boy's awkward years, and how he learns to cope with challenges like family, friendship, and girls. Using both poignant drama and relatable humor, "The Wonder Years" was one of the most successful family shows on TV. Now, the show's original network, ABC, has brought it back in a big way with a new reboot. This time, the series focuses on the lives of a Black family living in suburban Montgomery, Alabama during the 1960s.
Narrated by Don Cheadle, "The Wonder Years" reboot stars Elisha Williams as Dean, a 12-year-old boy trying to navigate the world of post-segregation in 1968. Dean is optimistic for the future, wishing for both the white and Black kids of the community to find common ground. Not everyone agrees, however, including Dean's father, an R&B musician named Bill Williams. With his mother, father, older sister, and best friends, Dean tries to find his place in the world during a very turbulent time.
"The Wonder Years" boasts a stellar cast, with Williams at the forefront giving an impressive performance as Dean. Yet there are many other talented members of the cast who deserve recognition, and you may remember seeing them before.
Dule Hill as Bill Williams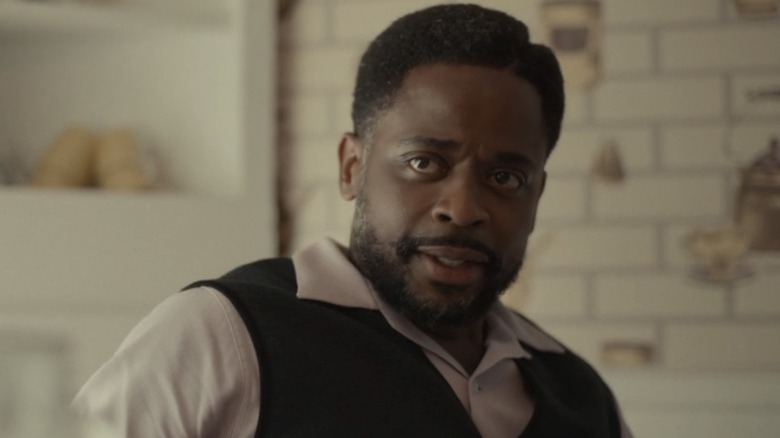 Dule Hill plays Bill Williams on "The Wonder Years," Dean's super cool dad and a successful musician. Where Dean (Elisha Williams) hopes to bring both white and Black families of the community together, his father is much more skeptical about the two races intermingling. While he is a loving father, he is a bit set in his ways, yet Dean has high hopes his dad will eventually come around.
Fans may remember Hill for his role in the 2003 Disney movie "Holes." Part of the movie is a story within a story — namely, that of the nefarious outlaw, "Kissin' Kate" Barlow (Patricia Arquette) and her love affair with onion seller, Sam (Hill).
Hill also played a pivotal role on "The West Wing," playing Charlie Young. Charlie began his White House career as President Josiah Bartlet's (Martin Sheen) personal aide, and later moved up to the position of Special Aide to the White House Chief of Staff, C.J. Gregg (Allison Janney).
Perhaps Hill's most popular role comes from the USA's "Psych," a comedic detective series that has Hill starring alongside James Roday Rodriguez as Gus and Shawn, two best friends who get into all sorts of shenanigans when Shawn poses as a psychic detective. The series' popularity spawned two made-for-TV movies, with a third to be released in 2022 on the Peacock streaming site.
Hill most recently appeared as a guest star in Showtime's historical dark comedy, "Black Monday," as Marcus Duane Wainwright III, the head of the African American Scholarship fund.
Saycon Sengbloh as Lillian Williams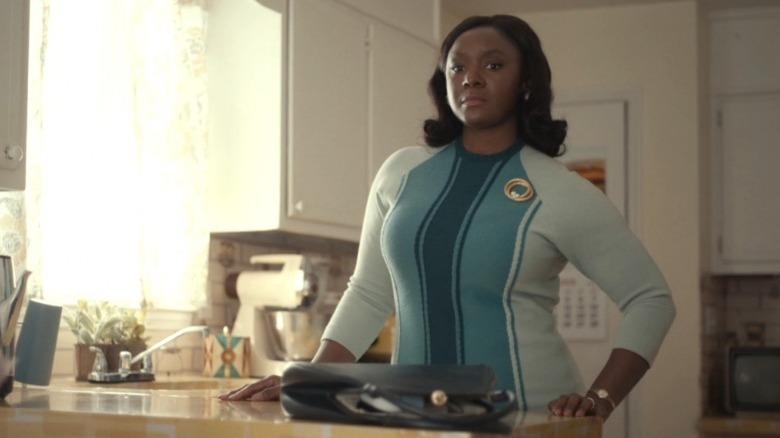 As the matriarch of "The Wonder Years," Lillian Williams is a no-nonsense woman with a good head on her shoulders. A loving mother and wife, Lillian does what she can to be supportive to her husband and look out for her two children. She helps Dean to get the two boys' baseball teams together in "The Wonder Years" pilot episode, in spite of her husband Bill's protests. She later steps in to end an altercation between Dean's father and the team's coach at a baseball game, proving that she is not afraid to step up and take control of any situation.
Lillian is played by Saycon Sengbloh, who is a successful singer as well as an actor, and has performed in many hit musicals both on and off Broadway. Sengloh has also appeared in various film and television roles over the years. She had a guest appearance in a 2008 episode of "Law & Order," playing Nurse Jamie Peltzer in Season 19 episode "Falling." Many fans will remember her as FBI director Angela Webster on Shondaland hit series, "Scandal." Webster's character was introduced in Season 6, following the assassination of presidential hopeful, Francisco Vargas (Ricardo Antonio Chavira). As she went deeper into the investigation, Angela also began a romantic entanglement with Fitz (Tony Goldwyn). Sengbloh had a recurring role on the CW thriller series, "In the Dark," as Jules Becker. She also played Leah in the OWN drama series, "Delilah." Sengloh also had a supporting role in the 2021 biopic, "Respect," playing Aretha Franklin's sister, Erma.
Laura Kariuki as Kim Williams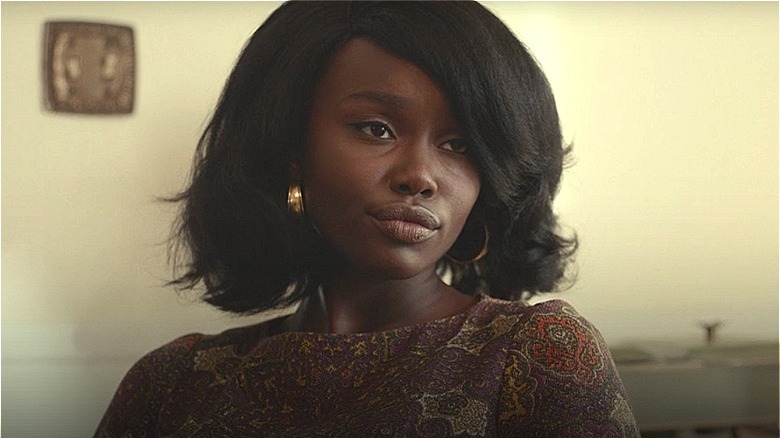 "The Wonder Years" is told mainly from the perspective of Dean Williams, yet it also involves the exploits of his older sister, Kim. Unlike her little brother, Kim doesn't seem to have any trouble fitting in. She is beautiful, a cheerleader, and one of the most popular girls in school. When we first meet her, she is seen kissing a boy in his car before going inside the house, prompting Dean to tattle on her to their parents.
In the show's pilot, there is a moment that hints at Kim's possible involvement with the Black Panther movement, when Dean sees a photo of his sister dressed in black and holding a large rifle. Dean says nothing, but the two share a look — one that many people with siblings will recognize as the silent plea for "don't tell mom and dad." In Episode 2, "Green Eyed Monster," Kim makes the mistake of letting Dean tag along to a Black Panther meeting, but the two soon realize that they are in way over their heads. Thanks to Dean's quick thinking, the siblings make an excuse and leave before things get out of hand.
Kim is played by Laura Kariuki, in only her second professional acting role. Her first was in the CW superhero series, "Black Lightning," where she took on the role of JJ — an evil entity that Jennifer Pierce (aka Lightning) fought in the Ionosphere and lost. JJ then took over Jennifer's body and her identity. However, in the show's final episode, Jennifer fought back for control over her body and finally destroyed JJ.
Julian Lerner as Brad Hitman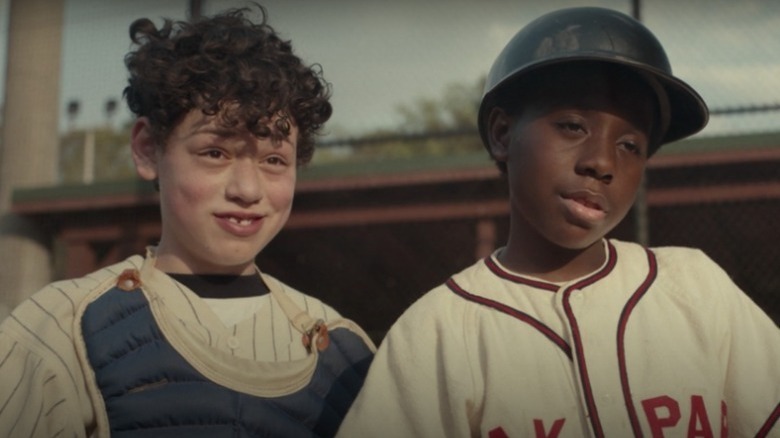 In "The Wonders Years" first episode, the audience is introduced to Dean's two best friends. The first is Cory Long (Amari O'Neil), who is also the son of the baseball coach for the Black boys' team. The second is Brad Hitman, whom Dean dubs "the Pee Wee Reese to my Jackie Robinson … that is, if Pee Wee Reese were Jewish, and Jack Robinson couldn't catch a fly ball." Brad's father is the coach of the white boys' baseball team, and he and Dean come up with the plan to have the two teams play a scrimmage together.
Young actor Julian Lerner plays Brad Hitman, who has had a varied career over his young life. His first onscreen role was in the 2017 film "Pottersville," playing Samuel. Lerner has also appeared in live comedy shows like "Saturday Night Live," "The Tonight Show with Jimmy Fallon, and "Last Week Tonight with John Oliver." In 2019, he had a guest role in an episode of the SyFy dark comedy, "Happy!" Fans of family comedies may remember seeing Lerner in the Netflix original film, "Yes Day." Lerner played Nando Torres in the movie, a boy with a passion for science and chemistry that sometimes gets him into messy situations — in certain cases, quite literally. Nando and his family go for the ride of their life when Mom and Dad Torres decided to participate in a Yes Day — a special day where the kids get to make all the rules, and the parents have to go along with it.
Allen Maldonado as Coach Long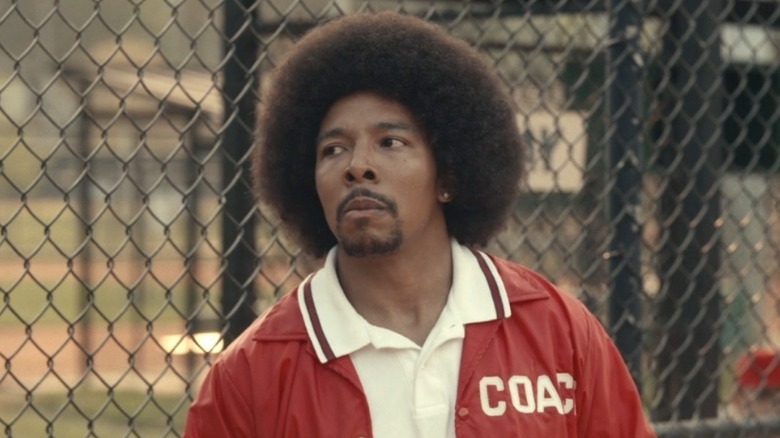 As part of his efforts to bring the Black and white families of Montgomery together, Dean and Brad set up a practice baseball game between the two boys' teams. This idea isn't favorable to Dean's father, Bill — but after a change of heart, Bill decides to show up to support his son. However, this results in a battle of wills between Bill and Dean's coach, Mr. Long, as the two men give opposing instructions to Dean during the game. The men eventually have it out on the field, with Coach Long insisting Bill allow him to do his job. Their confrontation is cut short when they receive the tragic news about the assassinations of Dr. Martin Luther King, Jr.
Allen Maldonado takes on the role of Coach Long. Maldonado's career spans back many years, starting with a small role in the movie "Friday After Next." He then went on to have a recurring role on the popular soap "The Young and the Restless" in 2004, as Jamal. Maldonado also worked alongside Denzel Washington in the 2014 action thriller, "The Equalizer." Maldonado later went on to have supporting roles in "Straight Outta Compton," and the 2018 reboot, "Superfly."
Fans of "Black-ish" may recognize Maldonado as Curtis, the assistant of Dre Johnson (Anthony Anderson) in an advertising firm. He continued his comedy streak by playing Bobby in "The Last O.G.," a TBS series starring Tracy Morgan. Maldonado finally got his first lead role as Devin in the Netflix's comedy series "Sneakerheads," and most recently, he portrayed Rooster Robbins in the Starz series, "Heels."